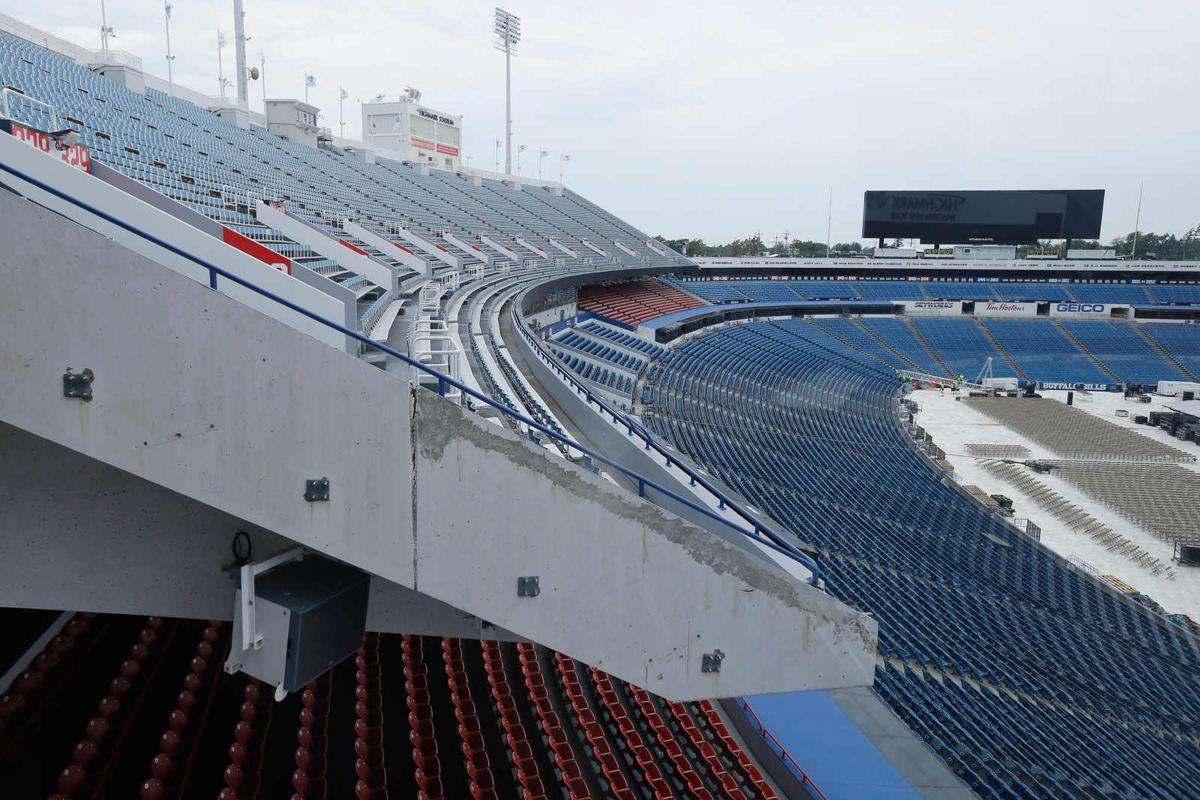 The former Rich Stadium opened in 1973, making it a senior citizen in stadium years. If Western New York wants to keep the Buffalo Bills – and it should – a new stadium is a necessity.
Who is going to pay? The negotiations will be interesting. Terry and Kim Pegula, the team's owners, reportedly were starting the process by asking for 100% public funding for a $1.4 billion facility. Several state lawmakers wisely made clear that wasn't going to fly. But the reality of NFL economics in a small market means that public funding will be part of the equation.
NFL Commissioner Roger Goodell, who essentially works for team owners, last Monday reiterated his stance that the Bills need a new stadium. "I think it's going to require a public-private partnership," Goodell said. He added that "it's time to get a new stadium done that we think can make sure the Bills are here and successful for many, many decades going forward."
Goodell's remarks contained a subtle hint that the Bills could move elsewhere if there is no deal for a new stadium. The list of potential suitors includes Austin and San Antonio in Texas, Orlando, Fla., even places like Toronto and London.
The idea of moving the Bills seems unfathomable, but it's far from unprecedented. In just the past five years, the Raiders left Oakland for Las Vegas and the Chargers moved upstate from San Diego to L.A. Each team paid the NFL hundreds of millions of dollars in relocation fees in order to play in a new stadium.
In a perfect world, taxpayers would not have to chip in a dime to help billionaires build a new stadium, but that is not reality. Allen Sanderson, a University of Chicago professor who studies sports economics, refers to the National Football League as a cartel. The teams are nominal competitors that collude to fix prices and create other monopoly-like effects.
Many economists assert stadiums are not great public investments. Among other things, they say the promises of job creation are usually overstated and money from investors that finances the bonds could have gone toward other public goods such as schools, road repairs or libraries.
But a football team isn't the same as roads and bridges. The Bills are a large piece of our region's identity – the story we tell ourselves: that we are a major-league city whose team's quest for a championship feels like our own. Callers to sports radio shows talk about "our draft picks" or "our schedule" when they speak of the Bills.
Francesco Lagutaine is a senior vice president and chief marketing and communications officer for M&T Bank. Lagutaine, who came to the bank a year ago after working in Hong Kong, told The News that he has never seen a stronger bond in sports than that between the Bills and their fans.
"Buffalo and the Bills are completely aligned in terms of community rituals," Lagutaine said. "On game days, tailgating, outreach activities involving local charities, and the identification of Buffalo natives with their sports franchise, I think there is no equal in the U.S."
Such issues help to define the value of the Bills to the community and, with that, how to pay for a new stadium. Quantifying that value is a matter for another day; for now, it's enough to conclude that the public has an intrinsic interest in keeping the Bills. That suggests some role in financing a stadium.
Teams sometimes overplay that card. The late Art Modell, who owned the Cleveland Browns before moving his franchise to Baltimore, said in a 1996 Cleveland magazine interview that "the pride and the presence of a professional football team is far more important than 30 libraries."
Besides being a gift to his critics, Modell presented a false choice. Issuing bonds to help build a stadium – as was done with the new ballparks built for baseball's Yankees and Mets in the past 15 years – won't mean closing libraries in Western New York or failing to fix sewers or clean up the waterfront.
There is reason for optimism as negotiations become serious. Both Goodell and our new governor, Buffalo's Kathy Hochul, have made clear that they are committed to ensuring the team's long-term future here. They are starting from the right place. And the team's owners, Terry and Kim Pegula, have long been seen as committed to keeping the team here.
Hochul and her administration will play a large role in negotiations over funding for a new stadium. The Bills' lease with the county expires after the 2023 season. No politician who understands what the Bills mean to Buffalo wants them to leave on their watch. Success will require some combination of flexibility and realism about the needs of the team and the economics of the matter.
The negotiations are just beginning. We want a deal that works for both the community and the team, one that results in a new stadium that anchors the Bills in Western New York.
What's your opinion? Send it to us at lettertoeditor@buffnews.com. Letters should be a maximum of 300 words and must convey an opinion. The column does not print poetry, announcements of community events or thank-you letters. A writer or household may appear only once every 30 days. All letters are subject to fact-checking and editing.