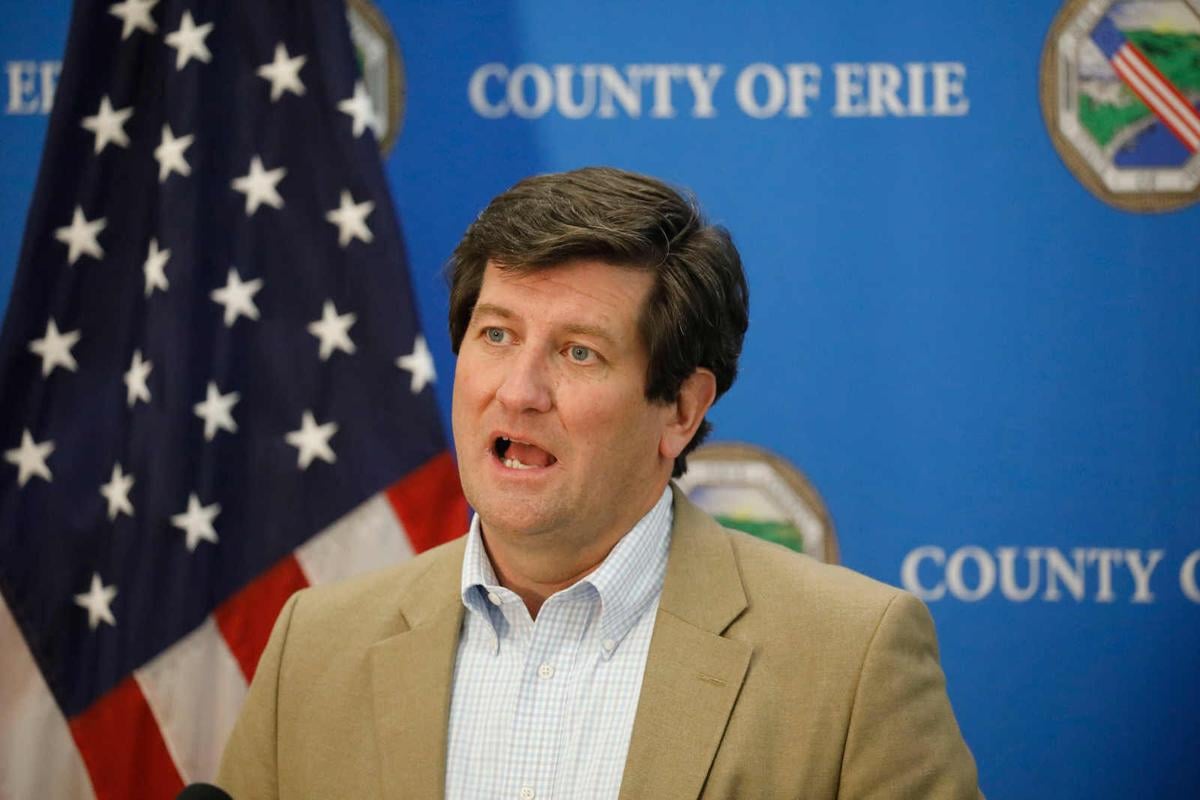 Unlike New York State legislators, who were in an unhealthy rush to strip Gov. Andrew M. Cuomo of the extraordinary pandemic powers they gave him, Erie County legislators are acting right when they should be.
Now, it's time to plan for the next emergency.
It has been 15 months since the County Legislature empowered Erie County Executive Mark C. Poloncarz with the sole authority to award coronavirus-related contracts and spend up to $250,000 in federal pandemic funds. The goal, as it was in Albany, was to acknowledge the insufficiency of traditional government routines to respond swiftly to the threats and uncertainties inherent in a public health crisis brought on by a mysterious virus.
It was the right decision, but one that needed to expire as soon as safety allowed. That time has arrived. Legislators from both parties acknowledge the fact and Deputy Budget Director Benjamin Swanekamp signaled Thursday that the administration wouldn't oppose the move. That establishes an appropriate standard.
The pandemic, it is important to emphasize, has not been fully defeated. The virus continues to infect people and some still die from its biological violence. But transmission rates have been radically diminished – as of Thursday, the county's average positive test rate was .9%. What is more, unlike just a few weeks ago, vaccines are readily available.
Indeed, by some measures, the pandemic may now be considered an endemic and, for those, we don't toy with the fundamental requirements of democracy. As long as the regional recovery continues along this course – and there is every reason to think it will – the Legislature is correct to begin reasserting the normal checks and balances of American democracy.
No doubt, this took some patience by legislators, but their forbearance was necessary. In Albany, where Cuomo's missteps weakened him politically, legislators of both parties prematurely sought to terminate the executive authority that the pandemic required. In that, their dislike of a politically aggressive governor threatened to supersede the demands of a public health crisis and put New Yorkers at unnecessary additional risk.
What is urgent now is to review the performances of all levels of government to determine what could have been done better and to prepare for the inevitable next pandemic. In a closely connected world, where international travel is the norm, no one should bet on another century-long respite before we have to do this again.
It's fair to argue that the pandemic's biggest failure came out of Washington. That is true partly because federal authority over states is constitutionally limited but also because the former president was uninterested in using the powers he had to protect Americans from illness and death. He deserves significant credit for goosing the remarkable vaccine effort, but a better performance would surely have saved some notable share of the lives that were lost.
At an official and likely undercounted death count of almost 600,000, the pandemic has cost nearly as many lives as the Civil War did. In the midst of arguments over masks and other comparative insignificances, we have undervalued the scale of this calamity.
For the next pandemic, Washington needs to plan better for encouraging or requiring masks, social distancing and crowd control. Health care systems need to be better prepared so we don't have to set up hospital tents in public parks or worry that health professionals are unprotected.
But absent some significant and unlikely change – possibly requiring a constitutional amendment – most power belongs to the states. Albany should plan for a post-mortem looking a number of issues, including:
• Did the governor have enough power to manage the crisis, or not enough? If the latter, what additional authority should he have had and how would it be constrained?
• How, if at all, should the power arrangement between Albany and the state's local governments be adjusted in a time of crisis?
• What emergency oversight systems can local governments implement to allow for responsible legislative monitoring without unnecessarily hindering efforts to protect the public?
In Erie County, where infection rates were frequently among the state's highest, Poloncarz used his authority well and likely helped keep the crisis from becoming much worse. But another county executive might not be as adept or honest. What then?
As learning experiences go, this one has been difficult and painful and it's not over yet. But it will count as a failure if governments fail to review the lessons of the past 15 months, knowing that, sooner or later, that effort will save American lives.
What's your opinion? Send it to us at lettertoeditor@buffnews.com. Letters should be a maximum of 300 words and must convey an opinion. The column does not print poetry, announcements of community events or thank you letters. A writer or household may appear only once every 30 days. All letters are subject to fact-checking and editing.