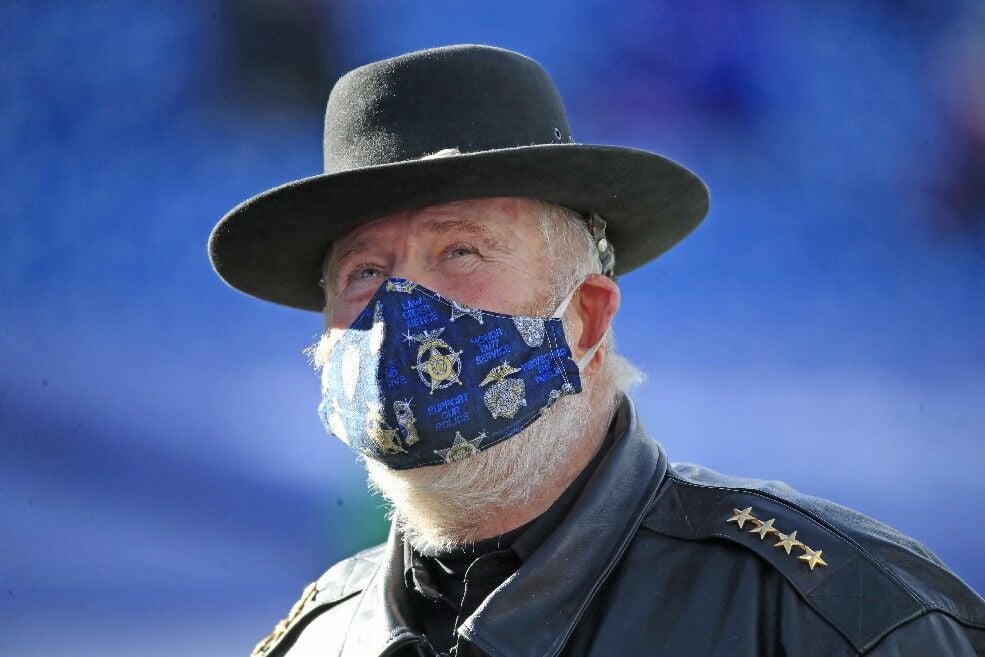 There's a theory that the leaders of police agencies should be appointed, not elected. For documentation of its truthfulness, New Yorkers – and all Americans – need look no further than Erie County. It offers compelling evidence that New York needs to require that its counties appoint law enforcement leaders, just as its cities do.
In Buffalo, with its appointed commissioner, the city police department operates in a professional manner. It's not perfect, but its top brass, accountable to the mayor and Common Council, routinely show themselves to be committed to doing the job right. Those that don't can find themselves ushered toward the door.
At the other end of the spectrum is the county's woeful Sheriff's Office. It offers an object lesson in the risks of allowing leadership to be dictated by the whims of politics. The jail is run in slipshod fashion and Sheriff Timothy B. Howard routinely campaigns on a pledge not to enforce laws with which he disagrees – specifically, the state gun control measure known as the SAFE Act.
The good news on that score is that Howard has announced he won't run for a fifth term this fall. The bad news is that at least three candidates are parroting Howard's stance on the SAFE Act, opening the possibility that the county's next sheriff will also ignore politically inconvenient laws, including, but surely not limited to, the SAFE Act. That's not what law enforcement is sworn to do.
New York sheriffs are required to take the following oath when taking office: "I do solemnly swear (or affirm) that I will support the constitution of the United States, and the constitution of the State of New York, and that I will faithfully discharge the duties of the office of sheriff, according to the best of my ability."
Supporting either constitution – federal or state – does not including cherry-picking the laws worthy of enforcement. Nor does faithfully discharging duties. But that arrogant and illegal approach is Howard's legacy – one that threatens to live on like a virus, transmitting from host to host.
His other great legacy is indifference to jail operations. He waved off the problem of inmate suicides, even when the U.S. Justice Department was on his case. He allowed his employees to misrepresent suicide attempts and other jail incidents, in an apparent attempt to evade the oversight of the state Commission of Correction.
He not only tolerated misconduct by deputies, but tacitly endorsed it when he made sure jurors saw him with then-Deputy Kenneth Achtyl as he was tried – and convicted – for assaulting a fan leaving a Buffalo Bills game. There's a difference between supporting your deputies and refusing to enforce standards of conduct. He's a supervisor, not a drinking buddy.
Howard got away with all of this because he is directly elected by voters, some of whom aren't familiar with the issues, some of whom may simply vote the party line and some who may like having a sheriff for whom laws are optional. It doesn't have to be that way.
Appointed police chiefs aren't automatically more professional, but they are vetted by elected officials who, among other factors, want to know an applicant's professional qualifications and ideas about policing and leadership. We know of no mayor or city council that includes in its candidate search "Must be interested in enforcing only certain statutes, willing to encourage lawlessness among his officers and ready to ignore inmate suicides."
While police chiefs may, as Howard and other sheriffs have, sometimes fall short of reasonable expectations, there are differences in the consequences of those failures. As USA Today reported in September, more than a dozen police chiefs resigned or were fired after the police killing of George Floyd in Minneapolis in May.
In Dallas, for example, U. Reneé Hall lost the trust of the mayor and city councilors. In one incident, her officers arrested hundreds of protesters who'd marched onto a city bridge, only to drop charges against nearly all of them. She resigned in September.
Closer to home, La'Ron Singletary retired as chief of Rochester's police department after the death of Daniel Prude became public. Prude, who had been behaving erratically, died of asphyxiation in March after officers put a hood over his head and pinned him to the ground.
What might have happened here had Howard been directly responsible to the county executive and County Legislature? When Chris Collins was county executive, possibly nothing, given his self-demonstrated tolerance for law-breaking. We'd like to think Mark Poloncarz might have been more interested in upholding a minimum standard of conduct, though.
It is true that a governor can remove a sheriff, but it doesn't happen, largely, one suspects, because the sheriff is separately elected.
To allow for appointing sheriffs in New York, the state constitution would have to be amended. That requires a vote by two separately elected Legislatures, followed by a public referendum. It could be done by fall of 2023.
In the interests of law and order, that's what needs to happen.
What's your opinion? Send it to us at lettertoeditor@buffnews.com. Letters should be a maximum of 300 words and must convey an opinion. The column does not print poetry, announcements of community events or thank you letters. A writer or household may appear only once every 30 days. All letters are subject to fact-checking and editing.