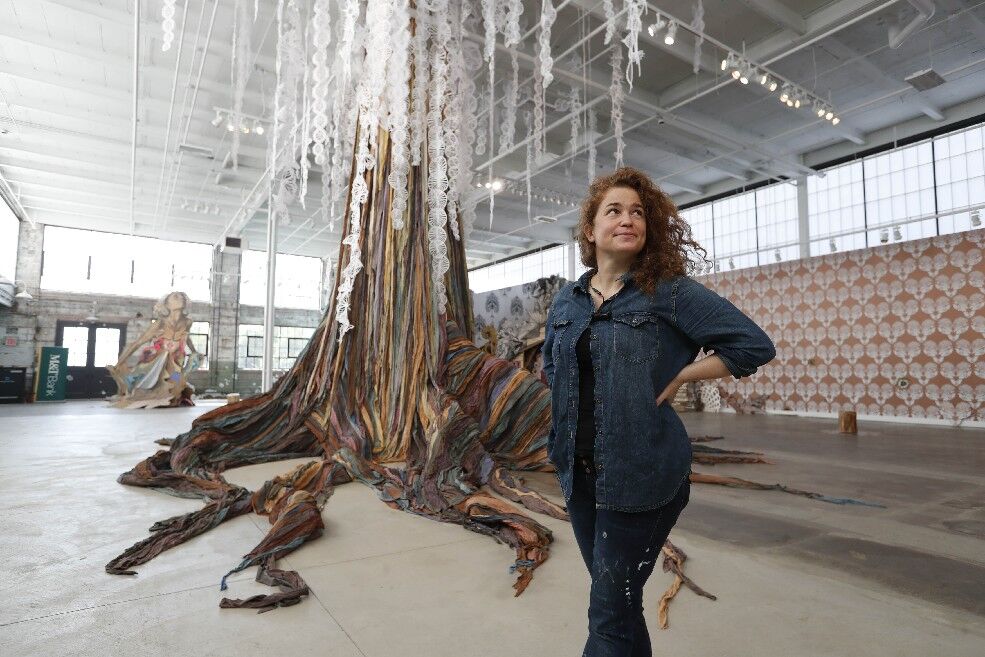 The progress that the Albright-Knox Art Gallery is making toward its mammoth renovation project is welcome news for Western New York. It also serves as a reminder that our cultural institutions that were sidelined by Covid-19 are in need of our support.
The Western New York community has many needs, of course. Food pantries are trying to keep up with increased demand, the ranks of the jobless and the underemployed continue to grow, and numerous businesses have been devastated during the pandemic.
The Albright-Knox needs about $25 million more to reach its fundraising goal for the $168 million expansion project. The gallery will remain closed until late 2022, when renovations are due to be completed. In the meantime, a satellite location on the city's East Side, Albright Knox-Northland, is reopening to visitors today. Reservations are required.
The Northland gallery is reopening with an exhibition by the artist known as Swoon, who is showing large-scale sculptures and a stop-motion animation video. This is a good time to discover the site at 612 Northland Ave., which formerly housed a factory where workers made shock absorbers.
A story in The News this week detailed the progress in construction at the main gallery on Elmwood Avenue. The campus is expected to reopen in 2022 as the Buffalo AKG Art Museum. The new name acknowledges the contributions of Jeffrey E. Gundlach, the Snyder native and billionaire Los Angeles investor who has become a major benefactor of the museum, which was originally named for John J. Albright and Seymour H. Knox Jr.
That gives art aficionados a long time to wait, but Western New York is rich with other cultural treasures. Within walking distance of the Albright-Knox are the Burchfield Penney Art Center, on the SUNY Buffalo State campus, and the Buffalo History Museum, at Elmwood Avenue and Nottingham Terrace.
Dare we mention some of our many other treasures, knowing that some very worthy institutions will be left out? We dare: The Buffalo Museum of Science; Explore & More – The Ralph C. Wilson Jr. Children's Museum; the Theodore Roosevelt Inaugural National Historic Site; the Darwin Martin House and Graycliff; and the Niagara Falls Underground Railroad Heritage Center.
Then there is the world-renowned Buffalo Philharmonic Orchestra, our talented theater companies, galleries, music clubs, street murals, restaurants whose fare is a work of art, and our photogenic waterfront and Buffalo City Hall.
Most of our culturals have reopened or are making plans to do so. We know that many of them are hurting, because of the economic upheaval caused by Covid-19. Those with the means to offer support can ensure our region's cultural future by making donations or just buying tickets to patronize their favorite facilities.
Most of us do not possess Jeffrey Gundlach's resources, but we can contribute in smaller increments, while also chipping in to help a food bank or other charitable cause.
Janne Siren, director of the Albright-Knox, acknowledges that our community has many needs. It may seem that funding an art museum is not atop the priority list, but art has a role to play in feeding our psyches.
"I think of art and culture as the glue that keeps humanity together," Siren told The News. "For me, this is an investment not in art objects per se but in our common humanity."
Western New York's cultural abundance must not be taken for granted.
What's your opinion? Send it to us at lettertoeditor@buffnews.com. Letters should be a maximum of 300 words and must convey an opinion. The column does not print poetry, announcements of community events or thank you letters. A writer or household may appear only once every 30 days. All letters are subject to fact-checking and editing.