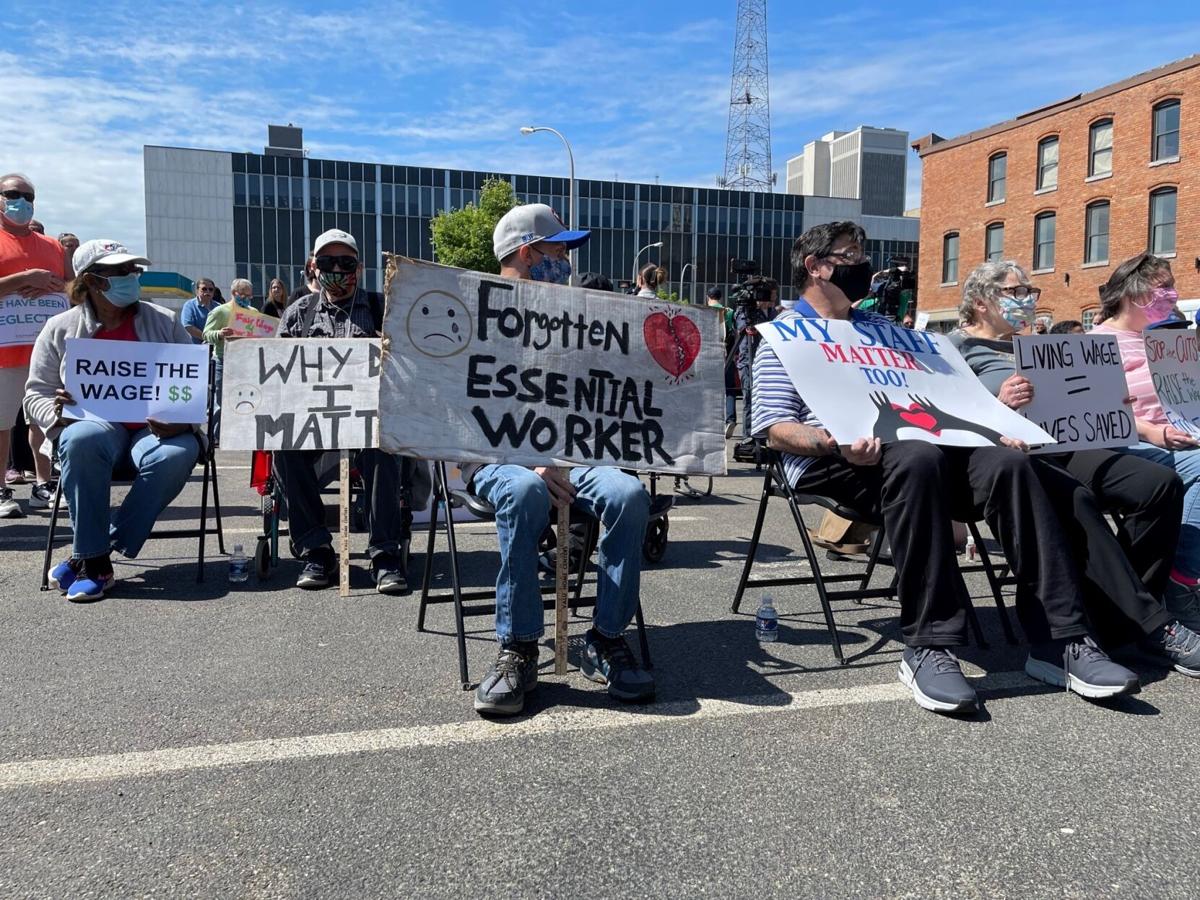 With the gusher of federal money flowing to New York State this year, it seems unconscionable for the state to shortchange services for people with disabilities, but that's the effect of recent cutbacks or modest increases in aid from the state.
Since the start of the Covid-19 pandemic, the state will have received more than $400 million in enhanced Federal Medical Assistance Percentage (FMAP) aid generated by the not-for-profit providers of supports and services to individuals with intellectual and developmental disabilities from the federal government, part of a stimulus bill.
Providers have stated that they never received a penny of it, a claim disputed by the state budget office.
"I have no idea where that money went," Rhonda Frederick, president and CEO of People Inc., told The News this week. "It didn't come to providers."
As part of the American Rescue Plan passed this year, the federal government is increasing FMAP aid 10% for home and community services for the disability community. Frederick said this year's aid needs to get out quickly.
"The provider associations are asking for a 5% increase in rates for voluntary agencies" for pay increases to help with staff recruitment and retention, Frederick said.
It's a fair request. In a high-tax state, it pays to worry about pushing costs higher, but this is money Washington has sent to Albany. When it runs out, of course, Albany will have to figure out how to continue paying it, but Albany helped to create these conditions when it raised the minimum wage for fast food workers to $15 an hour, with other industries soon to catch up. In any case, the solution to this problem can't be to add to the burden of those most in need of help.
In addition to heading People Inc., an agency providing a variety of services to people with developmental disabilities or disabling conditions, Frederick serves as president of the Developmental Disabilities Alliance of Western New York. The alliance, which represents 40 human services agencies, sponsored a demonstration in Buffalo last Monday to call attention to a staffing crisis that is due primarily to low pay.
The staff members, known as direct care professionals, help clients with bathing, dressing, taking meals and medications, along with other crucial services. It is a rewarding but demanding job.
The field pays about $15 per hour in Western New York. When workers can make the same money in a fast food restaurant or big box store, retaining them becomes very challenging.
The general shortage of available labor as society reopens from pandemic shutdowns only compounds the problem.
New York State set a 2% cost of living increase this year in wages for direct care professionals, but the agencies say that is not enough. The state also reduced some reimbursements it pays to group homes and other residential facilities, further squeezing them financially.
The median age of direct care professionals in the state is 47, according to Max Donatelli, a Western New York advocate for the disability community. That's an ominous statistic for a field that needs new blood from younger workers as the more experienced ones grow older. Donatelli says more state money is needed to raise pay and make the job more attractive. According to the Developmental Disabilities Alliance, there are about 3,200 job vacancies in Western New York and the Finger Lakes regions.
Donatelli's son, Craig, is developmentally disabled and lives in a group home with six housemates. The seven have developed many skills of independent living, but still rely on aids to help them with certain tasks. When not enough help is available, Donatelli and other parents step in to fill the gap. At some point, though, parents become too old or frail to perform those tasks.
Donatelli worries that if the state doesn't step in and address the staffing crisis, "it's going to get much worse and someone in one of these homes is going to get hurt."
Frederick, of People Inc., said her agency has raised pay for many of the direct care professionals to $16 or $17 per hour, to make them competitive, but they are counting on getting the state to release more aid to offset the costs.
"We want to reward our staff – it's been one heck of a 15 months. We don't really know where the money is coming from, but we took a risk, along with a number of agencies. Our staff deserves it."
What's your opinion? Send it to us at lettertoeditor@buffnews.com. Letters should be a maximum of 300 words and must convey an opinion. The column does not print poetry, announcements of community events or thank you letters. A writer or household may appear only once every 30 days. All letters are subject to fact-checking and editing.