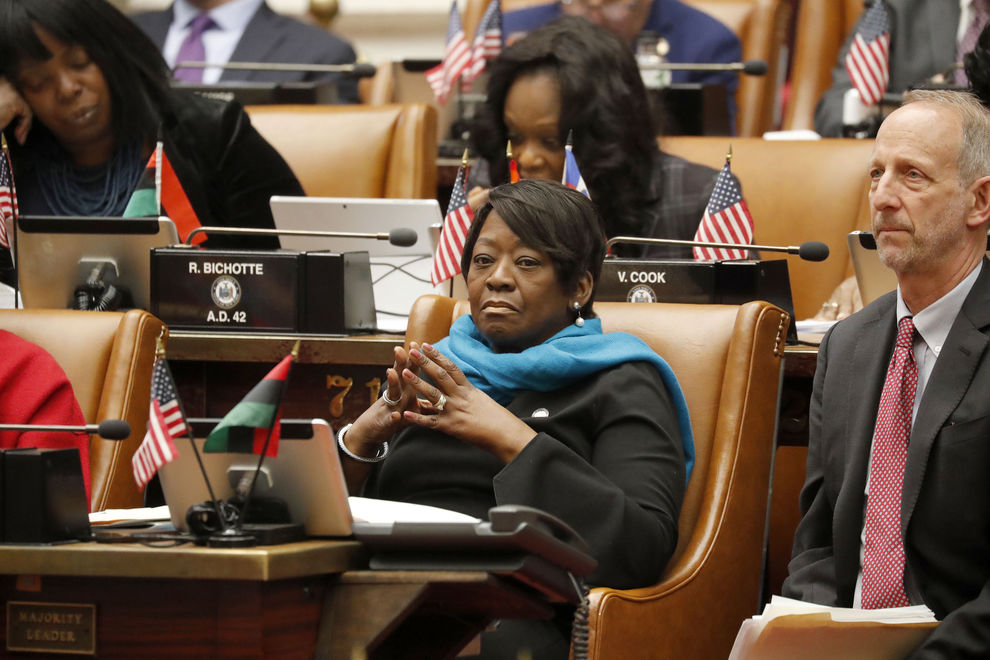 Both the white-owned companies that used them and the minority- and woman-owned businesses that allowed themselves to be used – for money – should face penalties for lying to taxpayers. Cash, please. Checks tend to bounce, just like the rubbery rules governing minority-and woman-owned business requirements on the Buffalo Billion project, among others.
On paper – but only on paper – companies owned by minorities and women were engaged in much of the work on the $750 million Tesla plant in South Buffalo, the $250 million biotech hub on the Buffalo Niagara Medical Campus and the $200 million drug manufacturing facility in Dunkirk.
Buffalo News reporters Charlie Specht and Dan Herbeck reviewed state documents showing that the work on Buffalo Billion projects was being performed by companies that were actually owned by white men. Minority- and woman-owned firms created paperwork and acted as "pass throughs." Doing so helped, dishonestly, to satisfy state rules on minority construction, according to the state Inspector General's Office, which recently made public reports on its investigations.
When contacted, most of the business owners professed shock. Paging Capt. Renault of "Casablanca" fame. But the fix has been in since at least the 1980s, when The News uncovered another minority contracting scheme on Buffalo's light rail system.
Erie County prosecutors and state agencies have so far declined to penalize the companies they said manipulated the system. Indeed, state agencies kept their findings hidden from the public, and were only recently revealed as a result of Gov. Kathy Hochul's transparency initiative. It should also be noted, as Specht later wrote, that the Empire State Development Corp., the state economic development agency that oversees the MWBE certification program, declined to provide The News with a list of companies that paid damages for violations. The News filed a Freedom of Information Law request for that information.
The amount of stated work provided by these MWBEs gave a false impression that companies met or exceeded New York State's goal of involvement in roughly 30% of publicly funded construction contracts. Instead, the minority- and woman-owned businesses complicit in this deception received compensation by doing nothing more than filling out one false document. And for that, said retired FBI agent Timothy B. Crino, "these companies can make thousands of dollars. It's easy money." It's a widespread problem around the state, including Western New York, Crino said.
Incredibly, the minority- or woman-owned companies cited by the Inspector General for misrepresentations on the Buffalo Billion contracts all remain on the state's list of certified MWBE firms. State officials say that could change and it should, today. The inspector general made no recommendations about whether white-owned companies that hired the MWBE firms should face penalties. Why not? They should, too.
Assembly Majority Leader Crystal Peoples-Stokes, D-Buffalo, after reading the story in The News, sent a letter to State Attorney General Letitia James, urging her to review the case involving three contractors – Jennings Construction Services, JHP Industrial Supply Co. and Cannon Electric. Erie County District Attorney John J. Flynn has declined to prosecute those companies, saying "We had evidentiary issues," adding, "These are not cut and dried."
Peoples-Stokes also co-sponsored a bill that would add reporting requirements for MWBE contracts while increasing staff resources for investigating and prosecuting cases of fraud. It would also allow courts to penalize companies convicted of MWBE fraud with larger fines.
The legislation passed the Assembly in 2021. Sen. Sean Ryan, D-Buffalo, co-sponsored the legislation in the Senate, where it stalled last year.
This program is too important to give up, even if some of the people it aims to lift up see fit to abuse it. Albany needs to root out the fraud and put stronger protections in place.
What's your opinion? Send it to us at lettertoeditor@buffnews.com. Letters should be a maximum of 300 words and must convey an opinion. The column does not print poetry, announcements of community events or thank you letters. A writer or household may appear only once every 30 days. All letters are subject to fact-checking and editing.