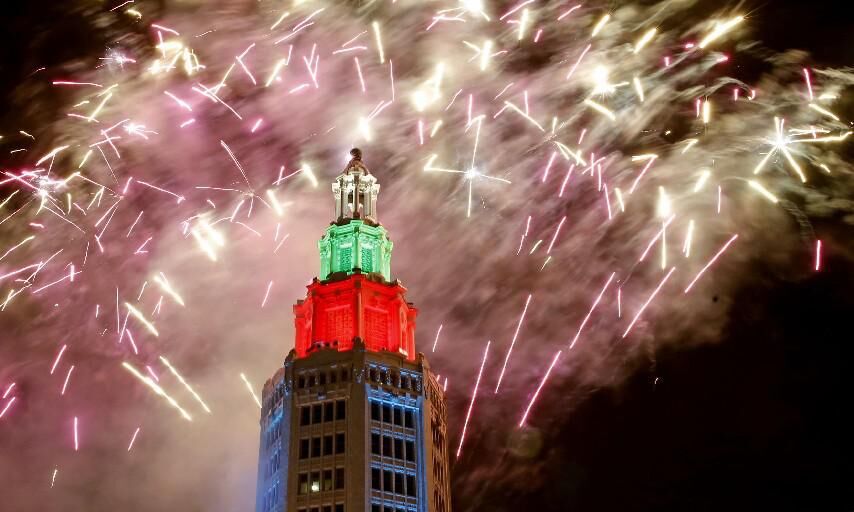 The best thing we can say about 2021 is that it's not 2020, a year that will be relegated to the rejects of history.
Turning the page on a new year means it is time for our tongue-in-cheek predictions about what 2021 might hold in store for Buffalo Niagara.
President Trump, in his last week in office, sets a new record for his constitutional use of pardon power. Trump issues provisional get-out-of-jail-free cards to "the guys from Duck Dynasty, Tiger King or the Real Housewives shows for any future misdeeds, and anyone living who was implicated in the very strong interrogations done at Abu Ghraib after 9/11."
Buffalo Mayor Byron W. Brown, laying out his budget for the year, declares that new revenue pouring in from the speed-zone cameras near city schools will enable him to completely restructure the tax code. The city will do away with standard tax collections and replace them with "take a penny, leave a penny" bins in each Common Council district.
The City of Buffalo announces it will host a parade to honor the Bills, who in February suffered the franchise's fifth Super Bowl loss. Gov. Andrew M. Cuomo says he would love to see a Bills parade, but the state Health Department rules that only 20 people can attend. The parade is canceled and fans instead are invited to a free Zoom call with Steve Tasker.
Erie County Comptroller Stefan Mychajliw posts a "gotcha" video online of County Executive Mark Poloncarz placing an empty two-liter Coke bottle into his garbage can rather than his overflowing recycling bin.
"Mr. Progressive couldn't be bothered to return that deposit bottle to Tops, or even put it in his recycling bin," Mychailiw writes.
Poloncarz apologizes and writes a check for five cents – the amount from the deposit bottle – and sends it to the comptroller.
In a bid to convince Western New Yorkers to embrace the Covid-19 vaccines, Erie County teams pharmacists with Tim Hortons employees on a "Roll Up the Rim, Roll Up Your Sleeves" campaign. The campaign gets off to a great start before participants realize that only one in 100 of the shots contains the real vaccine, while the others come with a Timbits coupon marked "try again."
Fantasy sports website FanDuel hires former Rep. Chris Collins to be its new celebrity spokesman. "Your first five trades are free!" the former congressman says in his first ad. "Come bet with us and I'll make you a millionaire."
Emboldened by the coronavirus vaccinations, Buffalo's new Catholic bishop, Michael W. Fisher, declares July to be "Dyngus Month."
"They shut us down in April, said we couldn't gather on Easter Monday," says Fisher. "Catholics of all nationalities are going to break out the krupnik and let our Polska flags fly."
Reminded that the Diocese is not affiliated with Dyngus Day, Fisher says Buffalo's Airborne Eddy gave him the marketing rights after making him "an offer he couldn't refuse."
Sabres announcer Rick Jeanneret introduces his new cologne, "Top Shelf," which combines the aroma of freshly baked cookies with a hint of hockey locker room smell. Initial sales are disappointing.
President Joe Biden announces that the U.S. cannot afford a new War on Poverty agenda, but instead asks that the public stop using the demeaning term "poor people." From now on, Biden says, we should refer to "the unlucky, the Amex-insecure or the un-Santa Claused."
Doug Jemal, looking to increase his real estate holdings in Western New York, agrees to buy all of Grand Island. The price is not disclosed but homeowners on the island are seen driving away in new Lexus and Mercedes models to start their new lives.
Board of Elections commissioners Jeremy Zellner and Ralph Mohr open early voting for the 2024 presidential election, making Erie County first in the nation. With the primaries and nominating conventions still three and a half years away, early turnout is nonexistent at the county's 104 polling stations, which are funded by a generous grant from the state.
Donald Trump launches his own entertainment network, called Trump TV. Trump hires Judge Jeanine Pirro as the sidekick in his new legal reality show, "The Best People's Court," where his new catchphrase is "You're pardoned!"
What's your opinion? Send it to us at lettertoeditor@buffnews.com. Letters should be a maximum of 300 words and must convey an opinion. The column does not print poetry, announcements of community events or thank you letters. A writer or household may appear only once every 30 days. All letters are subject to fact-checking and editing.