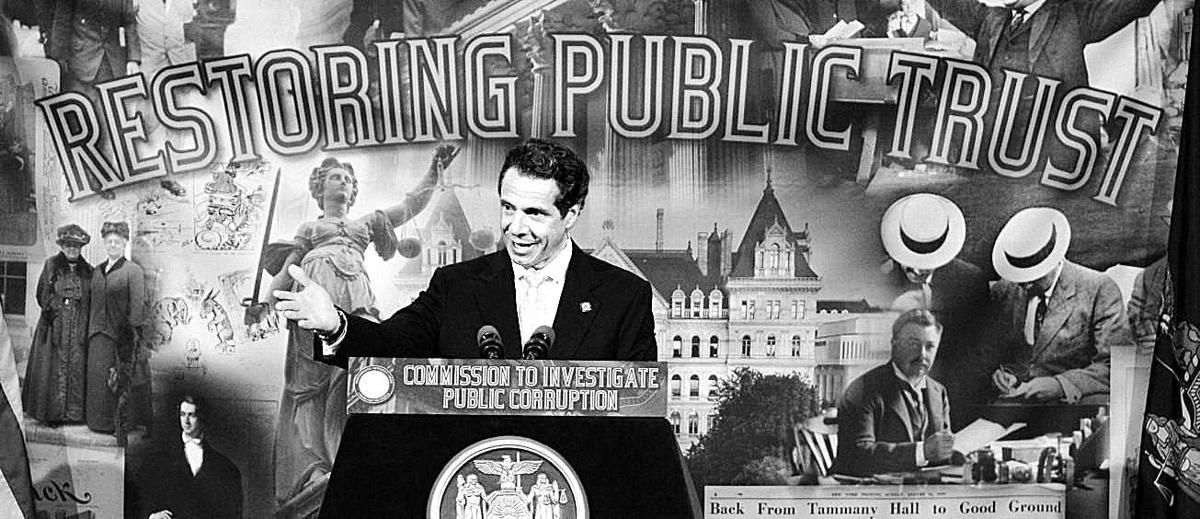 The news that Gov. Andrew M. Cuomo's office hindered the work of the anti-corruption commission he created last year comes as no real surprise; reports had surfaced to that effect even before he abruptly disbanded the panel. But it's dispiriting, nonetheless, and the details, reported this week in the New York Times, could only make a New Yorker shake his head in sorrow.
Cuomo had pitched himself as something new: a campaigner for reform on whom voters could rely. A predecessor, Eliot Spitzer, had promised something similar, but decided he'd rather play with prostitutes. Cuomo was supposed to be different. He was focused, detailed and relentless. New Yorkers had reason to believe that, finally, someone was going to do something about the cesspool that is Albany.
Cuomo came at his job hard, producing responsible, on-time budgets, pushing forward important projects that no one else ever seemed able to do and, finally, giving lawmakers an ultimatum: Pass serious, meaningful ethics reforms or he would empower a special commission to investigate Albany, including conflicts created by the outside incomes of legislators, among them Assembly Speaker Sheldon Silver and Senate co-leader Dean Skelos.
Maybe Cuomo thought legislators would cave in and agree, but they didn't. That left him two choices: Back down, a practice with which he is unfamiliar, or create the panel, empower it with authority that went beyond that of the typical "Moreland Commission" and let it work. He chose the second … for a while.
The commission, Cuomo said, would be "totally independent," able to look even within his own office. "Anything they want to look at, they can look at – me, the lieutenant governor, the attorney general, the comptroller, any senator, any assemblyman." He could hardly have been more declarative.
The problem was, the commission took its responsibilities seriously – more seriously than the governor evidently wanted. It issued subpoenas to entities tied to him and his campaigns and quickly incurred the wrath of one of Cuomo's top aides, Lawrence S. Schwartz, and the dogged resistance of the commission's executive director, Regina M. Calcaterra, who appears to have functioned as Cuomo's eyes and ears.
Under that kind of pressure, with its promised independence shredded, the commission began to fracture. Some members threatened to quit, and others did. Cuomo, apparently looking for an exit, got lawmakers to agree to some milquetoast reforms, declared victory and folded the commission.
For his part, Cuomo claims he couldn't be accused of meddling with the commission since it was, in fact, his commission. That's correct. But it is also correct that he promised it independence and that he was going to allow it to do the job for which it was formed. Then, when the commission took him at his word, he balked.
It's not just disappointing, it's shameful. Cuomo has achieved many important things for New Yorkers over the past 3½ years, especially in Western New York, where he has made a point of reviving the economy, and in spectacular fashion. But corruption is corruption, and when he promised to let his commission look anywhere it wanted, then shut it down when it tried, New Yorkers cannot help but be suspicious. History tells them they must be.
The good news is that the investigation continues. Preet Bharara, the U.S. Attorney for the Southern District of New York, had encouraged the commission to be bold and, when it folded, he assumed the task, taking custody of its files and ordering Cuomo's office to preserve records relating to the commission.
Perhaps this is the only way to clean up Albany. Even if Cuomo's intentions were honest, he swims in the same polluted waters as everyone else in Albany. Maybe no governor would do better. Bharara is actually independent. He can pursue the investigations without worrying about who is looking over his shoulder, and he is. Only last week, State Sen. George Maziarz announced he was stepping down, just days after top aides resigned and hired lawyers to represent them in Bharara's investigations.
The debacle also underscores the need for real campaign finance reform. At least one of the subpoenas Cuomo had rescinded was to a media-buying firm that was closely associated with the governor. Money and Albany do not mix well. Bharara needs to proceed, but the system needs to change.