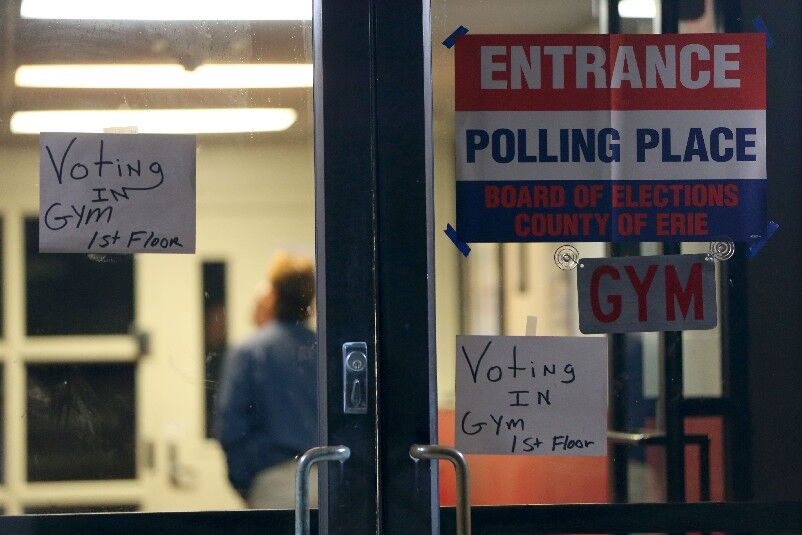 India B. Walton was exulting in her victory in the Democratic primary in the race for mayor back in June.
"If you are in an elected office right now, you are being put on notice," she said. "We are coming."
Combative words like that can fire up a political base – see any Donald Trump rally – but they can also backfire when trying to appeal to moderate voters. Walton's bellicose rhetoric and embrace of the term "democratic socialist" motivated enough Buffalo residents to write in votes for Mayor Byron W. Brown that he scored what appears to be a convincing victory.
The national narrative coming out of last week's elections was that Democrats – particularly ones tied to progressive values – took a beating. In some cases that led to Republicans being elected, but that was far from the only outcome.
In New York State, the message that emerged was that while Reps. Alexandria Ocasio-Cortez, from the left, and Elise Stefanik, from the right, command attention on the political extremes, there is still a place for sensible centrism here.
In addition to Brown, a career Democrat who had lost his party's primary, New York City chose as mayor Eric Adams, a former police captain who supports the expansion of charter schools and encourages real estate development.
In Western New York races, voters in Hamburg chose Democrat Randy Hoak over Stefan Mychajliw for town supervisor, passing on the chance to elect the current Erie County comptroller and right-wing culture warrior.
Kevin Hardwick, the Erie County legislator and Canisius College professor, won the country comptroller's race over Lynne Dixon, who in the past was a moderate independent – with Republican backing. During the home stretch of the campaign, Dixon issued a mailer trying to paint Hardwick as a Trump supporter – a desperate act of political jiujitsu from a Republican-endorsed candidate.
Results in national races were more of a mixed bag. In Virginia, Republican Glenn Youngkin defeated Democrat and former Gov. Terry McAuliffe in the gubernatorial contest, while New Jersey Gov. Phil Murphy held off Republican challenger Jack Ciattarelli. Both Youngkin and Murphy won by about 2.5 percentage points, close races in two purple states.
Boston elected a new mayor with a progressive outlook, Michelle Wu, the first woman, and first person who identifies as a person of color, to serve as mayor in the city's history. Wu, unlike Walton, is not a political neophyte, but spent seven years in the City Council before running for mayor.
Good government benefits from new ideas and fresh energy, and Walton had both. Poverty is a seemingly intractable fact of life in much of Buffalo; giving poor people a greater voice in the direction of the city is a worthy goal. So is relieving some of the pressure on police to deal with mental illness when responding to emergency calls.
But good intentions can be drowned out by the bullhorn-amplified voices of protesters cursing the police, or using the language of class warfare to challenge the establishment. It is likely, as former Mayor Anthony Masiello observed last week, that Walton "petrified" tens of thousands of voters – the majority of them Democrats.
We have noted before the toxic effect of the phrase "defund the police," which is meant to demand law enforcement reforms, but sounds like a call to abolish police departments. Many campaigning for office from the left, including Walton, stayed away from that term, but Republicans were able to weaponize the phrase at a time of rising murder rates in the U.S.
Similarly, any discussions about how the history of racism and slavery is taught in schools is now lumped together as "critical race theory," which Republican lawmakers find easier to run against than to define. Parents do have a right to inquire about what their children are being taught, but any chance for a nuanced discussion about the teaching of history runs aground when angry adults derail school board meetings with threatening behavior.
New York's position as a blue state is secure, thanks largely to New York City. Ocasio-Cortez and Stefanik each have their cheering sections in parts of the state. However, the more extreme candidates can find themselves on shaky ground when voters are heard from. That's reassuring for the future of New York.
What's your opinion? Send it to us at lettertoeditor@buffnews.com. Letters should be a maximum of 300 words and must convey an opinion. The column does not print poetry, announcements of community events or thank-you letters. A writer or household may appear only once every 30 days. All letters are subject to fact-checking and editing.