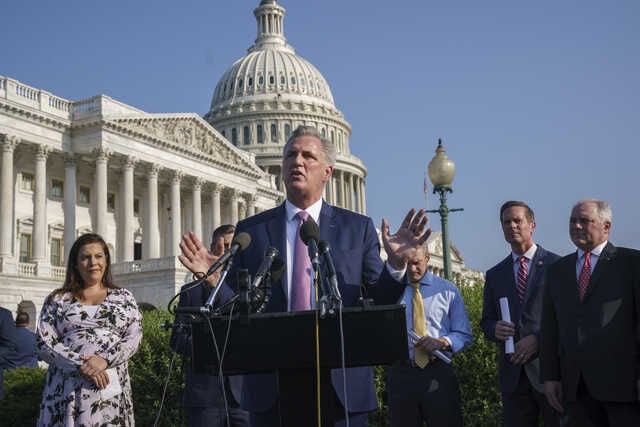 Some call it a "reality distortion field," as congressional Republicans attempt to rewrite history and paint the Jan. 6 insurrection as something other than the Trump-inspired sedition that it was. More succinctly, perverted is what it is.
When leading Republicans such as Minority Leader Kevin McCarthy and New York's Elise Stefanik try to blame House Speaker Nancy Pelosi for the attack, that's a perversion, not just of the party's historic support for law and order and for police, but of its commitment to the idea of America. The country came under assault on Jan. 6. All Americans should want to know the facts.
This matters to the country, to this state and to Western New York, home of one of the suspects charged with beating a Washington, D.C., police officer nearly to death on that day. That officer, Michael Fanone, testified Tuesday to his terror on that day, as the House of Representatives began its hearings into the rampage meant to overturn the results of November's presidential election.
"I heard someone scream: 'I got one' as I was swarmed by a violent mob," he told the panel. "They ripped off my badge. They grabbed and stripped me of my radio." Thomas F. Sibick of Amherst is in custody, charged with those offenses.
"They seized ammunition that was secured to my body. They began to beat me with their fists and with what felt like hard metal objects. At one point I came face to face with an attacker who repeatedly lunged for me and attempted to remove my firearm. ... I was electrocuted, again and again and again with a Taser."
Before it was over, Fanone suffered a heart attack, a concussion and a traumatic brain injury, and went on to incur post-traumatic stress. He sustained these life-threatening injuries while protecting the Capitol and the members inside. They included Republicans whom these brave officers kept safe but who now want to rewrite what actually happened.
The mob had been summoned to Washington by then-President Donald Trump with lies about a stolen election, lies that he repeated to the horde. Standing with Trump, former New York City Mayor Rudolph Giuliani – once a respected U.S. attorney – asked the crowd for "trial by combat." The crowd complied.
Yet, Stefanik, with no regard for the gravity of the House hearings or the fragility of democracy, sought on Tuesday to blame the Democrat Pelosi for an attack that the world saw her party leaders instigate. It was Trump and his co-conspirators who armed the bow, drew the string and fired it at the Capitol.
This is a moment for clear-eyed honesty, not distortion – the kind of honesty to which former President George W. Bush subjected his Republican administration in the fraught aftermath of the 9/11 terror attacks. Too  many of today's Republicans aren't made of that kind of stuff.
Instead, they prostrate themselves before Trump, as Rep. Chris Jacobs of Orchard Park did last month, hungering for the approval of the insurrectionist-in-chief. On Tuesday, Stefanik did worse, seeking to rewrite history for the eager and the gullible. It was a perversion of public service that shamed her office and stands to injure the country she swore to protect.
Think of Howard Baker, the late senator from Tennessee. In 1973, he framed the chamber's Watergate hearings with a pointed and trenchant question: "What did the president know and when did he know it?"
A Republican, Howard wasn't hoping to force Richard Nixon out of the White House. But he honorably occupied the oversight role demanded by the Constitution, understanding the seriousness of the moment and zeroing in on the critical point. He didn't dissemble. He didn't try to blame House Speaker Carl Albert. That's Stefanik's game.
Indeed, only two Republicans – Liz Cheney of Wyoming and Adam Kinzinger of Illinois – are sitting on the House Select Committee, and they are incurring the wrath of party leaders whose ruse is to politicize the committee's conclusions. Cheney and Kinzinger will make that difficult.
You can agree with their politics or not, but these are what patriots look like and how they act. They put country first and, in that, they are what Stefanik and Jacobs and too many others are not. To see New Yorkers behaving as those two are is a humiliation.
Many subjects are appropriate for partisan debate, but the facts of insurrection are not. Republicans are confused. They should not want to be identified as the party of political perversion, but it's what their leaders are inviting.
What's your opinion? Send it to us at lettertoeditor@buffnews.com. Letters should be a maximum of 300 words and must convey an opinion. The column does not print poetry, announcements of community events or thank you letters. A writer or household may appear only once every 30 days. All letters are subject to fact-checking and editing.