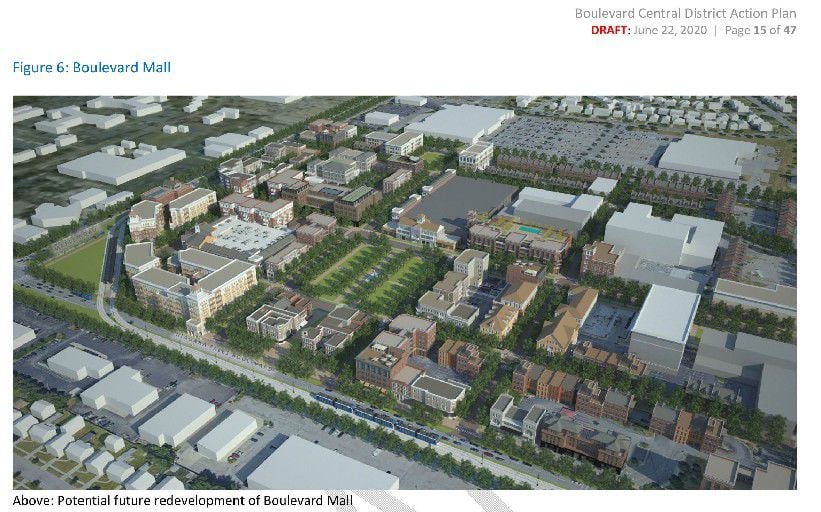 The Buffalo Niagara region is fortunate to have Doug Jemal among its fairly recent arrivals. He is making a difference here that few others have matched.
The developer came to town a few years ago from Washington, D.C., and breathed life into structures once given up for dead. Think: Seneca One tower, once home to HSBC.
Jemal took a look around and saw promise. So, he got started buying buildings to be repurposed downtown into apartments and stepped in to buy the Statler Hotel, after the untimely death of previous owner and developer Mark Croce.
Jemal has also expanded his view to the Town of Amherst, where he is planning to take a moribund Boulevard Mall and transform it into a town center similar to ones in Reston, Va., and San Jose, Calif. Both are vibrant residential and commercial districts. Like them, the Amherst project is expected to include residential, retail, business and recreational activities.
The 63-acre parcel is a shell of bygone years when people actually shopped at malls. Jemal is right: Almost no one is doing that, anymore. It's easier to shop online, especially in this Covid-19 pandemic when health officials and government leaders are urging everyone to stay at home.
Still, the project does not get off the ground without critical infrastructure work.
Fortunately, Supervisor Brian Kulpa is all in, with putting down roads, sewer lines and other utilities through the mall building and surrounding parking lot.
Kulpa and Jemal agree on the need to transform mall space and retail environments. With a legacy of big-box retail and as the fourth largest municipality in upstate New York, Amherst is certainly ripe for this kind of project.
In laying the critical groundwork for this redesigned Boulevard Mall, Kulpa, an architect and urban planner with vision about how suburbia can be reinvented, sees the benefit of reenergizing a moribund property and returning significant tax dollars to the town.
Once the infrastructure is in place, Jemal will begin the yearslong effort by constructing an apartment building along Alberta Drive between the mall proper and neighboring Wegmans. The following years would add more residential, retail and recreational activity, specifically along Niagara Falls Boulevard and Maple Road. Town officials must support the project through rezoning the mall site and granting other administrative approvals. Only then can work proceed.
The town is working with noted civic planners Dover, Kohl & Partners on a new design for an area including the mall, the neighboring commercial corridor between Sheridan Drive and Maple Road and the former UB Ridge Lea campus. The firm's dense, mixed-use plan provides more public green space, pedestrian and bicycle-friendly pathways, and public transportation options. Making it happen will require support from current property owners and new developers.
The Boulevard Mall site is a prime property because of its proximity to the University at Buffalo's South and North campuses. Ultimately, it is the epicenter with the largest combination of parcels and focus of redevelopment within the triangle section of the Boulevard Central District.
The vision involves change over a long period of time. The town is working through its zoning process, delayed by the Covid-19 pandemic shutdown, but by next year, street networks could be built, with sewer and water developed on site to support early phases of project development by Jemal's company.
It is the practice of taking a big-box site and, one bite at a time, transforming it into a vibrant town center. The culmination of years of planning and cooperation by developer and town supervisor will turn this "sea of concrete" and "sea of asphalt," as Jemal describes it, into a "sense of community and interaction."
Catch the latest in Opinion
Get opinion pieces, letters and editorials sent directly to your inbox weekly!