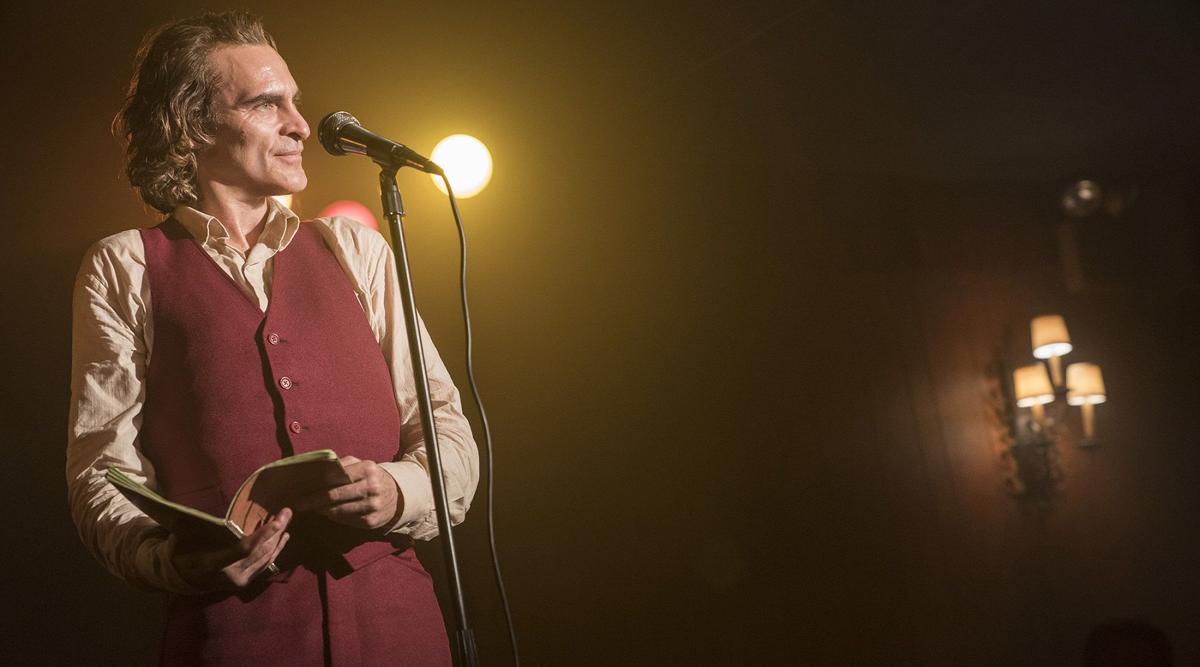 It was easy to be fooled, but that sure didn't mean I was wrong. Take a look at "Joker" and you'll understand completely.
We have never had a movie actor as conspicuously alienated from his own profession as Joaquin Phoenix – one who makes that alienation the content of his movie career. He may be the perfect Hollywood actor for 2019.
No, Phoenix didn't literally give up acting to become a rapper as he said he was going to when "I'm Still Here" came out and he gave that immortal contentless interview with David Letterman that Letterman ended with his platinum-plated wisecrack, "I'm sorry you couldn't be here tonight." (Is it significant that Letterman, post-retirement, has a beard even more outrageous and anti-showbiz than the one Phoenix wore? Yup, I think so.)
"Joker" ends with a fictional cinematic return to that precious medium for fame as social redemption in America – the late-night talk show. This time, Robert De Niro plays the ravingly insincere comic/host that Jerry Lewis had played when a younger De Niro was the fame supplicant in Martin Scorsese's "King of Comedy."
The "real" Phoenix plugged this film on Jimmy Kimmel's show, which lead to a Phoenix-like confrontation between the cruel and crass TV host and the sensitive actor as truth's and decency's martyr.
Kimmel showed a candid on-set clip of "Joker" in production, where Phoenix defended himself against a mocking cinematographer sarcastically calling the star "Cher."
Phoenix was either genuinely surprised by Kimmel's mockery of him – or he merely pretended to be surprised. Either way, the point was made, just as it was when Phoenix stumbled onto Letterman's set with that bursting biblical beard and, in a way midway between diffidence and outright contempt, avoided answering Letterman's questions.
Yes, he's an actor he's telling us, but he's not in "show business" – which is what Letterman's post-retirement beard says, too. That's true even if Phoenix is doing all these conventional showbiz things for a film – movie junkets for the press in Hollywood, festival showings, talk show interviews, etc.
And why not? Phoenix finally has the greatest role of his professionally surly life, the one he was born to play the minute the very real and anguished brother called 911 outside Los Angeles' Viper Room while his more famous brother, River Phoenix, was in the process of dying from a drug overdose.
That was a moment, I submit to you, that you have to be tone deaf to if you don't realize how much it radicalized the professional self-presentation of Joaquin Phoenix.
He is an actor, not a star, in "Joker." He is the best in his generation, I think, and inextricably caught up in post-Brando alienation from his profession's inevitable grounding in B.S. for survival.
Look at the history of Batman's Joker as a movie and TV supervillain who has appointed himself as a primal cause of anarchy and social cruelty. It is made for actors who are inclined to make self-disgust the essential context of their careers.
This is an American thing. The great American film actors playing agents of disorder in "Batman" movies know it.
Jim Carrey never played the Joker but he played the Riddler in Joel Schumacher's "Batman Forever." He is about to release a novel in 2020 called "Memoirs and Misinformation." He explains its content this way: "None of this is real and all of it is true."
Welcome to the astounding career of Joaquin Phoenix, the living embodiment of transgressive disorder as Joker, whose origins as a Batman supervillain are now being told in this movie. The result has been almost equal amounts of audience excitement and critical worry and disgust.
If ever there were a movie where you can understand critics running for cover to point in either full opposition or predictable fear of violence, it is "Joker," which invents a story about a comic book Lord of Misrule who begins a whole social movement glorifying murder and urban chaos.
How dare that film in 2019 even pretend to be political – especially when its writer/director Todd Phillips is best-known for the box office busting "Hangover" comedies.
Think about the other actors who have played the Joker on film and about the way the role has developed since "Lothario" Cesar Romero played the Joker in Bill Dozier's "Pow!" and "Boom!" mass market version of camp in the Batman of '60s TV.
The actors who have played the Joker – and other Batman supervillains – have been eager to make Carrey's distinction between "what's real" and "what's true." This, after all, is the era when it's true the president of the United States came from reality TV.
The most famous Batman Joker of all was Jack Nicholson in Tim Burton's "Batman." Nicholson's most famous early scene in movies was the rebel's angry suggestion to the waitress in "Five Easy Pieces" that she hold the chicken salad between her knees so she could change his order of a chicken salad sandwich to just some slices of toast.
Just a few years later, Nicholson starred as the comic book super-rebel who merrily destroyed some of the world's favorite artistic masterpieces (a Burtonesque film adaptation of the anarchy of Dadaist Marcel Duchamp, who famously painted a mustache on a reproduction of the Mona Lisa).
Carrey, as the Riddler, made a real and apparently lifelong professional enemy of actor Tommy Lee Jones just because of Carrey's behavior on the set of "Batman Forever." The actions of the stars in the movie weren't real, but the enmity was.
After Nicholson, we have Heath Ledger's astonishing, heartbreaking and Oscar-winning turn as the Joker in "The Dark Knight," which I happily described as a $180 million art movie ("Joker," which won the top prize at the Venice Film Festival is, quite openly, an art movie). Ledger's alienation from his own profession (and life) was so extreme it took no imagination whatsoever to see him in the film signifying the drug taking that killed him before the film was even released.
That Oscar to Ledger was Hollywood's reward to an actor presenting anarchy as moviedom's darkest possible screen image as shown back to itself. Did he literally offer himself up as a sacrifice to a movie? Maybe.
Then there is Jared Leto as the Joker in David Ayer's "Suicide Squad," who is always happy to deny, in life, to everyone he's really an full-time actor. He is, in fact, a pop musician working in rock band Thirty Seconds to Mars – a denial of self that Joaquin Phoenix, no doubt, understands perfectly and did when he made "I'm Still Here."
"Joker," as Phoenix has put it, is a complex movie. It is, in a way the movie's script itself would understand, a way of doing to the comic book movies now dominating megaplexes, everything those comic book movies deserve.
In 2012, something terrible and pathological and sickening was done to moviegoers in Aurora, Colo., the night of the premiere of "The Dark Knight Rises," when 12 people were murdered in a theater.
It couldn't be more understandable why people, for real, are afraid of "Joker."
Ask yourself this question: If you were a film executive, would you greenlight the movie?
I'm frankly not sure I would.
I was, nevertheless, glad that "Joker" was made for aesthetic reasons.
Our most unpredictable and, I think, talented movie actor has finally found the role that completely fulfills his true anarchic talents.
The real Phoenix in this film looks painfully thin – emaciated even. He is, by appearance, one of society's classic "Have Nots."
In "The Dark Knight," Batman was played by Christian Bale, also 45 years old (as Phoenix is) and known for getting into on-set problems with cinematographers over diva behavior.
In "The Machinist," Bale starved himself to appear as unhealthy and emaciated as Phoenix looked as a Joker whose inner fury is burning him up from within.
These actors are telling us something. They're not kidding. Yes, they're actors, but alienation from what that means waxes and wanes violently.
Does it make us horribly uncomfortable to see? Of course it sometimes does.
For us to see the movies we need to see, though, I don't think we can ever tell them to stop.