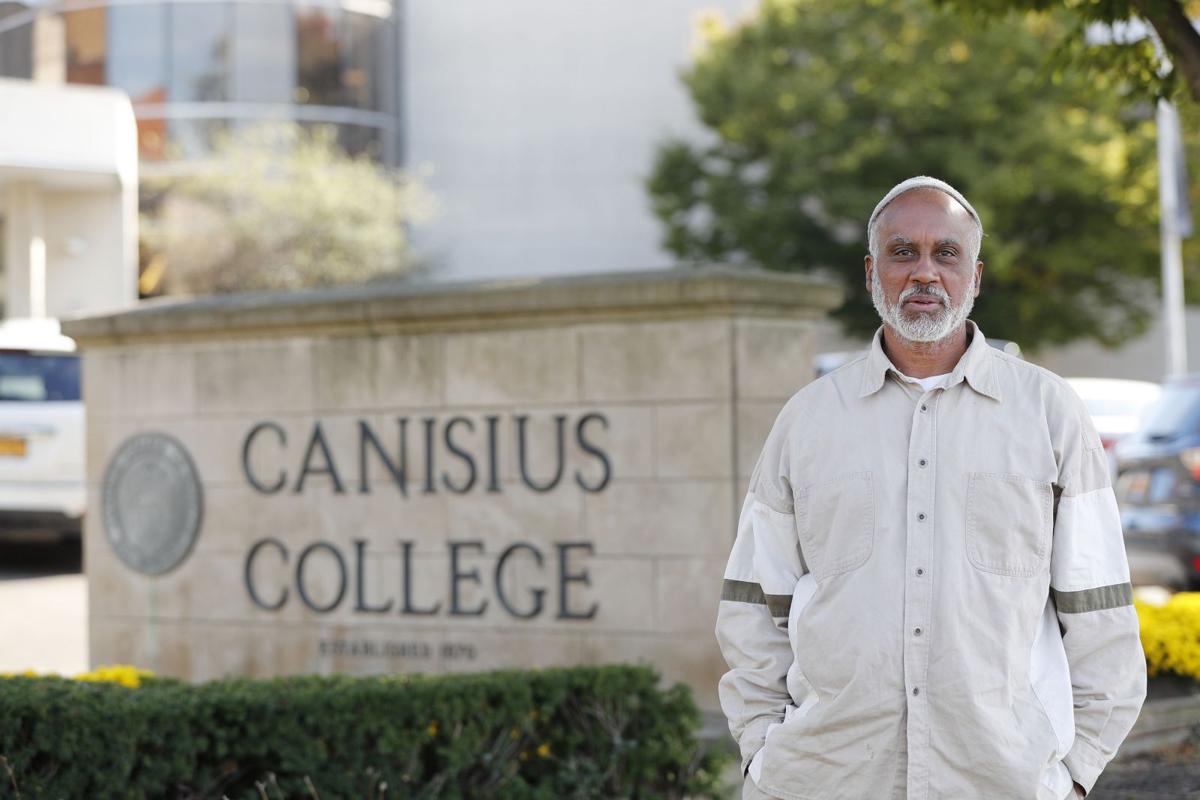 "Going above and beyond the job description will make you stand out and demonstrate that you are a hard worker." – Oregon State University's Career Development Center Blog
Instead, Luis "Khalil" Nieves says it got him fired two weeks ago from Canisius College.
The college agrees, saying he was warned about overstepping boundaries and taking on responsibilities that were not part of his job description.
That, however, is where any agreement ends.
Nieves viewed part of his job as part-time reference librarian as helping the college's students – particularly its disadvantaged students and students of color – whenever he could. He also wanted to integrate the library more deeply into the life of the college by proposing, among other things, a Rwandan health library course that would include spending a semester in the central African nation.
Library Director Kristine Kasbohm was less than thrilled. She thought he was going too far, even though Nieves said he never did anything without first bouncing it off of his immediate supervisor and he produced copies of email exchanges to prove it. In one, the supervisor told him, "We can discuss this tomorrow. Don't sweat it," after Kasbohm found out about his Rwanda proposal and was surprised to learn of the library's role in it. She reminded him that "your current role here is as a part-time reference librarian. As such, you cannot propose programming on behalf of this library." She then directed him to discuss such ideas with the supervisor – which he already had been doing.
"I never talked to the people before talking to" the supervisor, said Nieves, who has a master's degree in library administration from the University at Buffalo and whose résumé lists stints teaching, lecturing and doing research. "This is one of the reasons they hired me, because I said I'd like to do outreach."
He said he also was chastised for helping a pair of students, who happened to be students of color, who came to the library while having trouble with papers they were writing. He met with one's instructor and gave editing help to the other the night before a paper was due and when the college's writing center was closed – again allegedly going beyond his job title.
The college says he did more than edit, and actually wrote significant parts of the student's paper, which it says the student admitted after being confronted by the instructor who recognized that it was not her writing style. William Collins, Canisius' vice president for institutional advancement, invoked the term plagiarism and said that was the "straw that broke the camel's back."
Nieves counters that he included his contact info on the paper so the instructor could get in touch with him if necessary – hardly the M.O. of someone facilitating plagiarism – and noted his termination letter included no such allegations.
"They should have put that in there and pressed charges," he said, given how seriously schools take plagiarism.
But even if you think the college may have had good reasons for canning a part-time reference librarian who wouldn't stay in his place – the two sides even disagree over how often he was warned – the firing raises a larger question that resonates beyond Canisius: How far do you push as a person of color when trying to change things at predominantly white institutions?
Should you be happy just to be there and quietly go along? Or should you push boundaries, rattle cages and make your presence mean more than just a number on an equal opportunity employment form?
And if you are the manager in a predominately white institution, is it that numerical tally you care about filling? Or do you really want the perspectives and insights of those not like you – even when that means doing things differently?
The questions, while relevant in most fields, are particularly acute in higher education where, even as enrollments become more diverse, black students have higher dropout rates and lower six-year completion rates than any other racial group, as the Chronicle of Higher Education reported earlier this year, citing an American Council on Education study.
Going above and beyond to help retain disadvantaged and minority students and propose more workshops and programming that could make college more relevant to them would seem to be part of everyone's mission, despite a preference that everyone stay in their lane. That's particularly true when, as the Chronicle noted, "The racial composition of faculty and staff members, meanwhile, has not caught up with their increasingly diverse students."
That's especially true at Canisius, where college figures show students of color make up about 30% of the undergraduate and graduate enrollment of 3,102, with blacks accounting for 9% and Hispanics making up 6%. But only about 12% of the 156 full-time faculty members are instructors of color, including four African Americans and four Hispanics. The website collegefactual.com rates the school "normal" when it comes to the racial diversity of its student body, but "below the national average" when it comes to faculty.
That means the relatively few staffers of color who are at Canisius should be looked at as a resource to be tapped, not a problem to be contained or eventually excised.
Fatima Rodriguez Johnson, hired last spring as the school's first associate dean of diversity and inclusion, said Canisius is in the process of producing a diversity and inclusion statement with input from stakeholders. That initiative grew out of efforts that started in 2015 when the college began conversations about race and undertook a campus climate survey that led it to do more diversity training and to look for models for how to have "difficult conversations" about race in a civil manner, said Johnson, a Canisius graduate school alumna. The college also has a student center devoted to providing support and programming to help retain students of color, she noted.
Obviously, the school is moving in the right direction in confronting the challenge. Just as obviously, no institution can have workers doing whatever they want. Nieves, however, reiterates that he ran everything by his supervisor, who did not return calls for comment.
In a school with that kind of gap between its enrollment and its faculty when it comes to diversity, there should be a way to channel the experiences of other staffers with his background into helping the college move further and faster on an issue it already is pursuing.
Nieves – a South Carolina native who spent time everywhere from Puerto Rico and Barbados to Trinidad and Saint Croix before coming to Medina in 1990 and Buffalo in 2004 – said part of the reason for floating the Rwanda proposal was his belief that people who live outside of the U.S. for awhile return with a new perspective on race and white supremacy.
He viewed his job and initiatives like that one as helping to integrate the library more fully into the life of the college, helping international students and students of color hone their skills and helping the college's white students gain new perspectives.
That, apparently, was more than the college wanted from a part-time reference librarian.
But his firing raises a larger issue for workers of color everywhere trying to change the culture in a predominantly white institution: How far do you push before finding out the hard way that it's "not in your job description?"