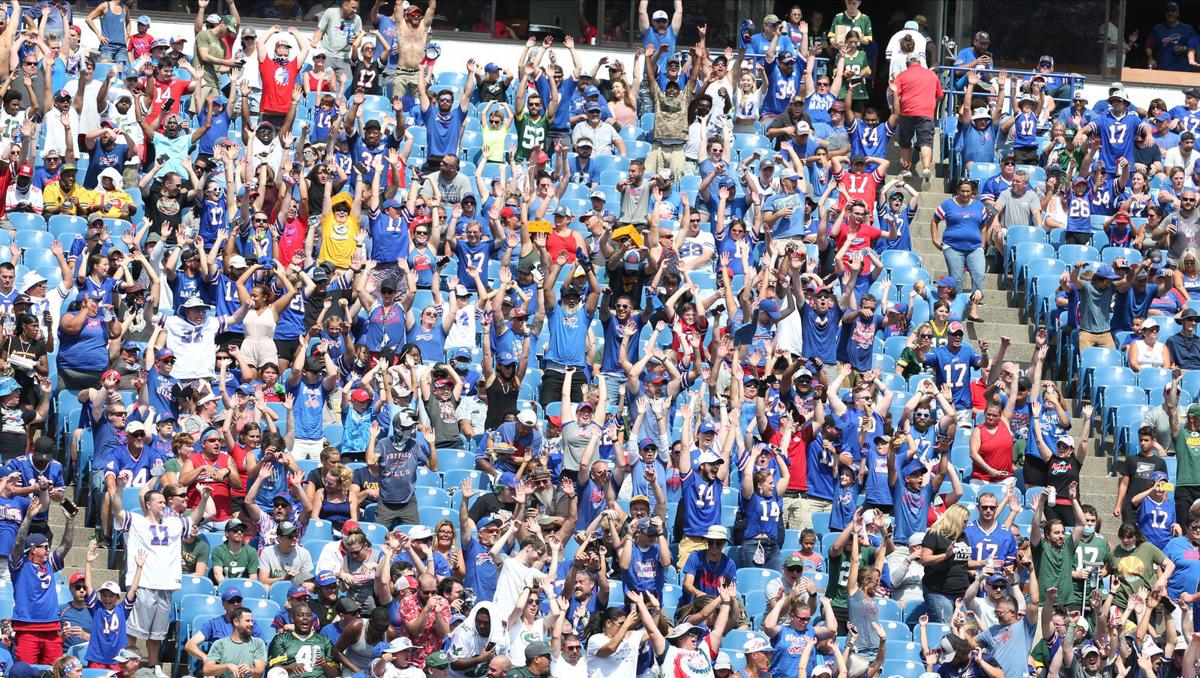 Everyone knows there are only four seasons: winter, spring, summer and football. Opening day is better than Christmas, and coming as quickly as Tre White closes on a wideout.
By Thursday, you should have known what you're wearing, if not laid it out on the edge of your bed. You should have scripted your first 15 moves for Sunday morning. Your brand, spanking new Buffalo Bills gear likely gets the call to the game-day roster, while your old favorite, likely better Bills duds, are on the inactive list – although they must be ready in a pinch.
The right game-day food is paramount. It should look and taste as fabulous as it is bad for you. It should have as many calories, in the thousands, as you will burn squealing and dancing for three hours, a zero sum game. Fancy alternative sauces for wings are (arguably) fine for weekdays, but yours need traditional Frank's.
If you're going to the game, get there early. You actually probably should be there be now with your suitcase full of alternative Bills gear to keep in back.
Tailgating is a must. Even if not making a pilgrimage to Orchard Park, you should be tailgating outside on your driveway, or in the parking lot of the apartment complex or sports bar where you watch the game – at least four hours before kickoff. Be ready to cook with real fire, overstock ice for beer and drinks, and post embarrassing social media selfies you think are cool or cute.
Make sure you start all over-drafted Bills' players on your fantasy team or DraftKings, even knowing it's a mistake, and bench all Pittsburgh Steelers you were foolish enough to draft, even Najee Harris. Yes, bench him and feel good about it.
Get your superstitions out of the way early. Sure, go ahead, wear your lucky, if rancid, Bills underthings, but please do not discuss them with unwitting others. The Bills don't actually have team meetings to game-plan your neuroses and what its effect will have on the outcome.
It is only OK to dress your dog up 21 times a year, counting playoffs, so go ahead, but do it responsibly. Do not embarrass the good boy or girl, although he or she needs to be ready for action. Semper Fido.
Expectations for our beloved Bills are through the open air roof at Highmark Stadium, which is actually the low mark for stadium names after Rich and the Ralph. The national media are jumping through hoops, if not tables, to anoint the Bills a top-two or top-three team. As Bills fans, we hate when they pick us to win – it's a jinx! – and equally hate when they pick us to lose – the disrespect! Those two things cannot both be true and yet they are.
The Steelers will likely have a good showing of ghastly bumble-bee fans in Orchard Park. Be cordial, make them feel welcome. We are, after all, the City of Good Neighbors, and then completely ruin their afternoon – if not lives.
The Steelers still have Has-Ben Roethlisberger, a competent assemblage of offensive threats, and a staunch defense. The Steel Curtain is more like a bunch of beads on strings, but any Mike Tomlin-coached team can be trouble. In 14 years, he has never had a losing season, including nine playoffs, seven division titles, three AFC championships and one Super Bowl win.
The 2021 Bills, however, are stacked and jacked. Wizened head coach Sean McDermott and Wizard General Manager Brandon Beane have constructed a deep roster whose biggest worries seem to be backup CB and OT. The players love the game, their coaches and each other.
The continuity, now starting a fourth season with the same offensive and defensive coordinators, cannot be underestimated. And with the sour taste of last year's AFC championship game still lingering, Bills fans are insatiable for bigger and better second helpings.
Josh Allen is primed to hear premature "MVP! MVP!" chants as early as 1:15 p.m. Sunday, and is up for the challenge. He just signed a $258 million extension and might be underpaid. The new defensive line, led by a cross between Gumby and Groot, is champing at the bit to clean Big Ben's clock. And a delirious crowd is expected to reach its seats and lung capacity for the first time in two years.
Earlier Bills teams have had some unforgettable season openers. Who can name the games that featured heroics by Roosevelt Leaks, Ahmad Rashad and Sam Adams? But rarely if ever have expectations been into the strat-o-matic stratosphere.
The season is finally upon us. As fans, we have practiced our drinking, cooking, clapping, stomping and screaming as long and as hard as Bills' players have worked on their blocking, tackling, running, throwing and catching.
It's opening day. The NFL and the Bills are back. All is wonderful in the world, at least for three matinee hours Sunday.