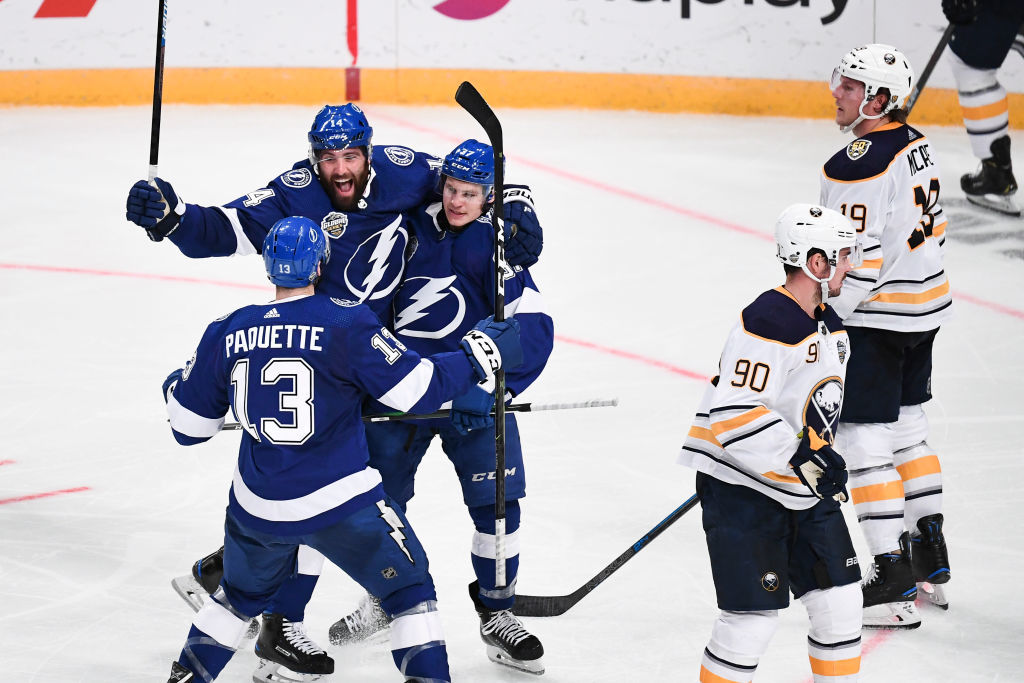 STOCKHOLM – This was easily the Buffalo Sabres' best performance in more than two weeks. But consolation prizes weren't being thrown around the dressing room deep inside Ericsson Globe late Saturday night.
Too many warning bells are flashing around this club.
"It's frustrating. That's the bottom line," captain Jack Eichel said after the 5-3 loss to Tampa Bay, the second in two nights here against the Lightning. "I thought we did a lot of good things. It just seemed like that timely moment where we needed a goal, we couldn't find one.
"It was a great experience, very unique. Once-in-a-lifetime, whatever you want to call it. But we just lost four points to a divisional opponent, so it's not too much of a success."
Eichel's garbage-time goal with less than 38 seconds left was all that kept the Sabres from two goals or less for the seventh consecutive game. The Sabres are basically playing with eight or nine forwards who can't score, with a power play in a funk and with a penalty kill that isn't bailing its team out at all.
"We wanted a stronger compete and we felt that we had it," coach Ralph Krueger said after his team had a season-high 43 shots on goal. "There were stretches of the game today where we were very close to what we want to be as a team and how we want to play."
Close isn't good enough, of course. At this point, the Sabres are on the path to raise the "Best Team in October 2019" banner next to the "Best Team in November 2018" one they earned last year.
Buffalo fans are on a pretty good run of being ahead of the curve right now. They were all over the Bills for not getting the ball in Devin Singletary's hands, and rejoiced when Sean McDermott and Brian Daboll finally came to their senses last week against the Redskins.
And there wasn't much celebration from the locals over the Sabres' 8-1-1 start, either. A weak schedule like the Bills had made it feel like fool's gold and so did an overachieving power play. The prevailing wisdom around town – and, frankly, of most hockey experts around North America – is that the Sabres were coming back to the pack.
And it wasn't the residual effects from watching last season go south. It's real. That's four consecutive losses in regulation and a 1-5-1 mark, in which the only win was at pathetic Detroit when Linus Ullmark stole a game with a 41-save shutout.
The envelope needs to get pushed on a top-six forward. Now.
Starting Thursday against Carolina, the Sabres have 10 games in the final 17 days of November. It's a brutal schedule largely caused by the time it takes to get to and from Sweden and get used to the time change. General Manager Jason Botterill probably doesn't want to risk suddenly getting thin on defense with that kind of schedule by making a trade.
He might have no choice. It doesn't seem like he can wait until the trade deadline in February. It seems like a big move needs to happen.
And we're not considering the callup of Tage Thompson as a big move, either. Thompson, for the record, should get summoned from Rochester and be in the lineup Thursday night because Vladimir Sobotka's injury suffered on Nikita Kucherov's scummy hit here Friday is expected to be a long-term situation.
But that shouldn't be Botterill's only move. Most of the GM's moves last summer have worked nicely. Any complaints about the promotion of Victor Olofsson or the acquisitions of Marcus Johansson, Henri Jokiharju and Colin Miller? Didn't think so.
But Jimmy Vesey has been a bust, with no goals in 14 games (in a contract year, no less), and it again renews the question of why Botterill just didn't bring back Jason Pominville.
The Sabres don't create enough traffic at the net and, until Saturday, continue to pass up too many good looks. Their special teams were winning games early, but they're losing games now.
Buffalo was 0-4 on the power play on this trip and only 4 for 7 on the penalty kill. The Sabres got schooled by the veteran Lightning on both sides of the battle.
"Definitely our power play let us down, as did our PK here this weekend," Krueger said. "We are a team learning to play with the top teams in the league, and Tampa Bay is a team where if you give them a tiny little window they take it away from you. They did that again tonight."
It's a shame really. The Sabres, for once, had super life off the opening faceoff.
The Sabres had only 22 shots on goal Friday but came close to that in the first period Saturday with 17 on the way to 43. In the third period, Olofsson thrilled his home country with his first 5-on-5 goal, a whirling beauty that burned fellow Swede Victor Hedman and temporarily got the Sabres back within a goal.
"We have to build on what we did today," Johansson said. "I really felt like we played a good game at times. It's an unbelievable team we played and 5-on-5 I felt we were a better team."
Before Krueger began his final press conference of the week to discuss the loss, he made sure to thank Stockholm for its hospitality. Always gracious, he exited the dais with a "Thank you, Sweden" salute.
As an organization and a team, the Sabres have been eyeing this trip for months. They knew it would be magical at times and stressful at others, like when the international media would swarm their dressing room after games and practices.
But Krueger likes to say everything is an experience and that's what Eichel & Co. will see someday when they're in the playoffs.
Come Wednesday when they get back to practice, it will be the return to the regularly scheduled hockey season. The Sabres have a lot of work to do, on the ice and in the front office. A big journey is over, but a new one is about to start.
This is going to get very interesting.
"It was outstanding in every way except for our results," Krueger said of the club's Scandinavian adventure. "The hospitality was felt by the team the whole time we were here. It was a wonderful experience that we'll look back on with pleasure once these games become lessons that make us stronger in the future."
Catch the latest in Opinion
Get opinion pieces, letters and editorials sent directly to your inbox weekly!