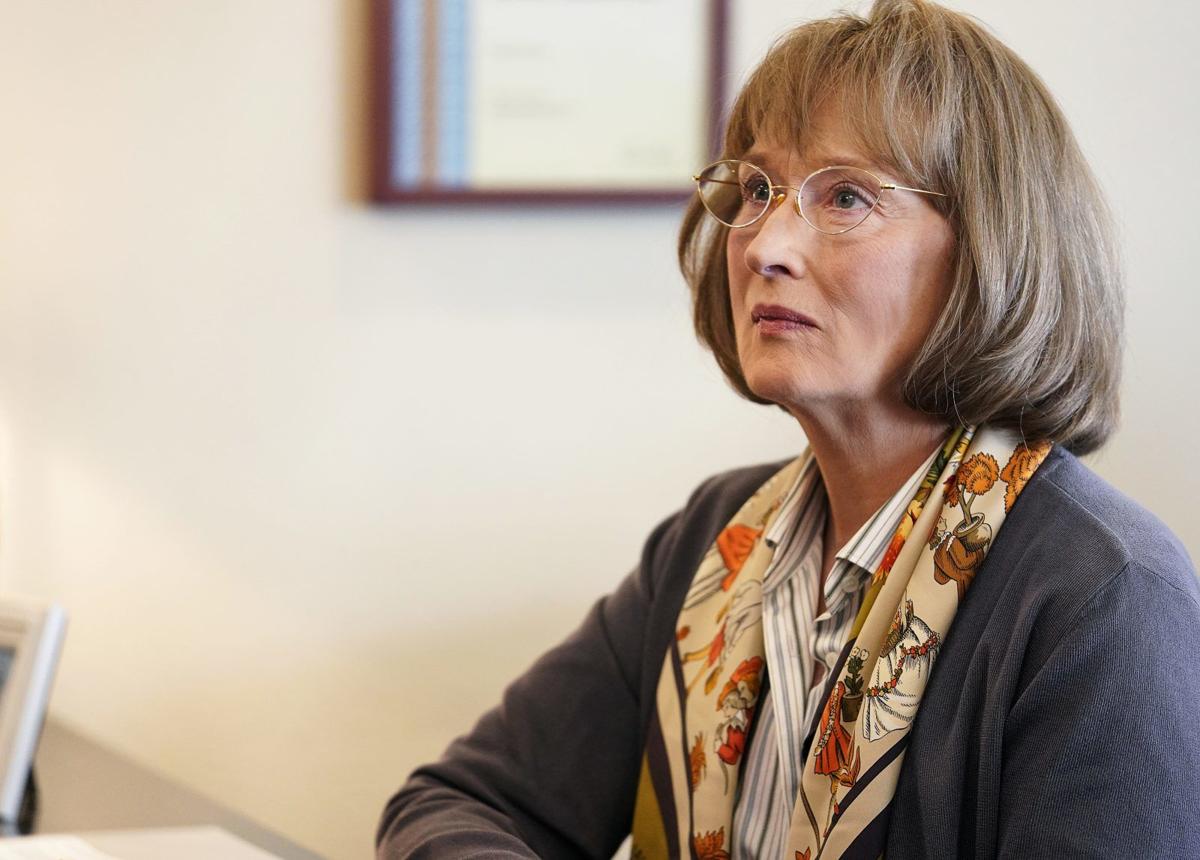 "Big Little Lies: The Aftermath."
That should be the title of the second season of HBO's popular miniseries that premieres at 9 p.m. Sunday and is repeated at 10 p.m.
In season two, the so-called "Monterey Five" played by Reese Witherspoon, Nicole Kidman, Laura Dern, Shailene Woodley and Zoe Kravitz deal with the aftermath of many of the secrets and lies from season one in a picturesque California seaside community.
I enjoyed, but didn't love, the first three episodes of season two made available for review as much as I did season one. However, the episodes are intriguing enough to want to see where it goes and learn if there is less filler material in subsequent episodes.
As in season one of the Emmy-award winning series in 2017, the scenery, the music and the girl talk are selling points for season two.
But the primary reason to watch this time is Meryl Streep.
The legendary actress, who was a big fan of season one, arrives as the odd, creepy mother-in-law of the widowed Celeste (Kidman). Celeste had a violent relationship with her husband Perry (Alexander Skarsgard), who was pushed to his death at a community event in the miniseries finale.
Streep's character is named Mary Louise, which just happens to be Meryl's real name. At a news conference in Pasadena, Calif., in February, critics were told that was no coincidence; the character was given the role in hopes of persuading Streep to take the part.
Mary Louise, who delivers insults as effortlessly as the late Don Rickles, is the engine who shakes things up. She is in denial, refusing to believe her deceased son was a rapist and a domestic abuser. She just can't believe that he accidentally fell to his death and wants to get to the bottom of what happened.
The question is whether the cover-up of Bonnie's (Kravitz) fatal push will be worse than the possible crime and whether Bonnie's conscience can handle the pressure.
Meanwhile, Madeline (Witherspoon) is dealing with the aftermath of her infidelity, Renata (Dern) has her own family and financial issues, Celeste is confronting her nightmarish mother-in-law, regret and self-doubt, and Jane (Woodley) is continuing to protect her young son (Iain Armitage, who went on to become "Young Sheldon").
You do have to wonder why Jane stayed around after the way she was treated in season one, but she is needed because she is the most likable female character.
The surviving male characters are either fools, insensitive, idiots or a combination of the three traits.
Written by David E. Kelley, the first three episodes quickly re-establish the personalities of the characters and introduces stories about how people deal with blame, guilt and stress associated with affairs, secrets and lies. Sunday's first episode is a little slow, but the momentum picks up in episode two.
With Streep joining this excellent cast of strong female actresses, it is hard to look away even if it was a lot more interesting to discover these characters in season one and uncovering the mystery surrounding the first season was more compelling.
In the interview in California, Streep said she was addicted to season one.
"I thought it was an amazing exercise in what we know and what we don't know about people; about family, about friends, how it flirted with the mystery of things," she said. "What was unsaid, unshown, unknown was sort of the pull, the gravitational pull of the piece. And it was so exciting. So, when I got the chance to join the crew, I thought, Yeah! I wanted to do it, to be in that world."
"This piece, for me, because I have four grown children, I'm playing someone who is dealing with whatever the deficits of her parenting were, and the mysteries in that, and how you can't go back in time and fix something. All those issues, that was interesting to me. And it felt real, honest, honestly investigated. David really understood that part. I felt like I had something to give to this piece."
Kelley, the prolific writer of such series as "L.A. Law," "Picket Fences" and "The Practice," originally said there wouldn't be a sequel but changed his mind.
"Well, going back to last season, we really didn't close the chapter," he explained. "It ended on a very open note of what's going to happen next. And that being, will the lie have a life, will it have a malignancy, what will it do to the equation of these friends, these relationships, the marriage? So, there was a lot of fertile storytelling ground to be mined. The question for us — and I think the deep breath that we all took — is, is the storytelling going to be compelling enough that it will rise up to the first year? Because none of us — everybody up here can get jobs.
"We didn't want to do this unless we could at least have a fair shot of living up to the bar that we felt we had all set, in year one. So, we met, we talked about what the stories were. We were very unflinching and candid with each other about the ones we thought were viable and the ones that we thought not good enough. And we didn't finally agree to set sail until we had the commitment ... from all of us, that this was storytelling that we all felt passionate about."
Kidman said the new season gives more time to explore things about the characters, including her own.
"What is the aftermath of abuse when the partner is gone — in this case, dead — but it doesn't mean you're healed," said Kidman. "I think what's been the incredible virtue of this series — but also the very difficult thing that we've had to navigate — is you don't get six women in a show and follow all of their lives in this complicated, deep way. It's so rare. Most times, you'll get two. But the beauty of television is you do have seven hours, and so you do have the chance to delve deeply into six women's lives...  I mean I don't know another show that has six female leads."
The question is whether there will be a season three?
"No such plan now," said Kelley. "I think that it's one and two and we like where our closure is at the end of Season 2, so that will probably be it. But again…"
"That's what you said last time," said Kidman.
"That is," added Witherspoon. "You sat here and said that last time, David."
Catch the latest in Opinion
Get opinion pieces, letters and editorials sent directly to your inbox weekly!