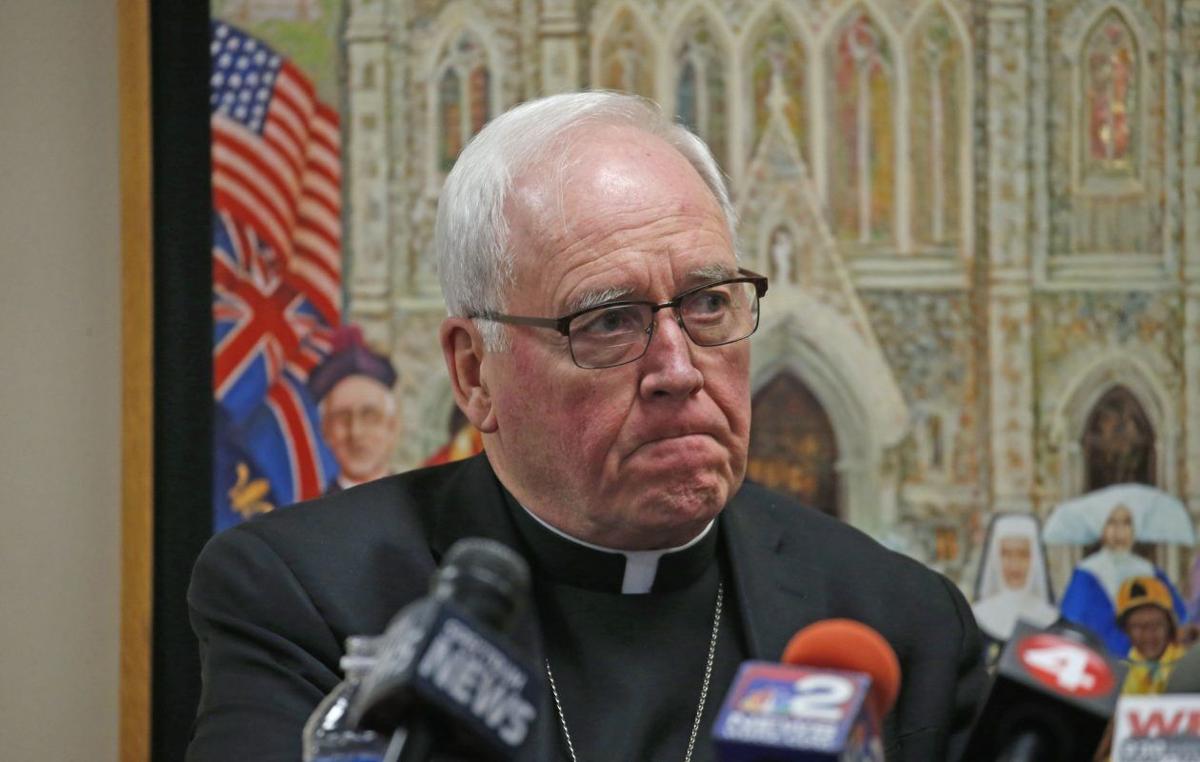 Like thousands upon thousands in Greater Buffalo, I am a Catholic.
I belong to a parish. I wear a medal around my neck for all it means, as my father did before me. At moments of crisis or sorrow, on a medical gurney or kneeling by a casket, I still make the sign of the cross as a kind of intimate reflex.
I find strength and meaning in the familiar, chanting rhythm of the Mass. I admire – and wish I could better emulate - the many everyday women and men in this community, under the umbrella of the church, who do selfless work on the streets, in the shelters, in the hospitals.
They tend to the hungry and the wounded.
They offer protection or comfort to the lost.
In everything they do, I see their faith pour out like light.
Certainly, I understand why many people I love have drifted away, their impatience with what they see as glacial intransigence on many issues within the church.
I remain Catholic. For all the struggles, it is central to the way I see the world.
Yet being Catholic, to me, does not demand blind loyalty.
It certainly does not mean stepping back from all emotion.
Tuesday morning, it touched off a wave of anger.
That began in an unexpected way, when the Catholic Diocese of Buffalo took a step many of us thought we might never see.
Bishop Richard J. Malone authorized the release of a list identifying 42 priests, over many years, who had been "removed from ministry, were retired or left ministry after allegations of sexual abuse of a minor," according to the wording used by the diocese.
That sentence seems to indicate diocesan officials eventually took steps to separate these priests from the larger community around them.
In other words, the accusations of abuse were seen as credible against these 42 priests, some of whom I recognized or remembered – which I am sure was a communal response.
Activists and survivors had spent years urging the diocese to release that list. The argument was that abusers who had committed crimes against children should not be living quietly and anonymously in neighborhoods where families were completely unaware.
Beyond that was the simple idea of empowering survivors, the belief that men and women burdened for life with emotional – and sometimes physical – wounds inflicted upon them as children should at least know the perpetrators of those crimes had been publicly revealed.
In some way, even after death, abusers would face a reckoning.
Malone, in an interview with Tom Precious of The News, wondered if those names might also help more survivors find the strength to come forward.
Yet if the diocese truly seeks reconciliation, the names on the list serve as only a first step.
The other crime – one equal in consequence to the abuse itself, the one that also is beyond comprehension – is the way abusive priests were sometimes removed from one parish and sent to new assignments by the church hierarchy, giving them the chance to commit these acts again.
The real confession will come in looking back, and fully airing out that process.
I am a Catholic, from a factory family. I lived the life that tens of thousands of Western New Yorkers lived after World War II. I had parents with complete and utter faith in the church, sincere parents willing to see a halo above anyone in a collar.
They were hardly alone. Across the region, that complete belief in the priest at a parish, or at school, was a way of life.
Innocent children growing up in those situations – long before warnings about sexual abuse became a sad but familiar part of childhood – could be ensnared and exploited by a skilled and shrewd manipulator, in a position of unquestioned power.
Those children could be led to believe they were somehow responsible for their own abuse and should trust no other grownup with the truth – a kind of savage emotional entrapment that could scar and tear, even after they grew into adults.
The unspoken crime, then – one as real as the actions that led to the list – is the searing idea that much of this pain did not need to happen.
What we do not know, what we can only guess, is how many of these priests, decades ago, were simply moved from place to place.
We do not know how many complaints it took before abusive priests were removed from active ministry. We do not know how many warning signals were ignored.
We do not how many times suspected abusers were sent off for often ineffective counseling, then returned – without community alert – to positions where they again had a chance to target children.
And what still goes unsaid – the most obvious and outrageous omission – is why, for so many years, no one in a position of authority did what events screamed for them to do.
Why didn't anyone call the police?
Malone spoke Tuesday to the idea of transparency, of honesty, an ideal that fits well with Palm Sunday and Holy Week. As a child, what I remember with especially stark clarity is Good Friday. In those days, it seemed as if the streets themselves were cleared and silent from noon to 3 p.m., the hours associated with sorrow, with humility, with the crucifixion.
Inside the church, on your knees, what you sought beyond your frailties were the hard answers within yourself, that effort to seek some brighter hope beyond your own limitations.
The notion of confession, of humility, was key to being Catholic.
For church leaders to rebuild that faith, this list is just a start.
Catch the latest in Opinion
Get opinion pieces, letters and editorials sent directly to your inbox weekly!