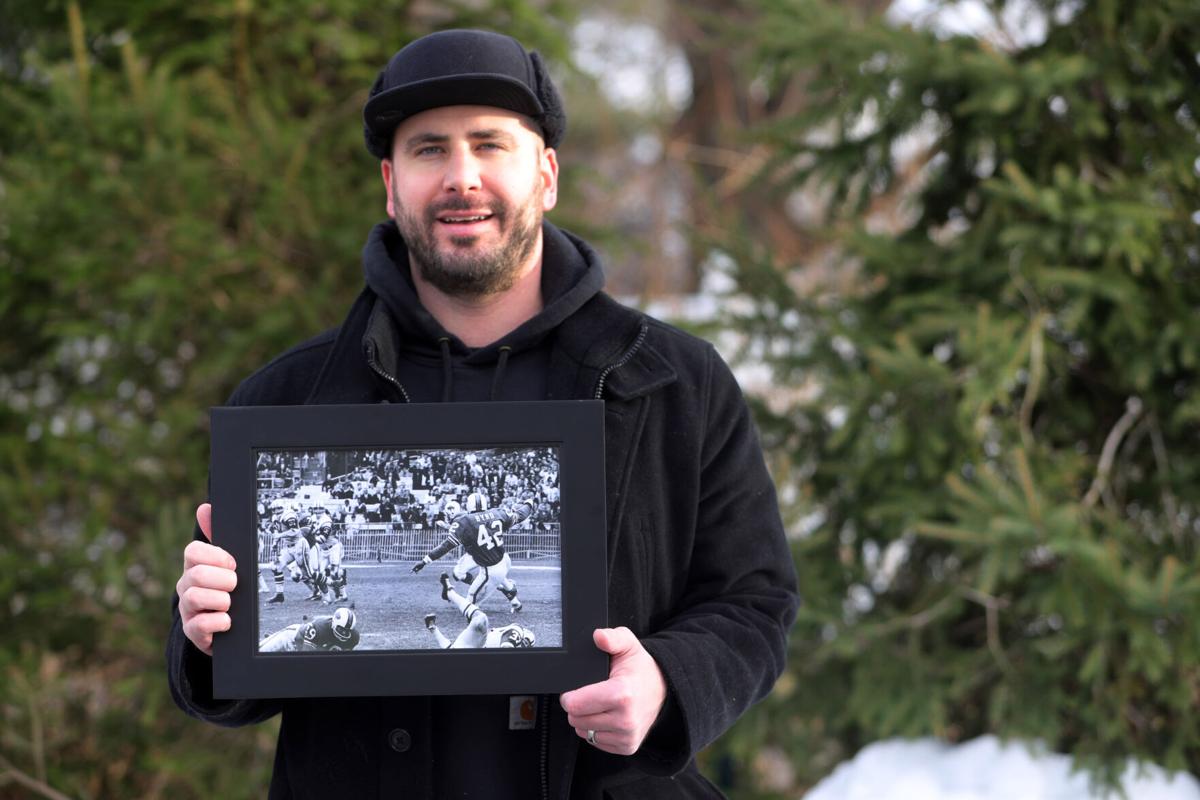 The email arrived a few weeks ago, just as the Buffalo Bills began the string of victories that electrified this region. A guy named Mike was looking for a copy of an old newspaper photo, the kind of request that is hardly unusual.
Yet the reason behind it was all about this Christmas.
Mike – his full name turns out to be Mike Booth – asked about an image that accompanied a piece I wrote two years ago, after the until-then-winless Bills of 2018 registered a monster upset against the Minnesota Vikings.
There was talk at the time about comparable shockers in team history, and I turned to a classic any gray-headed Bills follower remembers: In 1968, the only game Buffalo won all year was a 37-35 home victory over quarterback Joe Namath and his New York Jets, a few months before the Jets stunned the Baltimore Colts in the Super Bowl to unexpectedly reign as pro football champions.
My column ran with an old black-and-white staff image from The Buffalo Evening News that ran without a credit, though it was most likely shot by legendary photographer Robert L. Smith. It showed veteran defensive back George "Butch" Byrd making one of his two interceptions against Namath that day, including an interception that resulted in a 53-yard touchdown return. 
If you watch film of that "pick," Byrd – who had been part of the Bills team that won two American Football League championships a few years earlier – sprints into the end zone and hurls the ball in jubilance into the end zone seats.
Don Booth Jr., Mike's father, was right there. He was 10 when the ball landed behind him and was grabbed by nearby fans, an exclamation point on an unforgettable childhood day. At 33, Mike heard that tale a few weeks ago for the first time, which led to his email, inspired by a Google search.
He wondered if he could obtain a copy of the photo as a Christmas gift for his dad. My initial response was to see what I could do, until I thought about everything he described and realized it had elements many in greater Buffalo would understand on a gut level, and that a column could be part of the surprise for his father.
The result was a drive to Brockport, where Mike – now a financial consultant in Rochester – lives with his wife Cortney and their young daughters, toddling Ava and 10-month-old Reese, whose birth 10 months ago was a bright reprieve in this pandemic year.
I brought Mike a print of the image, which he planned to frame, wrap and present to his 62-year-old father on Christmas Eve. Father and son are lifetime Bills fans, as you would expect. After Buffalo beat the Chargers last month, Don Jr. – seemingly out of the blue – unexpectedly shared the tale from 1968, detail by detail, with his son.
"He told me about how his dad took him to that Jets game," Mike said. More than 50 years ago, for Don Jr., it was a monumental deal. His father was a truck driver who did not make big money. The family lived in West Seneca, and the kid – while he loved the Bills – had not seen a game in person.
The Bills won only one game that entire year. They beat the Jets, 37-35, in a few hours of utter football
"More than anything," Mike recalls, "he said he was taken aback by the colors." This was an era of black-and-white television, and the child walked into the old War Memorial Stadium to a sensory explosion of green grass, dozens of players in bright uniforms and the noisy presence of about 38,000 spectators.
The startling Bills victory cemented his memories, and the fact that Don Jr. had never attended a game – an economic reality for generations of kids who care deeply about the team – only amplified what it meant to be so close when Byrd heaved the ball.
Over the phone, and again when we met in Brockport for "distanced" coffee, Mike broke down as he tried to share the story.
He apologized. This was clearly about more than a photo.
Mike and his brother Andrew grew up on a small Christmas tree farm in Barker, in Niagara County. His dad met his mom, June Sonnenberg Booth, when they were in high school at West Seneca East. While Don Jr. spent a career in insurance, Mike said his father's heart was always with those trees, themselves intertwined with Christmas.
"He's my dad," Mike explained of a father who coached youth baseball, showed up for all Mike's high school games and was there if a car broke down, or for any problem.
Mike also came to know his grandfather. He described Don Sr. as a hard-boiled guy, toughened by the road. When Mike attended Daemen College, he lived with Don Sr. for a semester, which gave him a better sense of the gritty philosophy the older man brings to the world.
Canadian-born Christopher Lesko's allegiance to the Buffalo Bills overlapped with his affection for the city.
Not long ago, Mike's grandfather, at 89, moved into a memory unit of a Buffalo nursing home. It has been difficult to visit because of the threat of Covid-19, and Don Sr. grows confused and upset when the only way to see people he loves is through a window. It is a narrative countless families understand about life in 2020, and Mike knows it is especially hard for his father.
Still, he and his dad often talk about how the Bills are playing their best football in ages, leading to a dream instilled with a kind of optimism unseen since the 1990s: There is a real shot in Buffalo at a Super Bowl title – maybe this season, maybe in the near future.
"There are just so many people waiting and waiting for the Bills to bring it home," said Mike, who has no doubt so many events coming together in the last few months brought his father back to that day with his own dad, at the old stadium.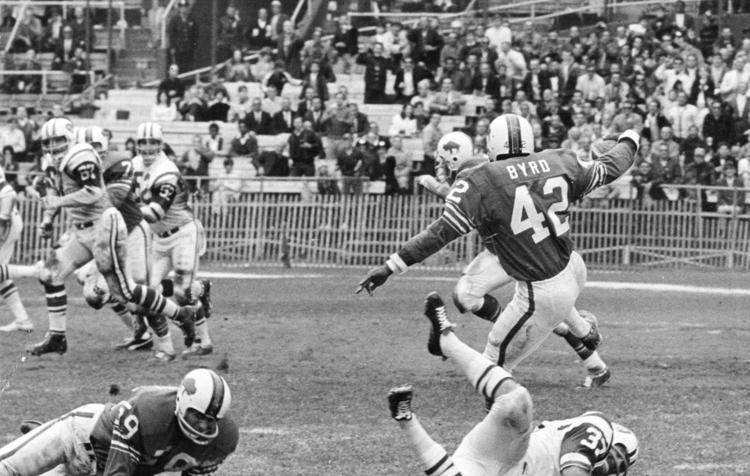 I drove away with a need to make one last call. Butch Byrd is now 79 and living in Massachusetts. He and his wife Carolyn are planning a much quieter day than their usual Christmas celebration, when a couple of dozen friends and relatives might show up. Instead, Byrd had a little time to shoot the breeze, and he said it is always gratifying to learn he holds a role in someone's childhood memories – such as Don Jr.'s vivid thoughts about the day Byrd picked off Joe Namath, twice.
"Amazing the way people remember this stuff," said Byrd, who understands the lasting impact of an encounter with a legend. Byrd was maybe 8, a child born near Albany, when his Uncle Buster took him to see the Brooklyn Dodgers at Ebbets Field – not long after Jackie Robinson shattered the cruel racial barrier that had kept Black players out of what were then baseball's all-white major leagues.
Today is Jackie Robinson Day, a commemoration that resonates beyond baseball.
Byrd said he was too little to fully understand how Robinson's courage would affect so many lives, though he certainly felt the excited reverence of nearby adults. Following the game, the child and his uncle waited outside the ballpark until Robinson emerged, then stopped when Byrd's uncle introduced himself. They shared a few casual and gracious moments of conversation, and Byrd remembers how his uncle said, "This is my nephew, Butch."
Robinson paused, looked directly at the child, and said: "Hi."
Their eyes met, one quick instant, then on with their lives.
If you wonder about the impression that it left, Byrd grew into an All-Pro Bills defensive back who not only took his own stands on injustice but asked in Buffalo to wear number 42 – the number made immortal by the man who said hello.
By the time you read this, Don Booth Jr. – who has no clue this column is coming – will have unwrapped the photo of Byrd's interception, and Mike Booth will know how he and his dad reacted to the emotion of that moment. As for Byrd, the player at the center of that image, he has a wish to go with it for Don Jr. and his son, as well as for the Bills team intertwined with who they are.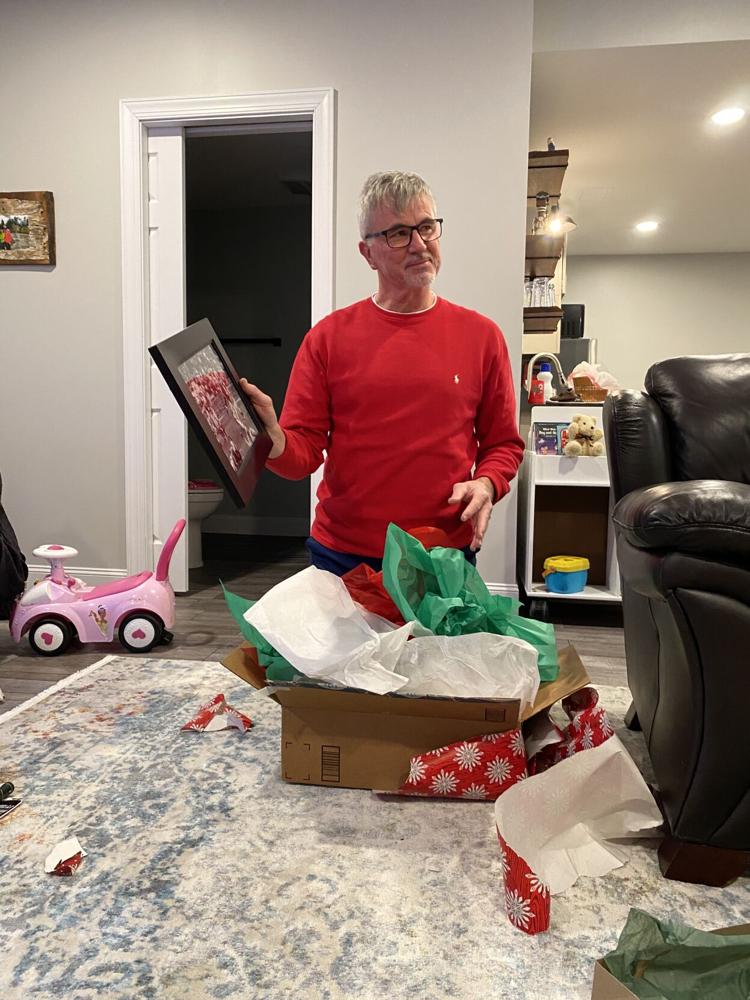 "Merry Christmas," Byrd said, "and I hope they win it all."