Marcos Vazquez and Mike Taheri caught up for a few minutes Friday morning on the front steps at St. Luke's Mission of Mercy. They spoke with a kind of shared and wistful determination about the hurdles faced by a young guy seeking steady work in this pandemic.
Vazquez, 20, was laid off in late summer from his position at a hardware store, part of the cutbacks caused by Covid-19. He had been getting to his job by bus after the engine blew up on his 2006 Jeep Cherokee. Since then, he has tried without luck to find another job, while Taheri – a Buffalo lawyer and longtime volunteer director of education at St. Luke's – said those struggles underline a community imperative.
Throughout Western New York, the pandemic only intensifies the crisis for those who have the least. Struggling families face uncertainties about housing, transportation and a way to pay the bills. Many jobs in retail or the service industry have been wiped out. Other forms of often thankless but essential work – such as cleaning services or home health care – are intertwined with the risks of Covid-19.
While the yuletide will throw its usual spotlight on turkey dinners and seasonal events meant to ease the suffering, Taheri said we will soon be into the grueling stretch of winter when the emotional pressures only intensify, even as the holiday warmth fades away.
He describes the pandemic "as the vortex" for those in fiercest need, a crisis of enough power to blow away the few supports they have left. If this time of year is supposed to be about compassion, empathy and above all else community, then he wonders if maybe we need a new way to see that calendar.
"Christmas starts Jan. 1," said Taheri, who said the mission around him emphatically defines the point.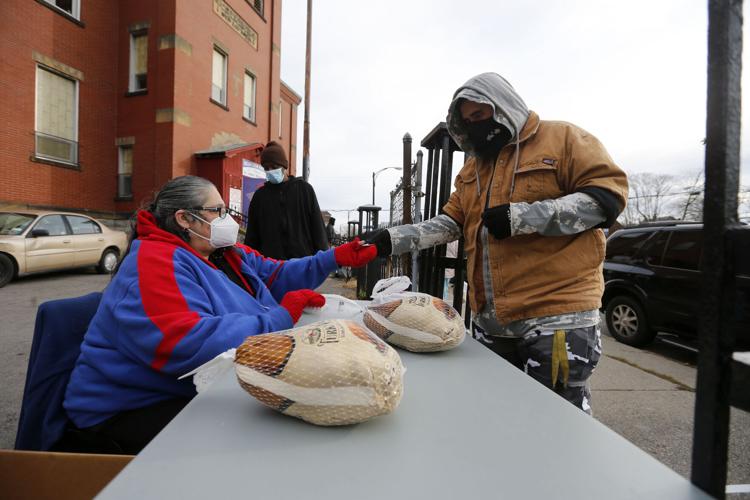 He and Vazquez stood a few steps away from the worship space at St. Luke's, for years a Western New York symbol of compassion at Thanksgiving. Typically, volunteers fill every pew in the place with bags of food, followed by a turnout of thousands of women and men who line up for those supplies.
The earliest version of the tradition began even before the mission opened a quarter-century ago. Amy Betros, who co-founded St. Luke's with the late Norm Paolini, said she and her staff used to distribute up to 500 holiday food bags at Amy's Place, the restaurant she ran before her full-time shift to ministry.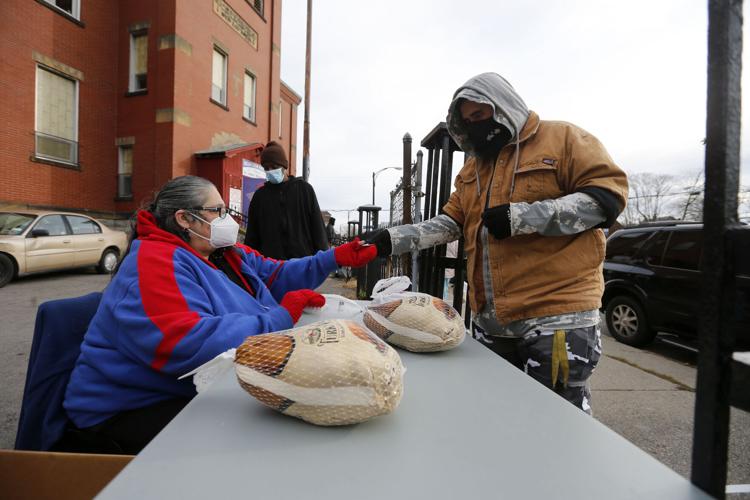 "If you feed people," she said, "it helps them to feel more secure and less afraid."
Both Betros and Shontay Rose – a volunteer who is one of the lead cooks and a key part of food preparation at St. Luke's – voiced the same concern as Taheri in describing the accelerating sense of worry. "People are losing their jobs and they're frustrated," Betros said.
Yet Covid-19 is spiking again in Buffalo, and an "orange zone" designation strictly limits the size of gatherings. Despite an increasing level of need, the way things were always done at St. Luke's will be impossible this Thanksgiving. Betros and her staff "prayed about it," she said, "and got this inspiration."
The mission has a longtime connection with Tarantino Foods on Bailey Avenue, whose president, Phil Tarantino, "is always asking us what he can do," Betros said. Rather than in-person distribution, St. Luke's provided 1,000 vouchers good for a turkey and a produce box at Tarantino's, easing the challenge of giving out so much food at one time at the mission.
For the many regulars who eat throughout the week at St. Luke's, West Herr Ford donated another 350 turkeys that were distributed bit-by-bit over the past few days. While Betros is pleased at that solution, she said one of the most difficult changes linked to the pandemic is a decision to cancel the Sunday Mass before Thanksgiving, a gathering that to her has particular resonance.
The entire history of St. Luke's is anchored in gratitude for the community around it. Faced with the idea of inviting only a few members of a passionate congregation, Betros and her staff figured it would be better to not do it all than to pick and choose who would be included.
Mike Taheri, a volunteer at St. Luke's Mission, recalls Norm Paolini's loving service to children, the poor, the hurting: "I think he may be the holiest person I've ever
As for Rose, she recalled her own journey to St. Luke's, how she was drinking to the point of despair when she decided to stand in line for a Thanksgiving meal. That is where she met Betros, a chance encounter that forged a life-changing friendship. Before long, St. Luke's provided Rose with not only a home but support in her ongoing recovery from alcoholism.
"I saw the love and how things are done here," Rose said, which to Taheri can sometimes mean providing a quiet break that many of us might take for granted.
Vazquez, who sees Taheri as both friend and mentor, arrived at St. Luke's as a 12-year-old with his mother and his sister. "I can't explain how much they helped," he said of the mission community, where Vazquez's mother became a volunteer while her children enrolled in the home school.
After eighth grade graduation, Vazquez went on to high school. He found a couple of part-time jobs and came to a realization: He liked working a lot more than he liked academics. At 17, he left school for a position in retail. Taheri, with his focus on education, understood that a classroom does not fit every teenager, but he also stuck to one message:
"Listen," he told Vazquez, "you've got to get your GED."
Last spring, Vazquez earned that equivalency certificate, right around the time he saved about $1,000 and bought a car. That was a high point in his life, until the engine blew apart and he had no money to replace it. Before long, the pandemic cost him his job and left him searching for work in a hard economic landscape.
"All I want," he said, "is to be where I was at."
Without a car, Vazquez recently rode a bus for two hours, in both directions, for a job interview. Sending in applications was a major problem until Taheri helped him get a computer, because – as Taheri asked – "have you ever tried applying for a job on a phone?"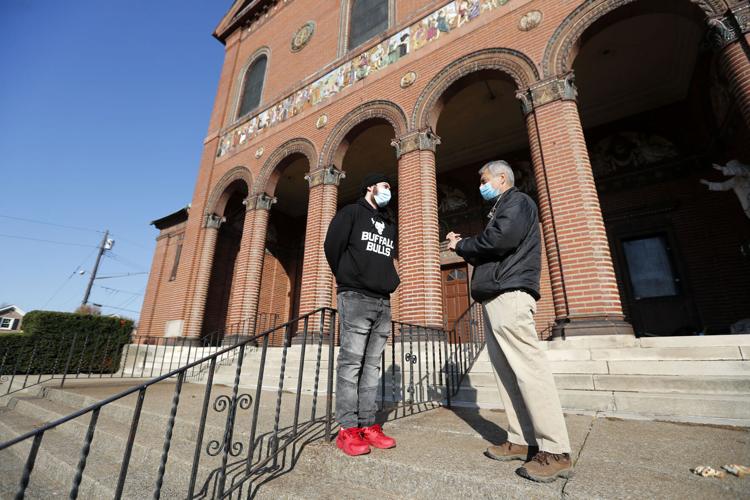 Those obstacles are all too familiar to many people simply trying to make it day to day. Even before the pandemic, every step – whether putting together bus fare, or buying an outfit suitable for an interview, or regular access to the internet – was not some casual problem, Taheri said, but potential make-or-break barriers in far too many lives.
"Look," Vazquez said, "I tell people I'll work weekends, I'll do whatever you need me to do. The hope is that I bounce back on my feet."
He and his family, so intertwined with the mission, plan to share one of those Thanksgiving meals, which brings Taheri – with his belief in true mentoring – back to his point. Vazquez, a young guy of bright potential, needs the kind of dogged support that goes beyond a season or a meal, a truth you could multiply thousands of times, and it speaks to the larger meaning of true community in this pandemic. 
"Christmas starts Jan. 1," Taheri said again, a year-round commitment that he finds at St. Luke's.
Catch the latest in Opinion
Get opinion pieces, letters and editorials sent directly to your inbox weekly!