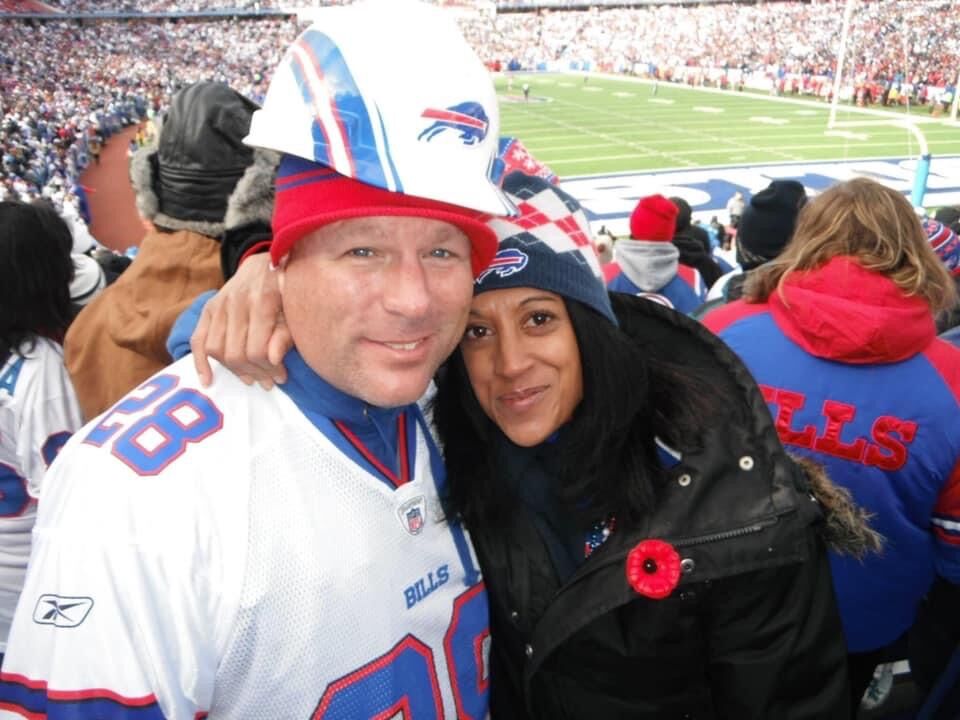 The next seat over was empty when Bryan Hood settled into Section 127, an absence that was hardly typical. This was a little more than a year ago, while the crowd was pouring into what is now called Bills Stadium for the team's National Football League home opener against the Cincinnati Bengals.
Hood, raised in Niagara Falls, had sat for a few seasons next to a fan from Toronto with a single season's ticket. In the way it often goes, Hood did not know his name, though they were just about knee-to-knee during each game and spoke in a casual, familiar way. Hood said all his companions appreciated the guy in Row 14, Seat C5: He always brought a cup of coffee and a game program, which made him invaluable for questions about players and their numbers.
"I said to everyone, 'Where's our Canadian friend?' " Hood recalls of the Bengals game.
It was a little later in the day, once Lenny and Vicki Whelan carried out their mission, that the regulars in the section learned the hard story. The Whelans, brother and sister, brought a shirt with blue lettering that spelled out the name "Lesko." Draping it over the seat, they explained how they grew up in the same Toronto apartment building as Christopher Lesko, a construction worker and a fan of intense devotion who would leap up to slap hands in Section 127 after any Bills touchdown.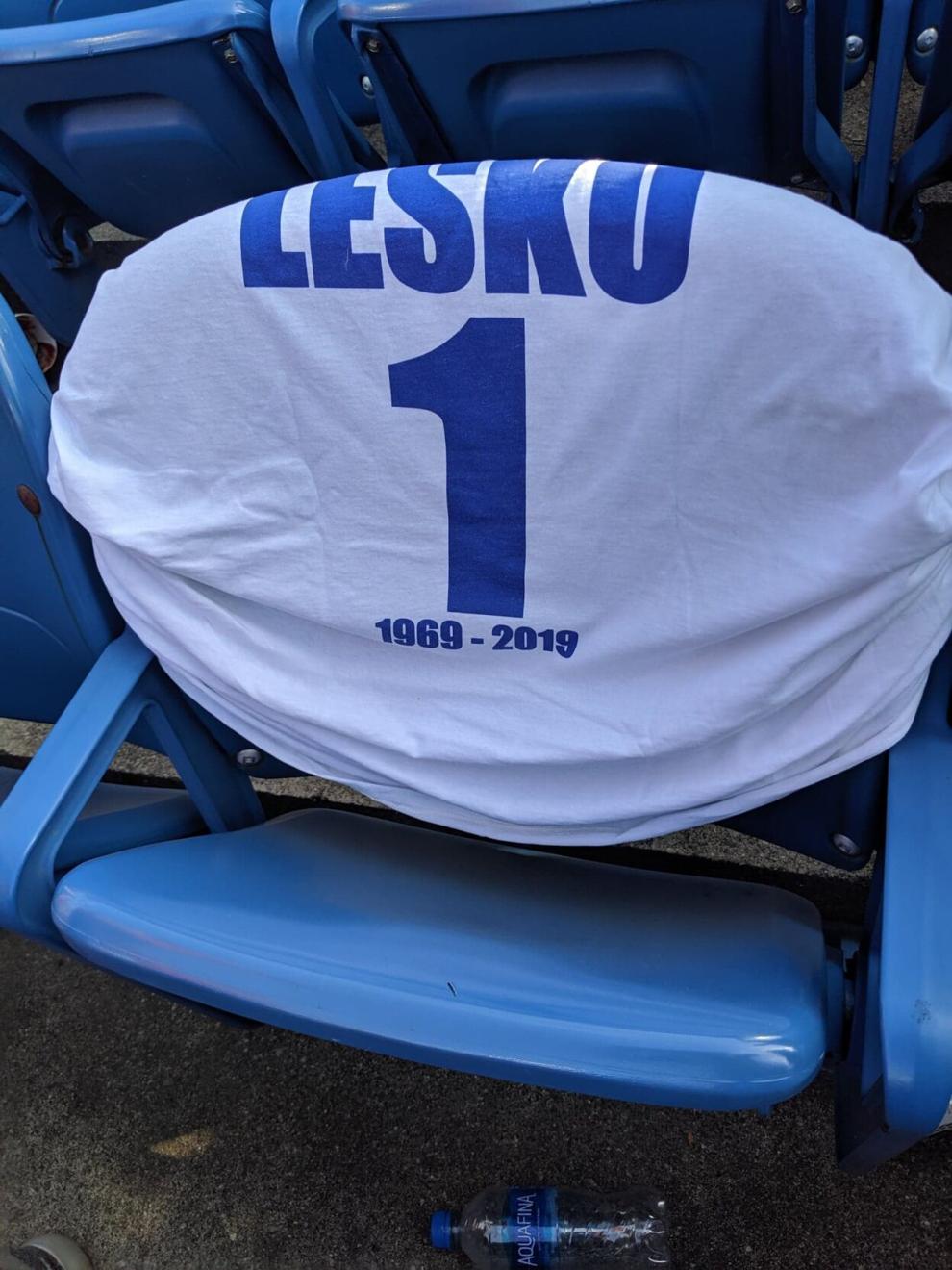 Less than two weeks earlier, the Whelans said, Lesko had been killed in an accident on his construction job. Lenny, who joined Lesko at many pro wrestling matches or Toronto Blue Jays games, had never traveled with him to watch the Bills. Lesko kept insisting his friend did not know what he was missing, so they made rock-solid plans to go together to the Bengals game – plans, to Lenny's shock, that never came to be.
Lenny runs a courier service in Toronto. As he made his rounds and worked through his grief, he settled on a tribute he believed would have meant the most to Lesko. Lenny decided to cover the cost of Lesko's season ticket – since it was already paid, Lenny gave that amount to his friend's mother. He has already sent out another payment to pay for that seat next year, hoping the threat of Covid-19 will pass and the stadium will again be jammed with people.
Jammed, that is, except for the spot next to Hood in Section 127.
"That seat will be empty," Lenny said. "I'll keep it going in his name."
He spoke of Lesko as "a do-gooder," in the purest sense. Janesse Augot-Short, a cousin who roomed with Lesko in Toronto, remembers many times when she had to pick him up because he encountered struggling people asking for money on the street, and Lesko, deeply moved, gave them every cent he had. Vicki Whelan said he was the kind of guy who said hello, and meant it, to strangers walking past. When Vicki's son was injured in a frightening car accident, her old friend - so worried he had a hard time sleeping - called or texted as much as anyone she knew to see how things were going.
Lesko loved dogs and had a particular affinity for the elderly, and he brought that warmth and faith to the team he revered.
"He lived and breathed and dreamed the Buffalo Bills," Augot-Short said. His family says the staff at Toronto's Ward Funeral Home, quickly understanding his passion for the Bills, came up with audio from the great Buffalo comeback of 1993 against the Oilers and played it while Lesko's casket, vault decorated in team colors, was lowered into the earth.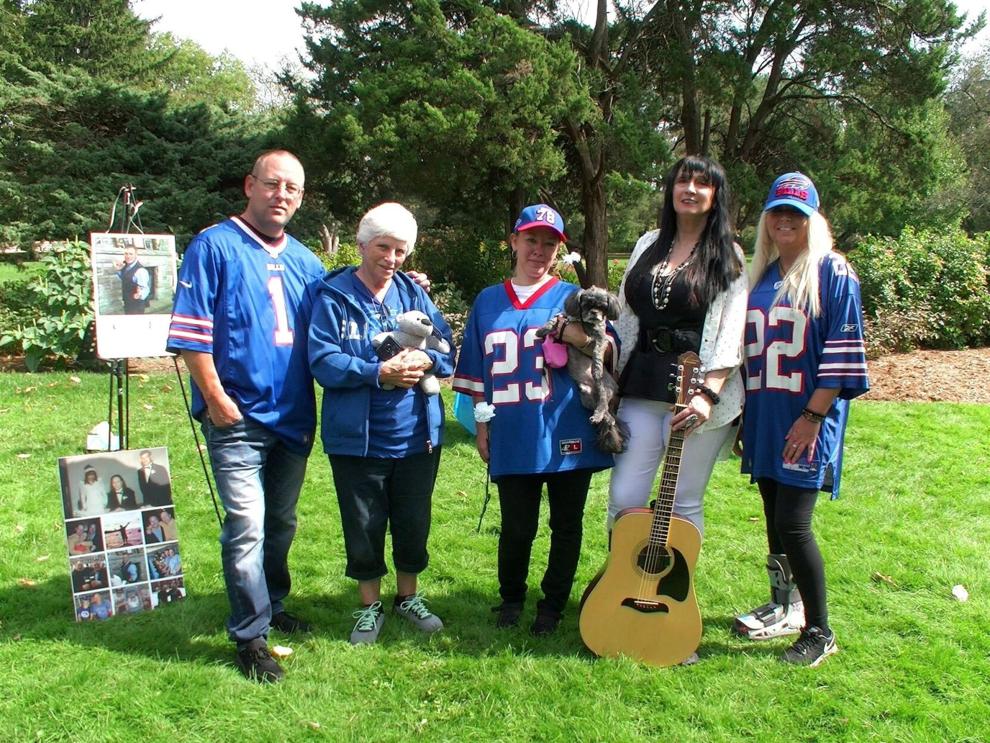 The Bills were a means of solace within what his friends see as his larger victory. Lesko, an only child who never married, took great pride in his longtime job and community of friends - especially his girlfriend, Jan Habib, and her children, Avi and Zara. He overcame many obstacles, including a complicated medical condition that eventually required surgery on his head, his mother said. Sharon Lesko raised her son alone, and she recalls how he overcame periods of depression and anxiety, intensified by bullying, by embracing anyone he saw as an underdog.
That cemented his connection to the Bills, as Lesko emphasized to his psychiatrist, Dr. Harold Spivak of Toronto's St. Michael's Hospital.
"He was a mental health inspiration," Augot-Short said. As for Spivak, who worked with Lesko for decades, he said they reached a point where their bond felt more like an older-and-younger brother than doctor-patient.
Lesko, Spivak said, always "identified with people who were marginalized or mistreated." He responded with warmth and reassurance, gifts that were also his vulnerability: His sincerity was so complete that he had no protective layer of irony or sarcasm. While a harsh comment could leave him struggling with grief, he compensated with an almost bottomless well of kindness.
For years, Lesko drove or caravanned to Bills games with Sunita Reddy, a friendship that started at a gym and locked in once he learned she loved the Bills. They were often joined by Tetiana Vynnytska, an old friend of Reddy's. After making a group stop at Wegmans, Reddy would tailgate with a familiar group called "Illegal Motion," while Lesko – who did not drink or smoke – would go to the team store and buy himself a cap or a shirt before heading for Section 127.
On days when Reddy planned to have a few drinks, Lesko – "who drove about as fast as your grandmother" – was there to take the wheel. Lesko, Vynnytska said, "was one of the gentlest, kindest souls you ever wanted to be around."
His allegiance to the team, Spivak said, overlapped with his affection for the city.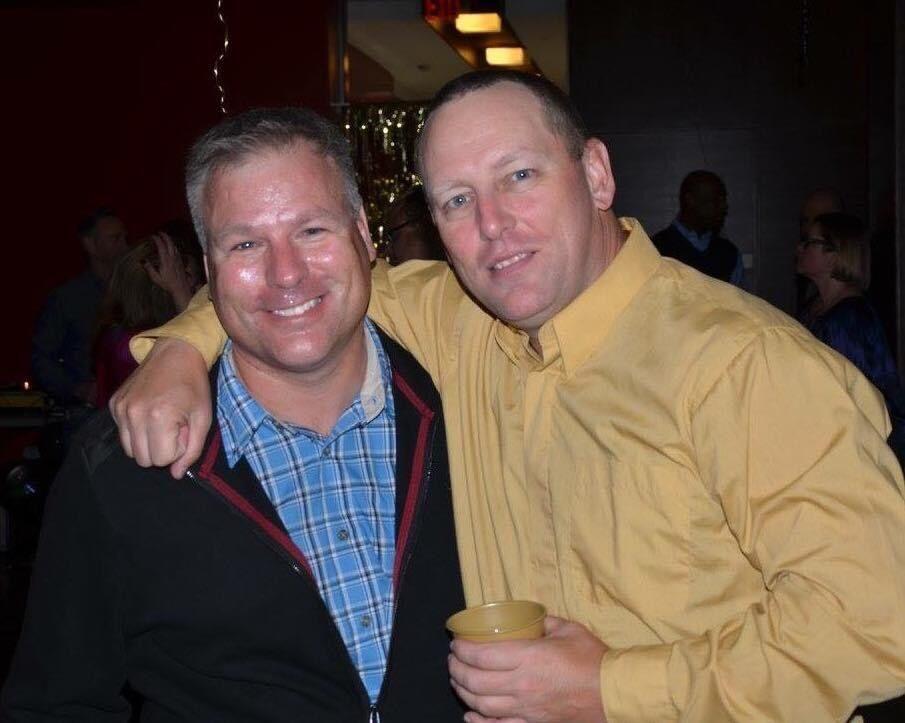 "He loved Buffalo," said Spivak, a pallbearer at Lesko's funeral. "He identified with it. He loved the values." Lesko admired the Bills Hall of Famers of the 1990s, especially Jim Kelly. He read coach Marv Levy's autobiography so many times he could quote it at difficult moments in life. His mother recalls he daydreamed about moving to Buffalo, whose sports radio talk shows he followed religiously. He was less at home in Toronto, Spivak said, a much larger city where he never felt he fit in.
Indeed, Lesko publicly argued years ago on his Facebook page that the Bills made a mistake by playing some games in Toronto, contending they sacrificed home-field advantage and an elemental part of who they were – even though it was much easier for him when the team came to his hometown.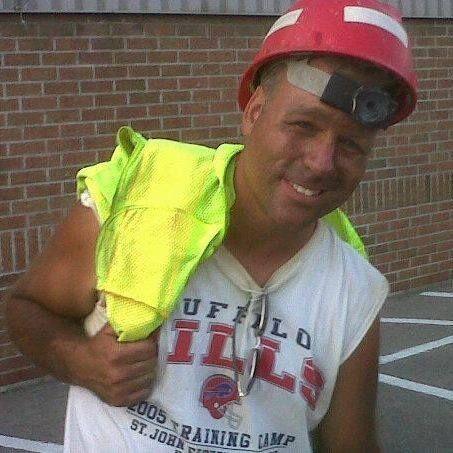 This month, Augot-Short put together a one-year remembrance, kept small by the pandemic. The original hope was assembling at the stadium, but border restrictions caused her to choose Toronto's James Gardens, where Lesko often walked Augot-Short's dog Mocha. Everyone wore Buffalo gear and joined in a butterfly release, while singer Valerie Shearman performed in Lesko's honor. 
His friends and family share a wistful ache about this year's undefeated Bills and their ascent. Lesko, who stood by the franchise through many long seasons, did not live to see this team seek a place in the league's upper tier. Still, Spivak said Lesko's devotion was at such a level that winning or losing was almost secondary.
He was most fully at home within the stadium, Spivak said. Even after a defeat, he returned to Toronto with some joyful story. As a psychiatrist, Spivak has worked with countless patients. Yet he speaks of Lesko as "extraordinary" for his sheer depth of empathy, the same quality driving Lenny to embrace a tribute that Bryan Hood says Section 127 will always help to honor.
Even after the gates reopen, no one will fill that seat.