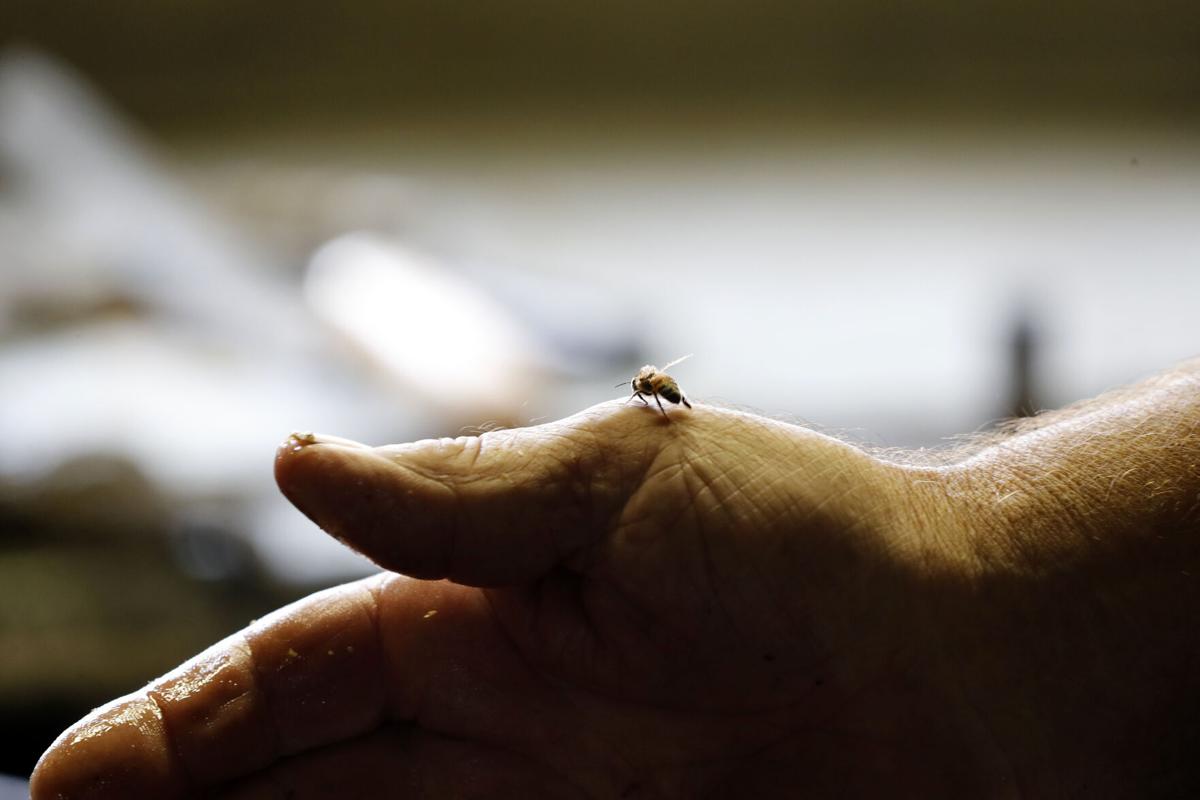 Ed Sirianno made this promise to himself. A few months ago, he took over as executive director of the Buffalo Audubon Society. The organization's mission is helping the larger community reconnect with nature through "bird-oriented activities," leading Sirianno to a simple imperative.
For his own understanding, he wanted to walk the more than 1,000 acres of woodland and green space the society controls in seven locations on the Niagara Frontier. He was prepared for such magnificent creatures as bald eagles, and he looked forward to seeing trees in bright colors in the fall.
Still, he did not expect what he found just off a trail on a slice of Java Center land known as the Rose Acres Preserve, a gift made decades ago to Audubon.
Sirianno rounded a bend and came upon dozens of beehives in ancient wooden boxes known as "supers," within a little compound surrounded by an electrified fence. Even in pandemic solitude, it was a complete surprise. "No one had told me anything about it," Sirianno said. Back at his office, he could not find anyone from Audubon who knew the tale behind these hives, tucked off in the woods.
A few days later, again by chance, Sirianno learned the full story – and only because he happened to be around the Audubon Center at Beaver Meadow when a farmer climbed out of a pickup with a carton of honey in his arms.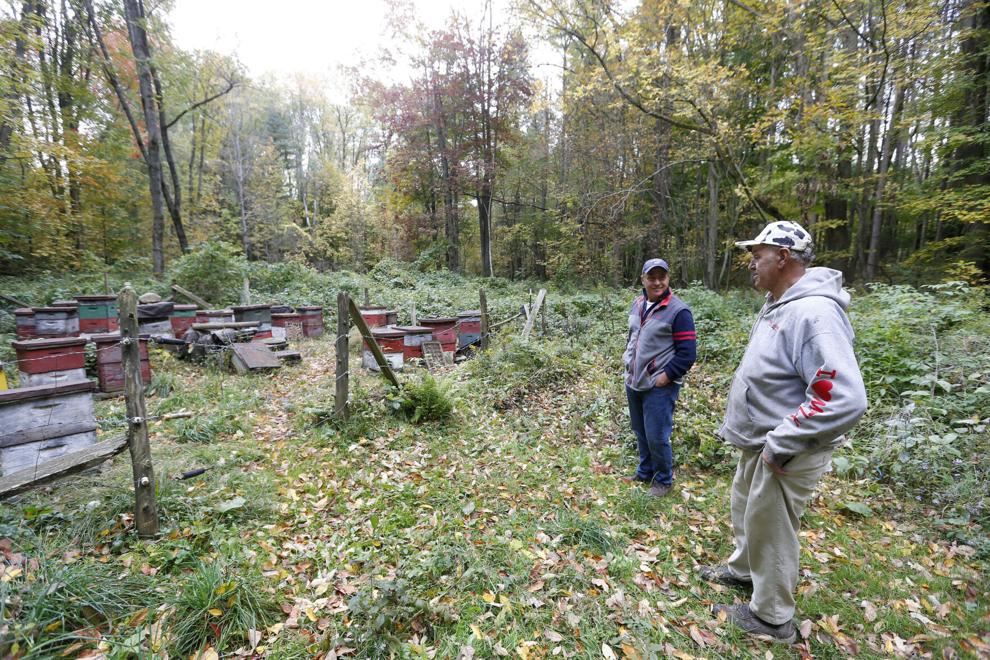 Charlie Seewaldt, a Varysburg beekeeper who turns 80 in July, was honoring a handshake promise going back for generations.
Joseph Seewaldt, a Belgian immigrant and Charlie's grandfather, was a beekeeper, as was Julius Seewaldt, Charlie's father. The family, which once drew honey from 500 hives, still maintains 70 at scattered sites in the area.
At some point years ago – Charlie remembers only the outlines of the story – the Seewaldts came to an arrangement with Dr. Clifford Rose, an accomplished Buffalo oral surgeon who maintained a summer home near Java Lake Road. 
In return for setting up beehives on Rose's property, the Seewaldts annually provided the doctor with what Charlie believes was a case of honey. It was Megan Smolenyak, a nationally prominent researcher and genealogist, who filled in the rest of the story for us.
Rose, she learned, died in 1961 – his obituary noted his groundbreaking surgical work in repairing cleft palates – and the land passed into full control of his widow, Ariana, who left significant gifts to both the SPCA Serving Erie County and the North Java Fire Company when she died in 1983.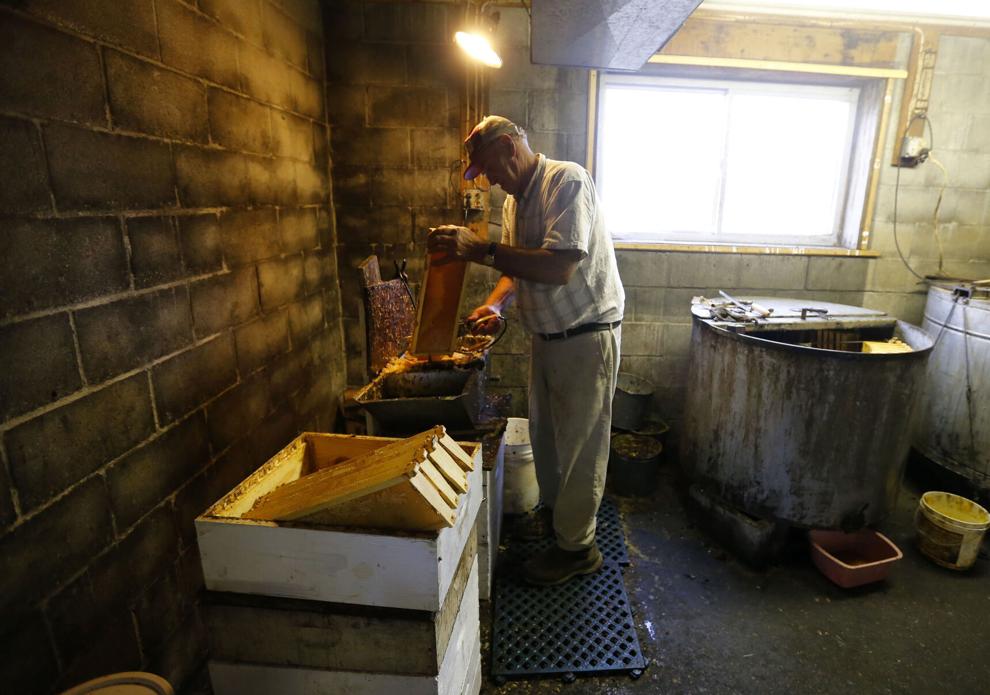 That generosity was also evident in 1975, when Ariana donated the Java Center property to Audubon, and the Seewaldts again made a handshake agreement about keeping their hives on the land known now as Rose Acres.
The family was allowed to continue the beekeeping operation in the woods. In return, the Seewaldts would provide a case of honey to Audubon each autumn, a tradition that has outlasted most of the people who were around when it began.   
To Sirianno, the informal and enduring nature of that commitment equates to magic.
Earlier this month, he showed up to watch as Charlie Seewaldt, joined in his Varysburg "honey house" by sons Dan and Chris, spent a morning jarring up some of the last of this year's honey. The small structure, built by Amish carpenters, is behind a house where Charlie rises every day at 5 a.m., a short drive from the homestead where he was born.
Five years ago, he sold 500 cows and got out of dairy farming. Yet he has no desire to retire, and maple farming and beekeeping provide plenty to do. "He's always on the go, always busy," said Velma Seewaldt, who married Charlie 59 years ago after the couple met at a square dance in Farmersville.
As for Sirianno, he looked on as Charlie worked above a "capping melter," using hand tools to physically separate honey that went into an ancient metal extractor and then headed toward the eventual result, those familiar golden jars you often see on shelves.
"For years," Charlie recalled, "I never went near a beehive." His family duties were centered around dairy farming until he was deep into his 30s, when his father suffered heart problems in Florida and had to go through quintuple bypass surgery.
"I made up my mind if he survived, I'd work with him and learn as much as I could," Charlie said.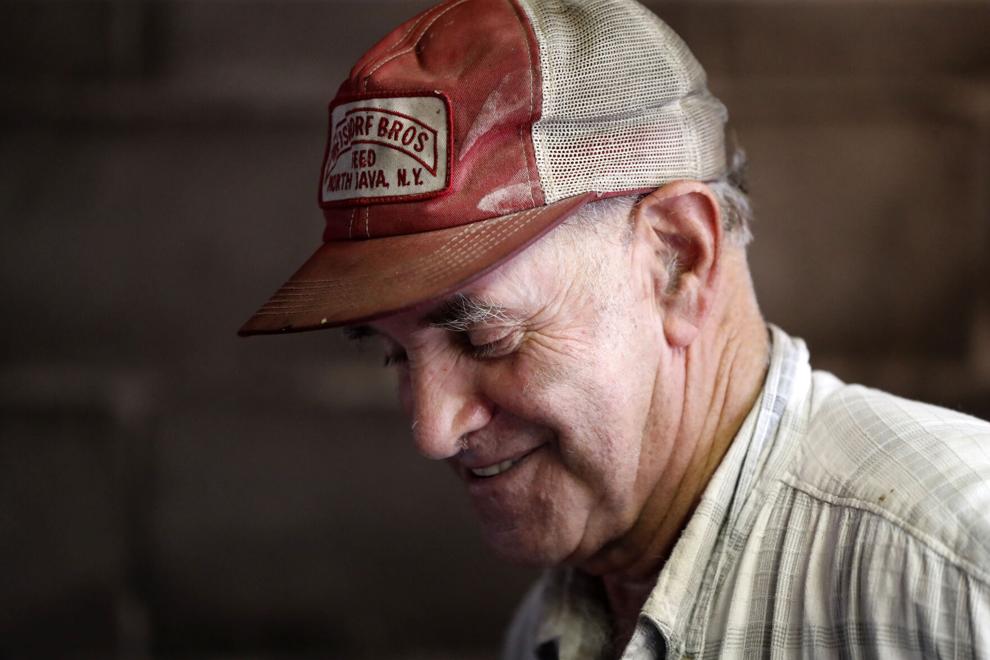 Part of the job involves the beehives on the Audubon land. Last week, Charlie climbed into his truck and led us to Rose Acres, then walked a quiet trail to about 24 hives, deep in the woods. The hives used to be near a pond at Rose Acres, until falling trees led the Seewaldts to shift locations. Now the electrified fence – strong enough to deliver an uncomfortable shock – offers protection against wandering bears whose enthusiasm for honey could quickly bring a jumbled end to the whole operation. 
Charlie's conversation is filled with casual and admiring reflections about his bees, as if he were speaking of eccentric but determined neighbors. The hives are boxed in "supers" of different colors, making it easier for worker bees as they fly home. A single honeybee, he said, might wander more than two miles while on the job. At the East Aurora Farmers Market, a regular stop, Charlie will tell his customers that being too quick to cut down clover in their yards can also wipe out a favorite destination for bees.  
Like other beekeepers, he is trying to ward off the threat of parasitic mites that can destroy a hive within two years. He spoke of how the personality of a queen ripples into the mood of an entire hive; an angry or volatile queen is described as being "ugly," and the story goes that an "ugly" hive will produce more honey.
"My father used to say, 'That's like getting more milk from a cow that'll kick your head off,' " Charlie said.
At Rose Acres, he popped off a lid to reveal a colony of bees working with boiling fervor on a cool October day. Charlie, there to observe, did not bother with a veil. He often skips wearing gloves, even though he has been stung more times than he can count, leading to a statement of appropriate respect.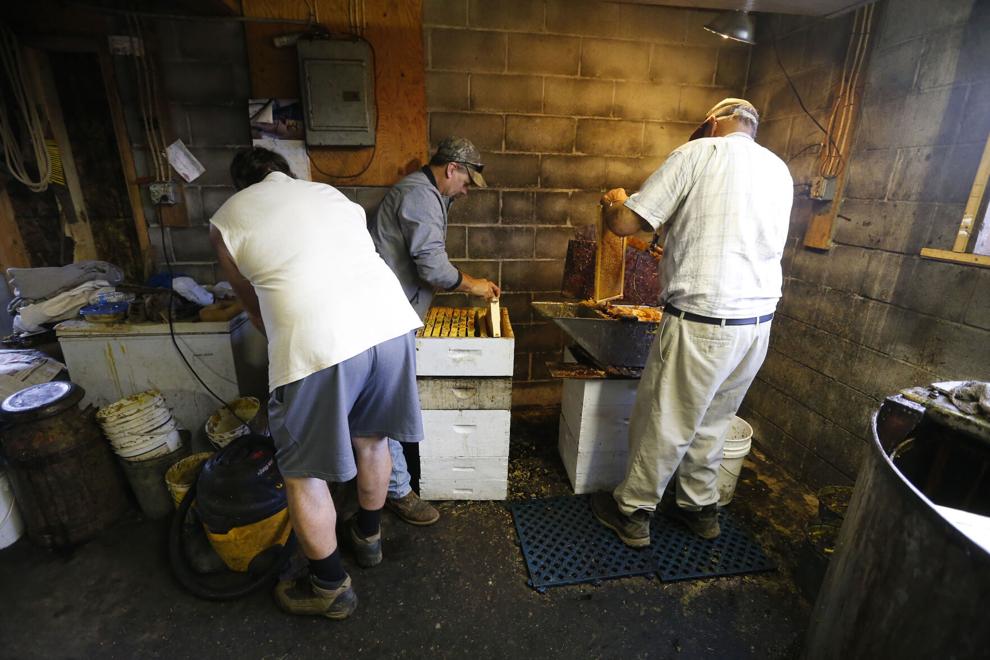 "A bee is little, but it can make a big guy dance," Charlie said. 
Sirianno took it all in. A native of Mayville, he helped build Creative Communications Associates, a communications and marketing firm specializing in higher education. He sold the company a few years ago, and contemplated retiring. But Sirianno was restless, looking to do some work in the community, and he learned Buffalo Audubon was seeking a director.
He applied and was hired. His goal is igniting community passion for an extraordinarily rich bird habitat on the Niagara Frontier, an attribute of longstanding civic beauty. In a small and specific way, he sees the Seewaldt bees as a step toward that destination.
This is the plan Sirianno will offer to the Audubon board: The Seewaldts harvest 1,200 pounds of raw honey every year from Rose Acres. If the board approves, Sirianno said, Audubon would purchase and sell it as a distinctive homegrown fundraiser, "with every penny made going into our education and conservation efforts."
Environmentally and economically it seems to fit, spotlighting a handshake deal passed down for generations. While Charlie Seewaldt is bemused if not astounded by the sudden interest, Sirianno sees the honey that comes straight from those woods as an unexpected statement on 1,000 acres of Audubon land.
The birds and the bees. Since time began, what better testament to wonder?