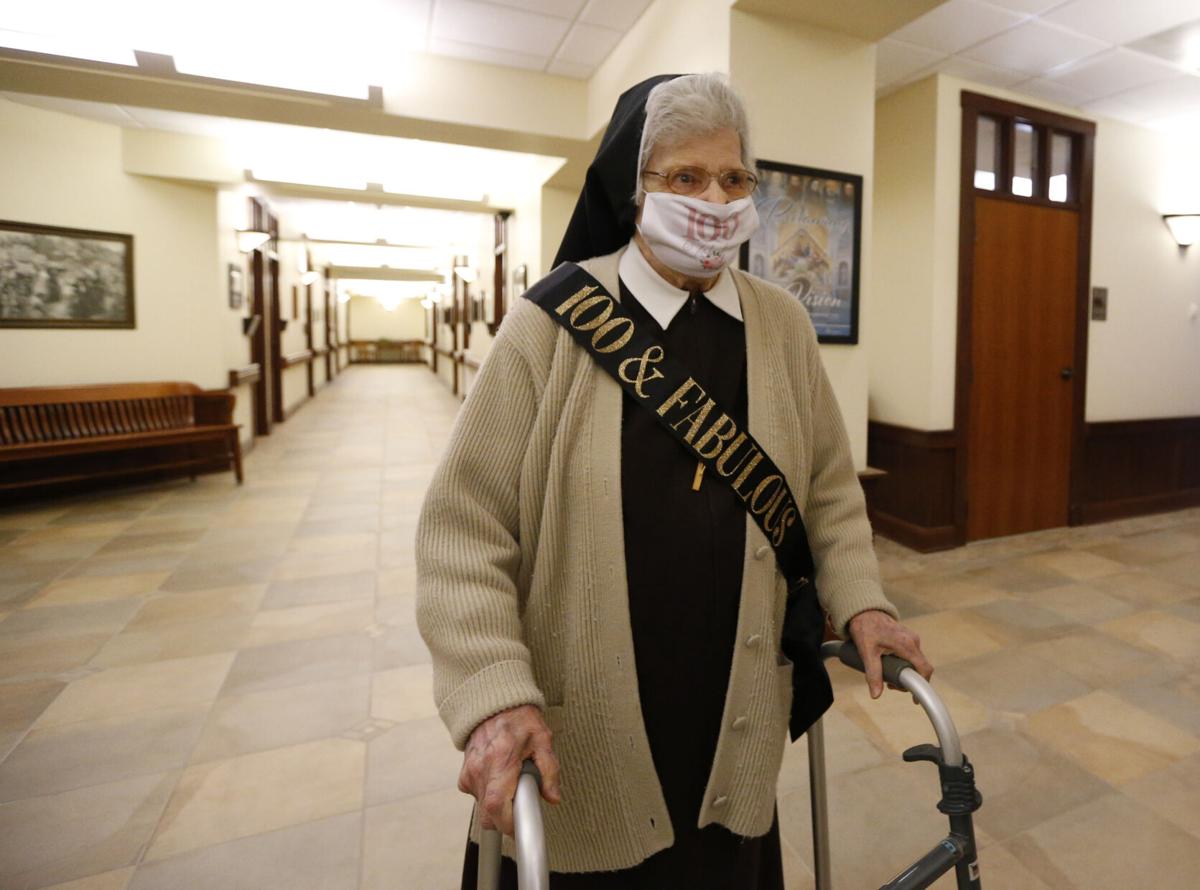 As a friend held the door Thursday morning, Sister Ursuline Hilinski stepped off an elevator in the Immaculate Heart of Mary Convent at Villa Maria in Cheektowaga and took one look at all the people with cameras, notebooks and lanyards waiting to greet her.
With the deadpan timing of a master comedian, she quickly turned as if to head the other way.
"I don't want to be a celebrity," she soon told us all.
The truth is, her fellow sisters see her as a lot more than that. Thursday was Sister Ursuline's 100th birthday, which was no April Fools' Day joke – a line she tolerated a multitude of times. It also brought the opportunity to join about 55 members of the Felician sisters at the convent who watched old episodes of "I Love Lucy" in an observation room, small group by small group, after receiving a second dose of the Moderna vaccine, provided through the Catholic Health LIFE program.
Elderly nuns living in congregate settings in Western New York have yet to be vaccinated, raising fears that the virus will spread unchecked in motherhouses.
That it happened on Thursday of Holy Week – when the sisters see the aching scale of Christian loss and triumph wrapped into seven days – only made it that much more powerful. "We're all aware of what happened in October and November," said John Beyer, president and CEO of Catholic Health LIFE, recalling how six sisters at Villa Maria died from complications linked to the virus when it surged last year.
The others in that community spent months quarantined in their rooms. Sister Denise Jaworski said the solitude became a heavy toll unto itself, because the sisters thrive on companionship in prayers, meals or casual conversation.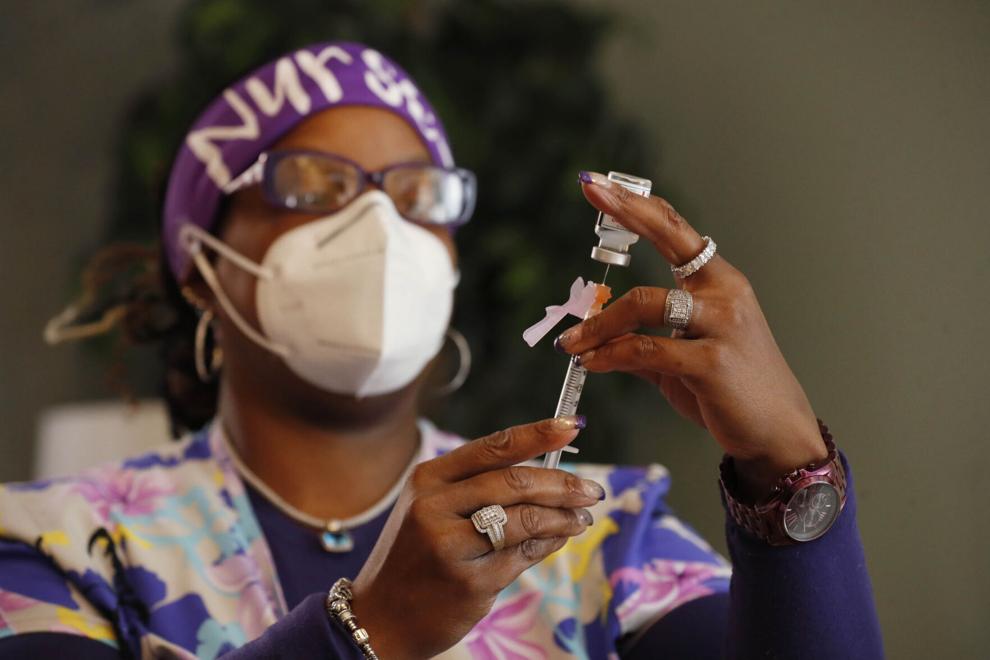 At 68, Sister Denise is the youngest sister in the convent. She is also a nurse, and she said one of the contributing factors in that career was the good sense of Sister Mary Juanita Nowak. They were close friends for more than 40 years – "She was always pushing me, always wanting me to do something better," Sister Denise said – and she has little doubt that Sister Mary Juanita's passion for nursing reinforced Sister Denise's confidence in making the same choice.
Sister Mary Juanita died last spring on Nurses Day, during quarantine, of causes unrelated to the virus. There could be no communal wake, a longtime tradition at the convent. Jaworski watched alone from a window as the hearse pulled up outside, a routine that became all too familiar for the sisters.
Thursday, like her friends, Jaworski was ready for some joy.
Though Sister Ursuline was wary of the spotlight, she was the undisputed star. The staff explained how she has grown accustomed to speaking by iPad with her younger brother Leo, now in his 90s. She wore a special centennial birthday mask, a sash that read, "100 and fabulous," and there was a cake and special candy bars emblazoned with her photograph.
Born in Erie, Pa., in 1921, Sister Ursuline remembered how her parents kept chickens in the yard as a source of eggs and meals. She left home at 13 to move into Villa Maria in Buffalo as a teenage "aspirant," going on to a long teaching and administrative career as a sister that would take her to many schools in greater Buffalo, as well as in Dunkirk, Perry, Syracuse, Binghamton, Toronto and her hometown.
Her original purpose in becoming a sister was to "serve the Lord," a choice that still provides her with this measure: "I don't know if I'm serving Him right, but I'm trying." Her fellow sisters, hearing that, said there is no doubt she meets that test.
"She's so with it, and she always does everything she can," said Sister Nicolette Wichrowski, keenly appreciative of her longtime friend. She loves the way Sister Ursuline is magnificently wry, returning questions from a journalist in the fashion of a tennis player who attacks the net. Queried on the significance of turning 100, she shot right back, "It feels like 99." Complimented on her vitality, she said, "Thank you. I'll pay you later."
When Sister Ursuline received the second shot from Catholic Health LIFE nurse Roberta Murray, she flashed a quick look of mock anguish – "She loves to give me a hard time," Murray said in admiration – and Sister Ursuline said the only benefit she seeks from the vaccine is the renewed company of her fellow sisters.
"I think I'm satisfied where I am," she said of life, in all ways.
Many of her friends, on the other hand, are ready to see the world. Beth Ann Hasley, administrator at the nearby Blessed Mary Angela convent and care center, said the arrival of the first vaccine allowed for some loosening of restrictions, such as the chance for the sisters to come together for a distanced Mass on Palm Sunday, the first time they had that kind of gathering in months.
The second dose means greater opportunity. If all goes well, Sister Denise looks forward to returning to her brother's home on Easter and visiting with a young great-niece and great-nephew she has not seen since September. As for Sister Anna, she already has a train ticket purchased for early June. She intends to ride Amtrak to see her family in the Utica-Rome area, and she is particularly excited about taking a look at the new downtown train station.
When Sister Anna was a young woman, she took a temporary break to join the military after she picked up a Time Magazine with an ad that all but cried out, "Join the Army. See the world." She enlisted, journeyed through Germany, Austria and Switzerland and then returned to the Felicians, where one of her closest friends was Sister Christine Marie Nizialek.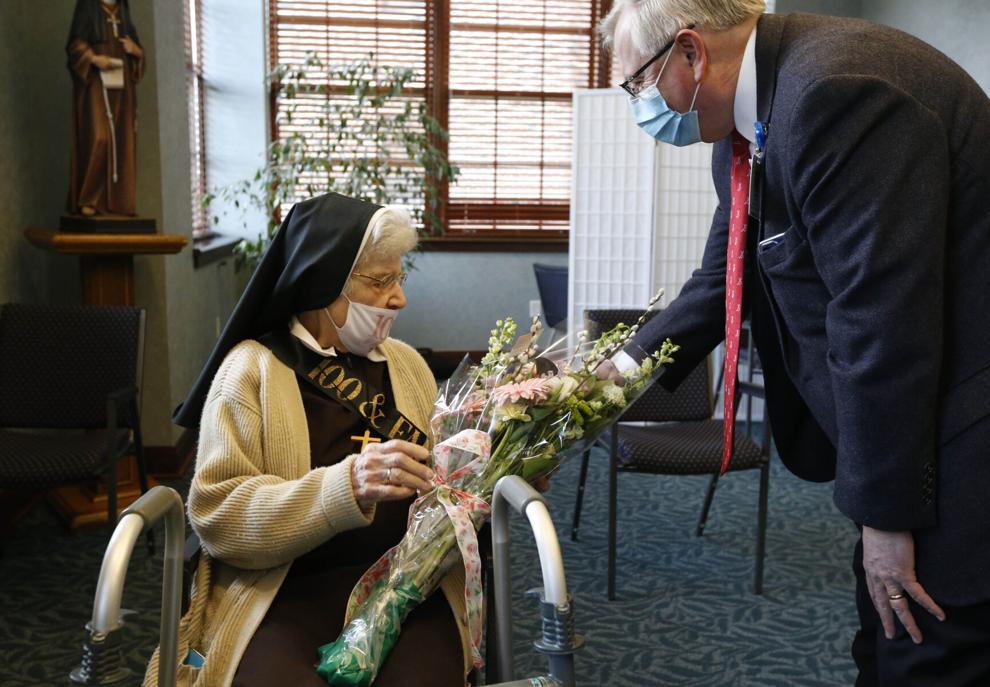 Sister Anna, 71, was a librarian, while Sister Christine was a teacher. Since Sister Christine was blind in one eye, Sister Anna did the driving when they were out and about, and Sister Anna said her fellow traveler – with no need for GPS – was a navigator with knockdown, spot-on sense of direction.
Sister Christine was lost to the virus, and Sister Anna watched through the window as the hearse pulled up.
"In a different world, Sister Mary Owen's funeral would have packed a church, with hundreds who loved her belting out her beloved Irish songs," writes Sean Kirst.
Now she thinks of her friend each day, even as she wills herself to seek joy. She spent the long months in quarantine reading, or chatting with her fellow sisters on in-house phones, or following religious services on closed-circuit television. She offers praise to the local library system for providing e-books, and she also decided to do some songwriting in the confines of her room.
Sister Anna, who has a terrific voice, is especially proud of a Covid-inspired song called "Vaccination Inspiration" that includes this verse:
"In a world where you can be anything, be vaccinated."
Sister Nicolette Wichrowski, 77, was among the sisters who contracted the virus, then survived it. She grew up in Cheektowaga, the daughter of a seamstress and a Bethlehem Steel crane operator, and she responded in the way of many at the convent when asked why she became a Felician: She put her hand to her chest and said, "It was something here."
The next three days wrap together the absolute heart of all that she believes. Good Friday will equate to solemn reflection, particularly after a year of such loss, though it will be followed by one of the greatest Easters of her life: She plans to visit her twin brother John and his family – the first time she has seen them in many months.
Despite the struggle of the past 12 months, Sisters Nicolette and Anna found plenty to smile about as they spoke of Sister Ursuline, her indomitable spirit and her Holy Thursday birthday – all of it joined into the hope in which they place their faith.
"To get this second shot?" said Sister Nicolette. "It's like freedom."
Photos: Sister Ursuline Helinski gets vaccinated on her 100th birthday
Her special day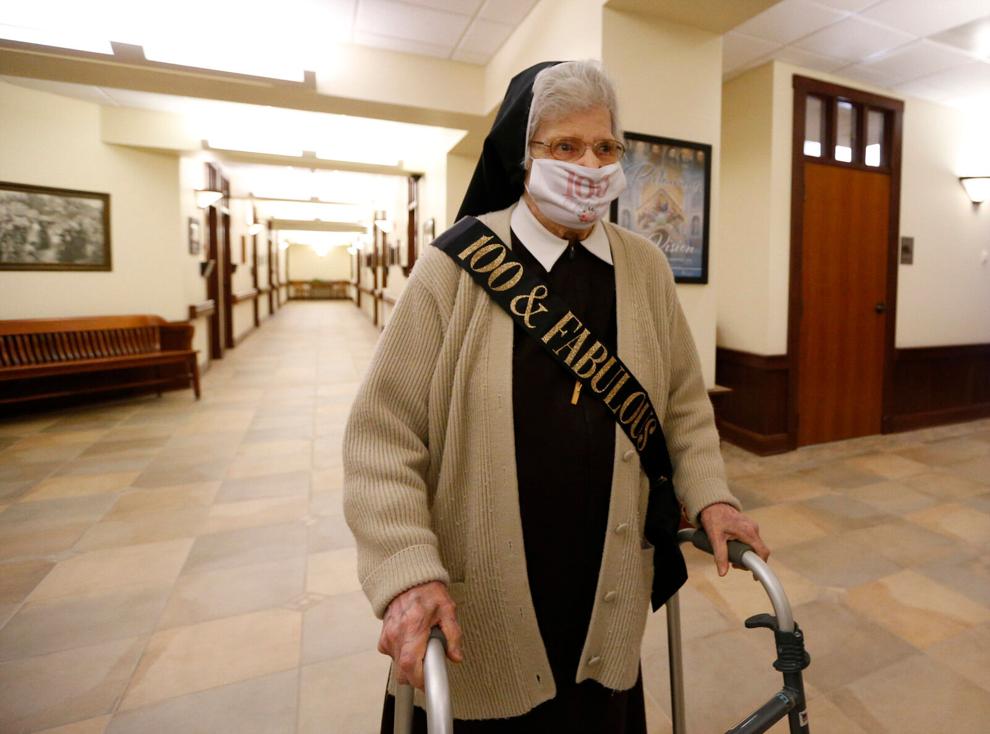 Drawing the vaccine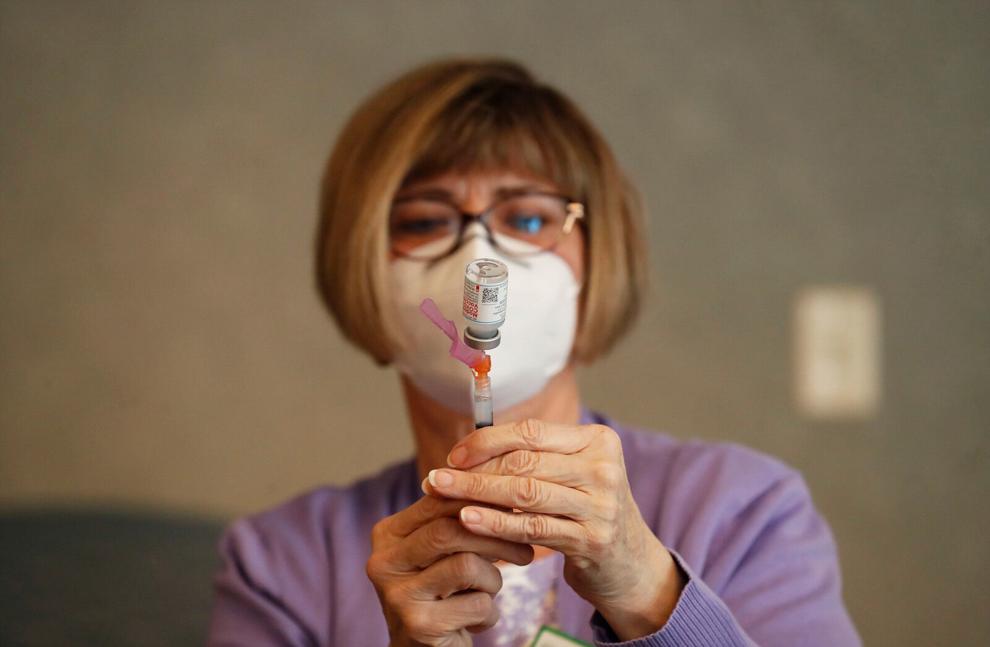 Getting the shot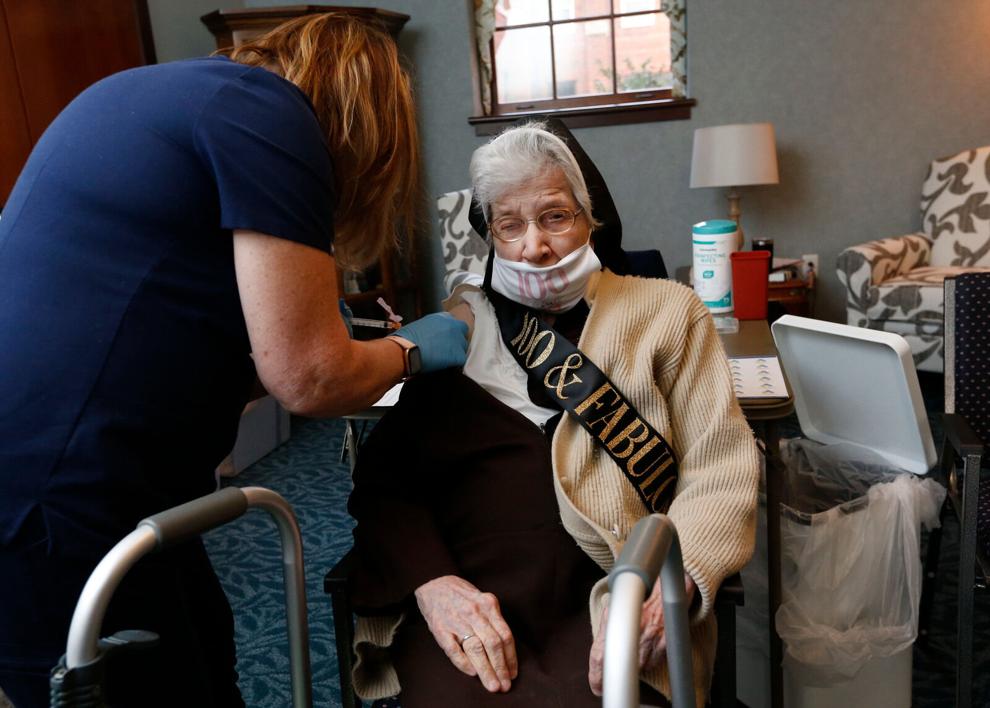 Birthday bouquet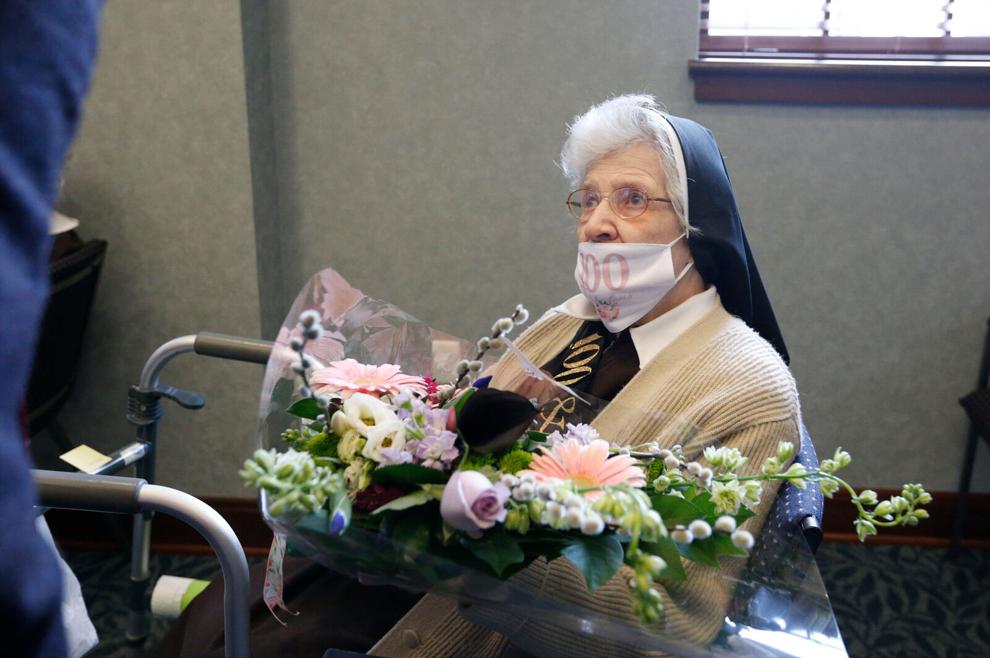 100 years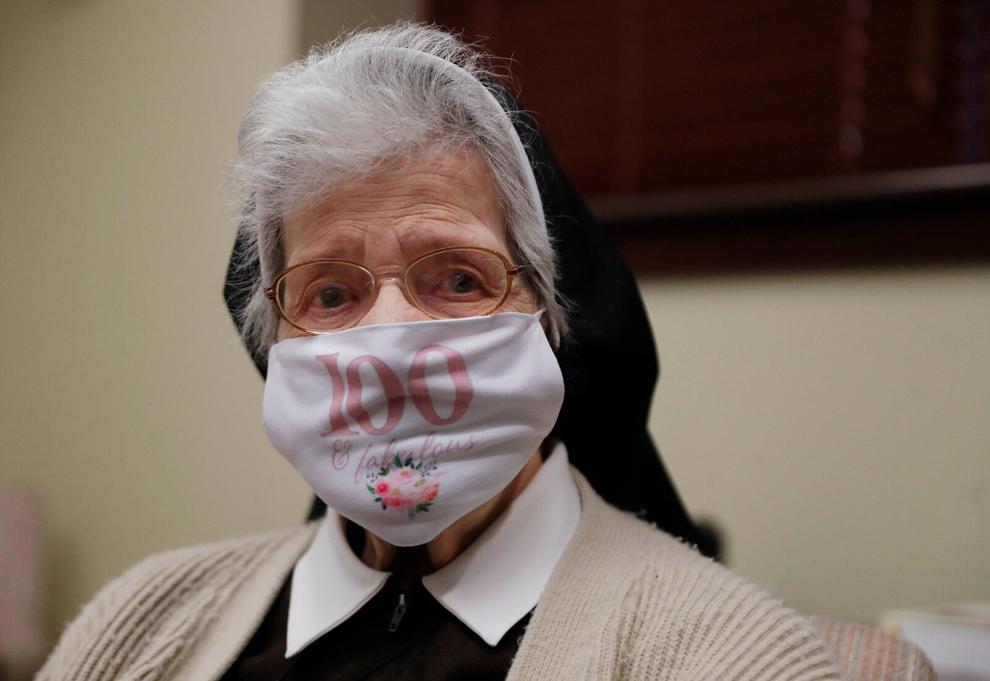 Good humored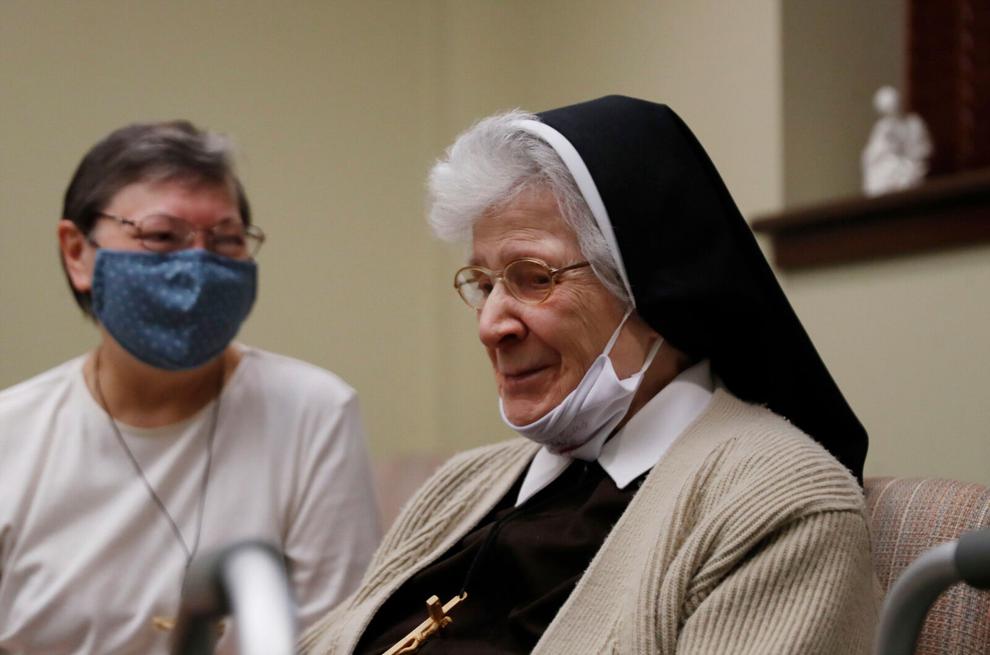 Birthday cake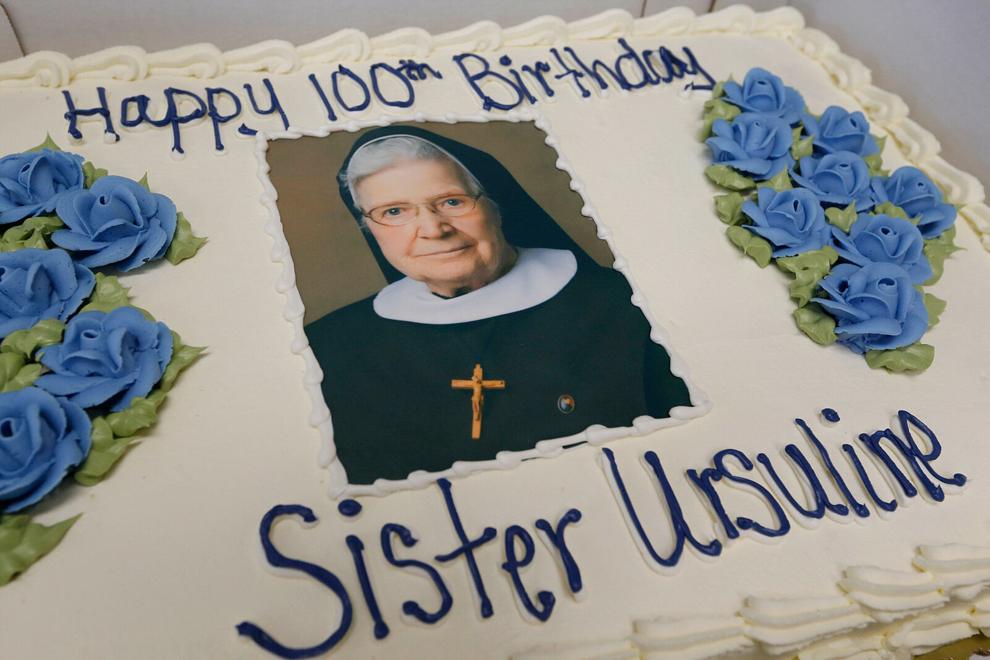 Another gets vaccinated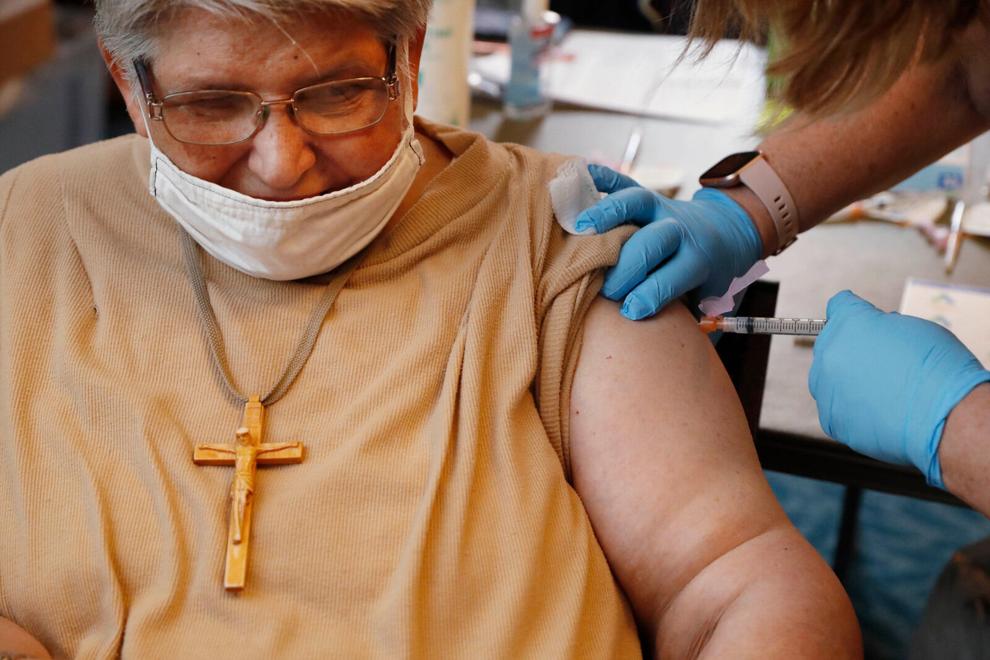 Getting ready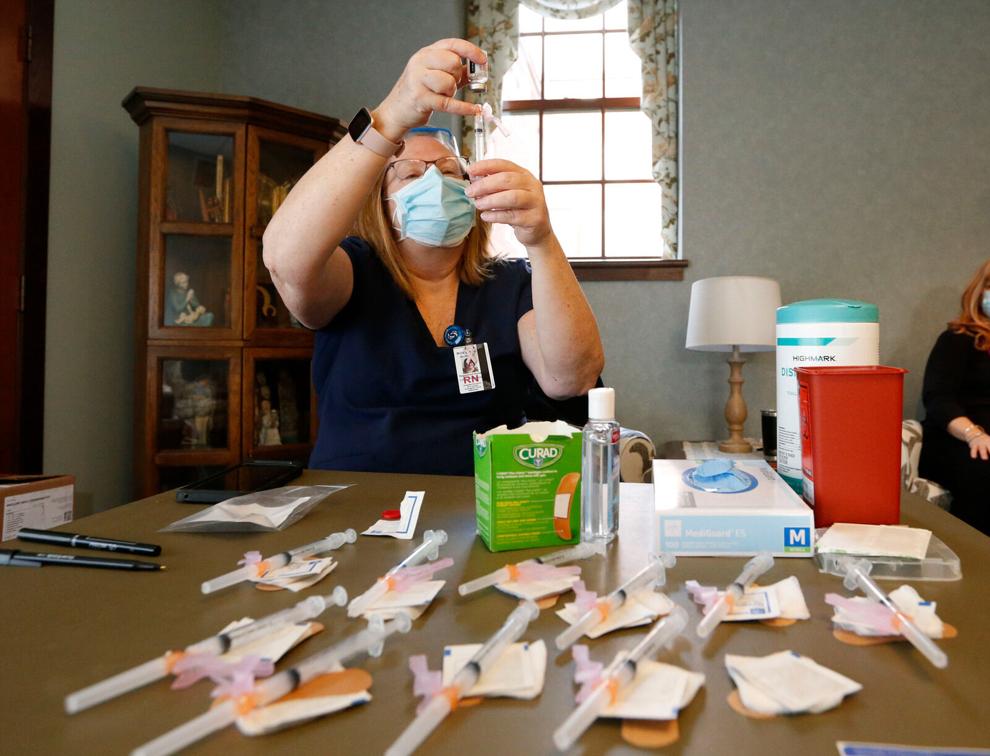 Getting the vaccine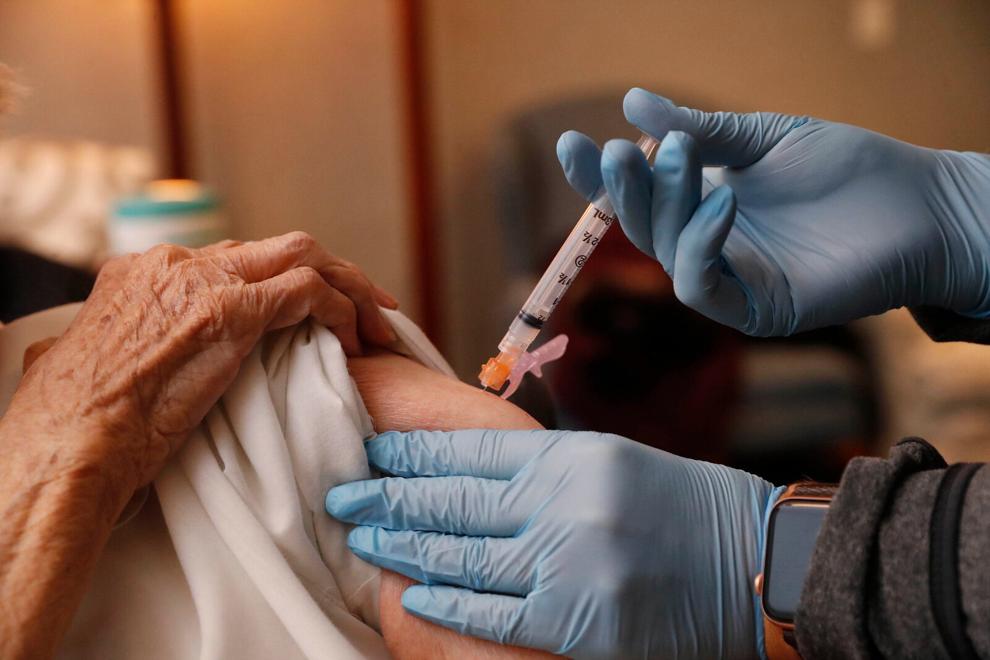 Sister Anita Benecki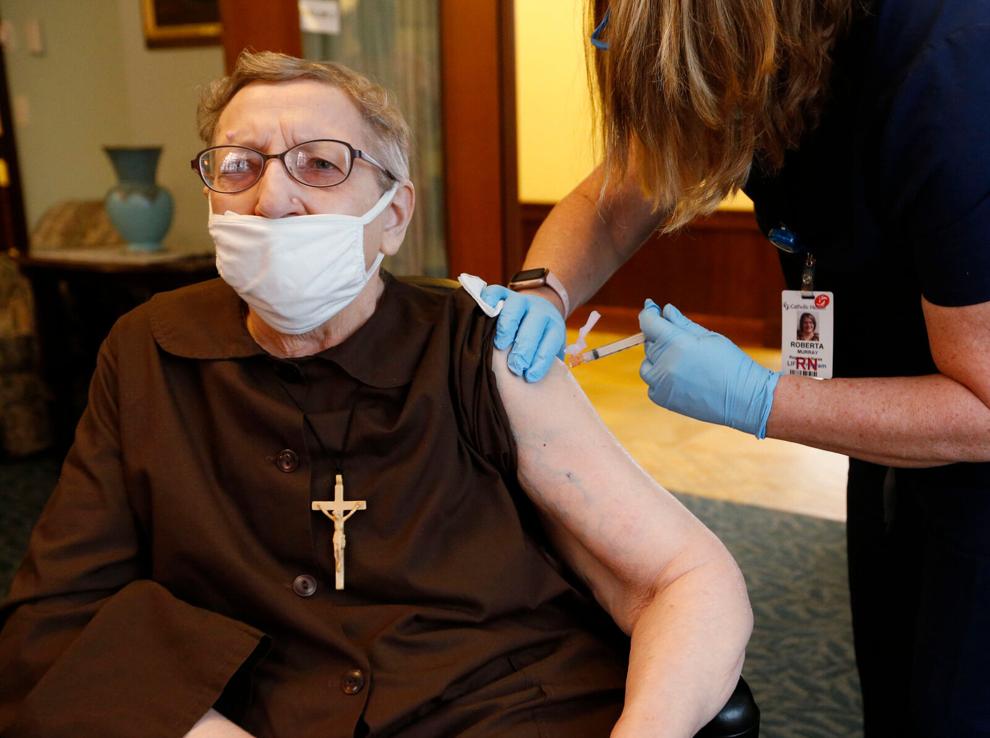 All ready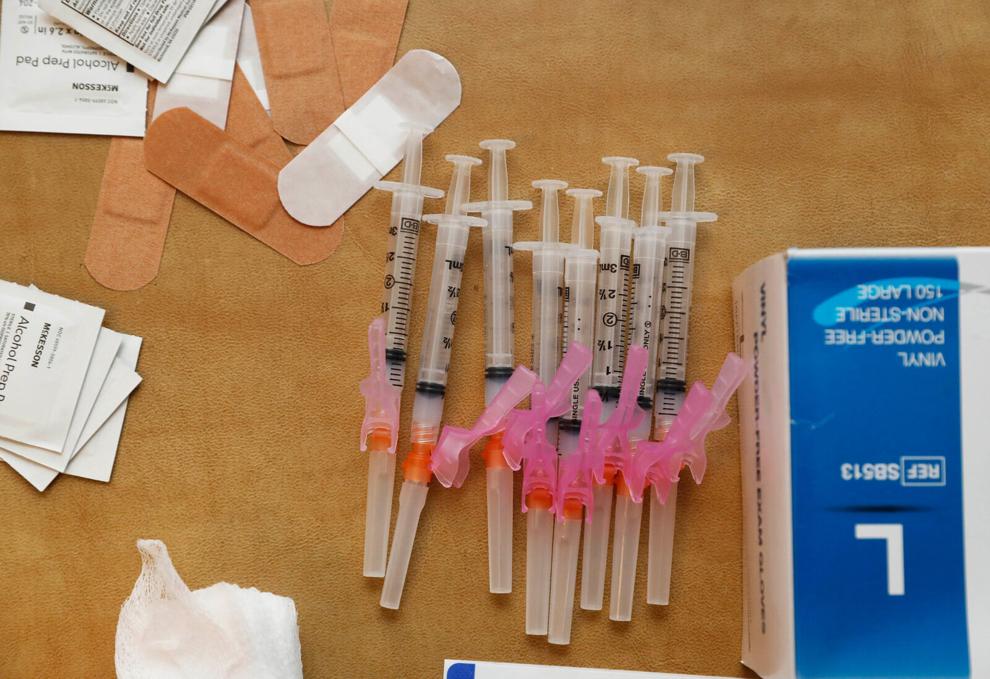 Thumbs up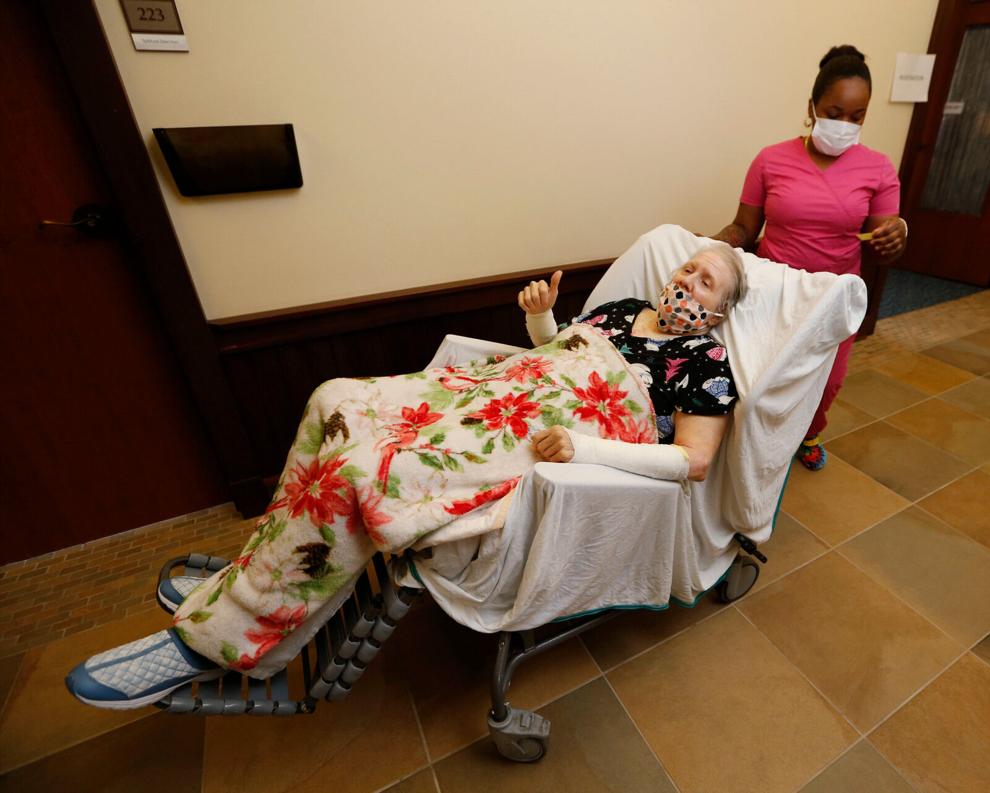 Just vaccinated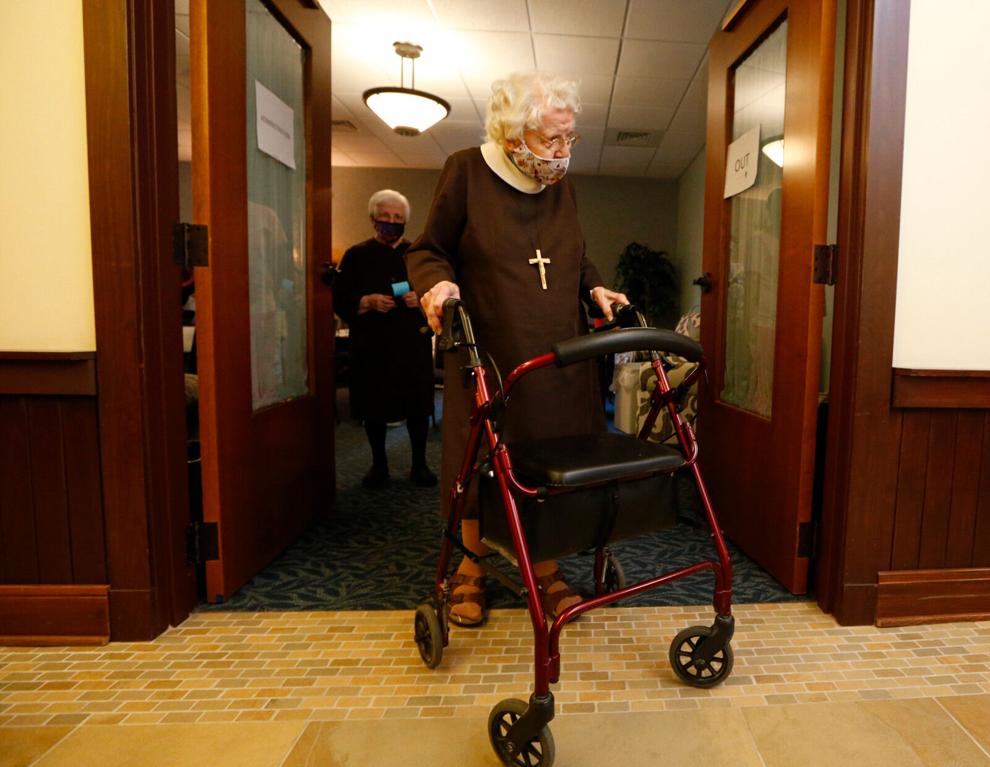 vaccine