Chad Nordin was willing to give up some things for the sake of spontaneity. Last week, he traveled almost 120 miles to meet his sister Kassie in Seneca Falls, which they chose as a rendezvous point between Buffalo and their hometown of Horseheads, in Chemung County.
One of their cousins owns a jewelry store in Elmira. Nordin liked the idea of buying an engagement ring through family, and his sister was willing to make the drive and help with delivery.
Nordin's intended recipient: Amherst native Emily Kaufman. She and Nordin, both 29, met at Niagara University in a this-almost-did-not-happen way. Seven years ago, they both saved up for a class cruise to the Bahamas. Kaufman had just graduated, meaning it was one of her last events at school, and their introductory conversation basically occurred by chance. 
"He gave me a goofy smile," said Kaufman, who came to a fast realization. Nordin, she said, "was one of the first men I've met who could really express what he was feeling when we talked. Once we start talking, bombs could be going off around us and I don't think we'd know it."
To Nordin, it was an immediate example of how things in his life keep going right, since meeting Kaufman. He describes her as a person with that rare ability to not only listen but to often suggest a better choice – and to do it in a way that only elevates their bond.
A psychology major at Niagara, Nordin did his graduate work at the University at Buffalo and now works for the state, helping people with disabilities to find work. Kaufman, who like Nordin holds dual Master's degrees, is a high school English teacher at Mount Mercy Academy.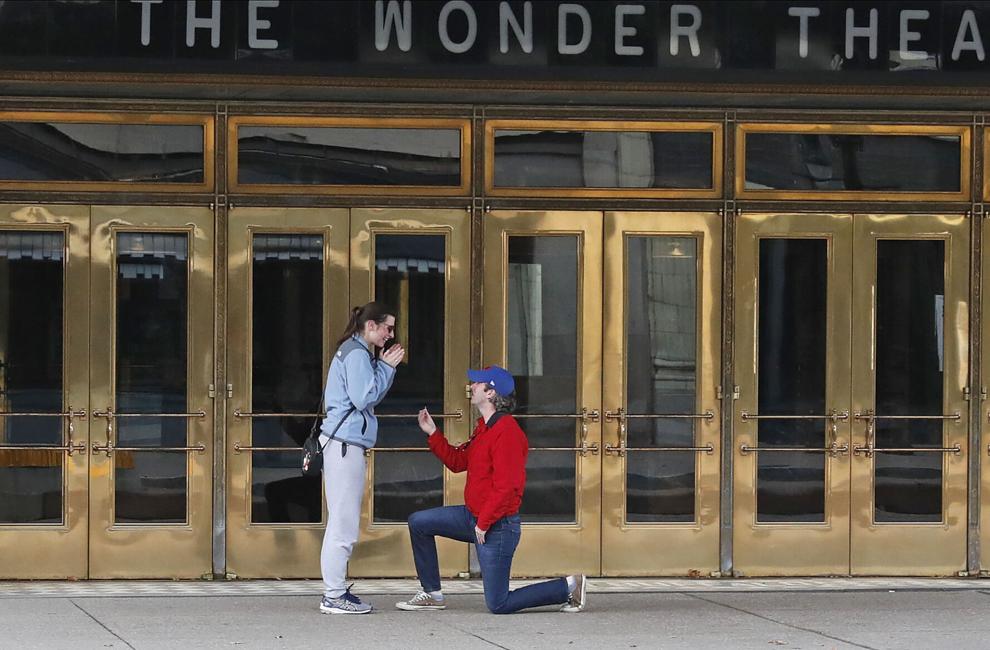 They have shared a downtown apartment on Ellicott Street for more than a year, which really equates to two periods of time. There were the months before last March, when they fell in love with life downtown. They would take long walks and enjoy the sense of crowded community in the streets, coffee shops and restaurants, especially the lights and bustle of the yuletide.
Next came the pandemic, when they were abruptly caught at home with no one but each other and their cat Nala, a make or break time for many relationships. Their walks turned into masked strolls on quiet sidewalks. The couple might wander to Canalside and back, often seeing few others before they turned around.
They agree, looking back, it only strengthened their commitment. "She's been there for the whole story," Nordin said of Kaufman.
While they dreamed out loud about their future during those long months, they never talked specifically of marriage – even as Nordin decided he wanted to propose. He and Kaufman have both endured recent loss and serious illness in their families, which to Nordin reinforced the urgency: Why hold off? He ordered the ring, and his sister agreed to the rendezvous, and he returned to Buffalo and thought about the best way to ask.
Should he wait, and have some friends around as a surprise at the big moment? Most important, should he take a few days for planning it all out, and line up a buddy to serve as photographer?
Naw. This time, patience be damned. Instead, Nordin woke up on a warm and beautiful Veterans Day, and he asked Kaufman if she wanted to take another walk. He had this gut feeling that the event, if done well, would create a memory so lasting there would be no need for photos. Kaufman said she had some papers to grade, and she wondered if they could go a little later.
Sure, Nordin said, ring in his pocket. Kaufman was in sweatpants, that classic pandemic wear, which to Nordin only underlined that she had no idea of what was coming.
The date was Nov. 11, or 11/11, numbers that to Kaufman held meaning from childhood. Years ago, she and her friends used to make a wish when the clock at school hit 11:11 a.m., a wish that often involved some youthful daydream about romance. Still, that coincidental timing was hardly on her mind last week, when she and Nordin walked outside in late afternoon and started wandering along Tupper Street. 
Nordin knew exactly where he wanted to go. "I came to Buffalo, loved Buffalo, fell in love with a girl from Buffalo," he said of how he decided on a spot. Kaufman and her friends even converted his football allegiance, transforming him into a Bills fan after years of rooting for the Tampa Bay Buccaneers, which explains why he wore a Bills cap on that monumental walk.
The destination wrapped it all together. Nordin zeroed in on Main Street, all but empty on a pandemic holiday. As they walked beneath the famous "Sheas Buffalo" sign at  Shea's Performing Arts Center, an iconic symbol of the city at the center of their lives, he suddenly dropped to his left knee.
He had a little speech planned. He forgot it.
"I had a bunch of things in my mind, but I lost all the things I wanted to say," Nordin told Kaufman. "The only one that's important is: Will you marry me?"
Kaufman, stunned, needed a second to process it all. "What are you doing?" she said, and Nordin replied, "Exactly what you think I'm doing." She put on the ring and – as if someone had planned the moment – the lights on the marquee snapped on, so Kaufman could see them glinting in her new ring. Her reaction was everything Nordin had hoped, a surprised explosion of hugs and jubilance.
An unexpected voice from behind them said: Excuse me.
They turned and saw two guys standing there, two guys they had walked past earlier and barely noticed. It was Harold McNeil and Bob Kirkham, my colleagues from The Buffalo News. They were working on a story involving Covid-19 and its impact on downtown businesses, and they were the only people nearby to see the proposal as it happened. From the far side of the Metro Rail tracks, Kirkham, a veteran photographer, raised his camera and started shooting.
He and McNeil jotted down the couple's names, then went back to the job. These are journalists with whom I go back a long way, and they had a hunch this might be the kind of tale that I would tell.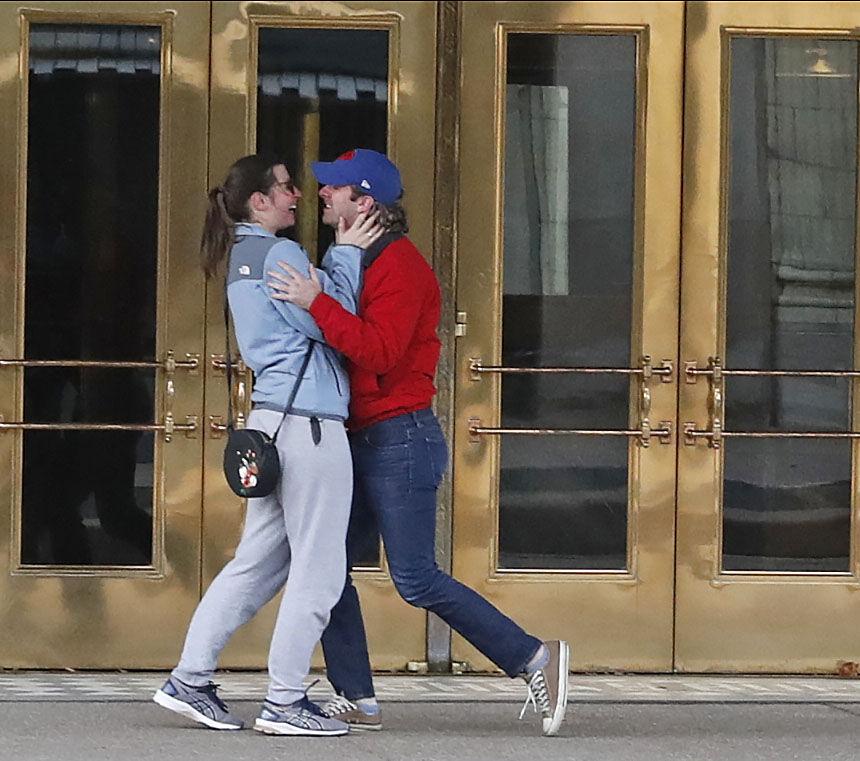 As old friends often do, they know me well.
Kaufman and Nordin say they spent much of the last few days in joyful conversations with relatives and friends. Kaufman said she was especially moved by the response of one of her teenage students, who was so emotional about the romance of it all that she caused Kaufman to join her in some tears.
With the threat of the pandemic on the rise again, the couple has yet to set a wedding date, figuring it best to wait and see how things work out. For now, Nordin is content to think about the wonder of what happened once he dropped to his knee, the burst of light from the marquee and the photos out of nowhere, all of it reaffirming how his life has gone since meeting Kaufman.
"Not only did everything go right," he said, "but so did things that had no business going right."