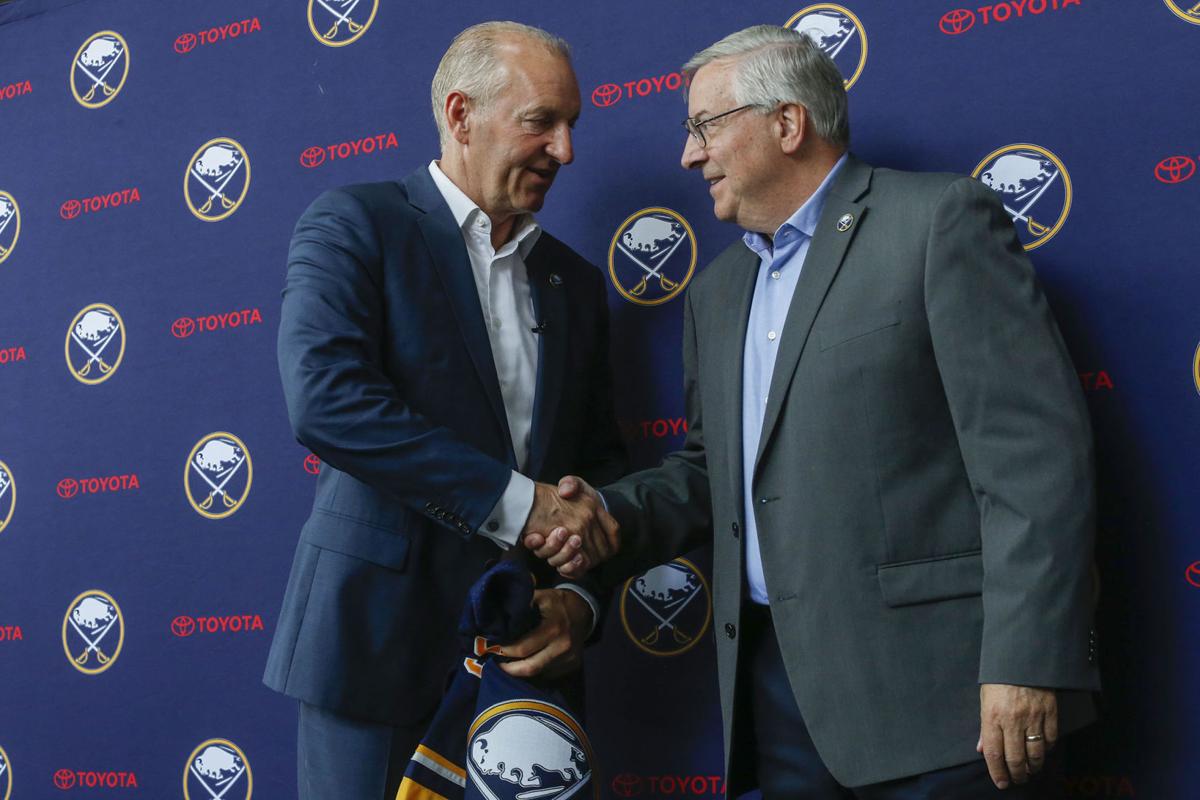 There are losers everywhere in this current Sabres mess.
There is one clear winner: Ralph Krueger.
The head coach is now a major power player in the entire hockey operations department. He is going to have far more say about how this team is constructed and who is going to be on the ice.
New General Manager Kevyn Adams fostered a relationship with Krueger much of the season while in his business role, drawing on Krueger's days as a team president in the English Premier League. And Adams apparently had a huge grip on Krueger's ears during that Western road trip in late February and early March. The events of the last few days show that what was discussed in Vegas isn't staying there.
The players are complete Krueger enthusiasts and that's important. So are Terry and Kim Pegula, who seem to like this coach more than any other they've had since Lindy Ruff. Krueger is easily one of the best public speakers in a coaching or management role in recent Buffalo sports history and you get the sense that the Pegula lovefest with him is akin to what they felt when Rex Ryan was coaching the Bills.
Ryan, of course, was mostly a fraud. He liked the spotlight and not the actual work of an NFL head coach. Krueger is full-speed ahead on backing his words to become a viable NHL head man after both of his seasons so far were cut short (by a lockout in Edmonton and the pandemic this year).
"You could see it. The players love playing for Ralph," Adams said Wednesday in a chat with The Buffalo News. "They're buying into his system and the coaching staff works great together ... There's a lot of great pieces in place and we can have success."
While we're a long way away from finding out if that's true, it's clear that Adams is going to defer to Krueger on a lot of issues. It's likely the coach will have far more of a direct line to ownership than he did in his first year.
You think back to the season now and it seems there were some signs of disconnect between Krueger and deposed GM Jason Botterill.
Brandon Montour and Colin Miller, acquired by Botterill in a five-month span last year, didn't seem to be the the kind of defensemen who fit Krueger's system. It would not be a shock to see Adams move them this summer to get some help up front. In addition, Krueger simply wouldn't play Jeff Skinner with Jack Eichel, and there's no way Botterill could have been fine with that, especially as Skinner's eight-year, $72 million contract with a full no-trade clause looked worse and worse by the day.
The coach had some sticky situations to navigate with the GM in December and January.
When Tampa Bay came to town for its New Year's Eve game, the Sabres were 0-3 against the Lightning and there was lots of bristling among fans and media about big injuries to Vladimir Sobotka and Rasmus Dahlin suffered in previous meetings.
Botterill suddenly shuffled his playbook back to the 1970s and upgraded Smith's AHL contract to an NHL deal so he could bring up Smith, who had 366 penalty minutes over the previous three seasons, to add some toughness to the Buffalo lineup.
Smith is not an NHL player. And he wasn't up to a game against a team like Tampa Bay. Krueger sent Botterill a message, too: He played Smith four shifts totaling 68 seconds.
Two days and roughly $23,000 in cap money later – remember, the owners are counting pennies now – Smith was placed on waivers and cleared to return to Rochester. There's a very good chance that will be the extent of his NHL career.
The Smith situation was silliness, really. The much more important issues centered around Zach Bogosian and Evan Rodrigues. Krueger was healthy-scratching them on merit; both players carped about that, and then leaked word they wanted trades.
Krueger was clearly furious with the situation. One day after practice, he said, "I have no fear or no sleepless nights because of minor conflicts within the group. I'm a leader that's not here to be popular at all."
A couple of weeks later, Rodrigues' request further rankled the coach.
"We will work with the players that really want to be here," Krueger said. "And quite clearly, play the players that want to be here."
Tough talk. Once their trade demands came out, Bogosian and Rodrigues should not have seen the ice again, but they did. Not a single person watching the games this season believed that was Krueger's decision. That had to come from Botterill.
Under Adams, it's hard to imagine that happens again. And now we watch to see what kind of players Krueger really wants. Botterill's firing is a good sign for Rasmus Ristolainen, whom Krueger loves. Montour better keep a real estate agent's number handy. A lot of other guys could be in the same boat.
There's a new GM in town. But the feeling is the coach is the new sheriff.