Travis Yost has been involved in the world of hockey analytics for a decade and is part of TSN's Hockey Analytics team. Prior to joining TSN, Yost was a contributor at the Ottawa Citizen, the Sporting News and NHL Numbers, and he has been a consultant for an NHL franchise. He will be contributing breakdowns on the Buffalo Sabres for The Buffalo News this season. Follow Yost on Twitter: @travisyost.
With the Buffalo Sabres' playoff odds crashing by the day, attention in Buffalo should be shifting to the Feb. 24 trade deadline. An aspiring front office – one that surely believed they would be in the midst of playoff contention by now – has to once again run through the roster and start putting together a three-year plan.
And depending on how bearish you are about the talent both on the active roster and in the pipeline, that three-year plan may seriously include yet another phase in a near-decade long rebuild.
Roster mismanagement excluded, rebuilds shouldn't take particularly long. We have seen plenty of teams quickly stock the cupboards. Lest we forget, the Toronto Maple Leafs were once in the same position as the Sabres – they just happened to nail an impressive number of draft picks and parlayed some of their roster assets into pieces more suitable for long-term success.
And if you don't like the cross-border rival, you can consider the Colorado Avalanche, a team that engineered as quick and emphatic a rebuild as any team in the league. (The Avalanche had 48 points in the 2016-17 season; yes, 48!)
When it comes to the trade deadline, it's imperative that your organizational personnel are ahead of competitors sniffing around your roster. We have seen a breathless number of one-sided trades and that will continue as long as human beings are making decisions.
In Buffalo, that situation is unfortunately difficult this season. This is one of the more top-heavy rosters in the league, and most of the team's tradeable depth players have either been shaky for some time or are without any sort of resume or draft pedigree you could parlay into a bigger trade.
The one exception on the roster might be defenseman Rasmus Ristolainen. His contract is significant enough for Buffalo to consider trading him, and yet friendly enough for teams around the league that believe the 25-year old is a victim of circumstances largely out of his control. He is owed $5.4 million per year through 2021-22 and then would be an unrestricted free agent.
And he has the individual skills that are attractive – he is a good skater for his size, and is a great puck mover on the power play.
But, as is the case with many defenders with "draft pedigree" over the years, teams tend to wait an awfully long time to understand what they have – it's the ultimate low-risk, low-reward type of play. Ristolainen has played nearly 500 games and what we know is that the Sabres are aggressively out-chanced and out-scored with him on the ice, and the team's results with him or without him on the ice are largely indiscernible from each other: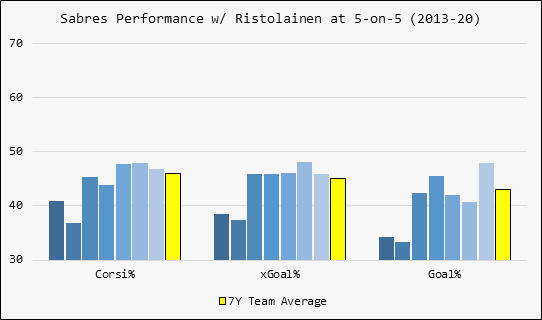 Buffalo's underlying numbers have been poor with Ristolainen on the ice for years now and a lot of it is because the team is so ineffective at sustaining offensive zone pressure. One of the complicating factors here is that Buffalo's top-heaviness doesn't help matters for evaluating a first-pairing defender such as Ristolainen.
He gets ample ice time with the top line, but he also gets a significant amount of ice time with the team's disastrous bottom six. And in those minutes, Buffalo is really just playing to survive – that's certainly the case this season, and it's just a carryover from what has plagued this team for a long time.
But that isn't the case when Rasmus Dahlin and Jack Eichel are playing together. And when Dahlin plays with Buffalo's depth forwards, the numbers are slightly less than average. Compare that to Ristolainen, whose numbers scream draft lottery both with Eichel and away from Eichel:
There isn't a single Sabres fan who is seriously interested in another prolonged rebuild. How you avoid those prolonged rebuilds is making smart organizational decisions that benefit your team in the long run. We know from the rumor mill over the years that teams around the league are vulturing players such as Ristolainen from the Sabres, believing that his development has been stunted by a bad organization and that his play would dramatically improve if playing with a contender.
Buffalo has refused to take that bet, and teams are getting increasingly smarter around the league. But if someone out there believes he is truly salvageable and a better player than what he has shown in Buffalo – well, it's time for them to make that bet.
It's not working in Buffalo, and getting assets for a player who is having no impact on your team's performance is always worth consideration.
Data via Evolving Hockey and Hockey Reference