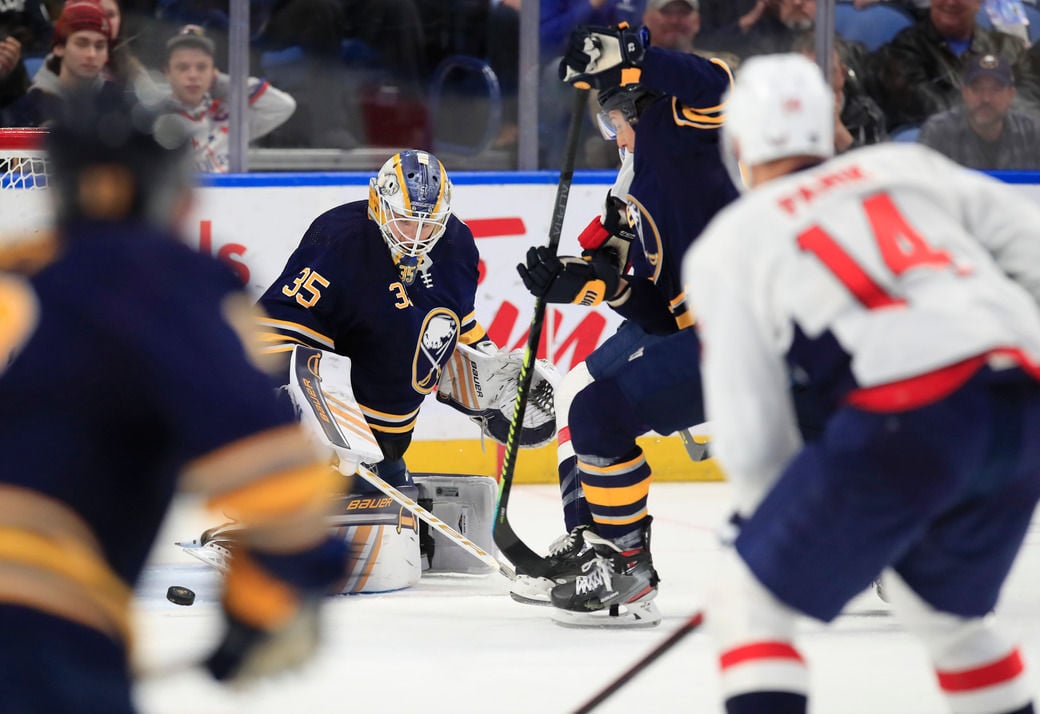 It sure sounds like the NHL is trying to resume the season. The whole season. We're talking not just the playoffs, but a resumption of play that would actually see the Sabres back on the ice for the first time since March 9.
While the view from here is that the league would be best served by reopening with an expanded playoff setup, it's clear that players don't feel that they can go from months of inactivity right into a postseason series even after a short training camp. And there's an argument to be made as well that teams like the Sabres who don't make the playoffs can't be asked to sit around with no games for as long as eight months until the 2020-21 season gets under way.
So the latest grind on the rumor mill coming out of Commissioner Gary Bettman's appearance Wednesday night on Sportsnet has the league looking at 2-4 neutral sites to complete the remaining schedule, which would likely have to be redrawn to avoid travel and probably wouldn't start until July. Even without fans, it would be a way to drive some revenue to the teams and players because it would fulfill obligations to television partners on both sides of the border. And bedraggled ownership groups across the league, like the Pegulas in Buffalo, would get some cash infusion as well.
Beagleboyjarz asks: Should the league bother finishing this season or just prepare for October? Can you envision an arena with 1/20th capacity? (I know...I know. The Sabres' arena was close to that this year).
Cappy asks: At this point why not just bag the season (like a lockout shutdown)? No fan revenue anyway. Let everyone focus on family and treat it like an extended break for next season.
Mike: If you can ensure the safety of the players and all ancillary personnel, and health officials give the OK, the NHL and all pro sports leagues should absolutely return to play. All teams in the NHL have already played at least 68 of their 82 games so their season is already legitimate. Finish it off – or at least play to an even number of games like 74, 76 or 78 – to determine your playoff teams and hand out the Stanley Cup. If that doesn't happen until Labor Day, so what? I'm envisioning arenas with no capacity, by the way. I'm afraid it might be a long time until fans are allowed to return.
The estimate is a $1 billion loss – with a B – if the entire thing is just called off. Neither the players nor the owners want that. It could send the league into chaos in terms of areas such as the salary cap, escrow from players' paychecks and the financial stability of some franchises.
Carl asks: How about division tournaments, double round-robin? Tournament winner gets ?
Mike: That's kind of what we're looking at. The Sabres, for instance, had nine of their remaining 13 games left outside the Atlantic Division but no way that holds up if they actually play (Good luck with more games against Boston and Tampa Bay, against whom they were a combined 0-7). The only change to the playoff format I expect will be in numbers of teams qualifying. So the "division tournaments" will simply be used to make up the final standings.
John asks: I can't imagine they are thinking 82 games. A couple of teams would need to play 14 games. That would require a month of regular season. Wouldn't 74 or maybe 76 make sense?
Mike: Yep. I say get to 78, which is the number the Sabres played in their first four years in the NHL. Playoff teams want to get some games in prior to the postseason and you really can't bring a team back for all this for, say, just six or seven games.
Robin asks: What do they do about the draft lottery now? Would they really consider a tournament for it?
Mike: This idea of the Sabres and the six other non-playoff teams in a consolation tournament with the winner getting the No. 1 pick is just weird. I fail to see how the players would be motivated to take part. And who's watching that bitter Detroit-Ottawa showdown? We've played almost 70 games here. Go send this idea to the folks in Detroit right about now and see how much they like it. They will have the draft lottery when the regular season ends or is declared over and they determine a playoff format. At 68-71 games, the season is legitimate. Determine the odds like you normally do.
Rick asks: Why does it seem we suddenly only hear from Kim Pegula and none of the comments about the teams or their situation come from Terry?
Mike: It would be good to hear from Terry Pegula once in a while – especially when times are tough – but he's long established he's not interested in much interaction with the media. Who's always done his talking? The team president. Remember how much we used to hear from Ted Black and Russ Brandon? That's why we're finally starting to hear from Kim Pegula. It's clear she's getting much better advice of late, offering detailed comments to multiple media outlets in the face of the current crisis at Pegula Sports and Entertainment. If she's going to be the spokesperson for ownership now, so be it.
Cindy asks: Why is it such a big deal that a company is laying off employees right now? And would this be a big deal if the Sabres were winning?
Mike: PSE may not be one of the biggest companies in Buffalo, but it's certainly one of the most prominent as it runs two of the city's long-time institutions in the Bills and Sabres. So when it makes major changes, such as suddenly firing three long-time vice presidents and issuing dozens of other layoffs and furloughs, that's big news. If the Sabres were winning, maybe PSE would not have had to take these kind of steps because it's safe to assume its revenue from tickets, concessions, merchandise and the like would be much higher from a winning team playing in front of a full building every night.
BetterDays asks: Why doesn't the NHL tell Kim to step aside and tell the team to hire a hockey president?
Mike: The NHL wouldn't do that. The league doesn't get involved in personnel decisions of its teams unless there's some clear violation of league rules or the law involved. I've long been a proponent of a hockey president and feel that no one can be the president of both the Bills and Sabres like Brandon was and like Kim Pegula is trying to be now. My opinion on the best setup continues to be a president of hockey over Jason Botterill, with Kim Pegula moving into some sort of president of business operations, with an eye on the situation regarding New Era Field and the badly needed upgrade of KeyBank Center. There is no interest in that setup on their part. It's their company.
Greg4watson asks: If the #Sabres had not fired (Darcy) Regier and stuck with him through the "suffering" are they in a better position as a hockey team? #TrustTheProcess.
Mike: When Regier was fired early in the 2013-14 season, it was simply time for him to go after more than 16 years. His shelf life had expired. The fan base had long tired of Regier, who looks pretty good in the rear-view mirror with four trips to the conference final when Tim Murray and Jason Botterill couldn't sniff the playoffs. The bigger question without an answer is would the Sabres have been in a better position if they had stuck with Pat LaFontaine. That one, we'll never know.
Jim asks: I saw the Sabres finishing poorly again and ending up 29th in the standings. If that would have happened, was Botterill fired? Did Covid save his job?
Mike: Yes and Yes. A March collapse would almost certainly have been the end for Botterill as GM. But now that PSE is under financial duress from the pandemic, it's hard to imagine the Sabres firing the GM – and thus paying him not to work – after laying off and furloughing so many employees. I wrote this shortly after the pause began: It's going to be too tough to hire a new GM with all the uncertainty surrounding the offseason and draft. Keep Botterill on and fire him next year if you need to.
Concerned about COVID-19?
Sign up now to get the most recent coronavirus headlines and other important local and national news sent to your email inbox daily.