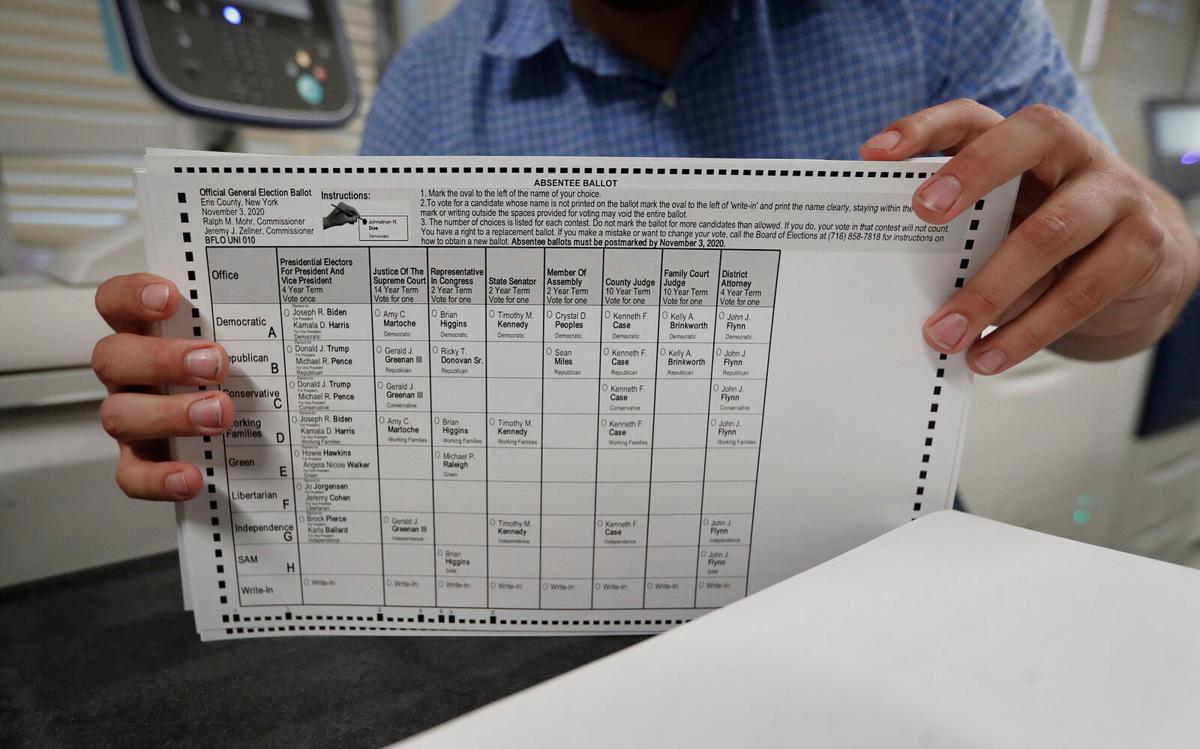 While most of the attention on Nov. 2 – and in the weeks leading up to it – will be on the individuals running for posts like Buffalo mayor or Erie County sheriff, it could be argued that voters' most important decisions will be made elsewhere on the ballot.
That's where the structural underpinnings of democracy – as opposed to candidates who come and go – will be decided via proposals like one that would alter the state's redistricting process. That's the method by which, instead of voters choosing candidates, candidates draw district maps after each census so they can, in effect, choose their voters. It's an unseemly process that renders sausage-making downright appetizing by comparison.
Yet such ballot proposals often get little attention, despite their importance in setting the rules of the game and determining how legitimate – or illegitimate – our experiment in self-governance will be.
"That's where our citizens get to decide on policy," Lori Robinson, president of the League of Women Voters of Buffalo Niagara, said of the ballot proposals. "That's why we feel it's so important to do our best to get the information out to the public."
It's so critical that the LWV, along with the Buffalo NAACP and the Self-Advocacy Association of New York, are sponsoring a free webinar on this year's ballot proposals at 7 p.m. Oct. 14. To participate, go to https://us02web.zoom.us/j/89555215303.
Of the five proposals on the Nov. 2 ballot, three of them directly impact the process of democracy.
One – Proposal 3 – would eliminate the requirement that a person be registered at least 10 days before an election in order to vote.
Getting rid of that archaic provision would increase turnout and allow New York to join the 20 other states that have implemented same-day voter registration. Though critics will raise virtually nonexistent voter fraud as an issue, the reality is that only those who want to suppress turnout because they don't feel their party can compete for new voters will have a problem with approving this overdue reform.
Proposal 4 would authorize no-excuse absentee ballot voting, in essence making permanent the process many voters used to safely cast their ballots by mail during the pandemic. While not going as far as other states that automatically mail ballots to all voters, allowing New Yorkers to request absentee ballots without making up an excuse would be another significant step toward modernizing the electoral process to increase participation.
Both of those reforms should engender little opposition, except from Republicans whose agenda necessarily means they fear the consequences of having more people vote.
Proposal 1 is not nearly so straight-forward. That's because it is a multifaceted measure whose many components mean it's easy to find something to like or hate. That has resulted in good-government groups splitting on the measure, with some in favor and others – like the League of Women Voters – opposed.
Proposal 1 would freeze the size of the State Senate at the current number of 63, require the state to count all residents – including non-citizens – for purposes of apportionment, and mandate that prisoners be counted at their last place of residence for redistricting instead of being counted where the prison is located. All of those provisions make sense. 
But its most controversial provision would modify the 2014 constitutional amendment that created a bipartisan redistricting commission that was supposed to take some of the politics out of that hyperpartisan process.
That obviously hasn't worked, given that the commission hasn't even been able to produce a new map following the 2020 census, instead proposing two maps – one drawn by its Democratic members and the other by its Republican members. So much for the 2014 reform.
But in New York, things can always get worse – as they would under this proposal's provision eliminating a requirement for Democratic and Republican co-executive directors, in favor of letting the co-directors be chosen by a majority vote of the panel. An even more problematic provision would lower the threshold for Legislature approval of a plan from two-thirds to 60%, if the commission itself can't agree on a plan.
With Democrats firmly in control of state government, such provisions move New York toward more – not less – partisanship by effectively weakening the voice of the minority party and are one reason the League of Women Voters opposes Proposal 1.
Yet other reforms groups like NYPIRG and New York Common Cause are holding their noses while supporting it because of some of the other changes it would usher in.
But make no mistake: No matter how you feel about Proposal 1 – or Proposals 3 and 4, for that matter – such propositions are the nuts and bolts of the democratic process and determine just how representative our government actually is.
"It's important for people know that this is where our voice is heard," Robinson said.
Yet too many voters forfeit their right to be heard at this stage of the process, voting for candidates on the front of the ballot and never even turning it over to find the proposals on the back, she noted.
For instance, in 2014 when a ballot proposal established the Independent Redistricting Commission, state Board of Elections data shows that some 3.8 million New Yorkers voted for governor, but only 2.9 million weighed in on the ballot measure.
In other words, nearly a quarter of the people who thought it important to make their voice heard in picking candidates self-muted when it came to deciding the framework in which those candidates must function.
If we don't like how New York government is operating, maybe it's time to pay a little more attention to the ballot proposals in addition to our would-be leaders. Those proposals, after all, determine how much – or how little – say we actually have in picking those leaders.