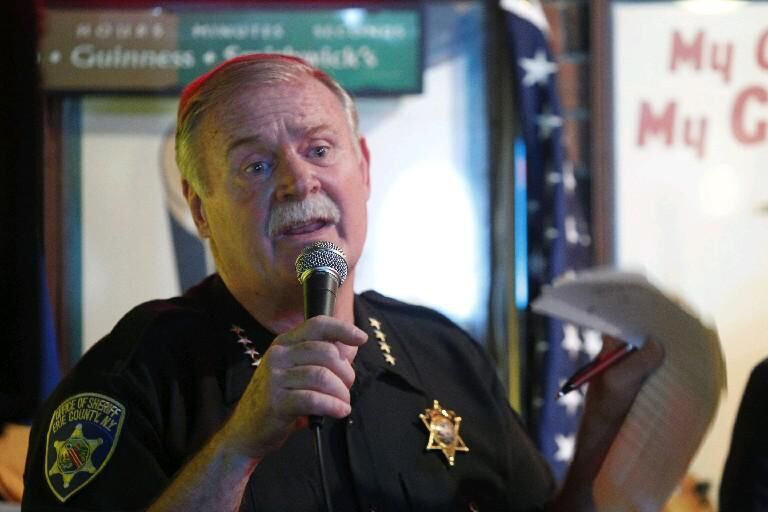 When the Commission of Correction filed suit last month against the Erie County Sheriff's Office for what seemed like the umpteenth time, the state panel charged with making sure jails and prisons are run right made clear it wasn't seeking monetary damages. It just wants the Sheriff's Office to follow the rules.
But that doesn't mean the lawsuit, filed in conjunction with the state attorney general, won't cost taxpayers.
We'll pay because instead of just following the rules, the sheriff is using an outside law firm to defend the indefensible.
Sheriff Tim Howard – the gift that keeps on taking – is reaching into taxpayers' pockets again with his obstinacy. This time it's to pay attorneys from Lippes Mathias Wexler Friedman to argue why he wasn't recalcitrant in not reporting alleged sexual assault of an inmate or sexual contact between deputies and the inmates they have power over.
It wasn't Howard's decision to use an outside law firm; that call was made by the county attorney. But wasting that money – or county resources, if in-house counsel had been used – wouldn't be necessary if Howard just did his job instead of forcing the COC to, in effect, do it for him.
It's the third time the commission has sued Howard, and contesting this case is just the latest instance in which Howard has wasted taxpayer dollars fighting the state commission and the federal Department of Justice as they have tried to stop suicides and abuse in county lockups. And that doesn't even count the payouts in lawsuits over some of the dozens of deaths in county jails or other instances of abuse on his watch.
And what does the COC want the sheriff to do this time? In a nutshell, stop "violating the Commission's regulations" when it comes to reporting alleged sexual assaults and abuse in the Erie County Holding Center and the Correctional Facility.
While that might seem simple enough when talking about any other agency, following the rules obviously is a big ask for Erie County's sheriff. So big, in fact, the commission doesn't even know how often the department has flouted the rules when it comes to reporting such incidents.
It is the Commission of Correction's third lawsuit attempting to force Howard to abide by the rules imposed on New York's local jails. 
For instance, it noted that the Sheriff's Office submitted required documents about three such incidents last year only after The Buffalo News' Matthew Spina wrote about its failure to report. In another example, the Sheriff's Office submitted reports about alleged sexual contact between a deputy and two inmates only after the reporter asked the COC about it, and the commission – caught unawares – had to find out what was going on.
In other instances, the commission said, the department reported that allegations of sex between guards and inmates were "unfounded" despite apparently doing little or no investigating.
That kind of stonewalling is consistent with the department's history under Howard, which includes such artful dodges as calling suicide attempts "individual inmate disturbances" and falsely reporting that an inmate beaten by another prisoner had gotten his injuries by falling.
So it means that in addition to paying for Howard to fight the lawsuit, we also will likely foot the bill for an "independent monitor to conduct retrospective audits" to find out what else the sheriff has been hiding when it comes to sexual abuse in the jails. The COC is asking the court to mandate such a monitor – with good reason.
According to records that just came to light, Sheriff Timothy Howard's internal affairs team concluded in 2018 that three corrections officers had been too friendly with women they met at the Erie County Correctional Facility in Alden. 
The commission also wants the court to mandate training of guards about sexual abuse in correctional facilities and that the sheriff provide "specialized training for investigators" probing sexual abuse in the jails.
Think about that for a minute: A law enforcement agency that is supposed to investigate crime needs remedial education in how to investigate.
What an embarrassment. When you look up "incompetence" in the dictionary, there should be a description of Howard's tenure as sheriff. And when you look up "dupes," there should be a picture of Erie County taxpayers.
A Sheriff's Office spokesman said he couldn't comment on what legal defense the department might mount, citing the ongoing litigation. 
Whatever the defense – or how pathetic Howard's arguments might be – taxpayers will fund it, at an hourly rate of $204.75 for Lippes Mathias associates and $267.75 per hour for partners. It would probably be different if Howard had to pay the tab himself every time he gets hauled into court. But he's playing with house money – and we're the house.
The only good news is that our long local nightmare is almost over: He's not seeking reelection this year. Instead, he's threatening to do to Wales what he's done to Erie County, eyeing a run for supervisor of that small town.
I can't imagine how he'll campaign – other than against the SAFE Act. After all, when it comes to overseeing the Sheriff's Office, he's accumulated a record most people would run from, not on.
In the meantime, he could do us all a favor by just resigning early because, while he's running out the clock as sheriff, he also continues to run up the tab.