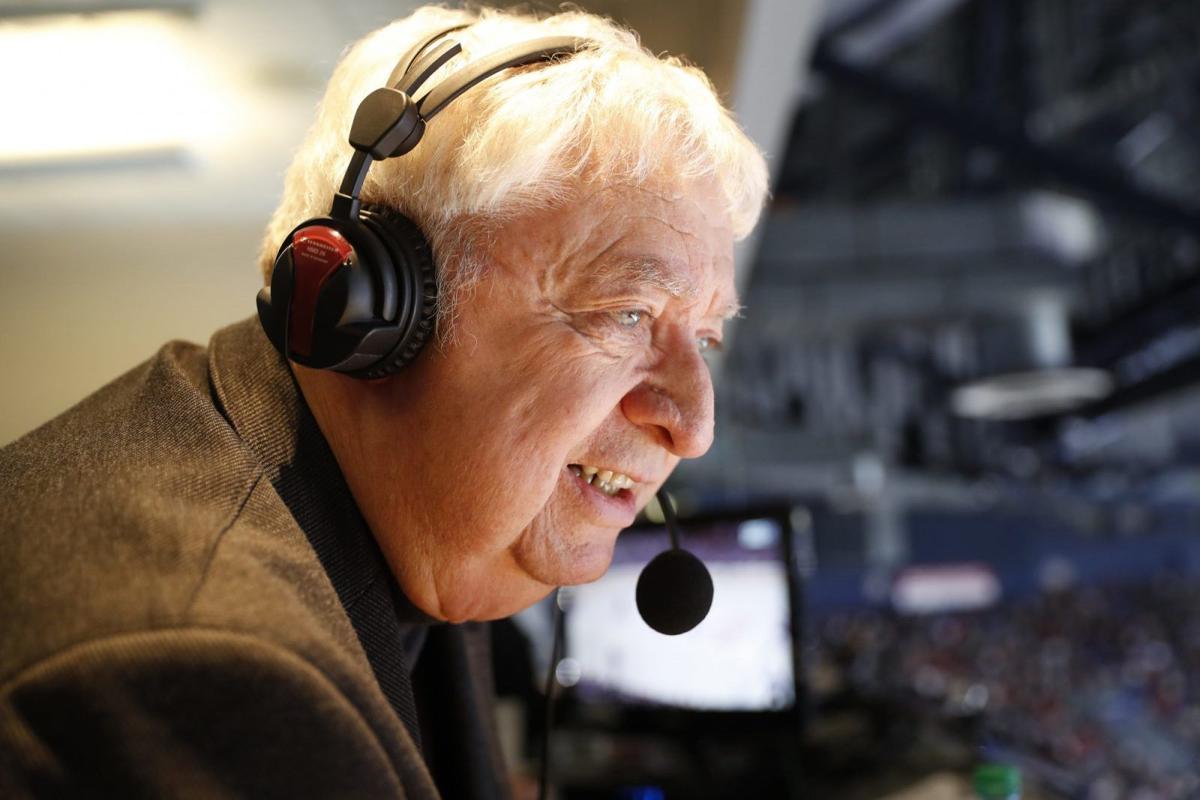 Rick Jeanneret most likely won't be needed to call any more Buffalo Sabres games this season, but he doesn't believe the interrupted season was his last hurrah.
He plans on being back for next season.
"I did say that at the start of last season I would like to come back next year, depending on how I felt and how the organization felt," the Hall of Fame play-by-play announcer said in a telephone interview. "Because it would be my 50th. It was the team's 50th year this year, my 50th next year."
"I just think that that would be a nice personal milestone to reach," added Jeanneret, who turns 78 in July. "I'm positive there won't be another guy, an announcer type, to make it through 50 years. Not anymore. They don't hang around that long."
Jeanneret started in the team's second season, leading to the one-year difference between the team's 50th anniversary and Jeanneret's 50th as a Sabres announcer.
Jeanneret's expected return would be one less thing for Sabres fans to worry about in the offseason.
Jeanneret felt before the 2019-20 season the Sabres would be making a playoff run, but he understandably avoided saying what went wrong as if it were a Zdeno Chara body check.
Ever the optimist, he expects the Sabres to be in position to make the playoffs next season for the first time since 2011.
"Well, they better or I won't come back for 51," cracked Jeanneret before turning somewhat serious. "I got a feeling there won't be a 51 anyway. It has to come to an end."
"I'm getting older, I'm getting slower, I'm getting all kinds of things that are slowing things down a little bit," said Jeanneret. "You've got to come to grips with this. You know you can't go forever."
Unlike many Sabres fans, Jeanneret hasn't watched any of the classic Sabres games being carried on MSG because he lives in Niagara Falls, Ont., and the games aren't available there.
"I would watch, I think," added Jeanneret. "I know I could get it the next day on YouTube. I haven't so far."
He isn't surprised that his former analyst working many of the classic games, Jim Lorentz, is getting a lot of love on Twitter. He noted that Lorentz started as the analyst next to Ted Darling, the late Sabres play-by-play man.
"He was awesome, he did a great job," Jeanneret said of Lorentz. "By the time he and I hooked up, he had already done some work in the booth with Ted. When he came to be my partner, it wasn't that he was a rookie by any stretch of the imagination."
He added when Lorentz came in the booth this season for the '90s Night game with the Florida Panthers, "He just picked up where he left off. He blended right in again."
He was surprised when Lorentz quit the broadcast team in 2007 after 27 seasons.
"There was no pressure on him to do so, that's for sure," said Jeanneret. "I mean I thought he was doing a great job. I'm not sure why he decided to get out and we've never talked about it, to be honest."
With his job on hold as the NHL suspended its season because of the coronavirus outbreak, Jeanneret said he hasn't been doing much but staying home during the pandemic.
He ventures out only to go to the grocery store, practicing social distancing while wearing a mask.
"Yeah, except when I go into the bank. I don't think it's really a good idea when you go into the bank," he cracked. "Actually, my wife (Sandra) has made a ton of masks for people. Both in the medical business and just for citizens."
He considers himself "very fortunate" that he likes to read.
"Crime, courtroom dramas that type of thing. I'm big on that," Jeanneret said. "I have been for a long time. But even as much as I like to read, that's getting a little bit onerous. You can only read so much a day."
He is currently reading a John Sandford crime novel, "Bloody Genius," set in Minnesota. "I've read all of Sanford's books and they're great," said Jeanneret.
You'd have to be a bloody genius to know if the NHL season is ever going to continue.
"I have no idea," said Jeanneret. "I'm reading what you're reading. All I know is the longer it goes on the more difficult it will be to play any regular season games. Obviously, you're just going to run out of the calendar without impacting next season. And I'm sure they don't want to do that."