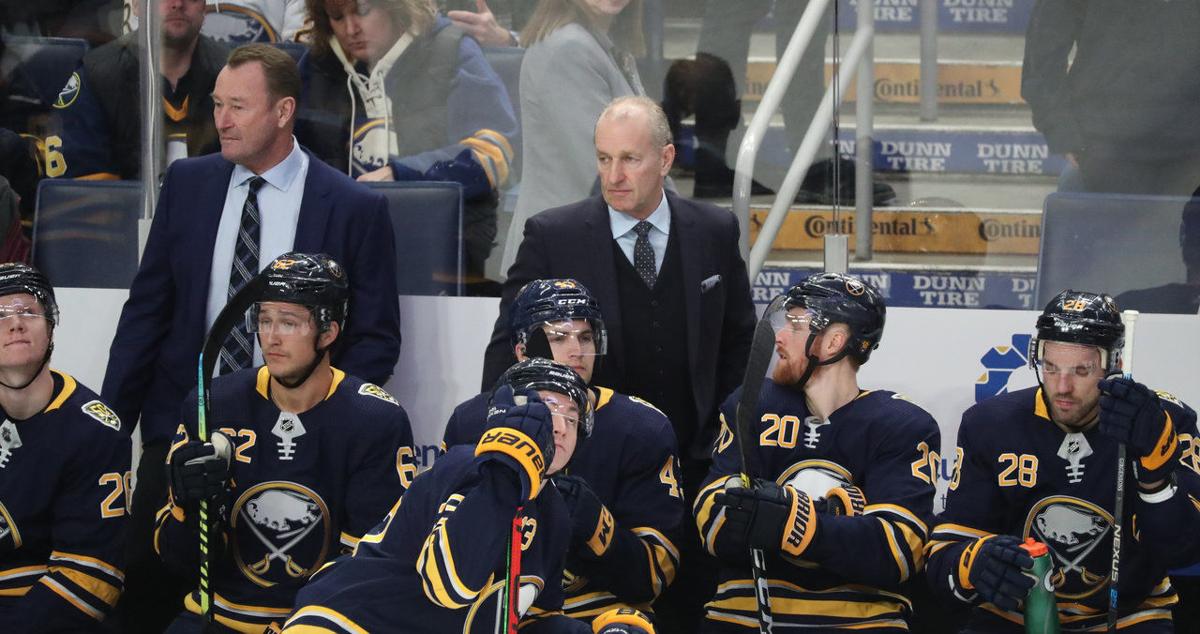 Ralph Krueger is trying to keep his hope tank full. But it was obvious from listening to him Monday that he's started to process the reality for the Buffalo Sabres as well.
There are three possible outcomes to this NHL season that's officially on pause. Two of them, outright cancellation or a resumption directly in the playoffs, have the Sabres not playing another game until next season.
Krueger didn't want to go deep down that road yet when it was brought up on a media conference call. He's still processing the sudden stop to his team's schedule less than two weeks ago in Montreal.
He seemed downright shaken when asked if he had a final message to his team after the club was told by General Manager Jason Botterill that the league was pausing the season.
"If anyone would have told me the meeting we had in the hotel in the afternoon of the Montreal game was going to be the last time we would be together as a group, I wouldn't have believed you at that time," Krueger said. "We thought we were heading towards practicing together in a short period of time. It went from that meeting, which was purely organizational, to us dispersing at the airport and that was it. There was no opportunity. We all know what happened then, how quickly things changed from not only day to day but hour by hour."
As it is right now, the Sabres are 30-31-8 and that might be their record for the 2019-20 season in perpetuity. They had 13 games left and at least nine of them were going to have impact on opponents in the playoff race. They had snapped their frustrating six-game losing streak with a shootout win March 9 against Washington and then play stopped.
"We felt there was a big opportunity of growth in the 13 games ahead," Krueger said. "I did not feel any quit in the team. ... They were getting the importance of challenging multiple playoff teams through the rest of the season and being able to show we belong on the ice with them and can come out with wins. If that opportunity doesn't occur, there will be a lesson lost and a phase missed."
But that was really as far as Krueger was willing to go about the season being over.
"It's too early to do a season-end because I'm just trying not to let my brain go there until that plug is actually pulled on us," Krueger said.
Krueger talked about coaches meeting remotely regularly on return-to-play plans. About conversations with Botterill and his assistants about college free agents, and the Sabres have signed two to date (Penn State's Brandon Biro and Western Michigan's Dawson DiPietro). About his webinar planned for later this week for coaches in Europe.
But Krueger made sure to put sports in perspective when talking about the game in the face of a global pandemic. He talked about being concerned for his players in Europe, where "there's certain locations where you're really frowned upon to even go out to ride a bike or go for a run right now." The coach is home in Switzerland, where "the fear factor is in the air" because of all that's happening in nearby countries like Italy, Germany, France and Spain.
Krueger said the Sabres' schedule is in his home office and he's been doing the where-would-we-be thing lots of us involved in the hockey world have been doing. The Sabres would have had a home back-to-back over the weekend against Chicago – featuring WNYers Patrick Kane and Dennis Gilbert – and the New York Rangers. Tuesday night, they were slated to be back in Montreal.
"For sure, we're all going through a (hockey) withdrawal but the health of the world and the health of the people we all care about that are dear to us has certainly taken a priority in a shape and way and form that we have never seen in our lifetime," he said. "And it's got to be a focus on that right now. That's got to dominate.
"The predominant pain that I would be feeling right now is for all the people suffering around the planet and all the people in fear. You can only hope that we as a group of people around the planet can get together and solve this. Hockey does take a secondary position at the moment."