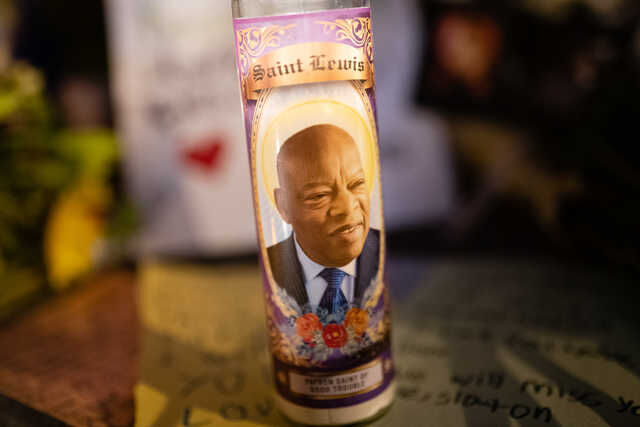 Even 22 years ago, long before the accolades and plaudits that followed John Lewis' death last week, the reporter for the Politics Column knew he was sitting down with someone special.
The Democratic congressman from Georgia, an icon of the civil rights movement, had come to Buffalo to address an audience at Canisius College. Republican Rep. Jack Quinn invited Lewis to visit the city that held many family connections and fond memories, and the interview and subsequent speech provided a hint of the recollections of recent days – especially about "agitating."
On that day at Canisius, the son of a sharecropper who would march with Dr. Martin Luther King recalled the "good trouble" he had caused throughout his career and said it should continue.
"That's one of the things wrong with America today," he said then. "We're too quiet. We need to make a little noise and agitate a little."
Last week, Quinn recalled a relationship with Lewis that grew into friendship when the pair traveled together a few years earlier on a congressional visit to South Africa. Quinn said he began to understand what Lewis had experienced in life when they toured the prison where Nelson Mandela was incarcerated for 27 years. Inside Mandela's bleak cell, Quinn said, Lewis "was trembling."
"John literally broke down in tears," he recalled, adding that the trip allowed him to appreciate Lewis much more.
"I had a chance to look at this guy away from the maddening crowd of Washington," he said.
Maybe it's because Quinn and Lewis always traveled their own pathways, but the two formed a bond that was unusual for Democrats and Republicans even back then.
"John laughed when he came to Buffalo and told me I might have been the first Republican he made a trip for, and probably the last," Quinn said.
"John's issues were non-partisan," he added, "and that was sort of my M.O. down there."
Various observers will agree or disagree on that point, but there is no question that Quinn was the kind of Republican for whom Lewis would make a trip to Buffalo (and Canisius, with its long tradition of inviting prominent political figures through its Fitzpatrick chair speeches, was the right kind of venue).
In 1998, Crystal Peoples-Stokes (then majority leader of the County Legislature and now majority leader of the Assembly) was challenging him for Congress. She was at Canisius that day too, and then disputed Quinn's description of the event as "non-political." She said she would base her campaign on the district's need for a Democrat, not a Republican acting like a Democrat.
Last week, Quinn said he was never into personalities like Jesse Jackson or Al Sharpton. He only appreciated what he saw in his friend.
"There was something different about John, he was the most sincere and honest guy you could find," the former congressman and president of Erie Community College said. "I discovered that standing in that cell."
Since that day in 1998, much has changed. Even then, Quinn ventured outside GOP boundaries by cozying up to labor or supporting a raise in the minimum wage. He not only survived but prospered during 12 years as a Republican representing the most Democratic district in the House.
Indeed, the Politics Column back in those days featured the "Annual Jack Quinn Column" that examined the Republican who originally hailed from Democratic South Buffalo. It's been a while, but Quinn can still provide us with column fodder.
Much of his success surrounded a unique ability to bring someone like Lewis to Buffalo. It allowed Lewis to reminisce that day about his first trip from his Alabama farm back in 1951 to visit aunts, uncles and cousins in Buffalo.
"After being arrested 40 times and being knocked unconscious by police clubs," he said then, "if you had told me I would someday return to the great city of Buffalo as a member of Congress and to be good friends with Jack Quinn – I would have thought you were crazy."
Catch the latest in Opinion
Get opinion pieces, letters and editorials sent directly to your inbox weekly!