Quick as a finger-snap, half of the independent restaurants you loved, and their people, were gone.
Can you help those who remain to stand and fight for their financial lives, as they struggle to feed their world?
Independent American restaurants are being killed by the virus and its financial symptoms, with a 50 percent die-off possible. Some chose hibernation. Others just gave up. A small, tough band of restaurateurs decided to stand and feed their communities. For some, it is their only way to stave off financial annihilation.
So many people are struggling to figure out how to survive during the most devastating pandemic in a century. Not me. My white-collar job means I make phone calls. I type, I get paid.
Those who have to go to work and deal with other people every day — they are taking risks. Beginning with health care workers, to grocery clerks, delivery drivers, sanitation workers and yes, restaurant workers.
When the nearly year-old clip of the audience screaming at the Avengers finale premiere swept the internet, I leaked hot tears, curled up in bed with my laptop.
Because I felt not so alone, and because I wished I could be a potent force for good in dark times.
You wanna be a hero in sweatpants, and smash some takeout on your couch like a glorious Asgardian god?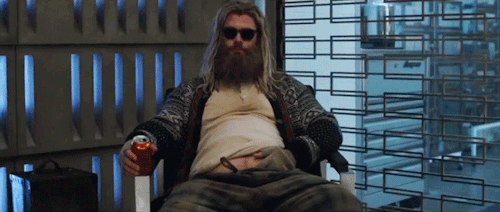 Pick a restaurant you love, and do your best to save it.
(If you're zhuzhing up ramen packets to get by, wishing for one of the generous landlords you keep reading about, this advice isn't for you.)
The rest of you: Check your privilege, and assemble your credit cards.
If you have a personal finances spreadsheet with the actual word "Entertainment," pick two. If you never thought about getting in your car to fetch dinner because "did you know you can just pay someone," pick three.
Here's how you save them:
1. Order off-peak, because kitchen and phone systems are not built for this. Call and ask, "When would be a good time for you, the one person I am talking to this week that has the tightest schedule." Consider yourself a patron, not just a customer.*
2. Get over yourself and punch those credit cards into their direct ordering website, if they have one. Or get used to reading off those digits. No one wants to fumble around signing receipts.
3. Do not use courier services, which demand from 20% to 30% of the restaurant's take for each dish, in addition to the delivery fee extracted from the customer. Fetch your own food, or organize with friends who will pop the trunk at your house.
4. Divorce your meals from time, and get multiple meals in one transaction. "Since I just want to make the one trip, what do you have that I can just throw in the fridge or the freezer, or just in my garage because it's winter again in Buffalo?"
5. Tip like they were standing next to the table after orchestrating a perfect meal for you. Now more than ever, if you do not have the money to tip, you do not have the money to eat out.
6. Lots of people are wary of cash, so tip knowing the restaurant has to pay 3% to 5% on every credit tip, in processing fees. That a $10 credit card tip nets the restaurant $9.50. If you think that's not enough money to worry about, I think you've never been in the restaurant business, where a low single-digit profit is a smashing success.
7. If you are forced to hand someone finger-stained germ sponges as payment, say "No change, thanks," for anything under $10. If you are standing there with your hand out waiting for change, use the time productively, perhaps contemplating your dried-out husk of a soul.
8. If you see a restaurant employee not respecting safety rules — allowing separate parties waiting for takeout to mingle, letting customers linger to drink or eat -- take it up with management directly. Call them, and give them a chance to respond, before you consider social media shaming.
9. Assume everyone you are dealing with has their stress meters pegged. Fewer restaurants feeding the same community, many not designed as Gatling cannons for takeout, are stressed to their limits. Be kind.
Got it? Now go be heroes.
Related note: I didn't know most of that until owners told me, and I checked it out myself with other sources before publication, like journalists do. In my opinion, journalists have done a lousy job explaining what they're up to most of the time, mostly to cop a know-it-all-air when they're only as good as their sources.
Owners, workers, reformed restaurant addicts: If you have more truth bombs or restaurant survival tips for me, I'm at agalarneau@buffnews.com. Have a good service and stay well.
Another note: *On Good Friday, the cars were so backed up outside My Tomato Pie on Niagara Falls Boulevard that someone called the police, who helpfully directed traffic, much to the relief of the overwhelmed restaurant staff. On Valentine's Day, which owner Anthony Scioli described as a "busy day," his phone system took 130 calls. On Good Friday, his system drowned in 2,266 calls.