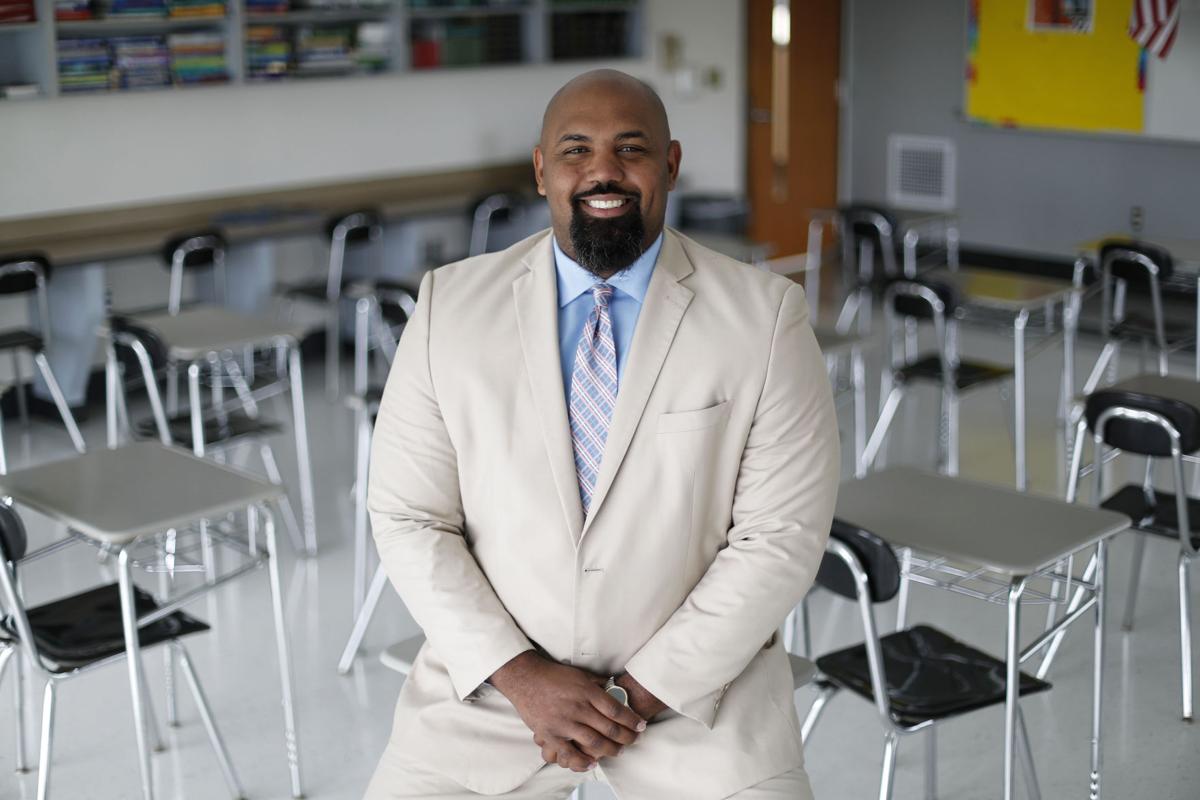 Growing up in a violent, poverty-stricken part of south Florida, Marck Abraham made his way into a failing high school. Not that it seemed to matter, since he figured he would be dead before his 25th birthday, anyway.
Instead – a bachelor's, two master's and a doctorate later – the Buffalo school administrator is tapping that experience to try to reach young people who face similar challenges in a district that historically has not known how to deal with them except through suspensions or other disciplinary measures.
Rather than beating kids down, he wants to lift them up because that's what people did for him.
"Our discipline is the discipline of success," said the McKinley High School principal, who has been targeted by both the teachers' and administrators' unions for his approach to a job they don't think he should have.
Rather than success, his own early life included all of the ingredients for failure. His father abandoned the family early on. His stepfather "called me dumb and stupid every single day" in addition to beating his mother until she saved up enough money to courageously move him and his three siblings away.
He said one best friend was stabbed to death, another shot to death, neither making it through high school.
"I always thought I'd be dead by 25 ... because so many of my friends were dead or in jail," Abraham said.
What turned his life around was football, or more precisely, a football coach who recognized his talent and planted the seed that he was going to college by telling him "you're going to play Division 1 football."
Everything he did became geared toward that goal. His high school – with about 2,000 kids, guns, drugs and violence – was rated a F when he entered before the principal improved it to a C. He scored poorly on the SATs and came out "partially illiterate" but earned good grades at the lousy school.
He was 265 pounds coming out of high school and ended up playing defensive end at the University at Buffalo, where he learned relentless optimism during his brief time under coach Turner Gill, who turned around a failing football program. He needed the inspiration, recalling an abysmal GPA his freshman year. He said he prayed to learn to write, then began listening to a pastor's sermons and writing them out over and over, teaching himself to do an introduction, body and conclusion. With hard work and the help of teachers and the college's writing center, he learned the technical strategies he and students like him had missed growing up.
Now, four degrees later – a bachelor's in sociology from UB, master's degrees in counseling education and school administration from Canisius College and a doctorate in executive leadership from St. John Fisher College – he wants to use that background to give students facing similar obstacles the same help others offered him along the way.
"I had good mentors around me who saw something in me," he said, and credits Superintendent Kriner Cash with putting him in a position to pay that forward. "I'm thankful to be in a district that allows me to do that for our kids."
He knows many of them confront the same types of challenges he faced at home and in the neighborhood, plus the stereotypes slung at them by the wider society and media that pounce on any negative incidents involving black or brown kids. He sees his task as convincing them that they can be successful in the face of such a bombardment, which often is reinforced with statistics about poverty, incarceration rates, dropout rates, jobless rates and on and on.
He recalled a TV news report after an incident at the school last year that had students complaining about being portrayed as thugs. He told them they just had to rise above it, and that's when they came up with the McKinley Pledge, which students now recite every morning to start the day. It says, in part:
We are McKinley High School, the best high school in the land;
... I work hard every day to compete to be my best;
... I give 100% in everything I do; I always win;
"It's the little things you do that are big things," Abraham said, conceding the pledge might sound corny to an outsider who doesn't appreciate what these kids endure.
Not that he's letting students off the hook. "It starts with a belief, but then you need corresponding action, which starts with hard work."
But he also knows that schools sometimes have to take into account the things kids deal with at home before they can even get to the task at hand.
As a young man, he had to come to terms with the fact that his own father had not wanted to be a part of his life. At age 13, he met his dad for the first time. His father began to come around more often when Abraham was 17. Then, at 19 while at UB, he says he got the 3:30 a.m. call from police: His father had been shot dead.
At McKinley, he knows a lot a kids face similar trauma.
"When you check a kid, and they say, 'You're not my daddy,' they're saying that because they're hurt," Abraham said. "All of the pain I've gone through allows me to give that back to a young person."
It also spurs him to do his best to keep them in school, not out on suspension, because he saw what the lure of the streets did to his two best friends.
Cash calls Abraham "one of our fastest administrative learners" and "a rare talent, who also has a compelling personal story that helps him relate well to our urban students."
Samuel L. Radford III, who recently retired as head of the District Parent Coordinating Council, saw that firsthand in his job with the Community Action Organization of Erie County, which had a mentoring program at McKinley.
"He did a good job of inspiring African American males to be successful, it was palpable," Radford said, recalling a January 2019 letter from the State Education Department citing the school "for graduating boys and young men of color at a rate above" the state average, and saying the state would study what McKinley was doing and share its finding with other schools.
Not everyone has been so impressed. Cash elevated Abraham to replace Crystal Boling-Barton, who has been suspended since May 2017, first over alleged discrimination against LGBTQ students and then over allegations of misused funds. That prompted the administrators' union to file – and win – a grievance claiming that a more senior assistant principal should have gotten the job.
The district says things are status quo while it appeals the arbitrator's ruling. Robert L. Boreanaz, attorney for the administators' union, says the matter is in State Supreme Court and they're awaiting a decision.
Abraham expects to be in the principal's office when school opens next week.
Meanwhile, teachers took a "no confidence" vote in Abraham last year; and in a union survey, they said the school had a poor learning climate and poor leadership. It also cited data showing the school's graduation rate dropped from 84% to 77% when he took over –  a fluctuation Abraham says can be affected by the numbers of kids entering or leaving such a large school during a four-year period.
"I'm proud of our kids, I'm proud of our teachers and the work we're doing," he said, adding that rate hovers near 80% each year, when it used to be near 60%.
The attacks prompted Radford's parent group to leap to Abraham's defense, dismissing the criticism as part of a concerted effort to bring back Boling-Barton, president of the administrators' union. But teachers' union President Phil Rumore says Abraham just doesn't have the skills to bring people together, pointing to the survey results as proof.
The south Florida kid who grew up amid violence won't get drawn into this fray. Despite the union survey, he said most teachers like the "positiveness" in the building and he's grateful for their help.
In fact, Abraham, who formed MEA Consultants to focus on the academic success of students of color, takes all of the controversy in stride.
"Adversity is important for success," he said, as if he was talking to his students. "Pain will not kill you. Pain is meant to make you stronger. If we hadn't gotten that negative press, we wouldn't have the McKinley Pledge."
Parent and community groups have pressed for years to change disciplinary practices to keep more students – particularly males of color – in school. There's also been a cry for more black male role models in schools. At the same time, labor "past practice" rulings have tied superintendents' hands as they've tried to make decisions that actually do put kids first.
All of that is playing out in Cash's gambit to elevate Abraham at McKinley. It's a move that, for my money, seems well worth a try, given the background he brings in an effort to help kids who come from where he's already been.
In fact, maybe it's that background that allows the union attacks to leave him unfazed, treating them as just another lesson for his students.
"When we're trying to create diamonds here, you're going to need that pressure," he said, adding that he will give "our children and our teachers 100% of me while I am here."