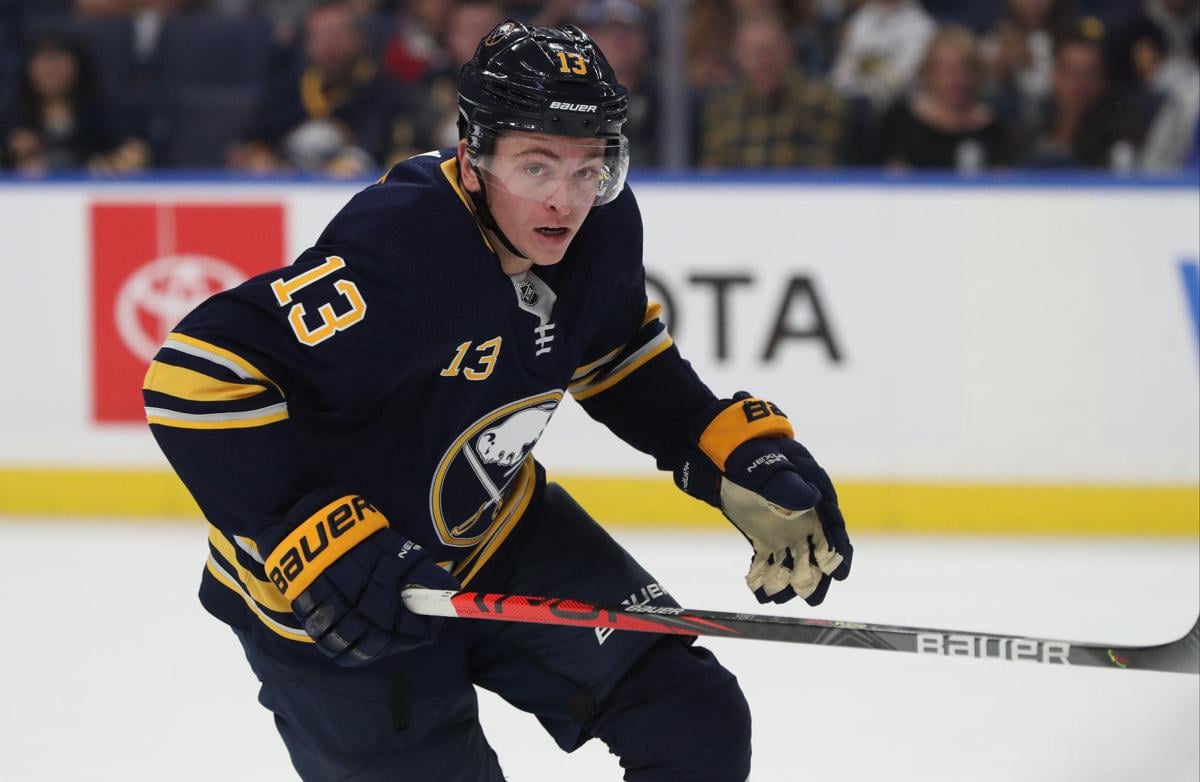 Travis Yost has been involved in the world of hockey analytics for a decade and is part of TSN's Hockey Analytics team. Prior to joining TSN, Yost was a contributor at the Ottawa Citizen, the Sporting News and NHL Numbers, and he has been a consultant for an NHL franchise. He will be contributing breakdowns on the Buffalo Sabres for The Buffalo News this season. Follow Yost on Twitter: @travisyost.
In just a couple of months, Jimmy Vesey will see his current two-year, $2.2-million average annual value contract expire. The 26-year old will get his first shot at unrestricted free agency this summer, and his future in Buffalo remains unclear.
It's a bit of a paradox for the Sabres to be sure. Where most of Buffalo's organizational decisions over the last couple of years have failed, Vesey has gone the opposite direction. You might balk at the third-round pick Buffalo gave up to acquire him in last summer's trade with the New York Rangers considering he was one year removed from free agency. But lost in this year's struggles has been a pretty intriguing season by the Boston native. He's fourth in rate scoring at 5-on-5 (trailing only Jack Eichel, Sam Reinhart and Conor Sheary) with a number comparable to that of Nashville's Ryan Johansen and Arizona's Clayton Keller.
Vesey's game has really throttled up since the calendar year turned to 2020, and some of that has had to do with opportunity. The team has experimented playing Vesey alongside Eichel and Reinhart, and the line has been quite productive. It's an interesting mix of talent – Eichel and Reinhart in obvious playmaker roles, with Vesey playing the crash-and-bang and puck retrieval game on the opposite wing. There is no doubt that Vesey's numbers have spiked due to a surge in teammate quality, but the opposite also holds true: Perhaps Vesey's numbers were artificially suppressed earlier in the year, buried in a hopeless middle-six with limited scoring talent to surround him.
The Eichel and Reinhart tandem has played with three regular skaters this season – Vesey, Zemgus Girgensons and Victor Olofsson. If we look at each player's on-ice performance when paired with Eichel and Reinhart, Vesey comes out on top. (For what it is worth: Jeff Skinner was sensational with Eichel/Reinhart this year. This season, Skinner's opportunity with the pair has been exceptionally limited.)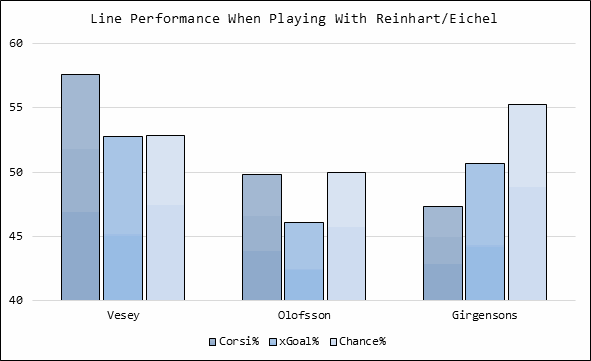 Any time you can run a top line that's getting well above 50% of the shot rates, expected goal rates, and scoring chance rates – well, you have found a mix of talent that works. And if you think Eichel and Reinhart are capable of carrying everyone to the promised land, look no further than the many combinations Ralph Krueger (or Phil Housley/Dan Bylsma before him) have shelved due to ineffectiveness.
But Vesey – like most of the forwards on this roster – is still something of a question mark when moved away from Buffalo's stars. The minutes away from Buffalo's top line are really where the Sabres continue to falter, and until they find a player who is capable of driving his own performance and that of his linemates, they will remain a top-heavy team.
For Vesey, I'm not sure that question has been answered. Which makes the upcoming trade deadline and his future in Buffalo fascinating. Does Buffalo invest in a productive player that has shown promising play when paired with real playmakers, or do they balk at his likely price tag increase and search for a younger player possibly capable of driving his own line in the future?