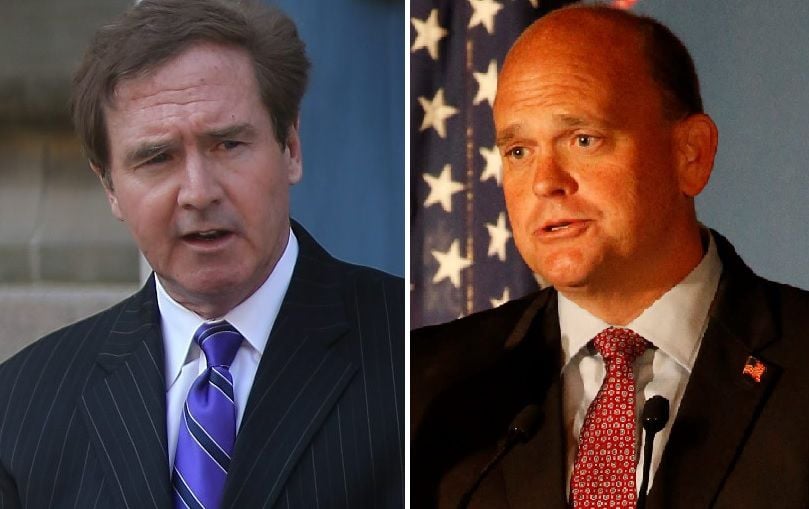 The owner of WIVB-TV (Channel 4) and WNLO-TV (CW 23) apparently has learned a "Jeopardy!" lesson.
Nexstar Broadcasting, which owns both stations, is airing a second live Town Hall meeting across its 12 upstate stations at 7 tonight called "Covid-19" Congressional Town Hall." It features U.S. representatives from New York congressional districts, including Brian Higgins in the 26th District and Tom Reed in the 23rd District.
It will deal with the federal response to the pandemic, with the representatives who join remotely taking questions from viewers.
The first Town Hall on April 28 was carried by both WIVB and WNLO, which meant that "Wheel of Fortune" and "Jeopardy!" were pre-empted for the more important town hall to the disappointment of many viewers.
This time, "Jeopardy!" isn't in jeopardy.
The Town Hall hosted from the Nexstar station in Albany will be carried here by WIVB, with the game shows moving over to sister station WNLO at their usual times, 7 and 7:30 p.m.  "Jeopardy!," which airs at 7:30 p.m., is carrying new episodes. It is usually the top-rated program in Western New York, although the "NBC Nightly News" on WGRZ-TV (Channel 2) beats it on some nights during the pandemic.
After the live town hall broadcast ends at 8 p.m., a livestream will continue until 8:30.
Inquiring minds who get the station over the air rather than via cable or satellite dishes want to know: Why are we having trouble lately picking up the station?
Here's a summary of the answer from the station's engineering director, John Carroll.
The reception problems are related to the station's antenna replacement project at its transmitter site in Colden that began in July 2019, when WIVB began transmitting on a new channel.
Because of a tight deadline and equipment shortages, the station had to broadcast from a temporary antenna until the permanent antenna became available.
The process of removing the old antenna of about 40,000 pounds and installing the new one began in April with the switch to an auxiliary antenna.
"The auxiliary antenna we are broadcasting from now is located lower on the tower and since UHF transmission is line of sight this caused some viewers to have difficulties receiving our signal," explained Carroll. "Presently, the antenna is being installed."
However, Carroll added that weather issues – rain, snow and high winds – can slow down what can be a hazardous process.
Carroll hopes the station will be broadcasting from its new antenna by this weekend.
And as long as we're talking about the local CBS affiliate ...
If you can't find anything to watch during prime time and want to take a break from streaming, I suggest you go On Demand to catch "CBS Sunday Morning" every week. Last Sunday's episode featuring interviews with Jerry Seinfeld and musician Graham Nash likely will be more entertaining than any broadcast network program this week.