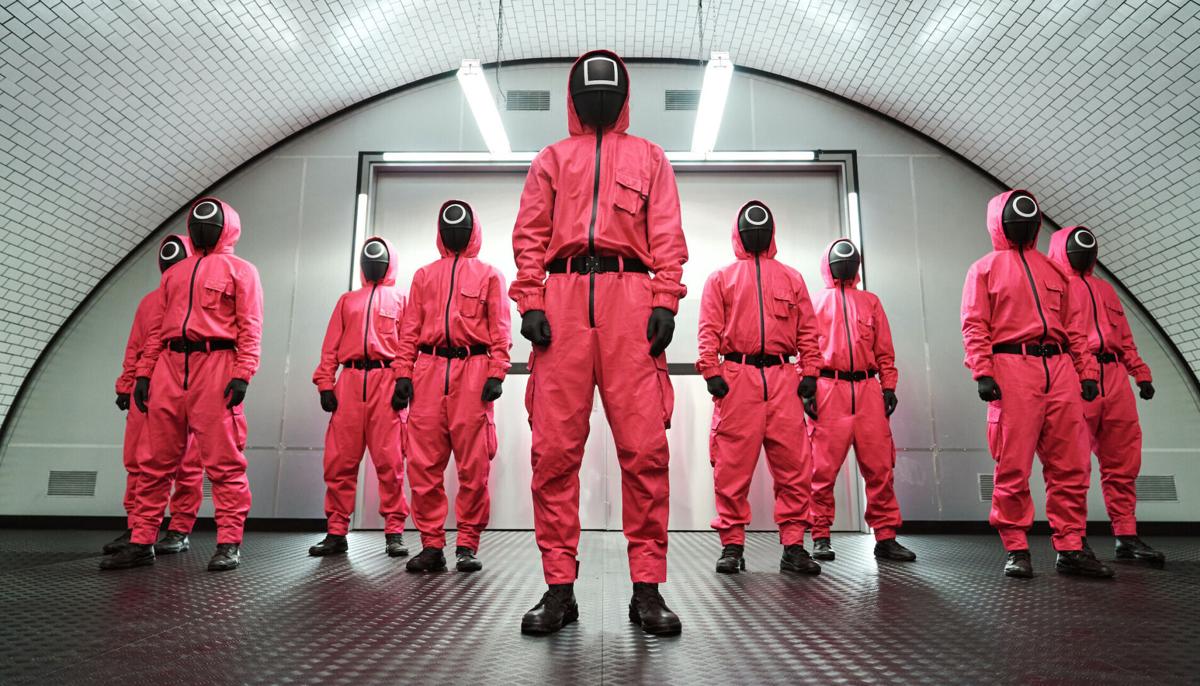 The world belongs to Netflix. The rest of us just live in it.
Nothing has been quite the same since Netflix opened for business. But what happens there is hardly all of a piece.
At the moment, I vote a loud "no" on the biggest show in its history, "The Squid Game," with beachheads in 142 million international households in its first four weeks.
But I vote a careful "yes" on Dave Chappelle's angrily decried comedy special "The Closer," which so enraged the LGBTQ communities in October that a large chunk of Netflix's employees walked out in protest and demanded it be yanked off its moorings on the streaming site.
Two Netflix employees were fired over news leaks. And the streaming monolith's honcho Ted Sarandos said, in essence, nothing doing, the show stays. So said Chappelle; He would continue to do his jokes.
But then came a rare repositioning. Sarandos, the beleaguered, had this to say to the world: "I feel I should have made sure to recognize that a group of our employees was hurting very badly from the decision made and I should have recognized upfront before going into its rationalization of everything they were going through. I say that because I respect them deeply and I love the contributions they have made at Netflix. They were hurting and I should have recognized that first."
Has corporate capitalism changed? You bet your booties.
Let me take them one by one:
"The Squid Game": I would never claim it wasn't engaging – for a while anyway. Nor would I claim it's badly done. And it seems to confirm that Korea is now the world's home of desperate, imaginative fantasy and pop culture paranoia. (See the Oscar-winning "Parasite" and my favorite Korean vision by far, the visionary film version of "Snowpiercer," whose walloping view of the world was almost instantly turned into thin broth when it was attenuated into a revenue-sucking TV series.)
It's like this: The streets are prowled with sinister, well-suited functionaries looking for society's most desperate losers, folks who are a hairsbreadth away from kissing it all goodbye.
Our first victim is a degenerate gambler with an ex-wife and a loving daughter who can't hold on and who thinks a game of chance is all it will take. So why not play a kid's game whose functionary promises payoffs in the millions?
Well sure, but that turns into a kind of "Hunger Games" fantasy of malevolent manipulations waiting to separate the world into those with resources and impecunious slaughter victims.
As I watched, I practically begged it to be a finite two-hour fantasy and then goodbye. But no. What happened along the way is what happened to "Snowpiercer" – a brilliant idea for a one-shot fantasy was undercut completely by the larger and more consistent monetary reward of a TV series.
It played like a video game that got angry at its players and turned into a way to compound its punishment of them for their fatal weakness.
The redoubtable LeBron James was widely reported to be a huge fan. As I believe Nancy Reagan once put it, why not just say no?
Dave Chappelle's "The Closer": This is a different kettle of tainted fish. Chappelle tried admirably to be a sort of aughts rerun of Richard Pryor while Pryor himself had no place to go but the Valhalla of memory.
What happened after the show's premiere is that Chappelle's history of targeting gay and transgender people in his jokes won him a huge backlash, which is the largest brouhaha yet in a world where our upwardly mobile comedians were now turning away from their extraordinary avenues to power (David Letterman, Jon Stewart, Bill Maher, Stephen Colbert) to ignominy and the threat of career cancellation (Michael Richards, the clumsiest and unluckiest comic in history).
I've been thinking about Chappelle's infinitely revealing troubles quite a bit. It's fascinating that what happened among workers at Netflix had echoes of what happened among the offended workers at the publishers of Blake Bailey's biography of Philip Roth and Woody Allen's autobiography, where in both cases, original publishers felt they had no choice but to cave in to their demonstrating employees. Employees at media companies showed their muscles to management and flexed them successfully.
I found Chappelle's transgender jokes, for the most part, to be discomforting and weakly raised to the level of hysteria. They weren't good enough. It's all too easy to think Chappelle's shtick is to be a bad-boy comic whose bravado is hopelessly bound up in being a sincere anachronism.
You had to wait for the end of "The Closer" to understand what he had been getting at the whole time. It's a profoundly moving tribute to a transgender comic whom Chappelle allowed to open for him even though he was bad. He then committed suicide. His clearly and movingly stricken friend told us all the tale and hoped we would get it.
An otherwise good piece in something called the Indiana Daily Student had this headline: "Dave Chappelle is a Relic. Let's Retire Him."
In other words, his unforgivable sin is to remind people of the better comics from a much braver and less corrupt era. But think about that, as I did. What's happening to Chappelle now is the logical result of the historical drift of the last 60 years – away from troublesome creativity and toward corporate commodification and demographic pandering.
In other words, what began with that poor schlemiel Lenny Bruce turned into the dry rot of "Saturday Night Live." A generation's heyday with George Carlin, Pryor, Letterman and Robin Williams was just a generation's efflorescence.
But let's call the roll now. These comics, if not gone, are aging.
Carlin died in 2008 at age 71. Williams died in 2014 at 63.  Pryor died in 2005 at age 65. Letterman is 74. Lorne Michaels is 76. Jerry Seinfeld is 67, Billy Crystal is 73, Whoopi Goldberg is 65. So is Bill Maher.
The new generation anachronisms are John Oliver, 44 and from another country. Also on the list are the 48-year old Chappelle and 43-year old Australian comic Hanna Gadsby, whose comedy is founded on being a high-functioning member of the autism spectrum.
About the latter – another with a good current Netflix special – Chappelle said he would be delighted to talk with those who demonstrated against his special if only they would admit that "Hanna Gadsby isn't funny."
A funny line. And true, too. Often she's not. But often neither is Chappelle. Nor was Bruce at the end of his life when his act consisted of him reading out protracted legal briefs aimed at his prosecutors. Gadsby is something else,  but then so is Chappelle. They're outcasts who insist on clearly identifying humor, pain and weakness in a world where all-powerful Disney is, by far, the most powerful entertainment corporation.
This IS the end result of sculpting all entertainment – and all culture – into big demographic clumps. Your audiences lick their chops and can't wait for elders to age out and vanish.
They have room to experiment but so seldom do.
But there's Chappelle, going back to the future with a combo platter of Williams, Pryor and Carlin. And all based on the belief that comedians were still the world's rebels and, as Shelley used to call poets, "unacknowledged legislators."
Were they still the rebel powers identified by Richard Zoglin in his indispensable book "Comedy at the Edge"?
That was something else: comedy that was born in small comedy clubs where egos and neuroses seethed along with sex and drugs and a counter-culture of proud misbehavior.
The power has shifted. Once upon a time, corporate America was smart enough to present their insights and let them roam.
The power is back with the suits. And their rebel workers who band together to enforce the morality that the misfits claimed they valorized all along.
Very tricky business these days. The big shots in the world of Netflix, for instance, are caught in the middle.
And that the rest of us won't die of mediocrity and boredom in the meantime.