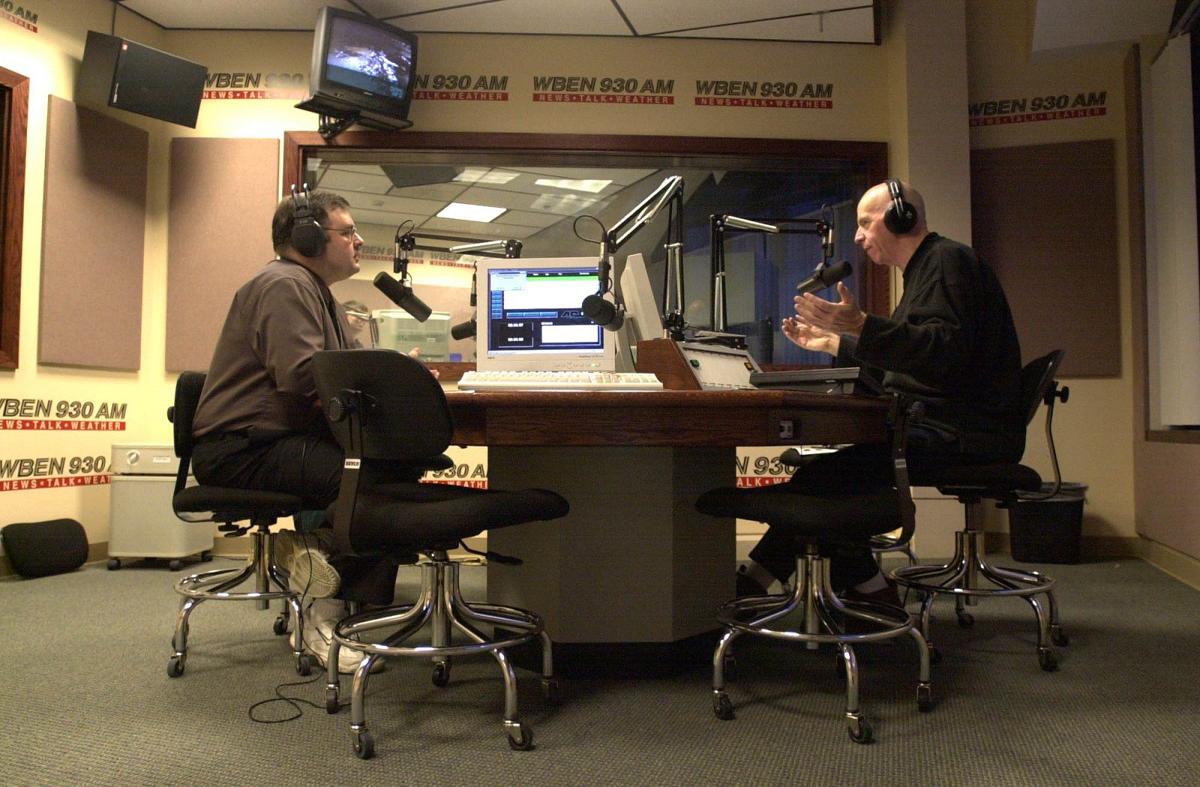 Bob Stilson's 11 a.m. Friday "Movie Show" with Sandy Beach was officially canceled after Friday's show.
Here, over the weekend, is the statement that was sent at my request by Tim Wenger, operations manager of Entercom Radio: "In a time when resources are limited, we've made the decision to end the Movie Show and focus our efforts and resources on programming on the top news issues of the day. Cinema Bob Stilson is a tremendous talent and has done an amazing job heading the show alongside Sandy Beach. Bob continues in his full time role as Creative Services Director of Entercom Radio in Buffalo."
To which my short and simple response would be this: In a half century of writing about broadcasting in Buffalo that it the most foolish local decision I've ever encountered.
No one will talk in detail about the reasons for doing it. Wenger's statement about "resources" implies that either money or available time was involved and Stilson admits his show did have a "budget." If you've ever heard the show, though, you know that its only budget would be extra money for Bob to do research on top of his regular work. Whether we're talking about time OR money, we can't be talking about major investments here.
So there it is. Both Stilson and Sandy Beach admit they didn't know it was coming. They were told Thursday that Friday would be their last movie show together after spending 20 years together in different radio studios.
Open disclosure: I'd never call Bob a personal friend but I have had a warm professional relationship with him for a number of years. I like him as almost everyone does who has ever met him.
I can't help thinking of him as something like a beloved classic sitcom character -- a lovable suburban eccentric from Clarence. He's like a guy at the bar in "Cheers," a guy who, when he walks into the room, "everyone knows his name/and they're always glad he came." He'd be right at home talking with Norm and Cliff.
No, he wouldn't be talking about sports, a subject about which he knows next to nothing. It's a sure bet that at this moment, he has no opinions about NBA coaches withholding superstar players like LeBron James and Steph Curry from prime time games, even though their stardom is the backbone of the NBA's current success. He probably doesn't have an opinion on the relationship of A-Rod and J-Lo (i.e. Alex Rodgriguez and Jennifer Lopez, supposedly an item, even as we speak.)
But I can still picture him at the bar lecturing everybody on old vaudeville acts like Wheeler and Woolsey and obscure Marx Brothers bits that never made it into the movies.
When you get to know him, "Cinema Bob" is exactly the guy you imagine when you hear him on the radio, a guy who loves his wife, his kids, his job, movies, showbiz and cartooning. (After the first two, the order is variable.)
It's always a delight for me to be able to talk to "Cinema Bob" and his wife, "Cinema Peg" (as he calls her on the air) together. They have the wonderful sweetness that married couples develop after a few decades of letting their affection spill out to friends and family.
His crucial partnership is with Sandy Beach and that is where the idiocy of the decision flabbergasts me.
Bob delightfully calls his role on the show "Cinema Concierge." He's not really a movie critic and he knows it; he's a helpful guide to what's out there and what people think of it. You don't go to Bob for learned discussions of the cinema of Michelangelo Antonioni and Max Ophuls. But when something ridiculous has attached itself to your local megaplex, he and Sandy can be hilarious together.
They are, often, brilliant as a team.
I've said before that I think, Sandy Beach may be the most gifted performer in the history of Buffalo radio. I'm not much of a radio fan -- especially not of talk radio. When I admitted that to Irv Weinstein a couple of decades ago, he asked quickly "You don't even listen to Sandy? He's one of the funniest guys I've ever known."
Few people were ever shrewder about broadcast talent, so when Irv tells you someone is funny, you're well-advised to listen in a little. So I did and realized immediately he was right.
One of the more amazing things I've ever heard on Buffalo radio took place a few years ago on Sandy's show when authentic Buffalo radio legends Dan Neaverth and Joey Reynolds occupied the same radio studio with Sandy for a while. Sandy sounded at least 30 years younger than the other two. That's how wild and fast and furious his wit can be.
The beauty of what he and Bob Stilson do on the air is that, amazingly, Bob is able to keep up with the lightning speed of Sandy Beach's ongoing comedy spritz. When they're together, think Tom Brady passing to Rob Gronkowski. Or Magic Johnson setting up Kareen Abdul-Jabbar. And that's how deeply foolish, is killing their hour together.
Buffalo is not going to be horribly bereft of movie information without Stilson. But what the cancellation does is deprive WBEN's most talented on-air personality -- Sandy Beach -- of the friendly presence of the one guy at his station who can feed his gags and match the rapier velocity of his wit.
Without Bob and Sandy together, Sandy is deprived of Bob's ability to free up an extraordinary Beach talent that WBEN, otherwise, has no use for.
Beach isn't young. But his brain is, when properly stimulated. Nobody on Buffalo radio does "light and bright" lighter and brighter. When I listen to too much of WBEN radio, it occurs to me that this must be what North Korean radio is like: pitilessly political, devoted to a fearless leader and, more often than not, heavy as lead.
There's no question that President Trump has been a ratings boon for news of all sizes and flavors and that includes WBEN's numbers. But focusing so much on him and politics deprives the station's biggest and most venerable talent of doing work on the air that no one else in house can possibly match.
Bob and Sandy together are like nothing else on Buffalo radio. Killing their act an hour a week is idiotic.
I'd never say that "The Movie Show" couldn't have been redesigned and re-thought a little. Doing that sort of thing is what executives are paid for. Just off the wall, for a second, what if Bob and Sandy were given 90 minutes a week to discuss both films AND television.
This much I know: Any radio station that can't figure out a way to put Bob and Sandy's act together on radio for a little weekly back and forth might as well move to North Korea.
Catch the latest in Opinion
Get opinion pieces, letters and editorials sent directly to your inbox weekly!