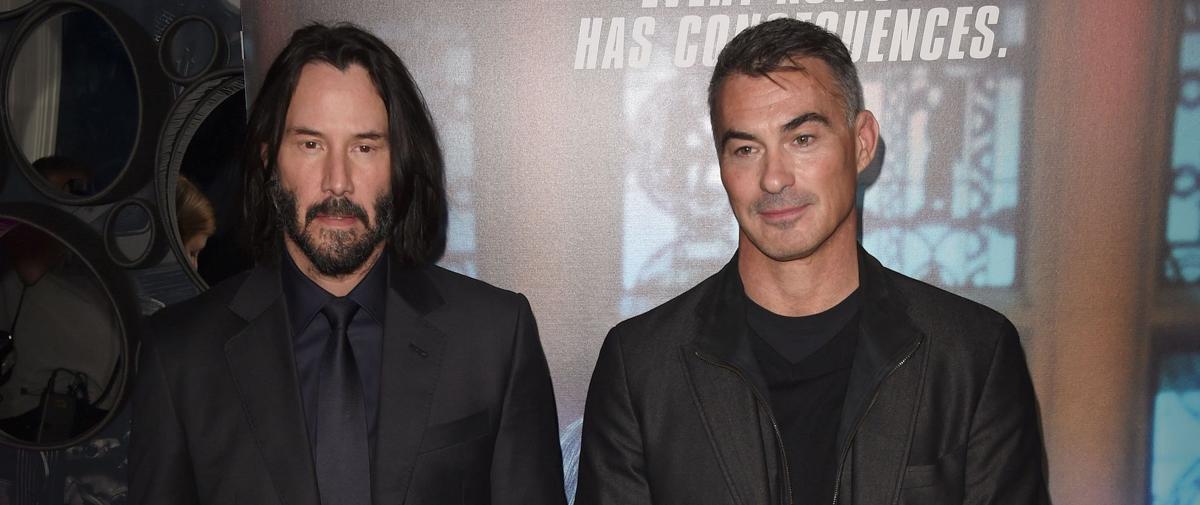 "Whaddya mean guilty pleasures?" I scowled a bit too theatrically. "Why should pleasure make anyone feel guilty? As long as it's legal and inflicts no harm?"
I was, I now admit, being a wee bit difficult the first time I heard the familiar phrase. I knew well what the expression means -- especially when we're talking about movies.
There are, after all, certain movies and movie series whose pleasures are not always easy to discuss with mature, thinking-fellow grownups not given to fits of the giggles.
"John Wick Chapter Three: Parabellum," for instance, comes down the pike next week and will make for a positively grand megaplex run up to Father's Day.
I am, I confess, inordinately fond of the whole "John Wick" series from star Keanu Reeves and filmmaker Chad Stahelski.
Here's how I described them in reviewing the last one, "John Wick: Chapter Two": The Wick movies are about a consummately lethal killer who belongs to a "large, complex organization of underworld assassins that have their own currency, and their own luxury hotels, gun-makers, tailors (they make spiffy, bullet-proof bespoke suits) and (employ) urban lookouts all over Manhattan's street population whose Fagin-like leader is played by, yes, Laurence Fishburne."
To put it mildly, we are not talking about big name Hollywood here. "Wick" movie director Stahelski was Reeves' stunt double in "The Matrix" movies. The stunt choreography in a "Wick" movie is likely to be sensational in a post-Hong Kong style that it is a supreme achievement in what is an entirely new kind of dance in modern movies (how dearly I wish we could bring Fred Astaire and Gene Kelly back just to listen to what they might have to say about action choreography in the post-Jackie Chan era.)
The "Wick" movies are written by Derek Kolstad, whose name seldom festoons the same paragraphs as David Mamet's or Aaron Sorkin's in movie commentary. Yet it was Kolstad who invented this society of assassins and who sprung Wick (Reeves) into action to avenge the death of his pooch and the theft of his "Bullitt"-era Ford Mustang.
We are not talking about high-status filmmaking or cinema where references to Tarkovsky are likely. We're talking about slam-bang action minimalism whose modest aim is to entertain the bejabbers out of megaplex audiences. Heaven help us all if movie establishments -- commercial, critical, whatever -- start getting so attentive to these movies that imitation becomes easy and release is accompanied by Oscar talk.
I'm freely admitting to you I can't wait for the new "John Wick" installment. So as long as we're jabbering about kinds of action splendor that aren't always easy to talk about among civilized movie audiences, let me confess a few more I've always anticipated with glee.
* Absolutely anything in the "Fast and Furious" series. I once called this revved-engine, flying bullet cinema "heavy metal" film-making even though it's probably more equivalent to hard rock a la ZZ Top. These are movies where the fights are both balletic and muscular, and the bulletry is a kind of deadly kind of action painting. Machines of various sizes do insane and fantastic things with the aid of virtuoso film-editing and production design. Yes, yes, I know all the major attention goes to the megaplex box office giants (Dwayne "The Rock" Johnson and Vin Diesel) but, by God, it's the cars and other machines that give them their nutso poetry.
Creator/director Justin Lin has, by the way, become a big TV cheese whose producer and creator credits include the current series "SWAT." If you happen to notice, while watching that show, how good the action choreography sometimes is, you'll know why.
* "The Bourne Movies." I'm not always crazy about the other prevalent way of showing cinematic action, i.e. cutting so fast and furious in the editing room that the laws of physics are flouted and it's hard to tell who is doing what to whom and when. There are, nevertheless, directors in that style who are awfully good at that sort of thing. Two of them are Paul Greengrass and Doug Liman. They're prominent among those who keep Matt Damon as Jason Bourne so appealing and consistently entertaining.
* Every movie made by the team of director Tony Scott and Denzel Washington. Scott's 2012 suicide by jumping off a bridge is still a tragic puzzlement among most of us, even though his brother Ridley has said he was suffering from cancer. Whatever the reason, it ended one of the most successful action movie partnerships in recent American movies. Nothing they did together was less than compelling. One of their co-achievements -- "Unstoppable" -- is the finest movie of its kind in American movies, even though its "kind" goes back to silent movies. And that is the Runaway Train movie. Heavy metal suspense doesn't get any heavier -- or more expert -- than it is in "Unstoppable."
* The "Mad Max" movies and, yes, even James Bond movies can be enlivened sometimes by ambition and creativity in the 21st century, even if they don't engender as much excitement as a "Wick" or "Fast and Furious" movie. Given a Friday night choice between a Wick or Bond movie, James, for me, can always wait.
I'll always give Tom Cruise and Jason Statham credit for making homicidal dance sequences and heavy metal bullet fantasias, even if they never measure up to the minimalist mastery of a "Wick" and "Fast/Furious" fantasia. Cruise's "Mission Impossible" and "Jack Reacher" movies are weighed down by the star's antiquated insistence of doing his own stunts rather than letting a brilliant stunt coordinator like Stahelski show off.
But with Cruise and Statham, their action movie hearts are in the right place.
No list of guilty action movie pleasures would be complete without the movie -- and then the series -- that really kicked the American action movie into high gear with great stunts, high-flying foul language and wise guy attitude, 1988's "Die Hard."
It was astonishing to be there at its New York City theatrical preview unveiling where its finale was greeted by shrieks, applause and mutual audience congratulations. A great film-maker, it seemed, had been born. An entertaining "Die Hard" series followed.
But John McTiernan, after directing a couple mildly successful remakes of Norman Jewison films ("Rollerball," "The Thomas Crown Affair"), managed to befoul his entire life and career by getting closer to Hollywood P.I. and thug Anthony Pelicano than any human being should.
Oblivion was calling. McTiernan answered by spending almost a year behind bars and going broke.
It was a tragic a development. I, for one, very much miss new films by both Tony Scott and John McTiernan.