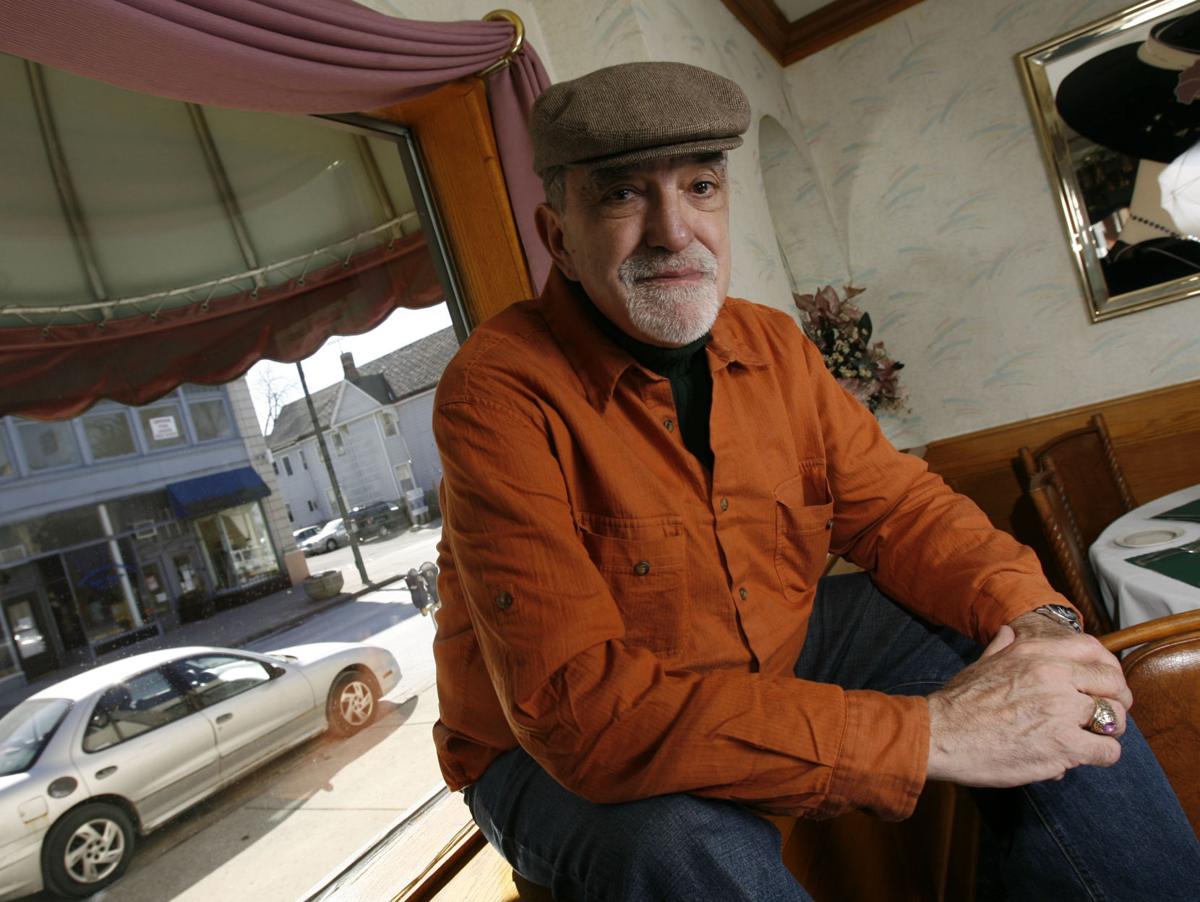 The subject just came to me one Sunday: who is the most beloved person in the city of Buffalo? (Who is neither an athlete or TV personality.)
As fast as the question came, so did the answer: Joey Giambra.
In past days, he might have had some competition with the likes of Jackie Jocko or the late Lance Diamond, but mortality has thinned their beloved ranks.
It is literally true about Joey (I've never heard him referred to in any other way) that everyone who knows him tends to love the guy. At the very least, they grin whenever they hear his name.
He is not to be confused with the indomitable middle-weight boxer with the same name who died in early March. We're talking about a very special Buffalo Joey whose life and background are unique. We're talking about Joey the actor, the playwright, the musician, the restaurateur, the ex-cop, the most devoted chronicler ever of life and music on the West Side of Buffalo (and its cultural setting in our city). His books include a life of Buffalo restaurateur Russell Salvatore.
Joey was born in 1933 and was a Buffalo cop between 1968 and 1983, rising to the rank of detective sergeant. He's been a working trumpet player virtually since 1949 and his musician friends from his lower West Side neighborhood include two of the most formidable and revered players ever to come out of Western New York--trumpet player Sam Noto and saxophonist Don "Red" Menza.
Noto and Menza account for the reason that I concluded it was high time I write about Joey. Both figure prominently in the current life of Joey Giambra in 2018.
Who is Joey that so many think so highly of him? He's the fellow whose Hard Times Cafe on Hertel Avenue provided delicious Italian cuisine between 1974 an 1985. He's the actor whose local performance in a production of David Mamet's "American Buffalo" haunts people still. He's the performer and playwright whose "Bread and Onions" was preceded by distributed samples of Joey's cooking. He's the fellow who co-edits a magazine about Italian-American life called Per Niente (which translates as "For Nothing" which undoubtedly refers to what he's paid to do it).
He's the fellow people like me rely on as the local authority on the very special culture of jazz musicians that emerged from Italian-American society --not to mention 1940s culture and entertainment in Buffalo in general.
And that's why the near-universal love he inspires hit me so hard on that Sunday.
Joey is gloriously in season in the fall of 2018. And his well-traveled friends from Buffalo's jazz aristocracy--Menza and Noto--are front and center along with him.
Menza is the terrific guest soloist on Joey's new recorded debut as a singer in his early 80s which is called "Joey Giambra's Legacy: Up Close and Personal." The presence of Menza--one of the most robust and fluent tenor saxophonists in jazz for many decades--on Joey's record isn't only a beautiful act of friendship it's a beautiful statement about who his old friend is and what he's doing on the disc.
Joey is no Frank Sinatra. Or Nat "King" Cole. Or, as musician/singers go, he's no John Pizzarelli either. He is not in their caliber. If you're looking for a young beautiful vocal instrument with all the lithe, smooth sheen that professionalism offers, you're in the wrong neighborhood. That may apply to the arrangements and Menza's tenor but not Joey, the singer.
If, however, you're looking for music that is all heart, "Legacy: Up Close and Personal" is it. You listen to all the standards and Giambra originals from decades ago and you're in another world from the army of jazz singers rising up out of university fine arts programs. He learned how to sing The Great American Songbook another way entirely.
The presence of his consummately proficient friend Menza reminds you that the rawness and purity that Joey brings to his singing is something unobtainable elsewhere. Nor is it something you'll be likely to forget.
As if that weren't enough of Joey Giambra's centrality as a chronicler of Western New York's exceptional Italian-American jazz life (which also gave the world Joel DiBartolo, the bassist for Johnny Carson's "Tonight Show Band" who provided the opening bass groove in the credits to TV's "Barney Miller"), he is also publishing what is likely to be the most "up close and personal" book about the subject, "Sam Noto, A Life in Jazz."
"On Busti Avenue on Buffalo's West Side....Don Menza and Sam Noto grew up amid a dormant canal, basso profundo tugs and the lonesome atonality of trains" writes Noto about the Buffalo music of their childhoods.
This, Joey writes proudly in his introduction to the book, is the biography of a sideman who emerged on his own as something virtuosic and altogether arresting and dedicated to jazz at its purest. Noto was Stan Kenton's lead trumpet player and some of his solos with Kenton were classics with the band.
But his career of many decades also includes playing with the weirdly legendary band of Buffalo's Palace Burlesque, with Red Rodney in Las Vegas, and in the soundtrack of Clint Eastwood's "Bird" and as well as membership in Rob McConnell's Boss Brass in Toronto.
In the Noto book, you will find Giambra the nonpareil chronicler of a whole West Side Community in Buffalo and the jazz work that Noto and Menza would distinguish themselves in elsewhere.
You can't get more "up close and personal" than a biography by a friend who tells you that Noto--Giambra's elder by three years--lived at 179 Busti while Joey lived on 73 Efner Street "in the shadow of city hall."
They grew up, Joey writes, in a neighborhood "where the aroma of meatballs, sausage and spare ribs in sauce filled the air."
What follows isn't just fragrant nostalgia for the historic details of a period and a musician's life. It will surprise no one who ever heard Noto play that he once played so hard that he played himself into a hernia that kept him off the bandstand for 10 weeks.
No punches are pulled in this work. Its truths are Sam's and Joey's and not at all bashful in their expression. Try this take on American musical history from Noto: Singers, he said, "ruined the big band era. It was an industry and they destroyed it....I'm talking about Sinatra, Jo Stafford, all of them, the really good singers. People just went to hear them and didn't care about great big bands. Basie stopped doing his thing, just singers all the time. I didn't want to do that [when he worked with Basie]. I was there to play with Count Basie a jazz musician."
When Noto worked with Basie for Sinatra in Vegas, Frank wasn't crazy about Basie having Sam take one of his solos in front of the band. Stardom, when Frank sang with Basie, was for Frank alone.
That's the kind of candor that's all through the book, including details of Noto's life in Toronto and back in Buffalo as the proprietor of two separate clubs called The Renaissance (the second of which was the home of a Chet Baker performance that became a collectible on record.)
"Sam Noto, A Life in Jazz" is the soul of authority on Western New York musical specificity which is why it and Joey's record, had to be sold privately.
The Noto book is available from some local book stores as well as from Amazon. The record can be found only on joegiambra.com though it can be sampled on Spotify, Pandora and iTunes.
The love to be found in both places is not like anything else you're likely to find in 21st century Buffalo.
Catch the latest in Opinion
Get opinion pieces, letters and editorials sent directly to your inbox weekly!