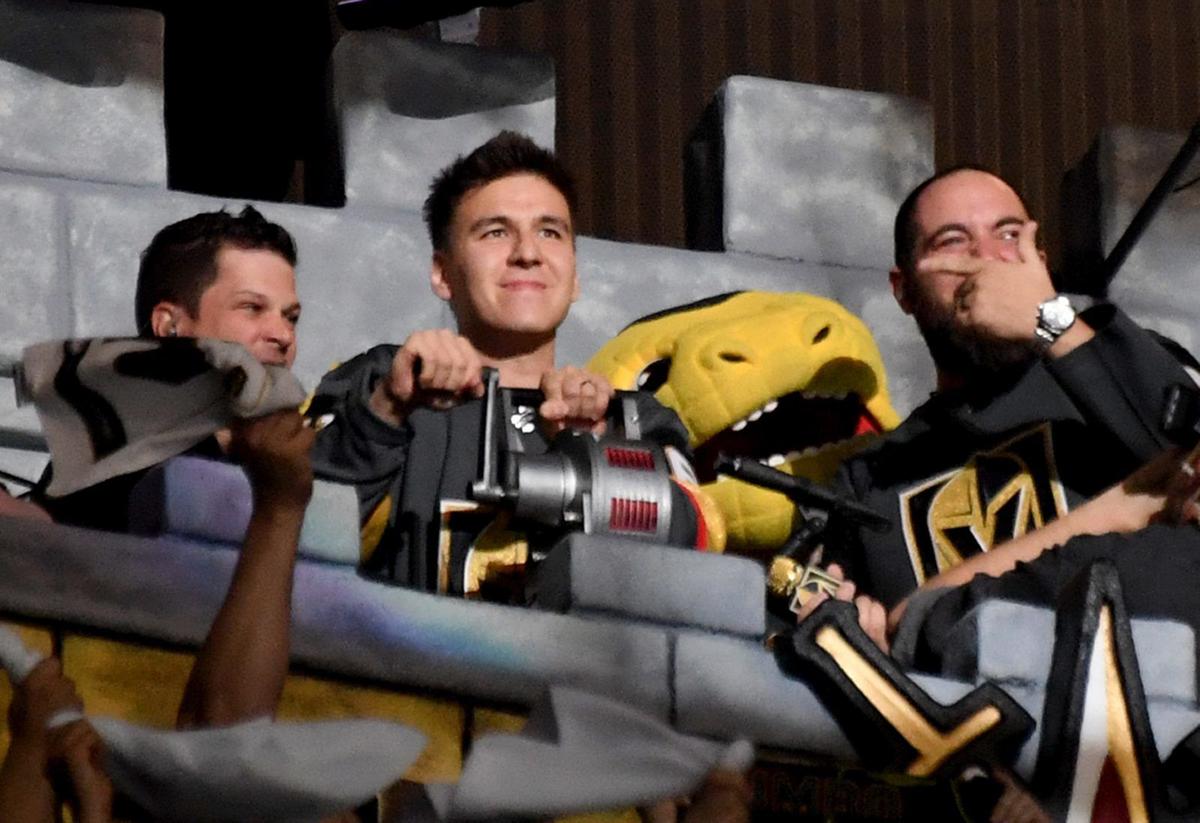 I can't wait for James Holzhauer to lose. I don't care how many records he ultimately sets for winning money on "Jeopardy" – or for how quickly sets them all – he is, to me, absolutely no fun to watch.
The sports bettor and TV game show vet from Las Vegas is a machine. He picks categories as tersely as possible, buzzes instantly and dispenses answers with so much joylessness – even contempt – that he has turned TV's most venerable nerdy game show into the TV equivalent of a half hour watching totals ring up on an angry cash register.
There are, no doubt, algorithms that are more festive.
I'm not a dedicated "Jeopardy" fan, you understand. But I've certainly watched it with pleasure since Art Fleming first hosted Merv Griffin's creation – especially when I'm with family members and others who enjoy firing answers back at the TV set during the two or three seconds where such answers from home are supposedly built into the show.
Some audience participation is the whole point of the show. We play along with the contestant, strategize about how much we'd bet and see if we can come up with the right answers ("The Buried Inhabitants of Grant's Tomb?" "Who are Mr. and Mrs. Ulysses S. Grant?")
One of my favorite moments of television in the last five years occurred during an otherwise undistinguished documentary on comedy which, nevertheless, contained a heartening scene. It seems that nonagenarian and lifelong friends Mel Brooks and Carl Reiner eat dinner together as often as possible at Reiner's house. Their wives are both gone and the two old cornerstones of American TV comedy have TV trays set up in front of their chairs and watch TV as they eat dinner. We find out WHAT they watch every night when the camera pulls back to reveal the backs of their big armchairs and you hear the familiar theme from "Jeopardy" announce its arrival on Reiner's set.
You can just picture the two old guys slurping their soup and spritzing answers at the television set.
That's how Americans watch the show. It's what the show was designed for. Everybody can play.
Some, of course, are better at instant recall of wildly miscellaneous information than others (I've always been pretty good at it though hardly in "Jeopardy" contestant class.) Most reasonably competent adults will know an answer or two before one show is over.
When we enjoy the contestants, it's their sweet nerdiness most of the time that makes us smile. We watch as dry cleaners, dentists and dishwashers who have the gift of instant miscellaneous recall test their reflexes on buzzers. And then test their pleasure in possessing so much instantly accessible knowledge of so much wildly disparate stuff.
On the night when I finally caught up to Holzhauer's conversion of "Jeopardy" into a cash machine, he was slow enough to amass a total in the mere $70,000 range.
His grand total had already surpassed a million dollars. And he's done it infinitely faster than Ken Jennings, the much-adulated all-time champ among "Jeopardy" contestants.
Holzhauer's crushing strategy couldn't be simpler. The Vegas sports bettor becomes a computer. He presses the button with robotic speed, is recognized by Alex Trebek, spits out a terse, minimalist answer from the utterly joyless data bank inhabiting his brain cells and then picks a new category and amount with equally terse contempt.
If, for instance, the ingenious category is "Snake, Bird or Monkey" the whole point will be for Trebek to name exotic species and the contestant has to tell him whether it's a snake, a bird or a monkey. Holzhauer will choose it by just barking something like "monkey for a thousand." Then, with something resembling actual hostility, he'll emit an answer.
What he has succeeded in doing is trashing all the ingenuity of the writers and their categories in the first place. It's almost sad to watch. Griffin must be spinning in his grave. ("TV producers not enjoying death for eight hundred, Alex.")
With him winning every week, the show is all about money. The other two contestants are just schlemiels who actually evince the joy that so often accompanies simply knowing stuff. They're just cannon fodder to be mowed down by the big betting computer from Vegas whose strategy from the get-go is to maximize his earnings while deriving a minimum of pleasure.
What Holzhauer doesn't know – those rare things – is as weirdly joyless as what he does. Somehow this big money bettor from Vegas sports parlors didn't know that "redhead" is the closest translation of the "Testarosa" model of a Ferrari. Wouldn't you think a Vegas money collector would know that?
It's not, mind you, that he may not be a perfectly agreeable fellow after he turns his switch off. He is married with a family. (We saw his wife in the audience Friday night.) It's just that he seems like a fellow who has deconstructed every single aspect of "Jeopardy" and mastered every one to compile the maximum amount of money in a half-hour period.
Poor Trebek – who has revealed that he's been fighting stage four pancreatic cancer since taping Holzhauer's shows. He's put into the situation of squeezing whatever avuncular warmth he can out of a frigid game show contestant who has become a game show minimalist. He's not a nerdy eccentric from middle America but a conquistador from Vegas who only seems to care about knowledge if it can be converted into the coldest and hardest cash to be made anywhere right after dinner.
Did the show's producers know such a new wrinkle in such a venerable show was coming? Hard to say if not impossible.
It's not impossible down the road that if the show survives a future clue will be "James Holzhauer" and the answer is "who is the Las Vegas sports bettor who has drained all of the fun out of an American TV institution?"