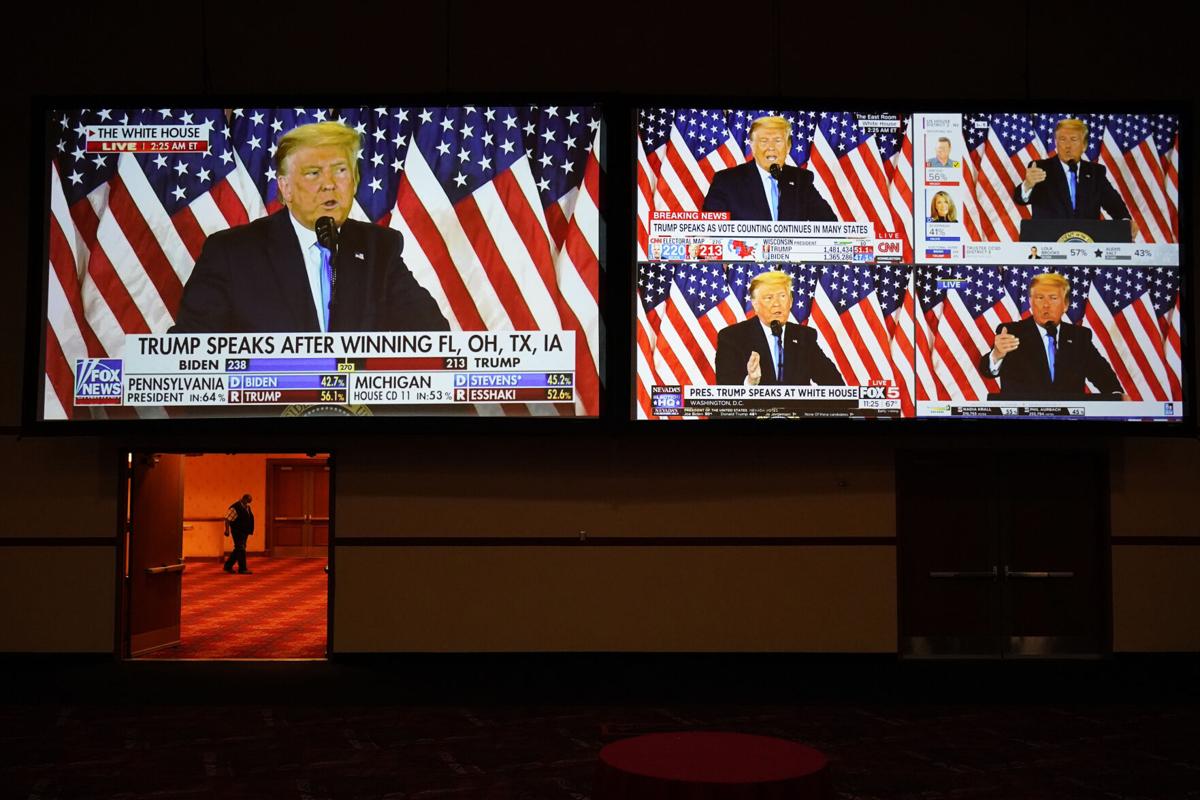 The winner on election night? Easy, said CBS' John Dickerson. Not in the presidential race, yet, of course, but there was, already, one other winner according to him.
Hard to argue with him when people are tossing around 160 million as the total turnout by midnight that night, including more than 101 million ballots cast through early voting or voting by mail.
It was the greatest percentage of actual voters, they said on Fox News, since the last century – no, not the one that gave us the transition from the 20th to the 21st century, but the earlier one that began at the stroke of midnight Dec. 31, 1899.
I'd add one more clear winner on election night: journalism. No night of the year separates actual "fake journalism" from the real thing quite the way election night does.
So, no, I don't mean that member of "The Five" on Fox News who joked about the "bedwetters" conspicuously disturbed by Covid-19.
What I do mean, though, is Fox's Neil Cavuto and his producers and bosses who were happy in the run-up to election night to get typically thoughtful and even wise commentary from former Democratic presidential candidate and South Bend, Ind., mayor Pete Buttigieg.
I love that on election night, cable news journalists make a point of rounding up experts that might be contrary to the networks that employ them. Rich Lowry, for instance, the editor of the National Review – the Conservative monolith invented by William F. Buckley Jr. – noted the extraordinary irony of a presidential election that might actually be decided, in part, by President Trump's insistence on dissing at every opportunity ("I prefer people who weren't captured") Arizona's favorite son and widely admired military hero John McCain. It was that, according to Lowry, that may have affected decisively Trump's shaky vote total in Arizona.
Fox News is indeed the locus of major Trump and Republican support on cable TV news, but even there you'll find conventional journalists eager to report news with something that actually does represent fairness and balance. One of my oldest friends in the world worked for many years in the actual news gathering arm of Fox News rather than the opinion-eering, propagandizing commentary arm that so merrily jettisons fairness and balance.
I agree wholeheartedly with those who, in the cold light of day, cast dire aspersions on journalists quoting inept and inaccurate polls along with those polls themselves. The phrase one heard repeatedly on election night TV was, "The polls are broken."
In other words, polling pros aren't doing polls right; and journalistic pros aren't reporting them right, either. It's hard to argue with that, too.
I have been stunned for years by election night journalism since I was a News copy boy when Barry Goldwater ran against Lyndon Johnson. Election nights are exciting to watch from the inside, no matter how they go. Television has increasingly known that for 60 years.
Every time I watch CNN's John King on election night, I'm bowled by the jaw-dropping Niagara of information he imparts.
Every respectable cable news operation now has King-style magic walls where virtuosos like King can play their numbers like informational pianos full of facts about past performances not only of states, but of counties and even precincts. The instant responsiveness of computed history has become thrilling on election nights, if you ask me.
Please understand. I'm not dissing the revered and truly venerable Buffalo-bred Tim Russert of NBC and his fabled white board with scribbled numbers and trends.
But in the hands of someone with King's skills – when he plays sonatas full of numbers and facts on CNN's magic wall like some sort of Arthur Rubinstein, Vladimir Horowitz or Glenn Gould – you're getting numbers and information at virtuosic speed.
It has become, as King cheerfully noted, the night of the nerds in the political year.
I'm sure many viewers find it all paralyzingly boring. I'll freely admit I'm anything but a "numbers guy." But that's why I find it all mesmerizing from beginning to end, even if every cable TV news outlet reflexively counseled viewer patience about once every 15 minutes.
Not for me anyway. I'm perfectly content to wait for every mailed-in ballot and every early vote from Maine to Hawaii to be tallied in all of its proper places.
The president, of course, didn't feel that way. But we had to admit he told us exactly how he was going to react weeks before election night.
He and his friends had obviously gamed it out with reasonable accuracy beforehand. Which is why he informed us all in advance the election would be "stolen," with ballots that couldn't help but be counted days after voting ended.
With typical nostalgia, he was claiming his faithful should be able to see 1964 again rather than the godawful year we have where Covid-19 and mail-in ballots have transformed the revelation of information according to the different laws of different states. There was no way to answer the night's biggest questions before bedtime.
With Trump's insistence on a chronology of election night events that never really was, he tweeted the election would be stolen and that "the Poles" (his spelling and capitalization) were closed. The tweet, as it happened, was read aloud in the wee small hours with explosively rude guffaws by the assembled commentators of MSNBC. His spelling of "polls" as "Poles" occasioned much on-air hilarity at the president's expense and predictable jokes about the president's dislike of "Polish people."
It was not the most professional TV moment you'd ever see, but at that hour of the morning, if you'd been gorging with breaking numbers all night hurled at you with the highest intensity, you might be ready for a good soul-clearing howl yourself.
Facts are dumped by the megaton on one and all for an entire evening with the expectation all will eventually be put into the proper order so that, as both Woodward and Bernstein like to say, "the best available version of the truth" becomes public property.
No one ever said televised election nights were anything close to perfect.