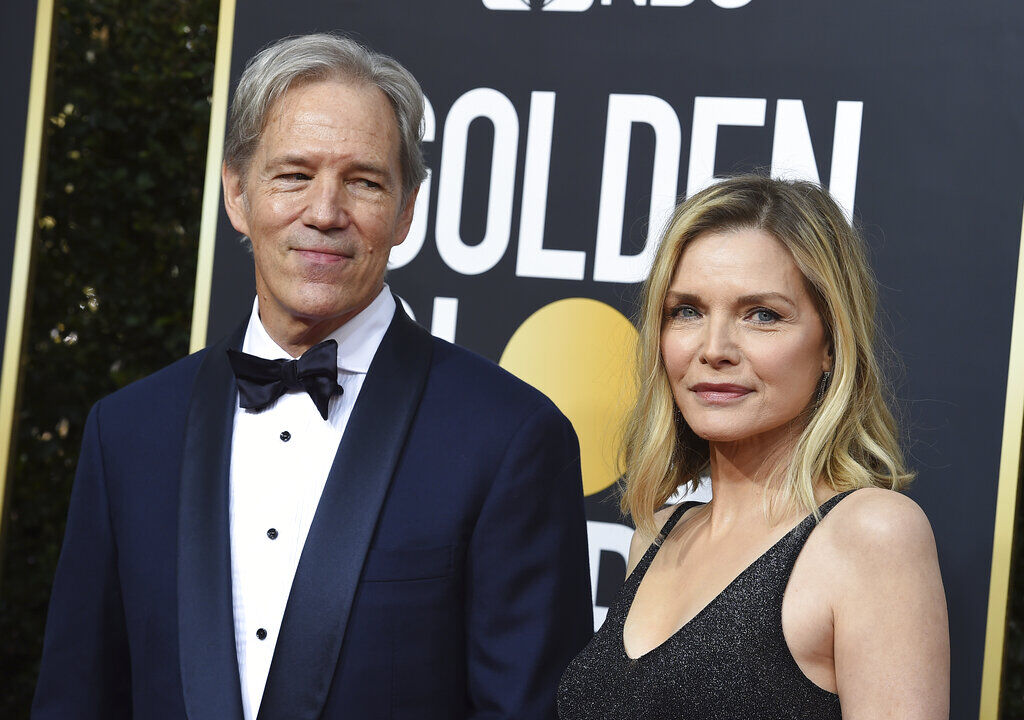 It turns out the wisest investment David E. Kelley made to insure career longevity was getting married in 1993.
The woman he married was Michelle Pfeiffer, a fine actress of no small ambition. One result is that, ever since, he has had the most intimate possible acquaintance with the often appalling plight of superb actresses as they age in Hollywood.
He didn't have to read books on the subject. Or magazine articles. Or watch TV documentaries. All he had to do was listen intently whenever his wife talked.
So when the time came for Reese Witherspoon to gather a few cronies (including the redoubtable Nicole Kidman) to make HBO's "Big Little Lies" out of Liane Moriarty's novel, she had a script by David E. Kelley that is, in my opinion, the best and most rigorous work of Kelley's professional life.
Kelley, at 64, is having something of a terrific second life on television after practically ruling prime time for over a decade. His latest prestige miniseries for HBO is "The Undoing." ABC's "Big Sky" was his latest contribution to the grubbier precincts of network.
Kelley, you'll remember, was probably the greatest single keyboard success story of TV after Grant Tinker, in the '80s at NBC, made it kosher for real, honest-to-God intelligence to work in prime time without apologizing to everyone in sight.
No longer did writers have to be recruited from Broadway failure. Or the Borscht Belt. Or the mailrooms of Hollywood studios and talent agencies.
They could come from prep schools and the Ivy League. Not merely graduate schools, too, but Olympian vocational schools like law schools and med schools.
At his apogee, Kelley series were everywhere. They won awards, collected major actors and ratings and were smart, but not intimidating. If they were intimidating, they could offset it with a little puerile post-teen ribaldry or pop music love to keep the demographics healthy in an America consumed by youth worship.
For a while there, it didn't seem possible to avoid Kelley – not if you were looking for smart TV you couldn't. Think of them all – "Picket Fences," "Chicago Hope," "Ally McBeal," "Boston Legal," "Boston Public" and his finest work, "The Practice" (whose star Dylan McDermott, unaccountably, has had the most puzzlingly droopy post-prime time career).
So there was Kelley atop it all, former hockey-playing preppie and Princeton smart-aleck and, at first in Boston, a practicing young attorney in Boston before his gifts as a first-rate wiseacre with an interesting avocation took over. The avocation was writing movie scripts.
By pure luck, I happened to be present at the screenwriting coming out party of Kelley, future mogul. The movie was "From the Hip" (1987). When it came out, its most salient selling points were that it starred a card-carrying "brat packer" (Judd Nelson) and was directed by Bob Clark of "Porky's" fame.
In retrospect, neither salient feature matters a hoot – not in comparison with the significance of the first script by Kelley – a funny, antic, personal, shameless, trial drama/comedy.
Some juvenility would get Kelley past a lot of conspicuous braininess for years, after his apprenticeship on Stephen Bochco's "L.A. Law."
Once an unquestioned leader of TV production (up there with Bochco and Dick Wolf), his life in a new century seemed to go into hibernation by the time of the Obama presidency.
Then Witherspoon and, especially, Kidman came knocking and Kelley's career took on an entirely different cast on prestige cable TV.
"Big Little Lies" was such a big hit for HBO they succeeded in twisting Moriarty's arm to write a story for a sequel she originally had no interest in. It was watchable – no more – but who on earth was going to argue with an HBO miniseries that wound up pitting Kidman against Meryl Streep? Hollywood actresses hadn't flexed that kind of muscle since the '30s and '40s.
The new Kidman/Kelley number is HBO's "The Undoing." Let me vigorously recommend to all those who've not been watching that you binge watch to get up to speed. Thus far, it's been a graceful and cunning dive into what's sometimes thought of as Manhattan lifestyle porn, to which a highly charged cast has been added to glue your eyes to your screen.
Not only do you have Kidman's velvet-covered steel as a psychotherapist, but you have Donald Sutherland as her devoted, obscenely rich father and Hugh Grant, as Kidman's husband, the pediatric oncologist who happens to be seducing and (maybe) murdering the beautiful mother of one of his patients.
He says he's guilty of the affair, but not the hideously brutal murder. Remember here that in their off-camera bios, Kidman and Grant have both been prominent in Hollywood gossip central – Kidman for her marriage to Tom Cruise and her subsequent escape from scientology, and Grant for his front seat dalliance with an LA sex worker.
It's all very slyly directed by Danish director Susanne Bier ("The Night Messenger") and is nicely full of nasty side glances into the world where privilege sometimes falters, but entitlement seems to go on forever (thank you Margo Jefferson for making that important distinction in your book "Negroland").
Kelley's latest concoction in his second life was "Big Sky," which does for Montana what "Big Little Lies" did for Monterey.
This is a much grubbier piece of work than "The Undoing." In this standard heartland Gothic, when you see a Montana state cop of dubious good cheer, the show makes it clear that he also slurps his soup, neglects his wife and, to boot, calls her "mother." Because he's played by John Carroll Lynch, a specialist in middle-American smarminess, you know from his first few lines he's destined for a lot of closeups.
I'll keep on watching for him and for some Kelley plot shocks, but I'm not expecting much. It seems to me like Kelley trying to prove to network big shots that he still knows how to preserve the low horizons of network prime time (it runs, don't you know, after "The Bachelorette").
While we're on the subject of major TV figures coming out of hibernation and hoping to make a bang, here are a couple returning interesting news mavericks.
Keith Olbermann: The ultimate problem child of ESPN and MSNBC who could never seem to believe that his employers couldn't be pleased by his recitations from the works of James Thurber and nuclear powered political invective.
Go to YouTube now for his regular lucubrations on today's politics that are certainly reminiscent of what he used to blast by weekly picking "the worst person in the world."
Shepard Smith: On an entirely more moderate and practical level is the cable news anchor from Fox News who publicly announced he was gay and later left his anchor career after distinguishing himself – along with Mike Wallace's son, Chris – as the most "fair and balanced" straight-ahead newsman on a staff characterized by a much more rightward slant.
He has, since leaving Fox, been eager to tell the world that Fox's deposed inventor Roger Ailes never gave him any grief for his sexual orientation. He can now be seen in his second life on CNBC at 7 p.m. nightly on "The News With Shepard Smith."