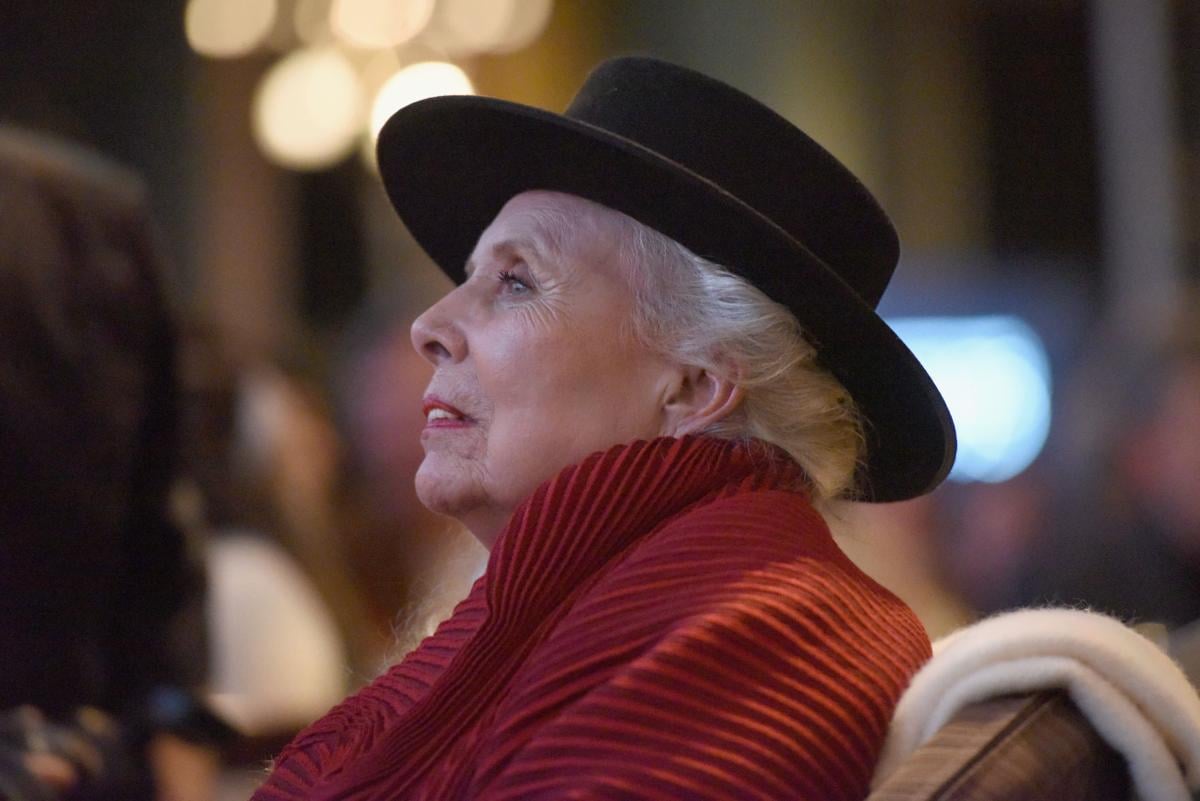 Music seldom stuns me. The absurdly overused word "awe" does not really describe my reaction to new music often, no matter how much I love or admire it.
When it does, it is usually jazz or classical "new music" -- the first time I head Miles Davis perform live at the Royal Arms in Buffalo, for instance, (I was stunned by the violence and barely suppressed rage of the first tune of the first set) or Iannis Xenakis' percussion piece "Persephassa" when it was performed by Buffalo's Creative Associates upstairs in the Albright-Knox Gallery sculpture gallery or John Cage's "Lecture on the Weather" performed in the gallery's auditorium.
Rock or music in the pop tradition seldom stuns me.
Well, I was stunned 19 years ago -- in February of the year 2000 to be exact -- by Joni Mitchell's masterpiece "Both Sides Now." I was in genuine awe two cuts in. Before anyone heard it, they might have assumed from the title -- with howling inaccuracy -- that it might just be a greatest hits package.
Hardly. It was a concept record, a musical portrait of a love affair as marked by some of the great "standards" of American popular music. It began with "You're My Thrill" and "At Last," and ended with "Stormy Weather," "I Wish I Were in Love Again" and her own song "Both Sides Now," the first Mitchell song America ever fell in love with (for most of us in Judy Collins' classic version).
What completely bowled me over about "Both Sides Now" was how much I'd gotten her wrong. I always assumed her abundant genius depended entirely on her singing her own utterly extraordinary songs. It had never occurred to me that when she sang great masterworks from "the great American songbook" she could also be one of the greatest of all living jazz and pop song interpreters. This wasn't the ethereal music of the brilliant young folk artist that everyone first fell in love with, this music came from a woman whose larynx was as baked in cigarette smoke as Nat "King" Cole's, a woman whose voice had deepened in every meaning of the word "deepened."
She was, in one record as a singer of songbook songs, everything that Diana Krall and Linda Ronstadt had so admirably aspired to be in every record. She was devastating as an interpreter of classic music in everything on that record, including two of her own songs: "Both Sides Now" and "I Could Drink a Case of You."
Nineteen years later, we have the exact opposite of Mitchell's "Both Sides Now." It's "Joni 75 -- A Birthday Celebration" that took place Nov. 7, 2018, in Los Angeles. What you have here are her fellow artists -- those who might well admit being awed by her own music -- doing everything they can to interpret an astonishing body of work.
There are exceptional performances -- some great ones and some brave ones. When it's all over you can't help realizing how much the composer's own versions remain inimitable. They're that idiocyncratic. That is not true, for instance, of her male counterparts Bob Dylan and Leonard Cohen, as idiocyncratic as their singing is. They are easily interpreted by others and always have been.
How extraordinary it is, nevertheless, to have Graham Nash, no less, sing "Our House," which Mitchell wrote about the period of time they lived together. James Taylor's version of "Woodstock" is like another angle entirely on American Utopian idealism.
Seal does an astonishingly gutsy version of "Both Sides Now." When he's finished, you can't help admiring him enormously but you realize how female a song it is under the lyrics. We're just different, men and women. Yes, we can love and sing each other's songs and do it with everything we've got. But with some singer/songwriters and some songs, a gender change loses both the power and the poetry. Seal puts his heart and soul into Mitchell's most famous song. It's a stunning effort, but that's all it is -- an effort.
The stunner here is a triumph not of ability, but inability. Kris Kristofferson is not only five years older than Mitchell, but he has suffered for years from misdiagnosed Lyme disease. He was long feared to have Alzheimer's. His health has in general has been far from good for a while. He has to be helped through a performance of "A Case of You" by Brandi Carlile, the singer on the record whose voice most resembles Mitchell's own. Their duet has a huge emotional wallop in a similar way to Billie Holiday, in her final years, when narcotic damage left her with an art of interpretation that completely subsumed any possible beauty of sound. It is hugely moving.
For her 75th birthday, Mitchell's fellow artists gave her all the love they had and proved once again, just how magnificent and singular Joni Mitchell will always be.
Ronstadt, remember, was also the opposite of Mitchell as a singer. She was an interpreter in her whole terrific recording life, with great taste in what to sing and whom to sing it with. She was a country-flavored Judy Collins, but with formidable vocal chops. Yet in a four decade career, she has never before released a live concert recording.
Well, just listen to how wonderful she is on "Live in Hollywood," which ends that drought. This is from April 24, 1980, and was recorded for an HBO TV special. Yes, it's a bit of a greatest hits package -- "Blue Bayou," "Hurt So Bad," "Back in the U.S.S.R" and "Desperado" (where her version instantly wiped out -- I think -- the humdrum self-pitying original version by the Eagles). Ronstadt, like Mitchell, isn't really up to recording anymore. With Mitchell, it's post-Polio syndrome, among other things. With Ronstadt, it's Parkinson's. New records only prove that their music is ever-present.
A record that quite literally stunned the world of American popular music when it came out in 1962 was Ray Charles' "Modern Sounds in Country and Western Music." Charles had already upended American music once by turning the ecstasies of gospel music into erotic ones and rock and roll (most blatantly in "What'd I Say" and when "I Got Jesus" turned into Charles' "I Got a Woman"). That he could provide a whole other layer of soul to great country and western hits was a revelation in American recorded music. It immediately affected the way soul and R&B performers approached country songs and changed country music itself. Concord has reissued a pristine new two-disc version of the first two "Modern Sounds in Country and Western Music" and it's a beauty. It's a musical milestone treated as one. After Charles first performed "You Are My Sunshine" for Atlantic better than anyone else ever will, his new 1962 version of "Born to Lose" came to own the song ever afterward. That's the way it is with recorded masterworks.
The musician who pulled together all the other musicians and arrangements in the Mitchell birthday celebration was New Orleans jazz drummer Brian Blade. From the purest precincts of current jazz from New Orleans stalwarts come two of the best new jazz records of 2019 -- Branford Marsalis Quartet's "The Secret Between the Shadow and the Soul" and Herlin Riley's "Perpetual Optimism."
If the Marsalis Brothers did nothing else when Art Blakey found them decades ago, they unveiled  the integrity and incredible creativity of jazz in modern New Orleans, where jazz was born almost a century ago. Riley is now the drummer for Wynton's Lincoln Center Jazz Orchestra and his new record is formidable. I can do without his singing on "Wang Dang Doodle." (Howlin' Wolf he's not. He's no Willie Dixon or member of the Pointer Sisters, either.) But he's a powerful new drummer and his taste in young jazz musicians is great. Both trumpet player Bruce Harris and alto saxophonist Godwin Louis announce themselves memorably under Riley's leadership.
Philadelphia drummer Justin Faulkner has impressed before, but never remotely as much as he does on Branford Marsalis' new disc. Branford Marsalis has always had a fretful relationship with the influence of John Coltrane. He was as prickly as anyone about "late Coltrane," but in his new music his playing is powerfully reminiscent of classic era Coltrane when he began hinting at something free and new.
What is most impressive, though, on Marsalis' new disc is that Faulkner is playing in Marsalis' sensational new quartet in a way that seems to owe surprisingly little to Coltrane's master drummer Elvin Jones. That is a huge jazz rarity these days. To discover a terrific young jazz drummer going his own way far from Elvin Jones and Tony Williams is quite bracing in this jazz era. Justin Faulkner is all of that.