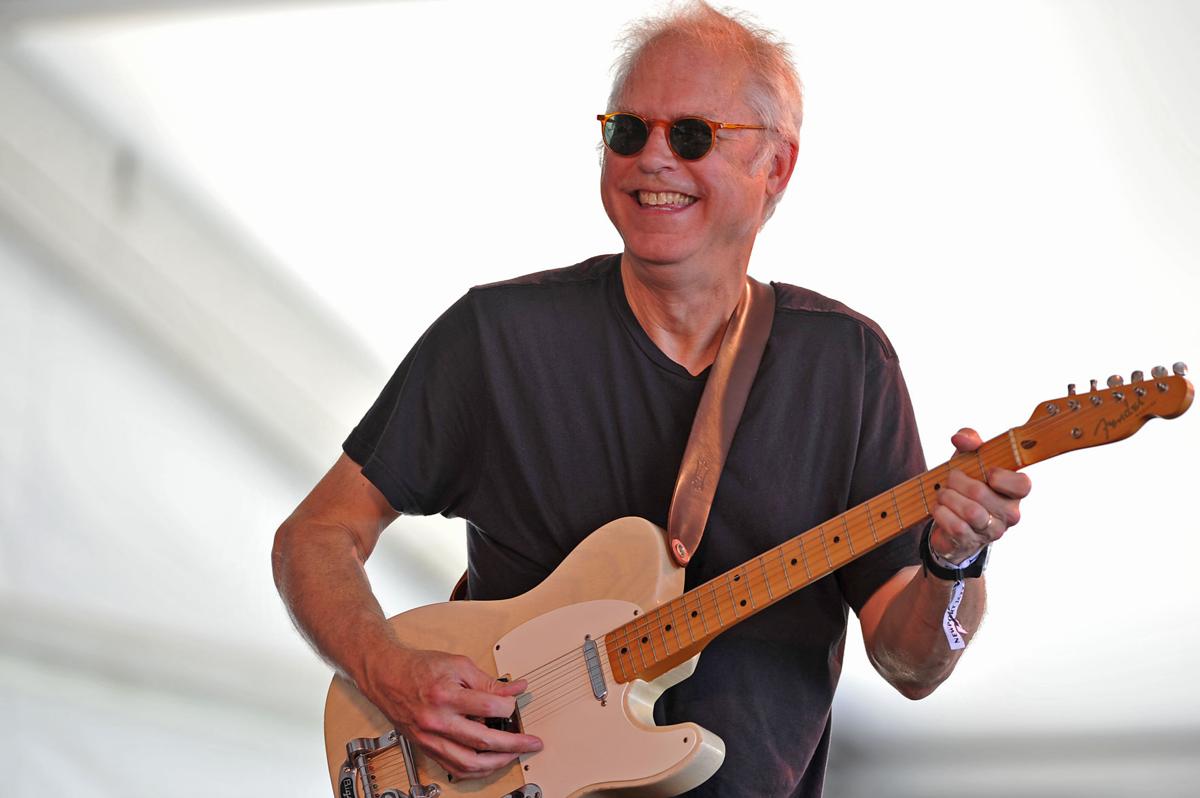 The Royal Arms. The Bon-Ton. The Revilot. The Statler Hilton Downtown Room. The Original Tralfamadore Cafe on Main and Fillmore. The Calumet Cafe. The Lounge of the Town Casino. Joe Rico's Milestones. Jan's.
And now, at least for a while, we have to add to that list of great and gone Buffalo jazz clubs one of the most underrated of local jazz venues, the auditorium of the Albright-Knox Gallery, which is undergoing a massive historic expansion and renovation.
Whenever anyone asks me to name cherished jazz venues in Western New York of the past 60 years, I always stand up for the auditorium of the Albright-Knox Gallery where we have heard so much spectacular music, everything from the amazing concerts of the Creative Associates at the University at Buffalo (John Cage's mind-blowing "Lecture on the Weather," for instance) to the gallery's own Jazz at the Albright-Knox series programmed by Bruce Eaton and others.
Music will assuredly return to the gallery in its next incarnation. For now, our most faithful importer of national jazz stars (aside from the avant-garde aristocracy at Hallwalls) is quiescent. All of which should make us treasure new jazz records more than ever.
What's crucial to understand about all art, classic or popular, is that all remembrance is not squishy nostalgia. It is – when great – assertion of undying value and essence. In new jazz records, in fact, so many of the best (released in multiple formats) are of older music captured live and making first appearances in a new millennium.
About 30 years ago, a Hollywood executive observed that, ounce for ounce, the most valuable substance on earth was old film. That was before the digital era. His argument was that they weren't making any more of it. We can now, for instance, see what happens when a creative new filmmaker like Guillermo del Toro remakes "Nightmare Alley," but even he can't make the classic original Tyrone Power "Nightmare Alley." It's been done. What remains to be done are modernizing ways to show it.
Performances of classic jazz, on the other hand, are now often released for the first time and new to jazz ears. They're not, generally, for the audiences for Beyonce, Jay-Z, Kanye West, Shakira, Pink, Taylor Swift and Drake. But they can be revelatory on occasion.
Here are a few recent jazz records I've loved listening to, including one that fell into that most elite musical category of music I just couldn't stop listening to, i.e. music that, once upon a time, I couldn't get out of my record player, but now put on repeat, no matter what the format.
Some great new jazz records, many of older music being heard for the first time:
Bill Frisell with Petra Haden, Hank Roberts and Luke Bergman, "Harmony" (Blue Note/Fresh Grass). Here is where you'll find the selection I couldn't get out of my head or stop listening to. It is, of all things, a Stephen Foster song, which when played by guitarist Frisell's drummerless quartet (featuring singer Petra Haden, daughter of the late bassist Charlie), is a revelation of how beautiful Foster's garish neo-minstrelsy could, nevertheless, sometimes be. It's called "Hard Times," a phrase applicable to all recorded human history, at one time or another. So here, gorgeously arranged for singer Haden accompanied vocally by cellist Hank Roberts, is Foster's plea to "Hard Times."
"Hard Times/come again/no more" is the refrain of the song. "Many days you have lived around my cabin door/Oh, Hard Times come again no more." In this magical performance, quaint 19th century music is gorgeously reborn to be moving and tender and as universal as any American popular music ever.
Most of us have spent lifetimes dissing Foster despite our childhood indoctrination in the likes of "Camptown Races." Ted Giora, in his "Music: A Subversive History," compares Foster to Vanilla Ice as a racial pretender, as well as a generator of the great American practice of "robbery of musical intellectual property." "The Con Man Who Invented America's Popular Music," Gioia calls him.
Yet here from this now-damned composer we have here this version of "Hard Times" – a song so simple, naive, touching and universal that the performance by Frisell's group can chasten all musical "sophistication" just by singing it straight in a new way. It's pure music by white jazz musicians who love America's folk musical traditions. Equal magic isn't performed by Frisell, Haden and Co. on 20th century "standards" like "On the Street Where You Love" and "Lush Life" but this isn't purely jazz. It's like sweet Americana heard on a Garrison Keillor radio show – very white and unashamedly so. It's a brother to Oregon or the Paul Winter Consort but is often moving in a way they seldom are. And in one masterwork, "Hard Times," a true revelation of a primal American composer so often scorned. (4 stars)
Barney Wilen Quartet, "Live in Tokyo '91" (Elevated Music, two discs). Jazz records don't come more specialized. Give Wilen four stars, his band three. French tenor saxophonist Barney Wilen never toured America much less played in Buffalo. Most people's only acquaintance with him was on a great Miles Davis masterpiece where Wilen's presence was thoroughly incidental in Miles' soundtrack music to Louis Malle's film "Elevator to the Scaffold." Listen to the best of Wilen here and you'll know how much American ears have been missing. He's a tenor player whose French compatriots justly praise his "melodic genius" and "velvet phrasing." You'll hear in every note of every solo a tenor player who insists on fresh melodic substance, even when rapid-fire delivery of 16th and 32nd notes are pristine structures in musical logic. (Listen to his version of the great tune "No Problem" by Duke Jordan from the soundtrack music to Roger Vadim's "Les Liaisons Dangereuses.") Wilen died in 1996 before he'd even reached 60. On this two-disc set he is a brand new revelation for most jazz listeners. He's a French jazz musician up there with Stephane Grappelli (remember that Django Reinhardt was a gypsy and Sidney Bechet began as a bedrock American jazz pioneer.) (4 stars for Wilen; 3 stars for his band.)
James Carter Organ Trio: Live from Newport Jazz (Blue Note). One of the greatest jazz moments of Mark Goldman's Calumet Cafe on Chippewa was the fiesta of James Carter's smash hit inside/outside quartet showcasing Carter's passionate virtuosity so powerfully that Goldman opened all the club's doors so that those people who had to be turned away at the door could hear it while milling around on the street. This is the kind of high-protein organ jazz group that Carter has favored in recent years as a foundation for his artful, high-energy saxophone splatter. It's great that Carter persists in being such a powerhouse. Even more so, it's great that Don Was and Blue Note persist in presenting him. (3½ stars)
Jon Batiste, "Anatomy of Angels" (Verve). If you already knew Batiste from leading Stephen Colbert's TV band from the piano, you wouldn't necessarily know how seriously he's been influenced by Thelonious Monk. He plays here one of the freshest versions of Monk's warhorse standard "Round Midnight" that I've heard in years. This music was recorded live at the ultra-venerable Village Vanguard and is – obviously – much more interesting than the witty, sardonic snippets Batiste inserts Paul-Shaffer-like into the lead-ins to Colbert's commercial breaks. (3½ stars)
Roger Kellaway, "The Many Open Minds of Roger Kellaway" (IPO). Back when Kellaway was the pianist for the delicious Clark Terry-Bob Brookmeyer Quintet, Terry and Brookmeyer held their pianist in such esteem that at one point late in the night, they'd come to the mic and sing, to the tune of "It's Howdy Doody Time," "It's Roger Kellaway Time, It's Roger Kellaway Time." Then the two leaders would walk off the stage to leave Kellaway to play with their bassist and drummer. They were taking a break, yes, but they were also showing us how lucky they were to have such an inventive and varied pianist. He's still all of that decades later. In our age, we have a drummerless trio (with guitarist Bruce Forman) featuring Kellaway's formidability. (3½ stars).
Johnny Griffin and Eddie "Lockjaw" Davis, "Ow": Live at the Penthouse (Reel to Real, Nov. 29). A disappointment. Two stalwarts of bebop tenor heard in a Seattle Club in 1962. It's fluent and pleasant straight-ahead late-bop from the era. Its greatest features, by far, are the kind of spectacular notes we expect from newly issued vintage sets produced by Zev Feldman. The presentation is redoubtable, as is the group: pianist Horace Parlan, bassist Buddy Catlett and drummer Art Taylor. But in this very period John Coltrane was re-creating the jazz tenor saxophone. Griffin – who earlier had replaced Coltrane in Thelonious Monk's Quartet – plays fleet outpourings of notes that were cognizant, to be sure, of what Coltrane was doing down the street. Heard now, it sounds like professional jazz caught in a bit of a time warp where it's waiting for something very interesting to happen. Which, it did. (2½ stars)
Catch the latest in Opinion
Get opinion pieces, letters and editorials sent directly to your inbox weekly!