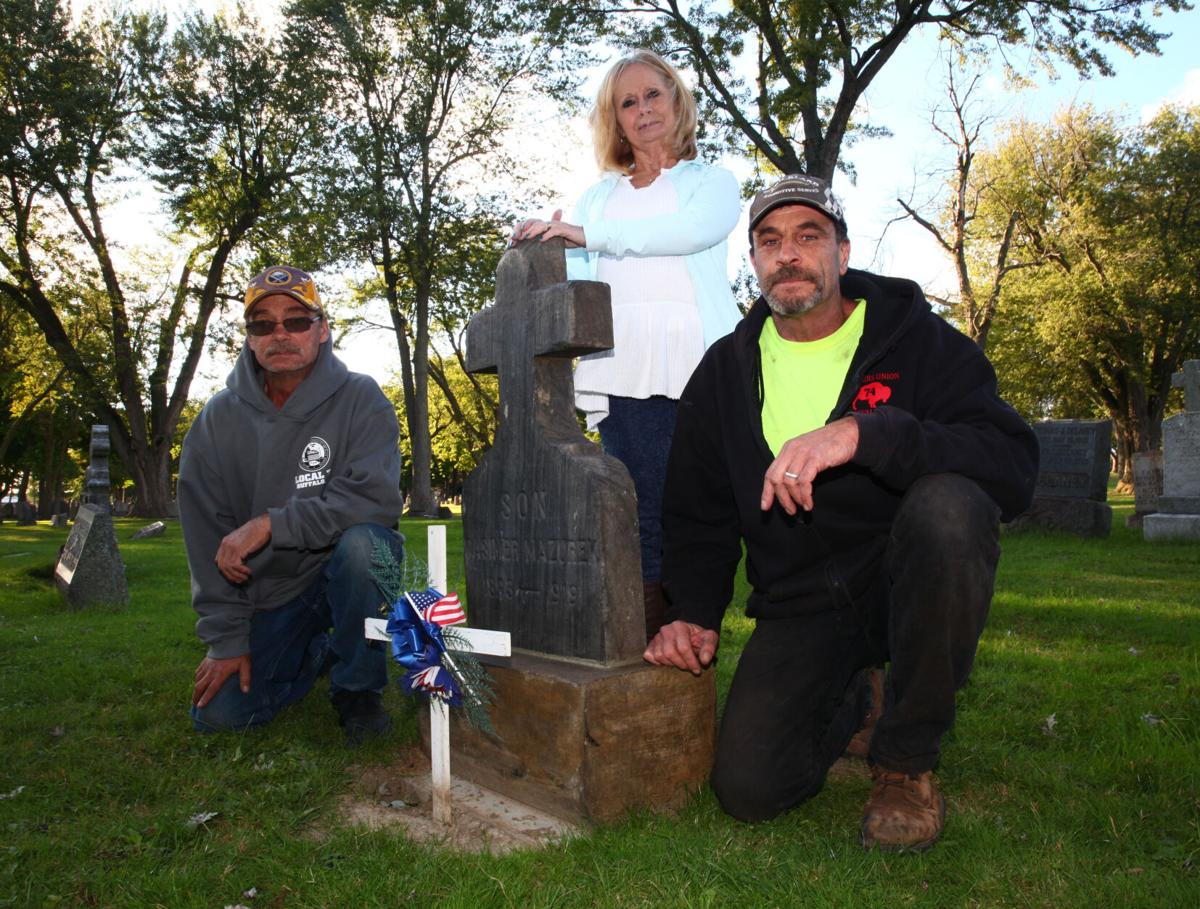 Dave Pim heard the story in full, for the first time, from one of the guys tending graves at Lackawanna's Holy Cross Cemetery. Bob Mahoney, business agent for the SEIU 200 local that represents those graveyard workers, had asked his old friend for some help with a project of deep meaning to labor, which led Dave to stop last spring at Holy Cross to start figuring it out.
Above the tombstone of Casimer Mazurek, a monument almost obscured by creeping grass and soil, the worker explained what happened during the Great Steel Strike of 1919.
Mazurek, a Polish immigrant not long home from World War I, joined a gathering of thousands of strikers and their families near "Three Gate" at the old Lackawanna Steel Company, which later became Bethlehem Steel.
According to newspaper accounts, steel plant security police – angry because some bricks had been thrown their way – lined up and opened fire on the crowd. Mazurek was shot to death. A 3-year-old child was shot in the groin and badly wounded. Another worker, Maciej Buczkowski, died two days later and is also buried at Holy Cross.
At 5:30 p.m. Monday, 101 years to the day since those workers went on strike, both men will be honored in a masked-and-distanced labor remembrance at Mazurek's tombstone, cleaned and set upright after being all but hidden for years. Chris Hawley, a community labor historian whose dogged research touched off the effort, said he is moved at how labor advocates rallied around the story, and there are plans to eventually erect a commemorative plaque where the shooting happened.
What it proves, Hawley said, is that "honor and respect for fallen American heroes" remains a galvanizing force, even in a time of fierce national division.
The killing of Mazurek, an Army veteran who had been wounded in the war, was a searing flashpoint in a bitter strike. Workers, often newly arrived immigrants, were tired of what were too often seven-day work weeks with exhausting hours, treacherous conditions and low pay. When they walked off the job and rallied in the streets, the company lashed back. While no one was ever prosecuted for Mazurek's killing, a crowd estimated at 7,000 to 10,000 marched to Holy Cross for his burial, where his weeping mother had to be gently led away from his grave.
Over the years, Mazurek's death was gradually forgotten, except by a few labor scholars. It was Hawley, whose Eugene V. Debs Local Initiative aims to illuminate the labor heritage of Western New York, who hunted down the grave with a friend more than a year ago, then planned a ceremony to recall a monumental sacrifice.
Last September, a century to the week after Mazurek's death, dozens of participants gathered at Holy Cross for a remembrance that included a 21-gun VFW salute. While Hawley thought the ceremony might be a one-time thing, Mahoney paused that evening by the all-but-buried monument with Rick Bartolotta of AFSCME Local 650.
The stone read simply "Son, Casimer Mazurek, 1893-1919." Mahoney and Bartolotta agreed the spot should be a shrine for labor, but the heavy tombstone was turned on its side, and a stone cross intended to rise into the air was packed deep into the dirt.
"This ought to be up so people can see it," Bartolotta said.
Richard Lipsitz, president of the Western New York Area Labor Federation, AFL-CIO, embraced the notion. He and George Boger, the federation's field coordinator, envisioned a restored monument that might provide inspiration for the rank-and-file, especially during a pandemic forcing so many essential workers to cope with low pay and high-pressure conditions.
The challenge was getting the stone ready in time for another September ceremony, despite the threat of Covid-19. Holy Cross offered its support, Mahoney said, and a crew that included several union members helped excavate the stone and put down a new foundation.
As for Dave Pim, his wife Mary and her brother, Richard Smith Jr., they became the heart and soul of the restoration.
Mahoney had a feeling he could count on Dave, a longtime union roofer also skilled with masonry. Once Dave heard the full tale, he knew what it would mean to Mary, a nurse and union member at the Wyoming County Community Hospital in Warsaw.
Dozens gathered Monday to honor the memory of Casimer Mazurek, a Polish immigrant who 100 years ago was fatally shot outside the Lackawanna steel plant during the "Great Steel Strike" of 1919.
Like Mazurek, Mary's grandmother, Mary Ann Gurowicz Smith, was a Polish immigrant. She, too, is buried at Holy Cross, as is Mary's infant sister Cheryl Lynn. Their dad, Richard Smith Sr., was a Navy veteran who worked for decades as a crane operator at Bethlehem Steel, twice breaking an ankle in accidents on the job before dying in retirement from mesothelioma, a cancer the family believes was directly linked to workplace asbestos.
The tale underlined Boger's point about what Mazurek represents. Bethlehem, he said, still links thousands of diverse Western New York families with grandparents or great-grandparents who took hard and grueling jobs after migrating here from abroad or from difficult situations throughout the nation.
"It seems like everyone in Buffalo has some personal connection to the steel plant," Boger said.
Mary Smith-Pim, intensely conscious of that bond, made a quiet vow.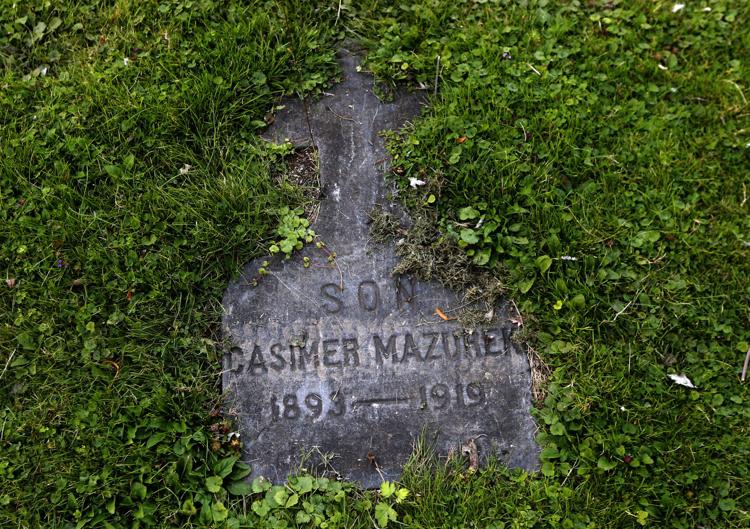 "When I saw that tombstone in the dirt, I just thought it was kind of sad to see," she said. "It definitely needed to be standing upright."
While the labor federation was ready to pay the cost, Mary donated whatever cash was needed out of her own pocket. The limestone marker for Mazurek has a cross on top. Dave Pim said Holy Cross laid a foundation, and Dave, Mary and her brother made a concrete base in a garage. They managed to lift the heavy stone onto the base and then bolted it into place, before they went to work cleaning and sealing the fragile stone.
When they were done, Dave said, Mazurek's name – once almost lost – was distinct and shining.
Still, Mary has one last touch to add. She remembered how Lipsitz described Mazurek a year ago, and she thought those words, boiled down to their essence, should greet anyone who makes a pilgrimage to the stone.
Monday, at the dedication ceremony, visitors will see a new plaque that reads: "A martyr for working people."
The speakers will include Hawley, Lipsitz and Erie County Executive Mark Poloncarz, whose father worked at Bethlehem. Lipsitz said many people have remarked on the parallels between the time of Mazurek's death and marches in 2020 for racial equality: In 1919, the nation was still reeling from a pandemic when the steel strike erupted, and frustrations about injustice and economic struggle drove many immigrant workers to protest in the streets.
If labor should always represent "a cultural heart and social consciousness," Lipsitz said, then you have to believe Mazurek's sacrifice offers difficult lessons about courage and solidarity today, about "how we can come out of this and reach a better place."
Mazurek has an 82-year-old nephew, Norman Mazurek, an Air Force retiree in Massachusetts who was located by researcher and genealogist Megan Smolenyak. While Norman cannot be at Holy Cross because of the threat of Covid-19, he and his wife Betty are sending flowers and one precious heirloom.
Norman shares the same name as his father, Mazurek's younger brother, who had to claim his brother's things from the coroner after the shooting. The younger brother went on from Lackawanna to serve with the Marine Corps in both World War II and Korea, leading to this 21st century statement of honor from his son:
Norman is sending his father's Marine dog tags to Lackawanna, to be buried Monday at his uncle's grave.
Such a gesture only reinforces the commitment of Dave Pim, who said Casimer Mazurek "took one for all of us, so we could have a better working environment." Speaking for his wife and his "union brothers and sisters," Dave made this promise to Mazurek's family.
"I'll make sure that stone stays up," he said, "until I can't no more."
Catch the latest in Opinion
Get opinion pieces, letters and editorials sent directly to your inbox weekly!