It was the matter-of-fact sincerity of the email that did it. Dr. Ryan Miller wrote it from his living room on an August morning, looking for advice from his wife Angela at a couple of tough moments, and at 11:44 a.m. he tapped the "send" button.
By chance, Doug Jemal saw it as soon as it came in. Before he finished reading it, he knew how to respond.
Somehow, this guy would watch a big-league game with his dad. 
"It was the right thing to do, the Buffalo thing to do," said Jemal, a Washington, D.C., developer reopening the Seneca One Tower, the 38-floor downtown skyscraper that was vacant for years. It will be home to a new "tech hub" for M & T Bank, which controls about one-third of the building, including the 22nd floor.
As it turns out, that is an ideal vantage point for watching the Toronto Blue Jays at Sahlen Field, their home until they can safely return to Canada. The ballpark is closed to fans because of Covid-19, leaving the tower as one of the rare spots in Buffalo with a view of the field.
The 22nd floor is as good as it gets. Go lower, and the rim of the ballpark intrudes on the vista. Go higher, and it starts feeling a little too far.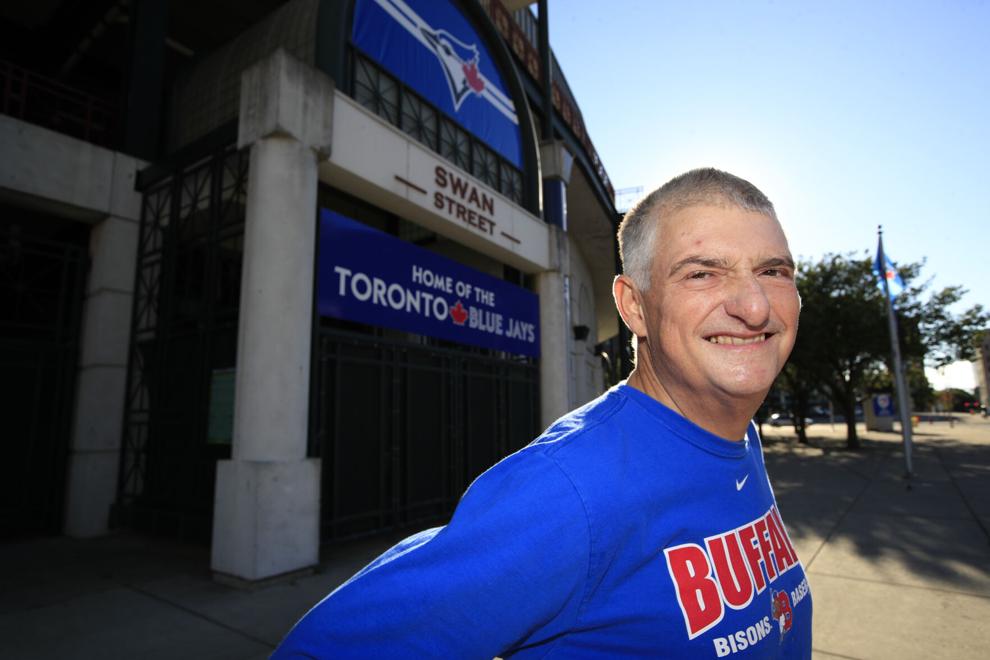 Ryan Miller was open to any view at all.
The Hamburg native is a physician in the University at Buffalo's family residency program. He is also the son of Hal Miller Jr., 61, a security guard at Republic Steel and a devoted Bisons fan. When then-Pilot Field opened in 1988, Hal and his younger brother Joe showed up with their father and grandfather, two more Hals. They saw Tom Prince hit a home run that gave the Bisons a 1-0 victory over Denver. As 28-year-old Ryan described in his email, the joyful energy kindled his father's belief in what might happen.
"He always thought that eventually an MLB team would be coming to Buffalo," wrote Ryan, who as a boy attended dozens upon dozens of games with his dad.
When Hal's baseball dream came to be in an unlikely way, after 32 years – when the pandemic brought the Blue Jays to Buffalo – the threat of Covid-19 meant no fans could attend.
As a physician, Ryan understood, but he saw it as a now-or-never chance. He feels like he owes so much of his own happiness to the dedication of his father, to the other-guy-comes-first way he sees the world, and the one best thing he could do in return was to somehow give him a chance to see a game.
Ryan decided the only slender possibility was sending an email to the Blue Jays and Jemal, the only longshot options  for watching a game. Ryan recounted how a 2018 colonoscopy revealed that his father had rectal cancer. Hal endured chemotherapy and radiation, followed by surgery. It left him using a colostomy bag, but he was relieved to find out he had an 85 percent chance of being cancer-free.
A few weeks ago, Hal had a routine scan. The cancer had moved into his liver and lungs. "At this point he is now considered stage four," Ryan wrote, "and it is no longer possible for him to be cured."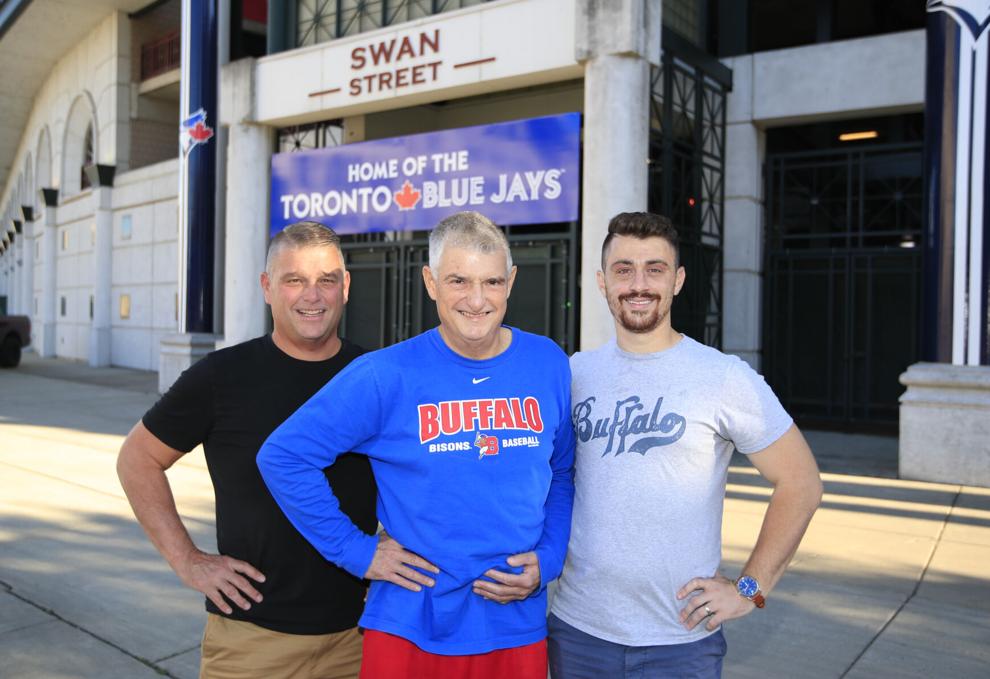 This is a guy of deep faith and gentle humility, Ryan said, a guy waiting since childhood to see Major League Baseball in Buffalo.
How could anyone read that note, Jemal asks, and not be moved? The doctors said Hal had maybe three to six months to live. More chemotherapy might buy an extra six months. Seated the other day at the Canalside Tim Hortons, Hal said the choice about the chemo was easy.
"If there was a way to beat this whole thing, I'd do anything," he said. "But I wanted days like I'm feeling right now." 
In the email, Ryan explained how Hal, a Bishop Timon High School graduate, always loved the Bisons, Bills and Sabres. He and his brother were regulars in the orange seats at the now-razed Memorial Auditorium, especially for Randy Smith and the old Buffalo Braves of the National Basketball Association. 
Hal was at the Bills 51-3 victory over the Raiders for the 1990 American Football Conference championship, and the communal elation in then-Rich Stadium remains the greatest feeling he has known in sports. That comes from a guy who attended the legendary Bills playoff comeback of 1993 with Joe, who held season tickets. 
When the Houston Oilers took a 28-3 lead into halftime, Joe was ready to get out. 
"We can't leave," Hal said. "This is the first game I've seen all year!"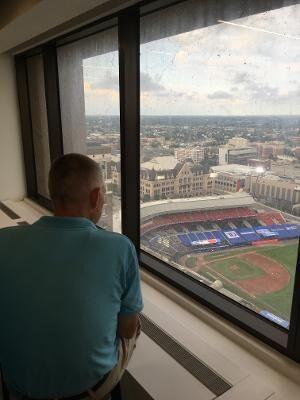 They stayed. They saw the unforgettable.
The pandemic left Ryan with a harsh conclusion: Father and son would never see another sporting event together. The stunning arrival of the Blue Jays, he wrote, "gave me one last glimmer of hope to see a game with my dad."
The problem: There was no way in.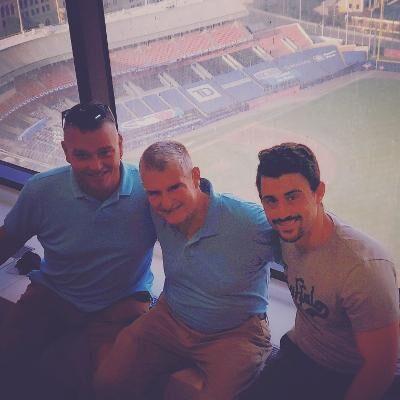 The Jays replied that tight MLB restrictions made it impossible at the ballpark. Jemal, blown away by the email, did not face such constraints. He knew what he would do for one more day with his own father, who died years ago, and he quickly forwarded Ryan's email to allies in the tower. "Once you read it," said Keith Belanger, head of corporate services for M & T, "there was no way you weren't going to do something." 
Belanger knew it had to be the 22nd floor. He asked his staff to install a flat-screen monitor a little earlier than they had planned. Those workers figured out how to access Blue Jays games through streaming, allowing Hal to follow the play-by-play.
The Millers were invited to Seneca One for the first Blue Jays game at Sahlen Field, against Miami. Though Jemal was out of town, he asked Sean Heidinger, his business development specialist, to lead Ryan, Hal and his brother Joe upstairs. They settled by the window, where Heidinger provided pizza and wings, then stepped back to appreciate the moment. 
"It was incredible," he said.
The Millers were witnesses as Major League Baseball returned to Buffalo after 105 years. It was a terrific game. They hung around until Hal grew a little weary in the ninth inning, learning on their way home how the Jays pulled out a 5-4 win in the 10th. 
A few days later, Hal and his brother, joined by Ryan and his wife Angela, met us outside Sahlen Field for some photographs. Hal, who follows the Bisons far more closely than he follows any major league team, brought a banner celebrating the team's 1997 American Association title.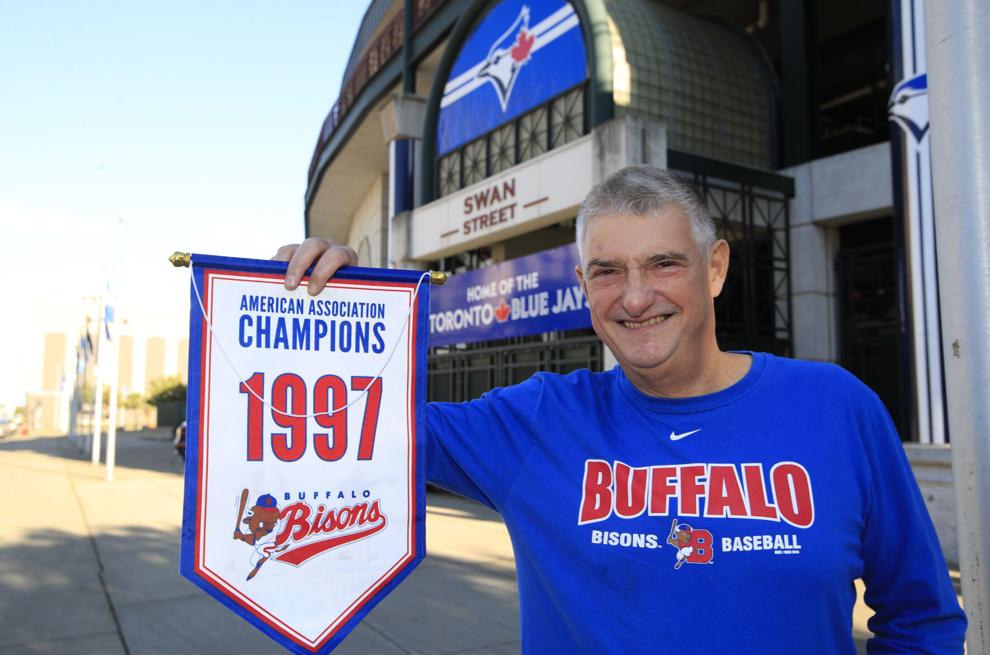 "His whole apartment is full of that stuff," Joe Miller said.
After a while, Hal and Joe took a break at the Tim Hortons. They reflected with disbelief on what Jemal had done, and Hal spoke with gratitude of Ryan, who started it all off.
"He's the kind who would do anything for anyone," Hal said. "He's my son, and my friend, and he's just really good to me." 
Hal and his brother, who shared a childhood bedroom in West Seneca, have been together for many of the best days in their lives. Hal recalled a 1978 Fleetwood Mac concert at the stadium - he can close his eyes and hear Stevie Nicks, on stage - that was so moving the band remains his favorite to this day. 
Breathing life into the tallest privately owned building in upstate New York goes to the heart of infusing vitality into the heart of
They make plans built around the best guesses of the doctors. They intend to stop by Ilio DiPaolo's in Blasdell for the chicken cacciatore, always Hal's first choice. With Ryan and Joe, if the pandemic allows, Hal will make an autumn road trip to the Football Hall of Fame in Canton, mainly to see all the Bills stuff in the place.  
Seated at that booth, everything involved the future. The brothers grew excited about their hopes this season for the Bills. Their sister Mary lives in Philadelphia, and they look forward to seeing her at Labor Day. Hal spoke with a touch of awe about the loyalty of Ryan and his sister Jessica, grown kids who make their father feel lucky in a big way.
He and his ex-wife Julie remain close friends, the kind of bond after divorce he knows does not always happen. Through the window Hal could see where the old Aud used to be, an arena where he and Joe sat near the ceiling for the chance to see Perreault and McAdoo, and he tried to imagine what his dad and grandpa might think of this:
Major League Baseball finally came to Sahlen Field, and the owner of a building you can see from everywhere made sure Hal Miller Jr. - joined by the two guys he wants with him at any game - had the absolute best seats in Buffalo.
"Really," Hal said, marveling, "I'm content right now."