Jon Hitchcock glimpsed the Golden Snowball only once. In the early 2000s, he was a student volunteer with the National Weather Service in Buffalo. The famous trophy, at the time, was still a fixture in the office. Yet when Hitchcock returned a few years later to take a job as a full-time meteorologist, the snowball was gone.
This morning, with almost 10 inches of new snow on the ground at Buffalo Niagara International Airport, seems a perfect time to review a mystery:
Whatever happened to the first Golden Snowball, the venerable Stanley Cup of Upstate snowfall?
That trophy was a statement, a renowned symbol of our epic winters.
The actual trophy, last seen in Buffalo, was created after the great winter storms of the late 1970s. It represented annual snowfall supremacy among the big Upstate cities – specifically Buffalo, Syracuse and Rochester. The three cities are almost always ranked high among the snowiest big cities in the nation.
Over the years, the Golden Snowball attracted some big-time attention. They've talked about it on the Weather Channel. They've laughed about it on Saturday Night Live.
The trophy was iconic, inspired in no small part by the great Blizzard of 1977, in Buffalo.
Today, for reasons no one can explain, it is missing.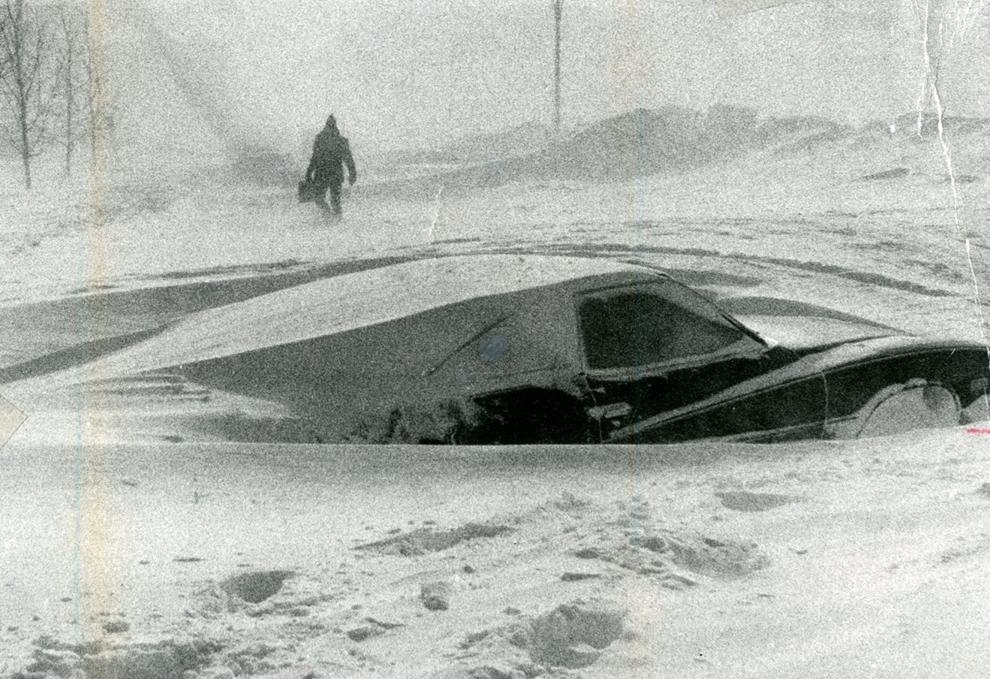 The Blizzard of '77, in Buffalo: A storm that cemented a Golden Snowball reputation. (News file photo)
"It doesn't exist. There's no physical thing. That's a long time gone," said Jim Mitchell, a meteorologist and a colleague of Hitchcock's, in Buffalo.
He was speaking of the original trophy. A newer version absolutely exists, a glittering trophy created by Roseanne Anthony of the A-1 Trophy Shop in Syracuse. She donated it to the mayor's office in Syracuse more than a decade ago, because that city pretty much wins the thing every year.
Syracuse Mayor Stephanie Miner displays the new trophy in a main City Hall reception area. It is topped by an actual glass snowball, containing flecks of gold. One of Anthony's friends had it right when he told her: "It looks like winter." As you read this, the trophy is getting a tune-up in Anthony's shop. She is updating the plaque that lists the snowfall champions for the last few winters.
But the original trophy, the out-of-the-cradle Golden Snowball, "is said to have disappeared," as David Sage carefully puts it.
That's the trophy dreamed up by Peter Chaston, who in the 1970s was a National Weather Service meteorologist in Rochester. Sage, a retired meteorologist who worked for decades in Buffalo, recalls the sheer awe of his fellow weather experts after the winter of 1976-77, when Buffalo was buried beneath a staggering 199.4 inches of snow.
That total remains a Golden Snowball record. In baseball parlance, it'd be like hitting 80 home runs in a season. Even Syracuse, a city that is occasionally the snowiest big city in all of North America — a city that has twice exceeded 190 inches of snow - has never come so close to 200 inches.
The year after the great blizzard, Buffalo got belted again, this time with 154.3 inches of snow. Chaston, admiring the massive snowfall, had a vision: Why not create a trophy, a Golden Snowball, that could be presented at the end of each winter to the large Upstate City that piled up the most snow?
His fellow meteorologists embraced the idea. They chose a population of 100,000 as a threshold, though Binghamton - a city leading in this year's Golden Snowball chase - got a special waiver. The next challenge: They needed an award. So Chaston came up with an old Little League baseball trophy. He used golden spray paint on a foam ball, then stuck it on top. Every spring, once the totals were official, the Upstate weather experts would load up the trophy, caravan to the City Hall of the snowiest large city and make an official presentation to the mayor.
That tradition died out after a few years. The story goes that the meteorologists gave the trophy to then-Mayor Lee Alexander of Syracuse, and he balked at giving it back. This much is certain: When I wrote a column about the Golden Snowball in the early 2000s for the Syracuse Post-Standard, the original trophy was still at the weather service office, in Buffalo.
Heaven forbid. Talk of a revival died. The next time I asked about the trophy, it had abruptly disappeared in Buffalo — or had been whisked away to a safe place. Maybe there was concern the weather service wanted to throw it out. Maybe there was fear that civic officials in Syracuse would once again try to claim it.
For whatever reason, the Golden Snowball story seemed to be at its end.
At the time, DeCoursey lived in Onondaga County. He made a living on digital marketing; one of his big items was inflatable Christmas decorations. The whimsy of that choice pretty much captures his spirit. DeCoursey, out of sheer curiosity and passion, jumped in and started keeping detailed statistics on a Golden Snowball website. He founded another competition, called the "Golden Snow Globe," which tracks the national large city champion; Lakewood, in Colorado, is the defending champ.
"The way I see it, you're going to be dealing with snow for three months or so, no matter what, and you might as well have something like this, a fun way to pass that time," DeCoursey said this week.
Bottom line: He understood the joy at the heart of the whole notion.
Before long, he was getting calls from reporters from around the nation.
Before long, the Golden Snowball had come back to life.
The only problem: In Buffalo, the snowball itself was missing.
Roseanne Anthony had the solution. DeCoursey's effort caught her attention. She decided the statewide contest needed a trophy. She designed a new Golden Snowball at her trophy shop and donated it to then-Syracuse Matt Driscoll, now the state commissioner of transportation. The trophy has a permanent home in Syracuse City Hall, which speaks to what DeCoursey sees as a snowfall reality:
"If you ask anybody around the country, out of the blue, about who gets the most snow, they're going to say Buffalo because of its reputation," DeCoursey said. The truth is, he said, that the snowiest big Upstate city is Syracuse "90 percent of the time."
It has been 14 years since Buffalo last won the Golden Snowball; as noted in an exchange with a reader after this column, that roughly corresponds to the time span since the Buffalo Bills last made the playoffs. As for this year, even after Wednesday's big snowfall, Buffalo has only 16.1 inches of total snowfall, as compared to 25.2 inches for Rochester and more than a yard of snow in Syracuse, where they've piled up 38.8 inches — and were getting a whole lot more, as of this minute.
It is worth noting that's a cumulative total of about 80 inches of snow in the three cities ... and we are still a week away from the official start of winter.
A major reason for Buffalo's snowy notoriety happened 40 years ago right now: The unforgettable winter of '76-77. During that season, Sage said, it started snowing in December in Erie County and basically didn't stop. Lake Erie froze. When the blizzard blew in, with its terrifying winds, it picked up the snow on the lake and threw it at Buffalo, like an iceball in the face. Images of the snow-buried city flew around the world — as always happens when Buffalo gets hit, because Lake Erie "snowbursts" are both intense and spectacular.
Indeed, we all understand there can be something compelling, something magnificent, about a winter storm. DeCoursey moved to North Carolina a few years ago to be near his little grandson, Corbin. Even so, he still calls himself "Gold Snowman" on Twitter, and he still keeps Golden Snowball statistics, and he still maintains a Facebook page where residents of snowy big cities around the nation do some trash talking about who's toughest ….
"I miss the snow," DeCoursey said. "I miss the big storms. There's nothing like being around for one of those."
Absolutely. And when a big snow like Wednesday's blows into this region, it raises up a mystery involving all that powder:
Forty years after the great blizzard, is the Golden Snowball still in Buffalo?
Sean Kirst, a contributing columnist with The Buffalo News, wants to hear your thoughts on the Golden Snowball contest. Are you glad when your city wins? What's your take on celebrating our big Upstate snow? Email him at seanpeterkirst@gmail.com or leave a comment below. You can read more of his work in this archive.