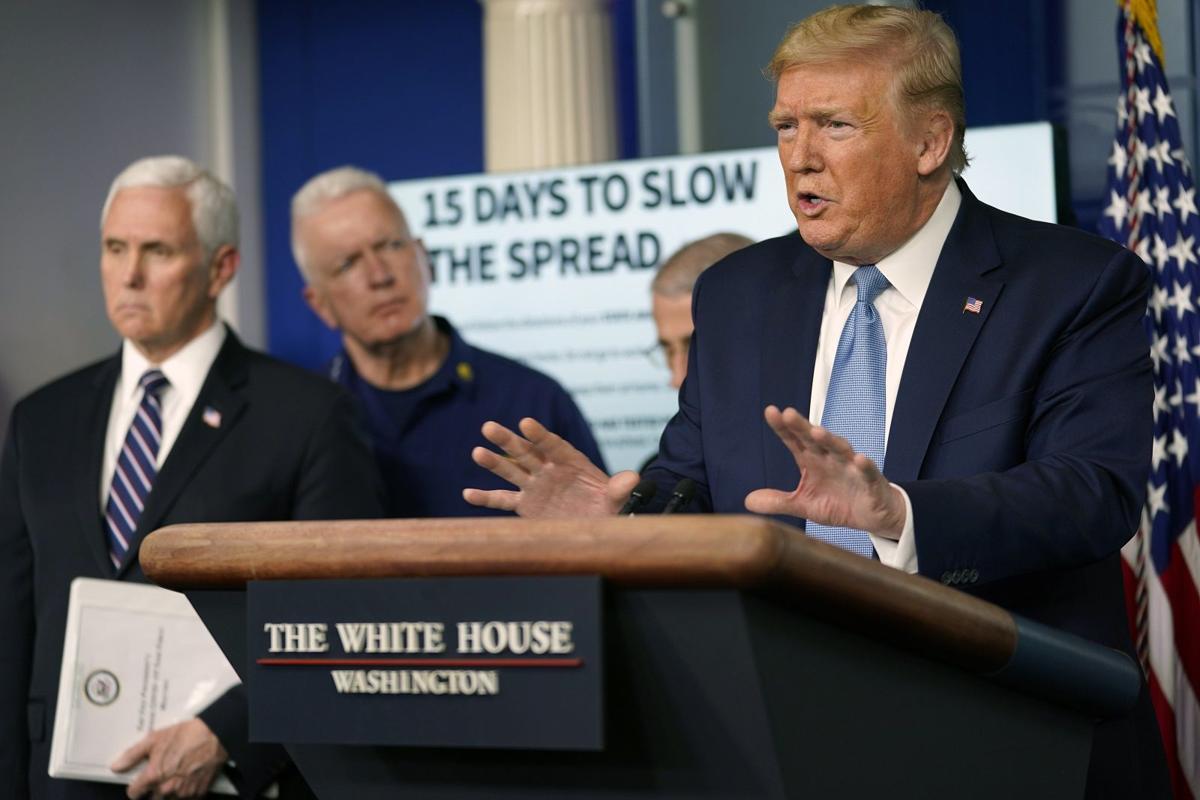 It was a lost weekend for President Trump on television.
NBC's "Saturday Night Live" opened with Brad Pitt fulfilling Dr. Anthony Fauci's earlier request to have the handsome actor play him.
In the night's best sketch, Pitt's Dr. Fauci skewered the president for many of his recent suggestions, including the possibility during a Thursday news conference that one could inject disinfectant into a human body to treat the coronavirus.
The devastating lengthy lead story on the popular "CBS Sunday Morning" was devoted to the slow White House response to Covid-19 that has resulted in America experiencing more deaths than any other country in the world.
NBC's "Meet the Press" Sunday addressed Trump's behavior, including the "injection" mention and his decision to speak to the graduates of West Point that could endanger their lives by returning them from quarantine.
Comedian Randy Rainbow quickly put together a parody song, "A Spoonful of Clorox," to the "Mary Poppins" tune of "A Spoonful of Sugar," about the injection remark. It quickly racked up more than 3 million internet views.
The "injection" remark seems to have emboldened some media members, who are more forcefully saying the president lies and have figured out a way to illustrate them.
Trump supporters would argue it is more evidence that the liberal media is out to get the president. But his detractors would say it's about time that reporters and media organizations defend themselves.
After new press secretary Kayleigh McEnany said Friday the president's injection remarks were taken out of context, media outlets carried Trump's complete remarks to provide the context.
When the president said his remarks weren't directed at pandemic expert Dr. Deborah Birx but at someone else, members of the media posted a White House transcript on social media in which the president talked directly to "Deborah."
When Dr. Robert Redfield, the director of Centers for Disease Control (CDC), was in a Washington Post story that had a headline that claimed he said a second wave of the virus "is likely to be even more devastating," the president brought him out to combat the "fake news." Redfield disagreed with the headline, which was hyperbole. But when asked by a reporter in a follow-up if he was quoted accurately, Redfield said he was.
The "injection" remark was Exhibit A to bolster the argument that they should be carried.
On Friday, conservative radio hosts and the president's supporters on social media said he never said disinfectants could be "injected" and that he never used the words Clorox or Lysol. But that defense was undermined by the president when he defended his comments and said he was being "sarcastic."
The networks responded to Trump's "sarcastic" statement Friday by replaying the remarks so viewers could decide for themselves if the president was trying to be funny.
Trump took the weekend off from his televised news conferences, with national media outlets reporting he was advised they were hurting more than helping. Instead, the president took to social media Sunday, using Twitter to blast the media, including those he said had won "Noble" prizes making up "fake news" about him.
He was immediately reminded that journalists win Pulitzer Prizes and that "Nobel" was misspelled. Trump later responded he wrote "Noble" instead of "Nobel" intentionally, but the earlier tweets were deleted.
His Sunday attacks included shots at Fox News, which employs commentators who have been among his most vocal supporters, but also has hosts who criticized him for the "injection" remarks.
One of the famous presidential lines in history – though disputed – came from President Lyndon B. Johnson after CBS news legend Walter Cronkite spoke out against the Vietnam War.
"If I lost Cronkite, I've lost Middle America," Johnson reportedly said.
If Trump loses Fox News, the same could happen. But it is more likely that Fox News hosts will be back providing a spoonful of sugar to the president as soon as the injection controversy dies down.
Catch the latest in Opinion
Get opinion pieces, letters and editorials sent directly to your inbox weekly!