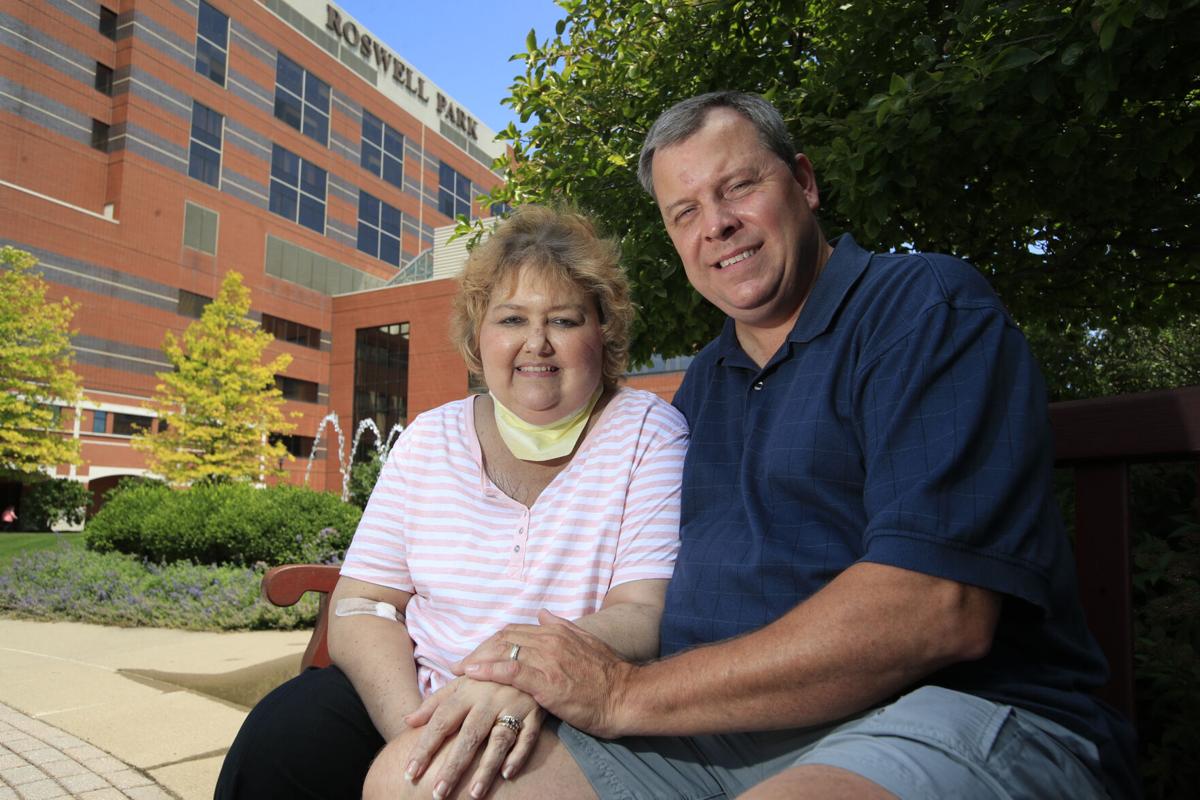 A birthday party for your 12-year-old son is important, but let's be honest: Looking back on life, those parties often mesh together in memory, siblings and grandparents all at the table, wrapping paper on the floor.
That was pretty much the setting for Melissa Fuller on a recent Sunday in her Vernon home, in Oneida County. With her son Jacob turning 12, Melissa's husband Erik, her parents, her older son Zachary and his girlfriend were all there – a limited crowd in a time of social distancing.
Jacob's big gift – a Nintendo Switch – was on order and had yet to arrive, but no one seemed too disappointed, least of all Melissa. This was a party – in her sheer gratitude for what once was ordinary – that she does not expect to fade away.
Her goal was always to be there for Jacob's birthday. That vow goes back to when she was just off the ventilator at the Roswell Park Comprehensive Cancer Center, at a point when her only way to communicate was by eraser board with the masked and gowned men and women who were her only company.
"What I could not do," Melissa said, "was go to a dark place."
She was at Roswell for close to five months, with 96 of those days spent in treatment for Covid-19. She arrived in February, expecting to be there for a month to treat the cancer that for years had threatened her life.
Even in March, when she learned she had Covid-19, she thought she would soon go home.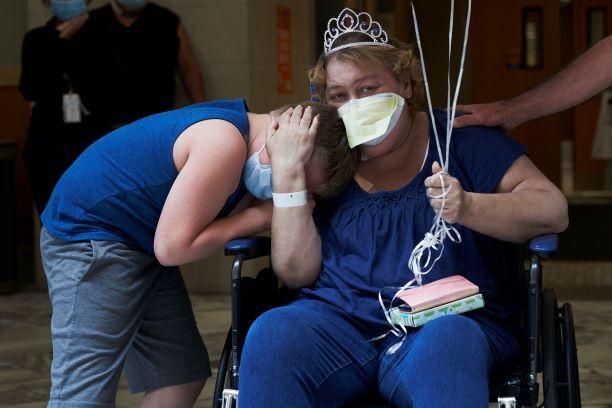 "Normally," said Dr. Philip McCarthy, director of Roswell's transplant and cellular therapy program, "she'd have cleared the virus in two to three weeks, but because her immune system wasn't strong enough, it took what seemed like forever."
She was at the cancer center from late winter into summer. The staff, intensely aware of that journey, speaks of Melissa with affection and a touch of awe. In 2016, she was working in payroll at the Madison-Oneida BOCES when she went to the doctor for shoulder pain she thought was triggered by a torn rotator cuff.
The ache was radiating from a tumor. McCarthy said she had an especially aggressive form of multiple myeloma, a cancer of the bone. Melissa would eventually go through a stem cell transplant at the SUNY Upstate University Medical Center in Syracuse that she hoped would roll back the disease.
The transplant didn't work. Her doctor at Upstate, an oncologist who became a friend, told her quietly that she was running out of options. She suggested Melissa look to Roswell and its CAR T-cell therapy, leading her to McCarthy, who moved quickly based on the dire nature of the risk.
His team injected Melissa with her own healthy T-cells "to recognize and kill her cancer," treatments that continued throughout her stay in February. The process was a success, McCarthy said. Most of her cancer disappeared, offering the greatest hope her family had felt for years.
Yet in March, not long before she was supposed to go home, Melissa and Erik were staying in the Kevin Guest House – a Medical Campus residence for outpatients and their families – when "she came back to us with a sniffle," McCarthy said.
She and Erik both tested positive for Covid-19, though he was asymptomatic. While their 25-year-old son Zachary, in Oneida County, stepped in to care for Jacob, Erik went into quarantine at a hotel, and Melissa eventually ended up in intensive care. Everything they recall about those weeks is predicated on what Erik emphasized last week: Today, they consider themselves fortunate, and they are aware of the losses so many have endured in the pandemic, in similar situations.
They hope their tale might offer a beacon to someone facing the same struggle.
At the time, Melissa recalls the test results as a "punch in the gut." There could be no visitors, not even her husband, and she was weary of being separated from her boys. But she had almost no time to think about any of it before she was overwhelmed. Her breathing was so labored that the doctors said they had no choice except a ventilator, a decision she told Erik about over the phone just before she was intubated.
"You'll be OK and we'll talk again," he said. He remembers that instant as a bookend, which he sets against the moment earlier this month when he woke early at their house in Vernon - a day or two after his fellow firefighters from the Volunteer Fire Department of Vernon gave Melissa a surprise welcome, firetruck siren and all, when she came home - and Erik stood above his wife's bed in the morning silence, as she slept.
He began to weep in disbelief that she was actually home.
18-month-old Donato Morgante was coaxed into ringing the special bell for pediatric patients at Roswell Park, celebrating the successful conclusion of his cancer treatment.
For months, Erik was limited to checking in by phone. While Melissa was on the ventilator, he often spoke with Michelle Spellman, a Roswell social worker, who kept assuring him his wife was slowly gaining strength. Spellman, for her part, would often sit by Melissa's bed, holding her hand and speaking to her – a presence Melissa said she can remember, in flashes, from the days of intubation.
After more than a week, Erik learned Melissa had made it off the ventilator and could speak to him. Her voice on the phone was barely a whisper, he said, "like a ghost in the wall." They gave up on talking and instead began to text, allowing Melissa to summarize her dream in three words.
Her doctors explained that leaving the ventilator did not the end the threat, since Covid-19 can return with a fury – and her tests for many weeks said it had not gone away.
"What made the difference," McCarthy said, "was that she didn't just curl up in a ball."
She vowed to make it home for Jacob's birthday, and she turned increasingly for support to Spellman and others who were her only company.
"She had such a will, such a desire, and she worked so incredibly hard," said Renee McKenzie, a physical therapist. McKenzie has a 9-year-old son, and Melissa would listen intently to details about McKenzie's life away from work – quiet tales that in their own way served as medicine.
"I knew what she was trying to get home to," McKenzie said.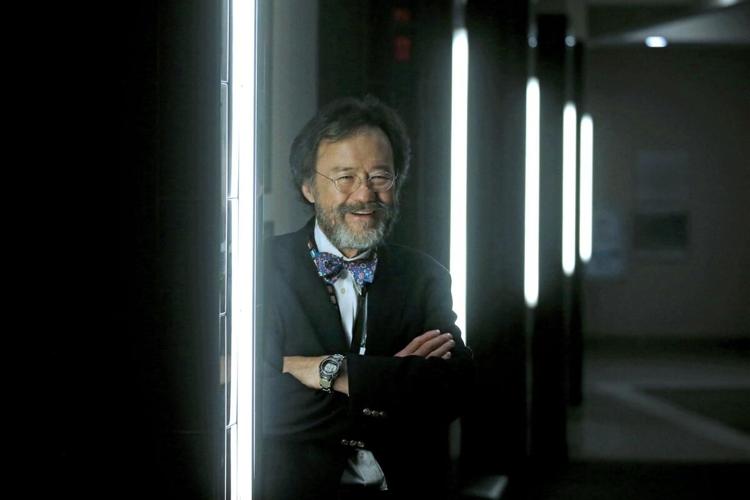 In late June, the entire staff celebrated when consecutive Covid-19 tests came back negative, meaning Melissa was past the virus and could finally go home.
On the day she was released, the nurses presented her with a crown before she began a kind of triumphant journey to the door. The staff called her the "Covid queen," a woman up against so much who conquered the disease, and then a legion of those who cared for her stepped out in the corridor to applaud. In a lobby jammed with people, Jacob – the kid Melissa had not seen for almost five months – ran to his mother and dropped his head into her arms.
When she rang the "victory bell" at Roswell – symbolic of a major breakthrough in a patient's life – "even the piano guy was cheering," Melissa said, speaking of a familiar regular near Roswell's entrance.
She had done it: She would be in her own house for her son's birthday. They wheeled her out the door, where she prepared for the ride home. In fresh air that Melissa had not experienced since the dead of winter, several Roswell staff members who had cared for her for months stepped back, created plenty of distance – and then peeled away their masks.
"This is what we look like," Spellman said. For the first time since testing positive for Covid-19, Melissa saw the faces of the men and women who had been her one bridge to the world.
It was a surprise, but only for a second. She realized long ago who they really are.
Catch the latest in Opinion
Get opinion pieces, letters and editorials sent directly to your inbox weekly!