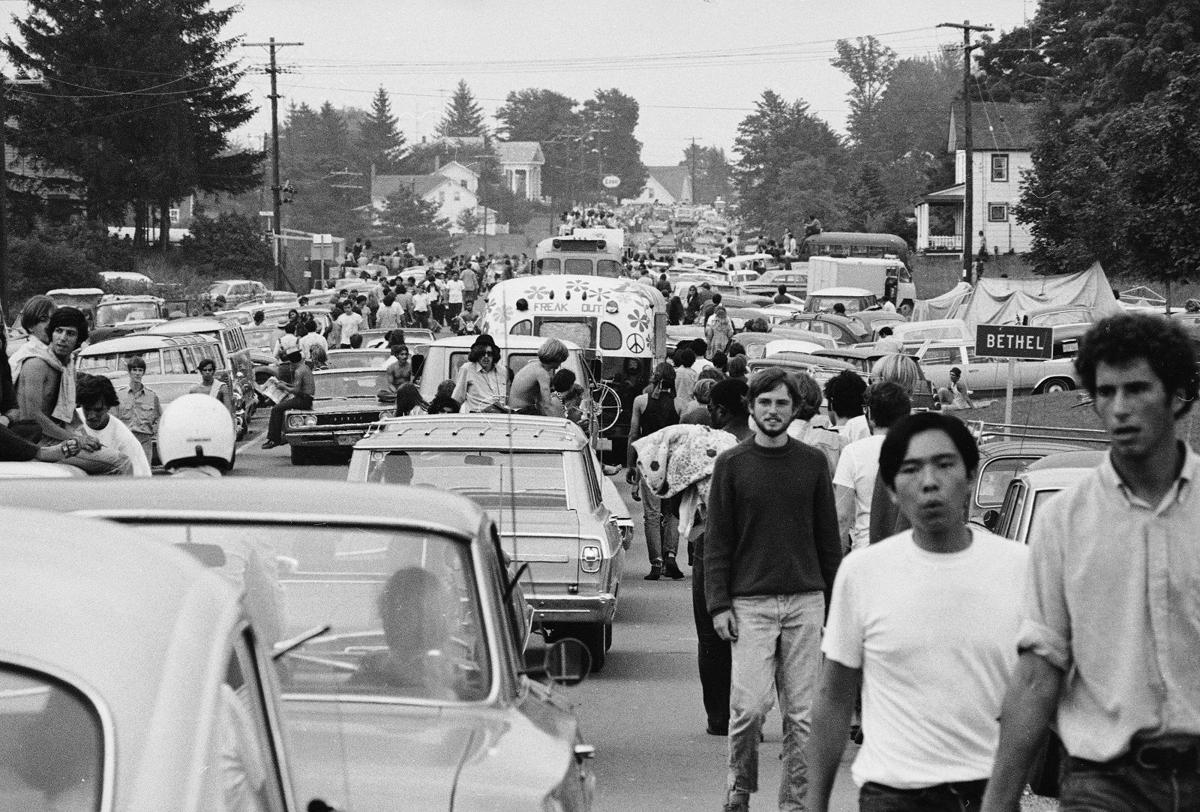 By the time we got to Woodstock
We were half a million strong.
This week marks 50 years since a certain music festival downstate. Lots of Western New Yorkers were there. Buffalo, after all, is not so far from Bethel — 275 miles of highway to heaven.
If your vision of heaven includes mounds of mud amid the melodies, that is.
"Woodstock," the song most associated with the festival, wasn't played there. Joni Mitchell, who wrote it, sang of her "half a million strong" a year later. Crosby, Stills, Nash & Young famously covered the ballad and today it stands as an anthem of the era.
Jeremiah Horrigan is a big fan of "Woodstock," the song — and of Woodstock, the festival. He and a pal set out from Buffalo 50 years ago in his friend's aquamarine Ford Galaxie 500 with three other adventurous souls. Horrigan tells the tale of their adventures in a chapter of his unpublished memoir.
He writes of getting near the stage early on the morning of the festival's last day, just as the sun is coming up over the horizon:
"The field looks like the bottom of a lake that's been drained — busted furniture, pieces of scrap wood, sodden sleeping bags (some of them containing sodden sleepers) all plopped in ankle-deep, supernatural-smelling muck. I feel planted to the spot where I'm standing, afraid I'll have my sneakers sucked off my feet if I try to move."
Jimi Hendrix is on stage. This will be one of Woodstock's iconic moments: Hendrix is playing a mind-bending version of "The Star-Spangled Banner," not that Horrigan recognizes it.
"The song he's playing sounds strangely familiar but I can't remember the title," Horrigan writes. "Hendrix hardly seems to be moving as he wrings these great warbling washes of sound from his guitar. The melody comes and goes under some kind of sonic attack, all vibrato and wah-wah and deep, swooping feedback.
"Then it hits me. Holy (expletive). I look around, eager to share the answer to the mystery I'm sure everyone wants to know. I see a skinny guy in what looks like a toga planted in a nearby muck puddle."
And here Horrigan shouts: " 'America the Beautiful!' " The skinny guy looks stunned — and quickly corrects him. It is in fact the national anthem, though as it had never before been performed.
Dan Hartman was barely 18, fresh out of Canisius High School, when he and four friends drove to the festival. They were so far from the stage, he says, that many of his memories are merged with the movies and recordings of Woodstock that he's seen and heard since.
They would come ill-prepared, with no tent and not enough food, so they left after two days. It wasn't until they got back to Buffalo, and saw the front page of the Sunday Courier-Express, that they found out the festival had become a national news story and a touchstone for the times.
When Hartman arrived at the University of San Francisco and West Coast classmates learned he had been to Woodstock, they could scarcely believe it. They wanted to know all about it. They listened with rapt attention. "I felt like a rock star myself," he says.
Hartman had left by the time Hendrix closed the festival early on a Monday morning, when the half-million strong had dwindled to diehards. But another intrepid pilgrim from Buffalo witnessed Hendrix's act: For Bruce Beyer, who died in April, the best part of his story wasn't what he saw at Woodstock, but how he got to go in the first place.
Beyer had been arrested for an altercation in a church where he sought symbolic sanctuary after refusing induction into the military. He couldn't leave the region without court permission. In a handwritten note dated 50 years ago Sunday — Aug. 11, 1969 — he formally petitioned U.S. District Court Judge John T. Curtin: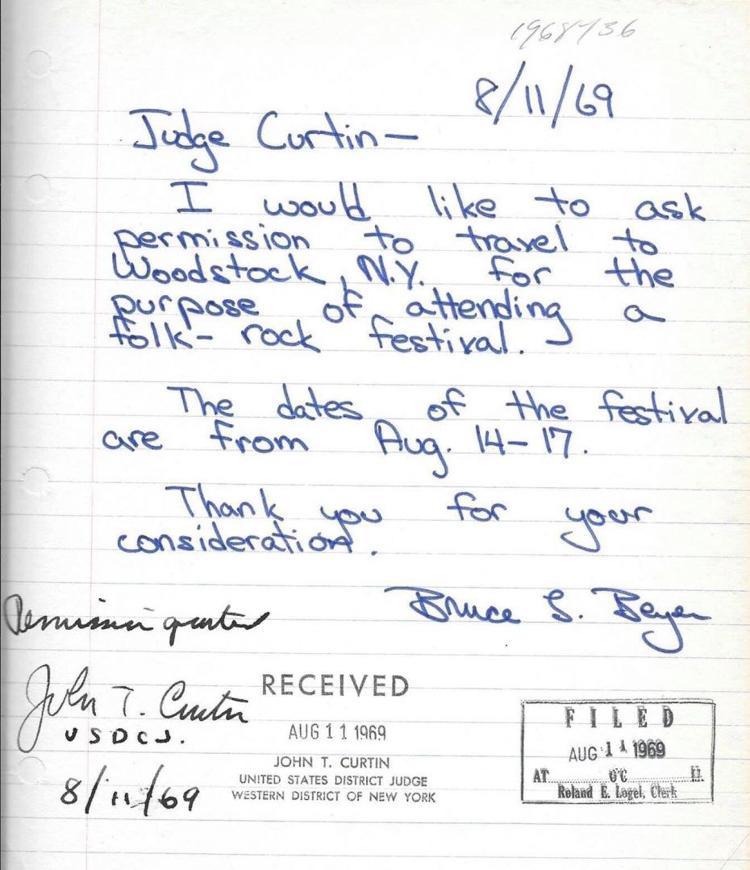 "I would like to ask permission to travel to Woodstock, N.Y., for the purpose of attending a folk-rock festival."
The court document — with Curtin's handwritten "Permission granted" — was among Beyer's treasured possessions. He shared a copy of it with me two years ago, when I was working on a story about him for USA Today Sports. (Beyer had recently discovered that the birth father he never knew had won a World Series with the Cleveland Indians just seven months after Beyer was born in Buffalo in 1948.)
I shared a copy of the permission slip with Pat Curtin Brady, the late judge's daughter. (She is married to my cousin, Sean; this is how it often goes in Buffalo.) Pat was delighted to see historical evidence of what she already knew so well: Her father had a heart of gold.
Mary Beyer, Bruce's widow, says he often talked about witnessing Hendrix's electric ode of an anthem. And, she says, he was also a big fan of "Woodstock," whether sung by Joni Mitchell or Crosby, Stills, Nash & Young.
The song's familiar refrain goes like this:
We are stardust, we are golden
We are billion-year-old carbon
And we've got to get ourselves back to the Garden.
The song styles Woodstock as a modern Garden of Eden — and, as it happens, any invocation of the Garden brings us back to Buffalo.
In Mark Twain's "Diaries of Adam & Eve," Eve renames the Garden of Eden as Niagara Falls Park. When they are expelled from the Garden, she sets about naming the new places. Eve calls one locale Buffalo and another Tonawanda — because it looks like Tonawanda.
Adam had been unsure about this new creature, Eve, when they first met. The following passage, in Adam's voice, is the most romantic ever written about our region — and maybe the most romantic ever written about the human condition:
"After all these years, I see that I was mistaken about Eve in the beginning; it is better to live outside the Garden with her than inside it without her."